28 July 2019
Boris Johnson has been appointed as the Prime Minister of the United Kingdom, with a new cabinet that includes many politicians that have spoken out in support of British Tamils.
We examine key figures in the new cabinet and their previous statements on the British Tamil community, justice for mass atrocities and the enduring ethnic conflict in Sri Lanka.
Prime Minister - Boris Johnson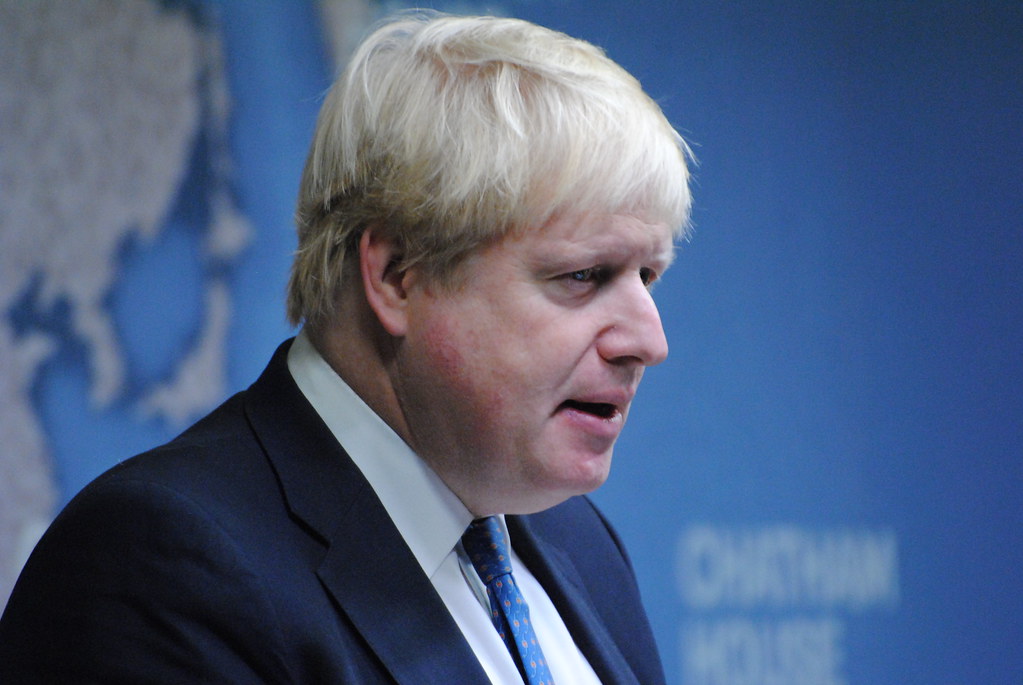 Photograph: Chatham House
Johnson, who takes over from predecessor Theresa May, previously held the post of Mayor of London, where he repeatedly praised British Tamils for their contribution to life in the UK.
In a statement issued in 2012, Johnson said that in light of the 'Sri Lanka's Killing Fields' documentary, he "would like to offer my continued support and condolences to all those affected by the conflict, including British Tamils".
"We stand by our fellow Londoners as they continue to mourn the loved ones they tragically lost during the last days of fighting in northern Sri Lanka," he added.
Later that year the Official Website of the Government of Sri Lanka slammed Johnson, claiming that he and his then counterpart candidate for Mayor of London Ken Livingstone "made strong rival pitches for the support of the pro-LTTE organizations".
He has also issued statements praising the community on occasions such as Thai Pongal and Tamil New Year.
See here, here, here and here.
However, Johnson has also faced criticism in his role as foreign secretary, with Sri Lanka making virtually no progress towards accountability for mass atrocities and Britain's military relations with Colombo growing. "It is shameful that the UK is no longer leading the way in the fight for justice and we call upon Boris Johnson to speak at the UN human rights council in Geneva to strengthen the powers of the UN to intervene in this tragedy," said Labour MP for Bassetlaw, John Mann last year.
Earlier this year the Labour Party also said it would reverse many of the current British government's policies, with Shadow Chancellor of Exchequer John McDonnell telling a rally, "Let me make this absolutely clear, when Labour goes into government, we want to be the country that puts maximum pressure on Sri Lanka". He added that under a Labour government, there would not be "arms sales to any country like Sri Lanka that is abusing human rights. No training of troops or police for any country like Sri Lanka that is abusing rights."
Chancellor of the Exchequer - Sajid Javid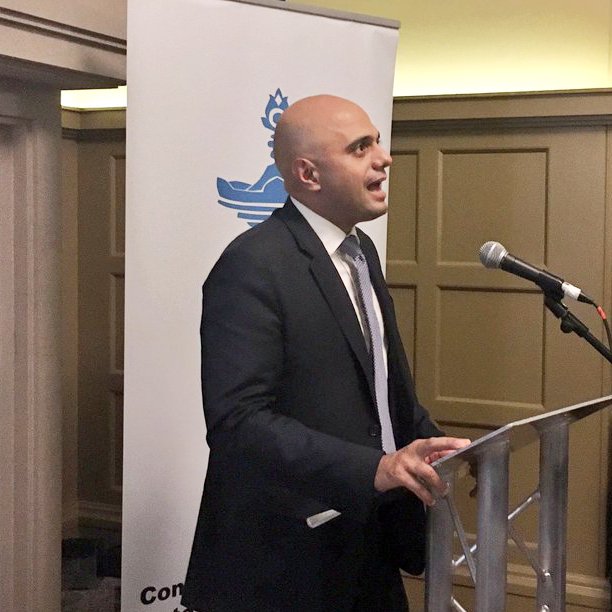 Photograph: Javid at a British Tamil Conservatives Event in 2017
In 2017, then-Secretary of State for Communities and Local Government, Sajid Javid recognised the contribution of the Tamil community to British life.
"I wanted to recognise what a great contribution - more than 200,000 British Tamils - have made to this great country of ours in every walk of life, whether its culture, our sports, our businesses, our political life," he said. "I see many people of Tamil origin serving in our councils."
Javid has however come under fire for the deportation of Tamils under his tenure as Home Secretary. Amongst some of the emblematic cases was the attempted deportation of a Tamil grandmother whose entire family is settled in the UK and a Tamil man deemed so ill that he required medics to accompany him on his flight.
Earlier this year, in a landmark decision, the UK Supreme Court overturned a previous rejection of a Tamil asylum seeker whom the Home Office claimed had organised his own torture.
In the last two years, at least two Tamil refugees have successfully sued the Home Office for wrongful detention during their asylum application process.
The Labour Party, and non-governmental organisations including Freedom From Torture, have called for the UK to halt deportations to Sri Lanka. See here and here.
Secretary of State for Environment, Food and Rural Affairs - Theresa Villiers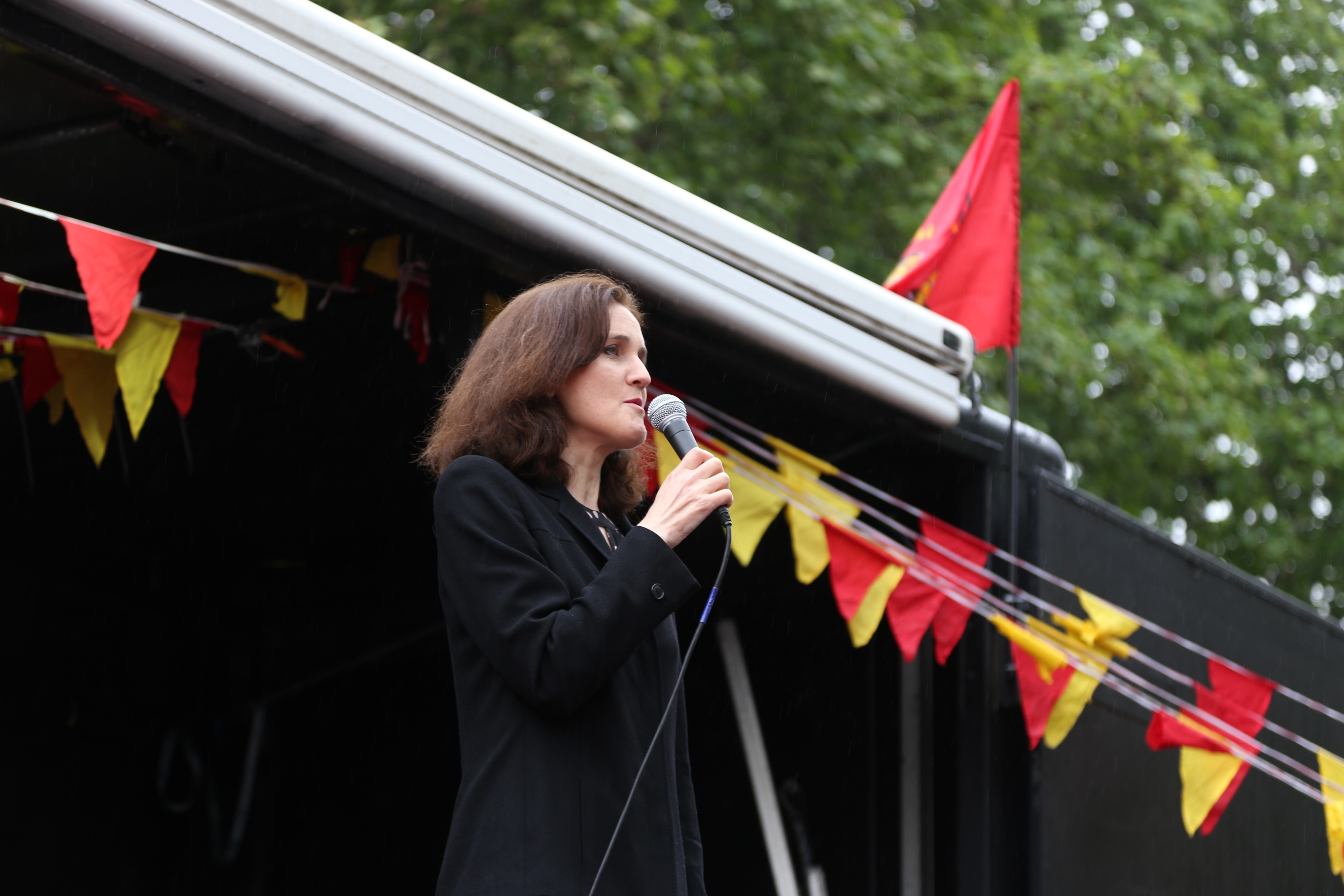 Photograph: Villiers at a Mullivaikkal remembrance event in London earlier this year.
Britain's latest environment secretary has repeatedly spoken in support of the Tamil community and pressed the UK government on Sri Lanka, asking a question as recent as this month on accountability in the aftermath of the armed conflict.
Villiers, who previously held the post of Secretary of State for Northern Ireland, has attended Mullivaikkal memorial events to commemorate the tens of thousands of Tamils killed by the Sri Lankan military in 2009.
Speaking at an event earlier this year, she told the crowd,
"I stand here in solidarity with my Tamil constituents both in Chipping Barnet but also with the Tamil community across the country and across the world as today it mourns its loved ones who perished during those terrible days. I sincerely hope that we see a brighter future and one day we will at long last see justice, accountability and reconciliation for the Tamil people."
In a statement reflecting on the Mullivaikkal massacre, she said,
"After promising safety and protection to the innocent people taking shelter in Mullivaikal, the Sri Lankan government forces the bombed them and attacked with heavy weaponry. It is truly shocking that this occurred even in designated "no fire zones".

The Mullivaikal killings were a war crime and it is disgraceful that no one has been brought to justice for what happened. I will continue to campaign for justice and accountability for the Tamil people and I hope that one day we see those responsible for Mullivaikal answer for their terrible crimes."
"It's time to ensure that we have accountability in Sri Lanka and to ensure that those who are guilty of war crimes are brought to justice," she said in a video message last year.
She has also called for the Sri Lankan government to ensure it implements a UN resolution that will allow a hybrid accountability mechanism to be set up, to try those responsible for mass atrocities.
"If implemented it would see a hybrid court established to bring to justice those responsible for the brutalities and terrible crimes that took place during the war particularly in its closing stages, but of course, unless it's implemented it's worthless," Villiers said in 2017.
The minister has also condemned Sri Lanka's construction of Buddhist structures in traditionally Tamil areas, saying the "actions of the Sri Lankan government and military don't live up to the rhetoric of what they say". "I am deeply disappointed that examples of cultural imperialism are still ongoing. I'm particularly concerned with instances where Buddhist structures and temples are being constructed as a symbol of power, rather than to represent the local population."
Last year she joined other parliamentarians in criticising Sri Lanka's Brigadier Priyanka Fernando, who had motioned a death threat to British Tamil protestors, and called for his diplomatic immunity to be revoked.
"I strongly condemn the actions of Brigadier Priyanka Fernando directed at peaceful Tamil protesters," she said in a statement.
"His actions have caused real distress to a number of my Tamil constituents, a number of whom fled Sri Lanka because of threats and mistreatment by the Sri Lankan military… I have written to the Home Secretary and Foreign Secretary requesting that Brigadier Priyanka Fernando have his diplomatic immunity removed so his actions can be investigated."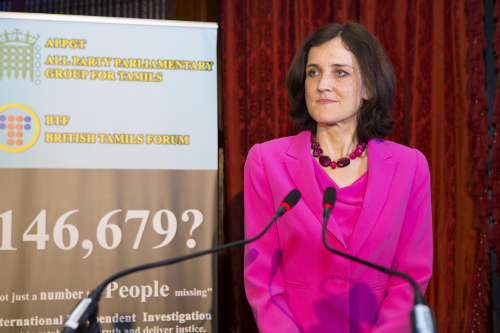 Photograph: Villiers at an event in parliament in 2015.
Villiers has also repeatedly paid tribute to the British Tamil community, saying "sadly there is still much to be done before there is real justice, equality, and freedom for the Tamil people."
"Your friends here in the Conservative Party will be at your side as you take your campaign forward... Your Conservative friends in Parliament know you have a just cause and we will continue to work with you and support you and champion your cause, until there is fair settlement in Sri Lanka and your goal of freedom and justice for the Tamil people at last becomes a reality."
In 2014, Villiers said the "Tamil community has many friends in parliament" and the "concerns of British Tamils are heard loud and clear." The British government "will continue to press for justice for those thousands of Tamils who suffered, particularly in the final few months of the conflict," said the minister.
She also praised the work of British Tamils in 2015, stating,
"There is no doubt that the hard work and political activism of British Tamils has pushed issues regarding Sri Lanka up the political agenda. I warmly welcome the active engagement of Tamils in the UK democratic process. British Tamil voters could determine the outcome in many constituencies."

"I believe they will have a significant impact on who wins the election."
Secretary of State for Defence - Ben Wallace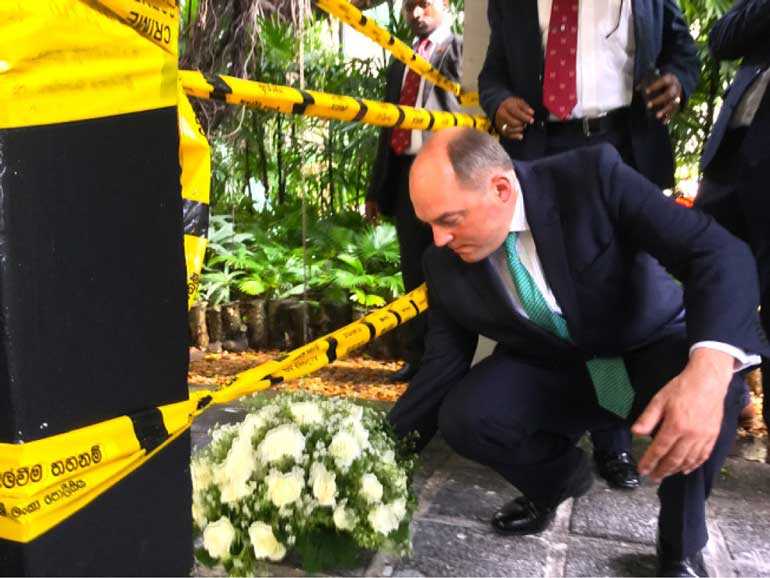 Photograph: Wallce in Sri Lanka after the Easter Sunday attacks earlier this year.
Britain's latest defence minister visited Sri Lanka earlier this year, where he offered to help Sri Lanka set up a central intelligence body similar to the Joint Terrorism Analysing Centre in the wake of the Easter Sunday bombings by Islamist extremists supportive of Islamic State.
"I was deeply moved to visit the hotels and St Anthony's Shrine, and to see the impact of the attacks," he said following the trip. "They must only serve to strengthen our resolve to work in partnership with countries around the world to counter the global terrorist threat."
Secretary of State for Justice – Robert Buckland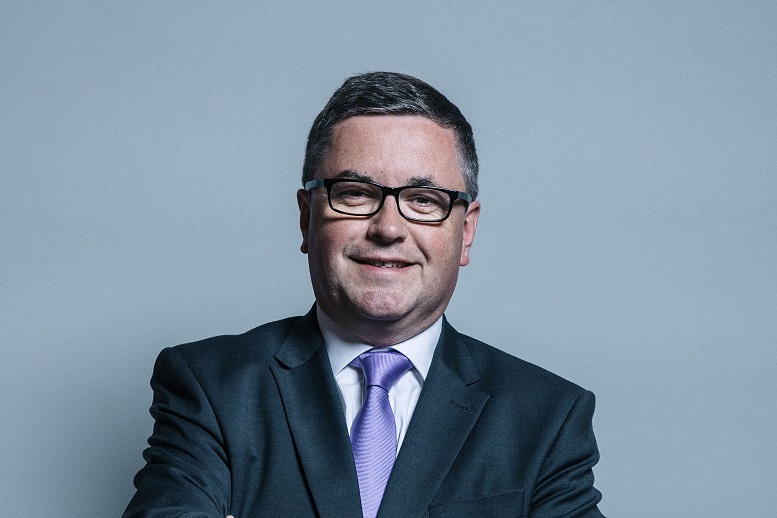 Photograph: Robert Buckland (Portrait by Chirs McAndrew)
In 2012, at a British Parliament debate on the challenges of human rights violations faced by professionals, Robert Buckland stated,
"It is also known that in conflict zones, medical professionals are deliberately targeted by those involved.

For example, in Sri Lanka, during the final stages of the civil war, the military was accused of intentionally shelling field hospitals, killing doctors and other medical professionals. The United Nations report of the Secretary-General's panel of experts on accountability in Sri Lanka said:

"The Government systematically shelled hospitals on the frontlines. All hospitals in the Vanni were hit by mortars and artillery, some of them were hit repeatedly"."
He also noted the danger faced by media workers in the country, further stating,
"Among the most dangerous countries for journalists are Pakistan, Sri Lanka, Mexico, the Philippines and Somalia."
Secretary of State for Health and Social Care - Matt Hancock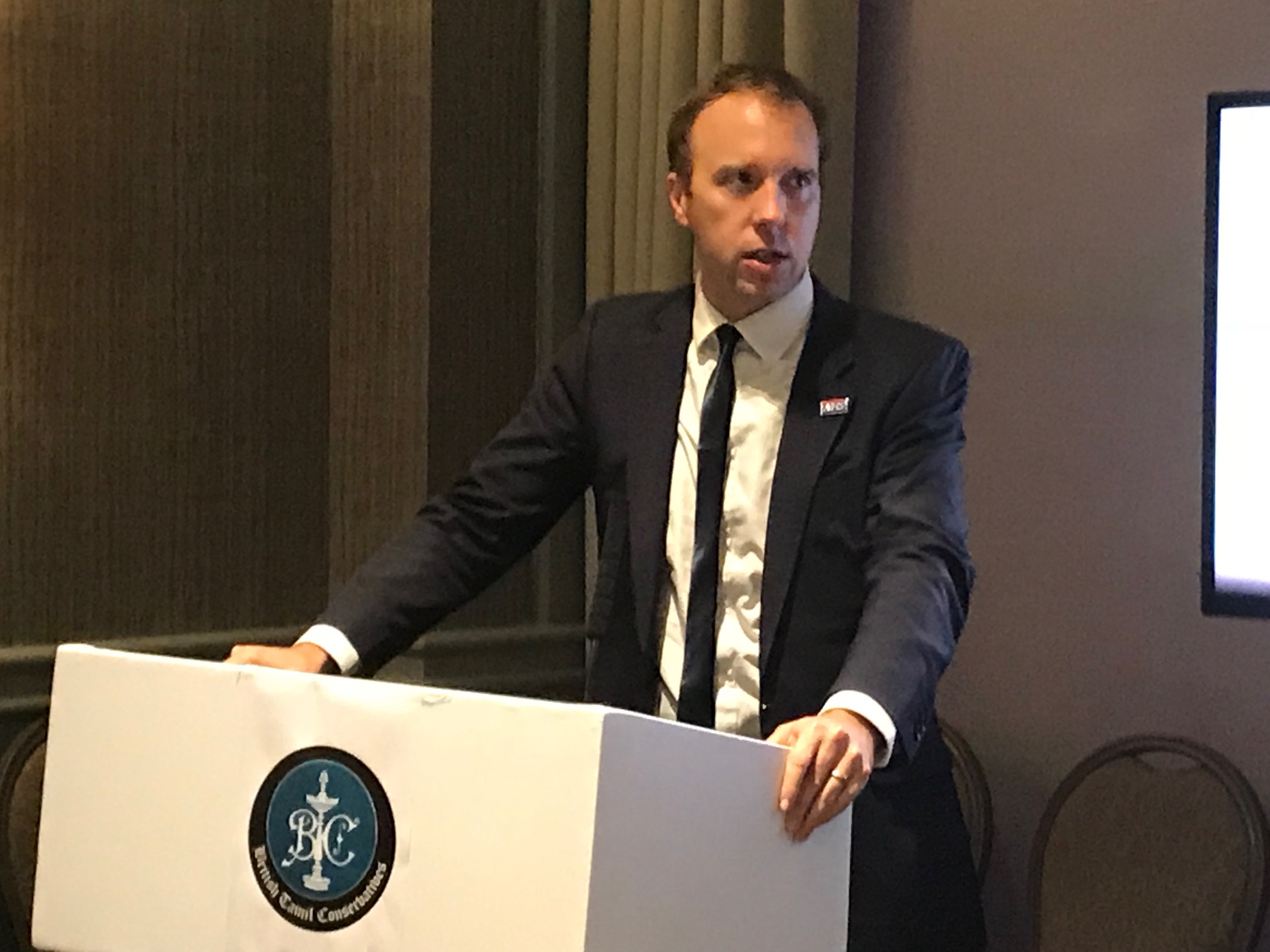 Photograph: Hancock at a BTC event 2018.
Secretary of State for Health, Matt Hancock praised the contributions the Tamil community in Britain makes to the country at the Conservative Party Conference last year and declared the "NHS will not run without Tamils".
Secretary of State for Business, Energy and Industrial Strategy – Andrea Leadsom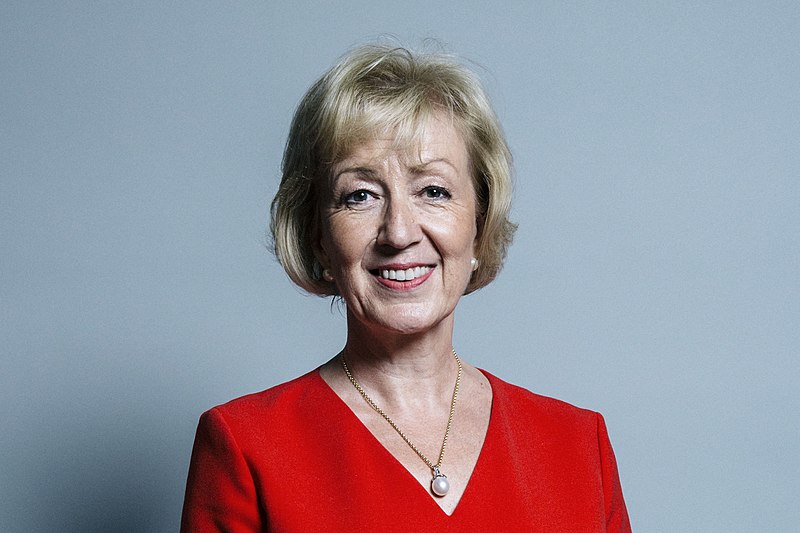 Photograph: Andrea Leadsom (Portrait by Chirs McAndrew)
In 2017, then Leader of the House Andrea Leadsom said the UK had expressed their concerns over to Sri Lanka, after a United Nations Special Rapporteur report found torture was endemic, systematic and routine on the island.
"The Minister for Asia and the Pacific, my right hon. Friend the Member for Cities of London and Westminster (Mark Field), has registered our serious concerns about the special rapporteur's findings with the Sri Lankan high commissioner this week," said Leadsom.
She also pointed to the Foreign & Commonwealth Office (FCO) annual human rights report, which declared that Sri Lanka was one of 30 'Human Rights Priority Countries' (HRPCs), alongside other states such as Syria, North Korea, Zimbabwe and Yemen.
"I assure my hon. Friend that we continue to encourage the Sri Lankan Government to deliver against all their UN Human Rights Council commitments," she concluded.
Secretary of State for Transport - Grant Shapps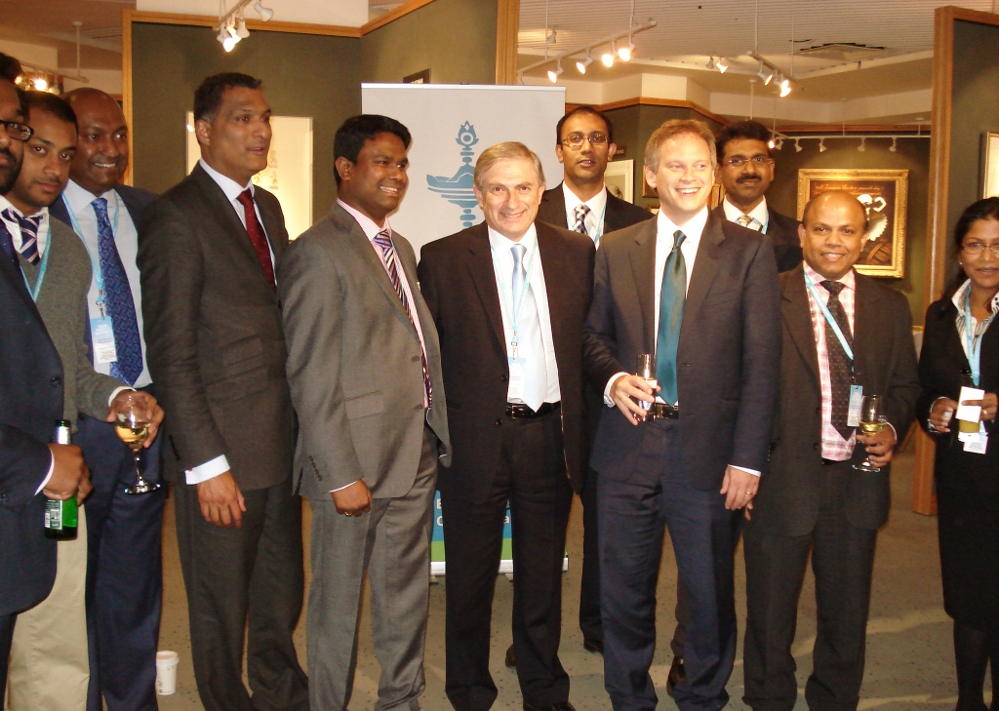 Photograph: Shapps at the 2012 Conservative Party conference with membes of BTC
The former International Development minister and one time chairman of the Conservative Party, has also spoken in support of the Tamil community in the UK, joining the British Tamil Conservatives drinks reception at the 2012 Conservative Party Conference, where they marked their launch as an affiliated body of the Conservative Party.
Last year Shapps released a message to mark the anniversary of the Mullivaikkal massacre, stating that "it's hard to comprehend the suffering that the Tamil people went through during the Civil War".
"Although the Sri Lankan government has in recent years taken a few steps to improve the human rights situation, much more remains to be done for the country to fulfil its commitments made at the UNHRC in October 2015," he added. "I'm pleased that this remains a priority for the British Government and will continue to press its counterpart in Sri Lanka to fulfil its obligations."
He has also asked a question to the British government on its arms trade with Sri Lanka, asking what steps were being taken "to ensure that arms sold to the Government of Sri Lanka are not used to violate the human rights of the Sri Lankan people".
In 2012, he said he was "pressing for there to be an independent thorough and credible investigation into accusations of violations of humanitarian and human rights law during the conflict."
Shapps has also praised British Tamils saying, "We and I all hugely appreciate the support of the Tamil community." "Conservative MPs have stood four-square behind you," he added.
Secretary of State for International Development - Alok Sharma
Alok Sharma previously held the post of Parliamentary Under-Secretary of State for Asia and the Pacific, and delivered Britain's statement at the UN Human Rights Council in Geneva in 2017.
In Geneva, he welcomed the "Sri Lankan Foreign Minister's constructive engagement here" and called for Sri Lanka to be given "time to fully implement the October 2015 resolution and post-conflict measures required to embed stability, reconciliation and justice".
That same year he spoke out against an attack on a church in North West Sri Lanka by a group of Buddhists headed by a saying the UK condemns "all violence against religious minorities, including the attack on a church".
"The freedom to practise, change or share your faith or belief without discrimination or violent opposition is a fundamental human right that all people should enjoy," he said. "The UK regularly raises human rights concerns with the Sri Lankan government."
Chairman of the Conservative Party - James Cleverly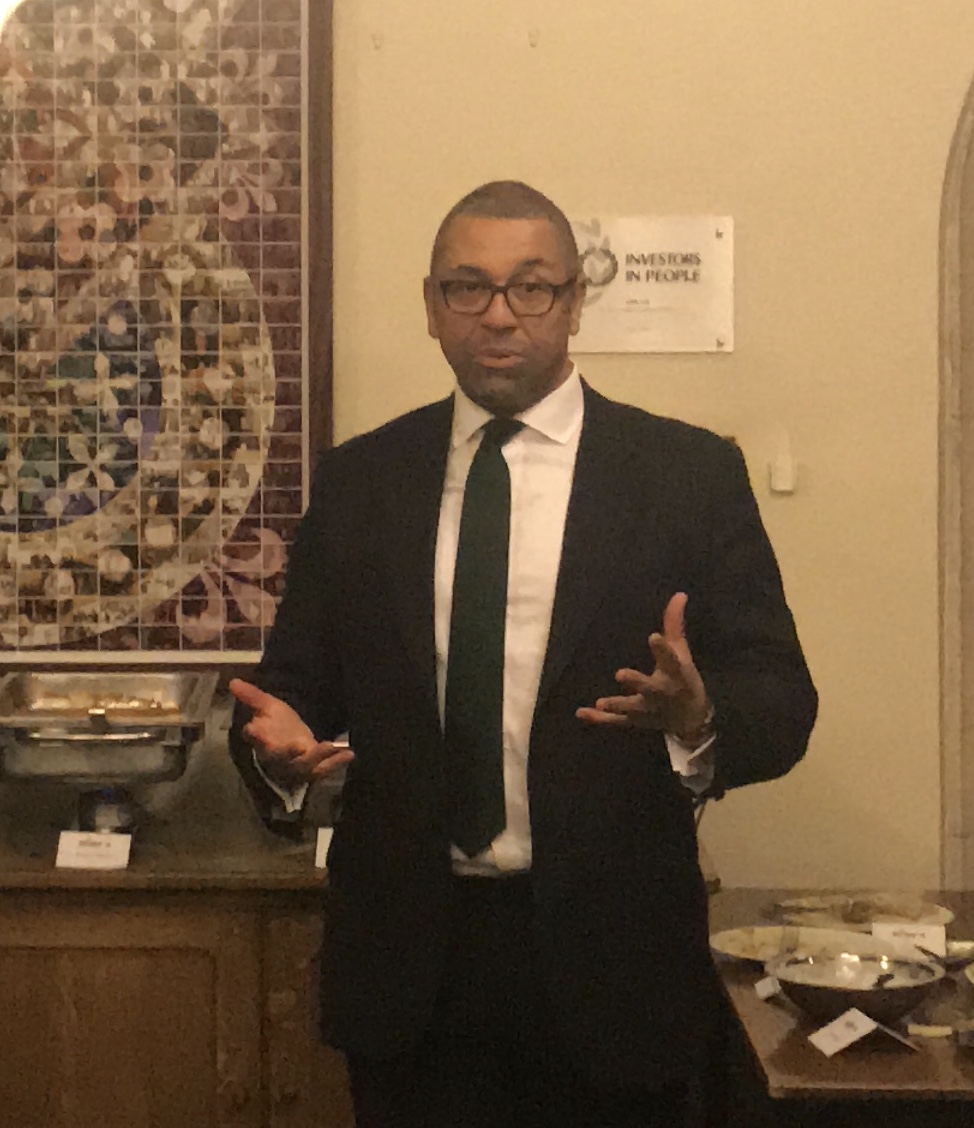 Photograph: Cleverly speaking at a BTC event in parliament earlier this year.
James Cleverly, the previous deputy chair of the Conservative Party, also praised the Tamil community, earlier this year "the relationship we have with the Tamil community is one we absolutely want to build on".
"It is really important, like never before, that we stick together and make sure the international community keeps the Sri Lankan government on its toes," he continued.
Last year at the Conservative Party Conference, Cleverly described the Tamil community as "influential and powerful" adding it was important for the Tamil community to have a voice that is listened to.
He told the audience, the government has listened to and is listening to "concerns of the Tamil community and their legitimate call for justice because of what happened in Sri Lanka during the civil war".
Minister of State for the Home Office - Brandon Lewis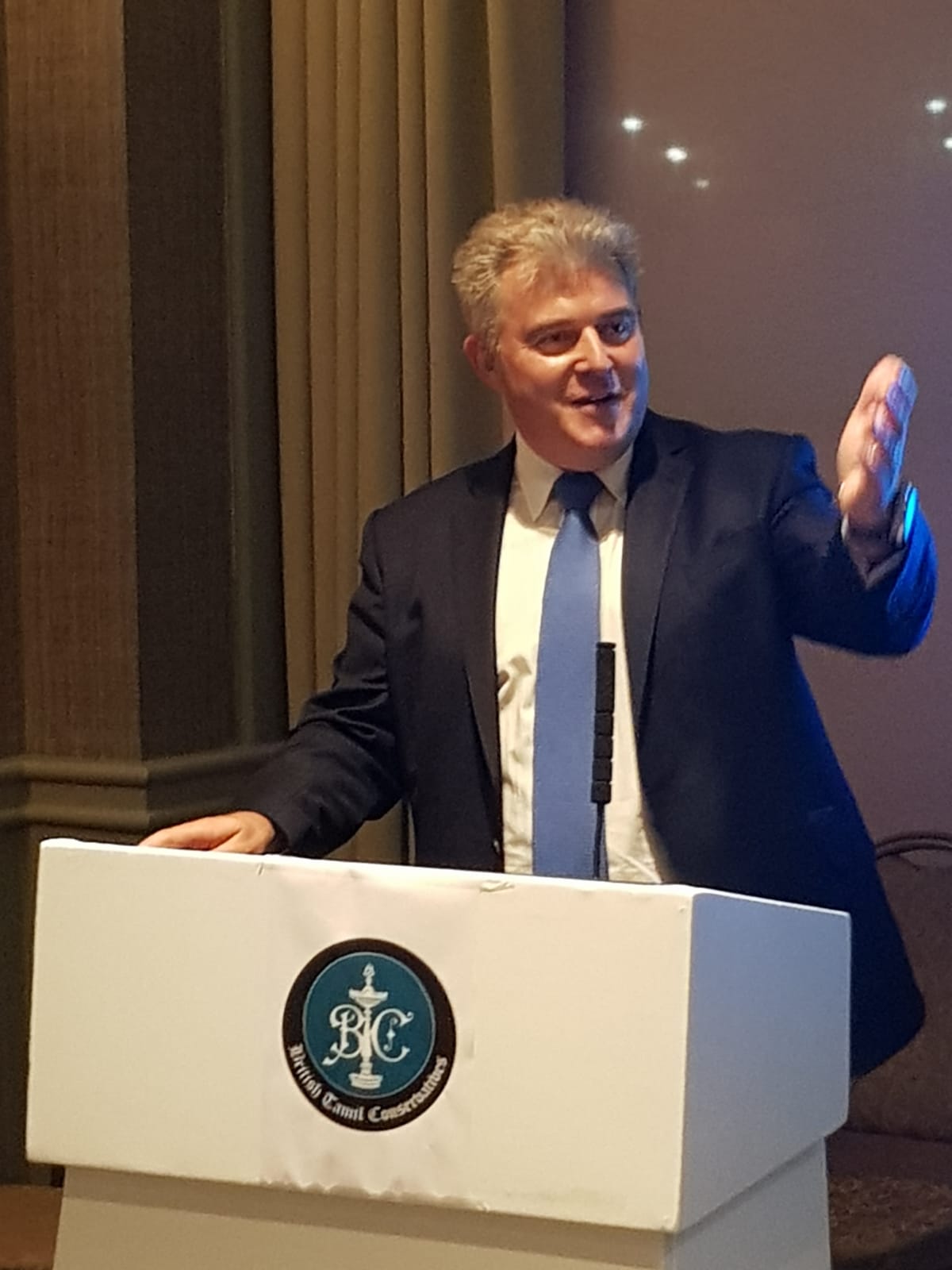 Photograph: Lewis at the Conservative Party conference in 2018.
Brandon Lewis also spoke at the Conservative Party Conference last year, where he thanked British Tamil Conservatives saying  "I want to say a huge thank you to BTC because you are one of those organizations absolutely driven on campaigning".
Minister of State for Business, Energy and Industrial Strategy and Minister of State for the Department for Education - Jo Johnson MP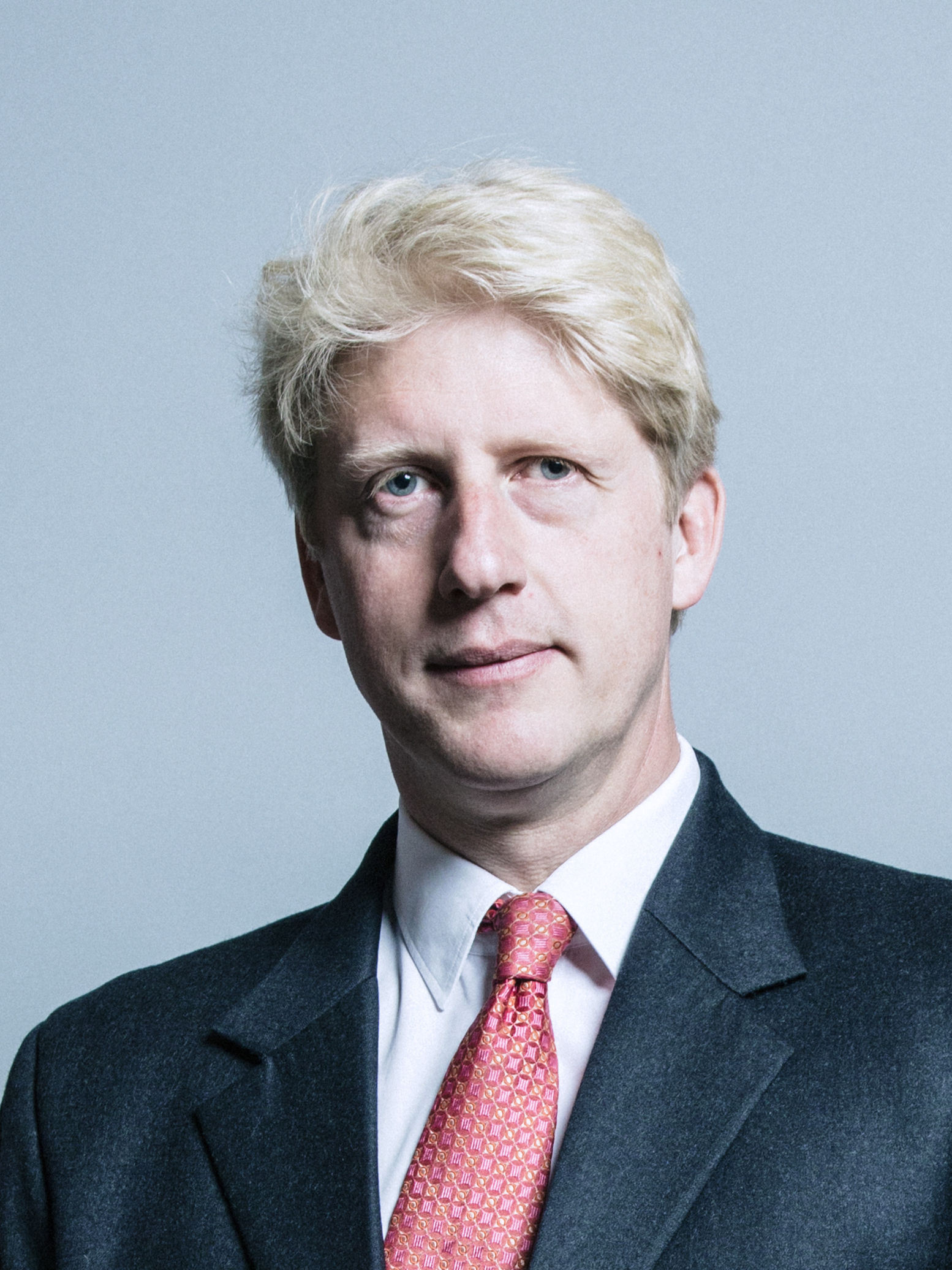 Photograph: Jo Johnson (Portrait by Chirs McAndrew)
Johnson was previously the Financial Times' South Asia bureau chief and has covered Sri Lanka.
In 2010, he told the Tamil Guardian,
"I spent much time in Sri Lanka as a foreign correspondent and have seen at close hand the issues facing the Tamil community in their struggle for greater political autonomy. I deplore the violent suppression of this movement and support a mediated settlement."
We need your support
Sri Lanka is one of the most dangerous places in the world to be a journalist. Tamil journalists are particularly at threat, with at least 41 media workers known to have been killed by the Sri Lankan state or its paramilitaries during and after the armed conflict.
Despite the risks, our team on the ground remain committed to providing detailed and accurate reporting of developments in the Tamil homeland, across the island and around the world, as well as providing expert analysis and insight from the Tamil point of view
We need your support in keeping our journalism going. Support our work today.