31 July 2017
British politicians and Non Governmental Organisations met last week to remember the Black July anti-Tamil pogrom of 1983, participating in a panel discussion on the current situation in Sri Lanka and state sponsored genocide.
The panel, organised by the British Tamil Forum, included All Party Parliamentary Group For Tamils (APPGT) Chair MP Paul Scully, Conservative MP for Chipping Barnet and former Secretary of State for Northern Ireland Theresa Villiers, Director of Sri Lanka Campaign, Richard Gowing, Advocacy Officer at Together Against Genocide (TAG) Andrew Thorpe and was chaired by Sutharshan Sukumaran of the Tamil Guardian.
Commenting on Sri Lanka's construction of Buddhist structures in traditionally Tamil areas, MP Theresa VIlliers said, "actions of the Sri Lankan government and military don't live up to the rhetoric of what they say. I am deeply disappointed that examples of cultural imperialism are still ongoing. I'm particularly concerned with instances where Buddhist structures and temples are being constructed as a symbol of power, rather than to represent the local population."
Drawing upon her experience of the conflict in Northern Ireland, she added,
"Even in Northern Ireland, issues relating to culture, flags  and language continue to be one of the most difficult issues. All cultures and identities should be respected. Even though Northern-Ireland made significant progress in its peace process it still suffers from political setbacks due to the failure to address these cultural issues. Sri Lanka should take very seriously the need to respect the culture of the Tamil people and bring to an end the building of religious buildings and monuments as a symbol of power."
The All Party Parliamentary Group Chair, Paul Scully criticised the slow pace of reforms and ongoing torture:
"Torture is still endemic and there's little freedom in the media.  We also have land grabbing. When you're looking at truth and reconciliation the appropriated land should be returned. There are clear examples of military run resorts on Tamil Land in the North-East. That can't be right. You have friends in parliament that will keep pushing on this. We know that things are moving far too slowly. We're in a similar situation in Burma also. Where Aung San Suuu Kyi offered hope but has now been slow in implementing change and reform. "
Speaking on his experience of the conflict in Burma that saw several human rights abuses, he said,
"My indirect experience of a similar conflict is the fact that my father was born in Burma, so I've heard many stories about tragedies about Burma in the same way as Tamil children here would have heard about Sri Lanka.  The Tamil community in this country would have seen the horrors and tragedies and for some of you it may be too painful to return to Sri Lanka. And for those that do want to return you will need to have reconciliation that you have confidence in. And that's what we need to work on."
Mr Scully spoke about his visits to Tamil schools in London and the importance of remembrance, adding "I'm always impressed by how Tamil children celebrate their spirit  through music and dance in Tamil schools in London. And it is really important they remember their history as well, in terms of black July and the end of the conflict. All of these things we must absolutely remember."
Highlighting the lack of international pressure on Sri Lanka despite its reneging on United Nations Human Rights Council commitments, Sri Lanka's Campaign's Director Richard Gowing, said,
"The overwhelming majority of commitments made by Sri Lanka to the UNHRC have been unachieved.  There really appear to be no plans to establish a credible international  justice mechanism with senior government officials reaffirming commitment protect what they call war heroes.  It's also important to note how rare statements by the international reiterating the necessity for an international justice mechanism have become. The explained rationale is that speaking up on it provokes a backlash which jeopardises the survival of the current government. I don't think that's satisfactory and is very short sighted. When the international community has a chance to pressure for change, it must do so to at least make sure some progress is made to break the root causes of the cycle of mass atrocities over many decades in Sri Lanka. The failure of Sri Lanka is the failure of the international community. At the start of this year the EU had the opportunity to ensure progress on the PTA by imposing strict conditions to restore GSP+. Unfortunately it failed to do so. GSP+ was granted in May. Another golden opportunity wasted. Primary responsibility to address failures and non-recurrence lies principally with the government of Sri Lanka. We also need to ask questions about the international communities role in what can be perceived as a major decline in pressure needed to  bring about meaningful change in Sri Lanka."
Mr Gowing further stressed the importance of careful provision of aid to Sri Lanka, drawing on £6.6 million given by the UK to Sri Lanka he said,
"The use of enforced disappearances torture and sexual violence has almost continued unabated. Given the ongoing nature of the abuses, its essential we being to ask questions about the UK funds given to police training in Sri Lanka. The UK could share its monitoring and evaluation of this programme."
Speaking on the situation for Tamil activists in the North-East, Tamil Guardian co-editor Sutharshan Sukumaran said,
"Military presence is still very much noticed. Even though the government will claim that there is more space because civil society in the North-East is coming out to protest, the real issue is that at every protest there is some form of state surveillance that is taking names and photos. It is just another form of state intimidation. Since Sirisena came into power we've seen some of the biggest protests in the North-East, demanding the government to move on implementation of its UN commitments and deliver a political settlment.  There is a heightening discontentment within the Tamil people in the North-East. This is also reflected in Tamil politics. Even though the Tamils voted for the Tami National Alliance, there is evident discontent of activists and civil society in the North-East at the effectiveness of their own Tamil political representation. It strikes a chord with what led to the armed conflict in the 70's 80's, when  the Tamil people lost faith in the Sri Lankan government commitment to deliver on a political solution and also lost faith in the Tamil political representation to pressure the government into doing so."  
Mr Sukumaran went on further to outline the imminent threat to Tamil activists and civil society in the North-East,
 "A major worry now is the effect of  continuing state surveillance. It has happened in the past where during periods of unrest or conflict, state actors have used the period of instability to abduct and assassinate key Tamil journalists and civil society activists in quick succession using information from state surveillance. A key example was just after the breakdown of the ceasefire between the LTTE and Sri Lankan govenremnt. There is a fear that if the situation destabilises, it will be Tamil civil society and activists that are targeted first. There should be serious consideration of how we protect Tamil civil society in case of future deterioration of the situation on the ground, especially in light of the evidence of reducing international pressure on Sri Lanka. "
Togethor Against Genocide Advocacy Director Andrew Thorpe further highlighted Sri Lanka's showed lack of genuinity in seeking justice,  stating,
"Examples include promoting General Shavendra Silva to General in 2017, who is accused of being in charge of the 'white flag' extra judicial executions of LTTE politcal leaders. Colombo seems to think that stallign on justice will see it eventually drop of the internaitonal agenda."
Mr Thorpe highlighted the continued militarisation stressing,
"The military has also organised its invovlement in kindergarten , primary schoool, religious and civilian activitiets in the North-East." 
Speaking on the UN Special Rapporteur's on Human Rights and counter terrorism visit to Sri Lanka, he said, "interestingly, Emmerson made comments at a press briefing stating that Sri Lanka could be referred to the UN Security Council."
He further highlighted Sri Lanka's failure to repeal and replace the PTA with internationally accepted legislation. Drawing on Ben Emmerson's report on Sri Lanka, he said,
"Resolution 30/1 committed the government to repealing and replacing the PTA. It has been a cornerstone for institutional impunity and state abuse against Tamils for nearly 40 years. Progress on this hasn't happened. We've seen publication of counter terrorism drafts culminating in the latest which was focused on by the UN Special Rapporteur. It's provisions are just as alarming as the predecessor and in some aspects some argue even worse."
Mr Thorpe added that as well as the UN, other bi-lateral pressure mechanisms had to be used on Sri Lanka. Commenting on the UK, he said, "UK relationships with Sri Lanka should be focused on accountabiltiy not just commercial interests. Especially when considering likely bi-lateral discussions post-Brexit."
The event ended with a Question and Answer session that saw panellists and the audience discuss ways to enhance pressure on the Sri Lankan state to implement change and the need to build the capacity of Tamil civil society on the ground.
Concluding the event, the Tamil Guardian co-editor said that though the current prime minister and the United National Party government in Sri Lanka was widely accepted by the international community as progressive, it was the same party that allowed for the Black July riots to happen in 1983.  Highlighting the ongoing torture and risk of further atrocities, he stressed that timely justice and accountability was imperative to protect current civil society activists from recurring state-led violence in Sri Lanka.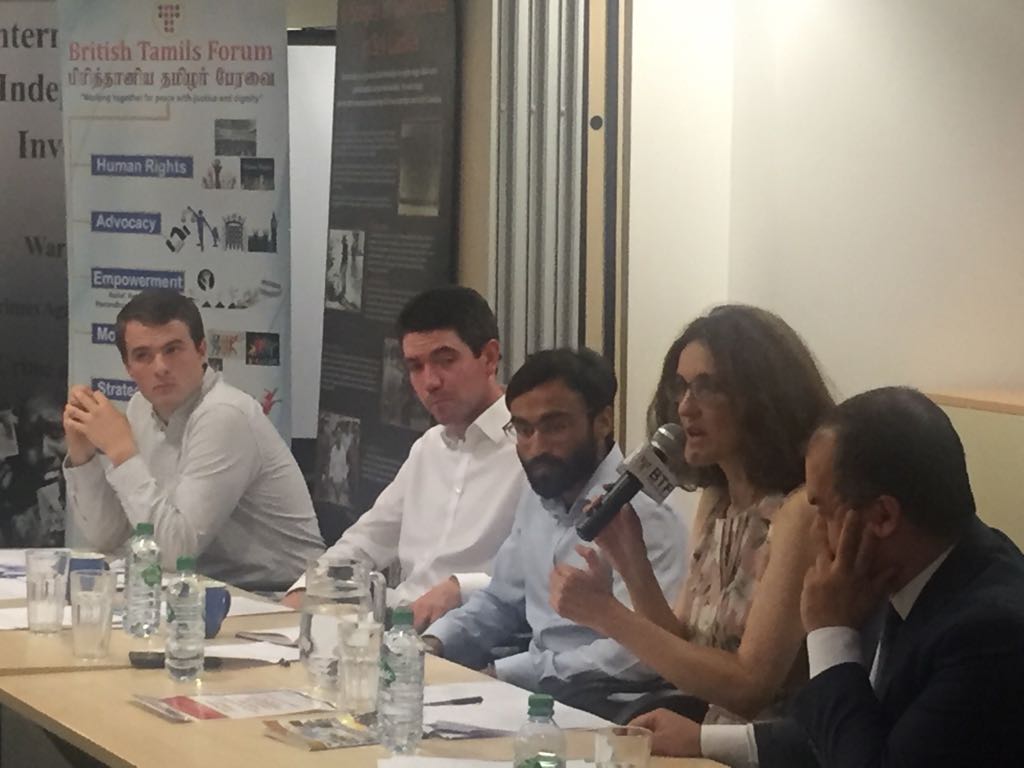 We need your support
Sri Lanka is one of the most dangerous places in the world to be a journalist. Tamil journalists are particularly at threat, with at least 41 media workers known to have been killed by the Sri Lankan state or its paramilitaries during and after the armed conflict.
Despite the risks, our team on the ground remain committed to providing detailed and accurate reporting of developments in the Tamil homeland, across the island and around the world, as well as providing expert analysis and insight from the Tamil point of view
We need your support in keeping our journalism going. Support our work today.
For more ways to donate visit https://donate.tamilguardian.com.