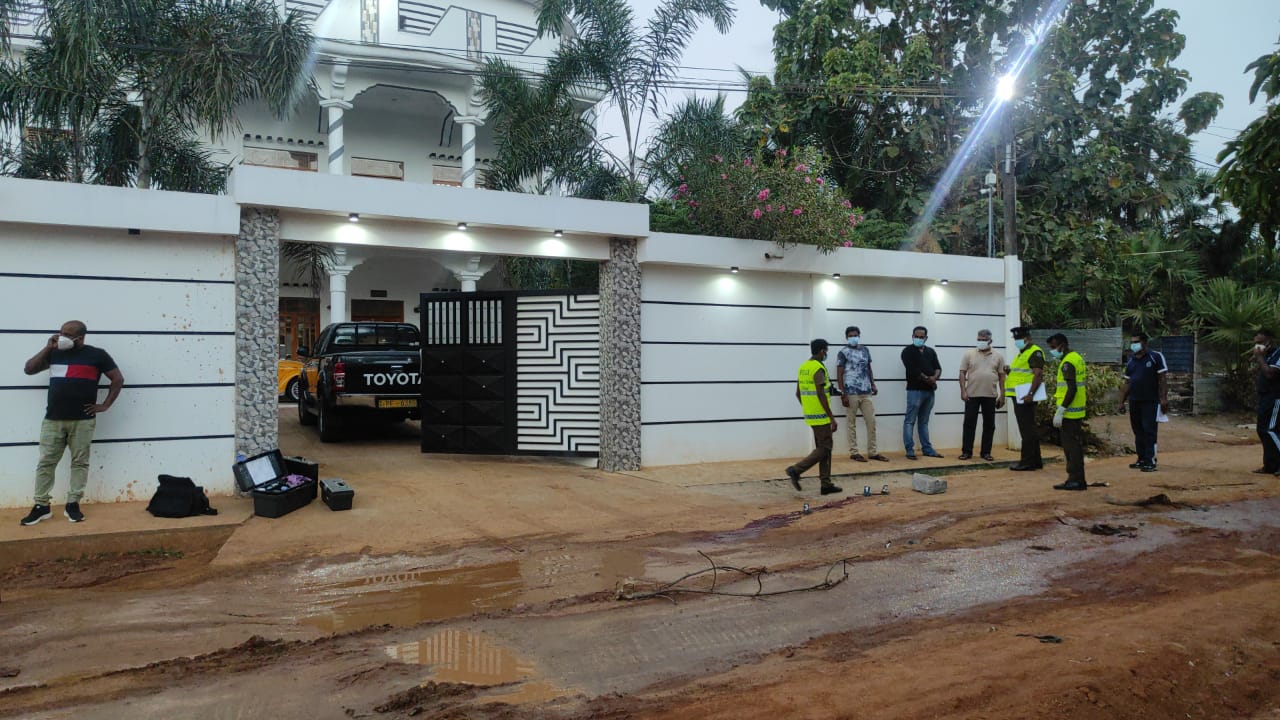 Scene of shooting - MP Sathasivam Vivalendiran House
A Tamil man has been shot in the head by security forces outside of the Sri Lankan Podujana Peramuna (SLPP) MP Sathasivam Viyalendiran's house in Batticaloa earlier today.
The Sri Lankan government granted presidential pardons to 94 political prisoners convicted under the draconian Prevention of Terrorism Act (PTA), including 16 alleged "former members of the Liberation Tigers of Tamil Eelam (LTTE)". The pardon was issued earlier today to supposedly coincide with the Buddhist festival of Poson Poya.

Batticaloa Magistrates court ordered a second autopsy last Friday for the Tamil youth "beaten to death" by police.

Tamil lawyer, Sugas Kanagaratnam described Batticaloa Magistrates ruling to exhume the youth's body as a "historic judgement".  

Sri Lankan army commander and accused war criminal Shavendra Silva has suspended several Sri Lankan soldiers after they were caught humiliating locals in Eravur by forcing...

Photograph courtesy of Home to Bilo

A Tamil refugee family have been reunited after being moved to community detention in Perth, Australia, following the medical evacuation of their three year old daughter to a hospital as she was being denied treatment by detention centre staff at...

The body of a man, who was quarantined in his home in Vavuniya, was recovered from a well last Tuesday.

Ganesan Ilankumaran, and his family were in isolation, due to the current COVID-19 measures in effect, when he went missing. His family had been searching for him until the body was discovered the next day. Police rushed to the...

Thousands of families in the Mannar district have been seriously impacted by the travel ban, with daily wage labourers being particularly affected over the last few weeks.

Families have been left with no choice but to meet their food needs and combat the economic impact of the strictly imposed measures by digging and selling...

Tamil National Alliance (TNA) MP, Vino Noharathalingam signed a letter on Wednesday (June 16th), urging Sri Lankan Prime Minister Mahinda Rajapaksa to provide relief assistance to COVID-19 affected families in the North East.

Sri Lanka's Terrorism Investigation Department (TID) questioned the leader of the Hindu extremist organisation Siva Senai, Maru Sachithananthan over alleged links to the Liberation Tigers of Tamil Eelam (LTTE). 

Photo credit: ISHARA S. KODIKARA/AFP via Getty Images

Sri Lankan police released the captain of the MV X-Press Pearl container ship, which caught fire and caused a major environmental disaster along Sri Lanka's coast earlier this month.

Following the passage of a scathing resolution in European parliament, condemning Sri Lanka's human rights record, UK Minister for South Asia and the Commonwealth, Lord Tariq Ahmad, has met with Sri Lanka's to discuss deepening bilateral relations.

...

12 Sri Lankan political parties joined a virtual conference hosted by China's embassy to celebrate diplomatic ties with China on the 100th anniversary of the Chinese Communist Party.

The Tamil National Alliance and the Tamil National People's Front (TNPF) did not attend the virtual conference. 

Sri Lanka's Prime Minister, and accused war criminal, Mahinda...

Tamil Nadu's Chief Minister, M.K. Stalin, has met with India's Prime Minister and the leader of the main opposition party, Sonia Gandhi, to put forwards the demands of Tamil Nadu.

A key demand of which is for:...

Eelam Tamil refugees are on their 9-consecutive day of protest against continued detention in a state-run camp situated in Tiruchirappalli, Tamil Nadu.

78 Eelam Tamils were present at the protest, calling upon Tamil Nadu's recent...

India's High Commissioner for Sri Lanka, Gopal Baglay, met with the Tamil National Alliance and pledged support for the right to self-governance through the 13th Amendment.

On Twitter the High Commission tweeted:

 

Speaking in parliament, MP for Carshalton and Wallington raised concerns over the deterioration of human rights in Sri Lanka.

He asked Nigel Adams, Minister for Asia at the Foreign and Commonwealth Office and Department...

File photograph: YouTuber 'Sattai' Duraimurugan

Tamil Nadu's Trichy police department arrested four Tamils for challenging a video posted earlier this month on social media, that showed former Liberation Tigers of Tamil Eelam (LTTE) leader, Velupillai Prabhakaran in a derogatory manner.

The Sri Lankan Foreign Ministry claimed that the resolution passed by European Union (EU) parliament "contains factual inaccuracies" and fails to take into consideration the apparent "multifaceted progress" in terms of reconciliation and development. 

Tamil Nadu politicians expressed their solidarity with Arputham Ammal, the mother of A.G. Periarivalan, who has spent over 31 years imprisoned for his alleged role in the 1991 Rajiv Gandhi assassination.

On 11 June 2021, a social media campaign started demanding his release and marking 31 years since he was...

Ahnaf Jazeem

Nine European human rights ambassadors have called on the Sri Lankan government to immediately release Ahnaf Jazeem, a detained poet and teacher, or uphold his right to a fair trial. 

Ahnaf Jazeem, was detained on May 16, 2020, under the Prevention of Terrorism Act (PTA), over unsubstantiated claims...

US-based advocacy organisation, People for Equality and Relief Lanka have slammed Sri Lanka's attacks on Tamil American's as "terrorist sympathisers" following the introduction of a resolution into the US Congress calling for an "international mechanism for accountability".

 

 

 

 

 

 

 

 

 

 

 

 

 

 

 

 

                                                                                                                                                                       

Writing in the Red Flag, Ben Hillier, highlights the plight of the Biloela Tamil refugee family who have been detained for over three years in Australia as well thousand of Tamil refugees who face the threat of deportation and torture in Sri Lanka.

 

Government complicity

Former Northern Provincial Council member Durairasa Ravikaran called for Sri Lankan state forces to take accountability and impose sanctions on those who are repeatedly violating COVID-19 protocols by travelling from the South to the North-East.

During parliamentary questions, the leader of the Liberal Democrats, Edward Davey, and Shadow Minister for Asia and the Pacific, Stephen Kinnock, questioned Britain's assessment of human rights in Sri Lanka and its continued military support.

 

A call for sanctions

Photograph: Tamil protestors in Colombo, 1956, shortly before they were attacked by Sinhala mobs. (Courtesy Victor Ivan)

This week marks 65 years since Sri Lanka's first anti-Tamil pogroms, when government backed Sinhala mobs murdered more than 150 Tamils across the island – the first of many massacres...

The EU parliament has passed a new resolution on Sri Lanka expressing "serious concern at the rapid deterioration of human rights" on the island and urging the Council to consider targeted sanctions against senior Sri Lanka officials accused of war crimes.

In a scathing report, Amnesty International slams Sri Lanka's handling of the coronavirus pandemic highlighting the gag order on the health care sector; the prioritisation of those with economic or political privilege at the expense of at-risk groups; the abuse of factory workers and prisoners; as well as the lack of a...

Sri Lankan police officers have arrested individuals across Jaffna for allegedly "violating the travel ban" and interrogated for their purpose of travel.

...
 

Concluding the first-day summit, NATO Secretary-General Jens Stoltenberg called for a unified response to the challenges posed by China.

Photograph: UN News

An appeal by Ratko Mladic, the commander of Bosnian Serb forces in the country's 1992-95 war, against the 2017 verdict that convicted him of genocide has been turned down by the International Criminal Tribunal for the Former Yugoslavia (ICTY).

Switzerland will be holding a referendum on a controversial terrorism bill, which has been widely panned by international human rights organisations, on 13 June.

Photo credit (Twitter: @TVRVNTO)

A mass grave was found at a residential school in British Colombia, Canada, containing the remains of 215 indigenous children on Friday.

French President, Emmanuel Macron, asked for Rwandan's forgiveness its silence over the Rwandan genocide, in which 800,000 Tutsi and Hutu dissidents were killed, however, Macron fell short of apologising for the role France played.

Myanmar's ousted democratic leader Aung San Suu Kyi made her first public appearance since the military deposed her government and seized power on 1 February 2021, at a court hearing on Monday. 

Palestinian casualties have sharply increased as Israel stepped up its bombardment of Gaza early on Friday as tanks and artillery massed at the border and joined aerial attacks.

The Irob minority group in Ethiopia are facing an existential crisis in addition to the mass atrocities inflicted by ongoing conflict in the Tigray state. 

Ethiopian Prime Minister Abiy Ahmed launched military forces in response to "traitorous" attacks on military camps that has since escalated to thousands of civilian casualties, hundreds of thousands of people who have been internally displaced within Tigray, and 63,000 refugees who have fled to Sudan since fighting broke out on...

The Taliban has announced a three-day ceasefire to mark Eid al-Fitr following the bombing of a girls' school in Dasht-e-Barchi, in which over 50 people, mostly young girls, were killed and over 100 were injured.

Afghanistan's President, Ashraf Ghani, accused the Taliban of conducting the attack and declared Tuesday a day of national...

Human Rights Watch (HRW) has reported that Israel's policies constitute apartheid; with the intention to "maintain the domination by Jewish Israelis over Palestinians and grave abuses committed against Palestinians living in the occupied...

Over 100 Palestinians and 20 Israeli police were injured in a far-right Israeli protest in occupied East Jerusalem.

A group of UK charities and Human Rights Watch joined Palestine in condemning British Prime Minister Boris Johnson's letter to the Conservative Friends of Israel, in which he expressed the UK's opposition to the ICC decision to investigate alleged war crimes in Palestine since June 2014.

Joe Biden is the first US President to formally recognise the systematic killing of over a million Armenians by the Ottoman Empire during the First World War, as genocide. 

In a statement marking Armenian Remembrance Day, Biden wrote:

"We remember the lives of all those who died in the Ottoman-era Armenian genocide and...

The European Union (EU) imposed sanctions on eight Iranian militia officers and police chiefs over a deadly crackdown of protests in November 2019 by the Islamic Republic. 

Hossein Salami, the head of the Islamic Revolutionary Guard Corps, was amongst those who were sanctioned. 

"Hossein Salami took part in the sessions that resulted in the orders to use lethal force to suppress the November 2019 protests. Hossein Salami therefore bears responsibility for serious human rights...

Photo of US troop in Afghanistan

Following the announcement of US President, Joe Biden, that America would withdraw its forces from Afghanistan by 11th September, Britain has similarly stated that it will withdraw nearly all of its approximately 750 soldiers.

The British House of Lords has voted down the government's proposed overseas operation bill which would establish "a presumption against prosecution" for service personnel accused of committing crimes overseas, except for sexual offences, if more than five years had passed since the alleged...

A Turkish court has jailed for life 22 former soldiers for their involvement in a coup attempt that sought to overthrow President Recep Tayyip Erdogan. 

A mass trial which concluded on Wednesday investigated nearly 500 soldiers and identified the ex-military personnel as guilty.

Addressing the media today, Former Myanmar ambassador, Kyaw Zwar Minn, said that staff were forced to leave Myanmar's embassy and he was dismissed as the country's representative by Myanmar's military attaché.

Britain's Foreign Secretary, Dominic Raab, has announced further sanctions on Myanmar, targeting the military-linked conglomerate Myanmar Economic Corporation (MEC) following the military coup on the 1 February.

The former United Nations Special Rapporteur on arbitrary executions and renowned human rights law professor Christof Heyns passed away this weekend.

Tributes have flooded in around the world for Nawal El Saadawi, an Egyptian doctor, feminist and writer, who was a panel member in the 2010 Permanent People's Tribunal on Sri Lanka which acknowledged the "importance of continuing investigation into the possibility of genocide".

Secretary-General of the UN António Guterres stressed the key role that the United Nationals plays in combating deteriorating human rights violations around the globe in his opening remarks at the 46th session of the UNHRC session in Geneva.

The United Kingdom and Canada announced that they are imposing sanctions on individuals responsible for serious human rights violations against the people of Myanmar during the coup. 

UK Foreign Secretary Dominic Raab announced that three Myanmar military generals will face travel bans and their assets will be frozen under the UK's sanctions regime. 

Photo of ICC's chief prosecutor, Fatou Bensouda

The International Criminal Court (ICC) on Friday determined that it has jurisdiction over the territories occupied by Israel in the 1967 Arab-Israeli conflict, opening the way for the chief prosecutor to inquire into allegations of Israeli war crimes.

Myanmar's civilian leader, Aung San Suu Kyi, has been detained by the country's military following a military coup in which the top army commander, Min Aung Hlaing, seized total control.

Indian riot police attempted to clear farmers from one of the farmer protest sites in Ghazipur by cutting off water and electricity supplies. 

The protesters defiantly refused to leave the site and were joined by thousands of protesters, forcing the police to back down. 

Three British Sikh men of Indian origin have been arrested by the UK police in connection with the murder of Rulda Singh, a member of the Hindu-supremacist organization Rashtriya Swayamsevak Sangh (RSS), in India in 2009. 

In a series of dawn raids, Gursharanvir Singh Wahiwala and his brother Amritivir Singh aged 37 and 40 respectively were arrested in Coventry and Piara Singh Gill, 38, was arrested in Wolverhampton. 

As Israel spearheads a massively successful vaccination drive against the coronavirus, reports reveal that the Palestinian population residing in the occupied West Bank and Hamas-ruled Gaza strip is deliberately being left out of the programme by the Israeli government. 

A group of United Nations human rights experts have accused US president Donald Trump of violating international law after he pardoned four Blackwater private security contractors who were serving prison sentences for killing 14 innocent Iraqi civilians, including two children, in Baghdad in 2007.

According to the US Justice...