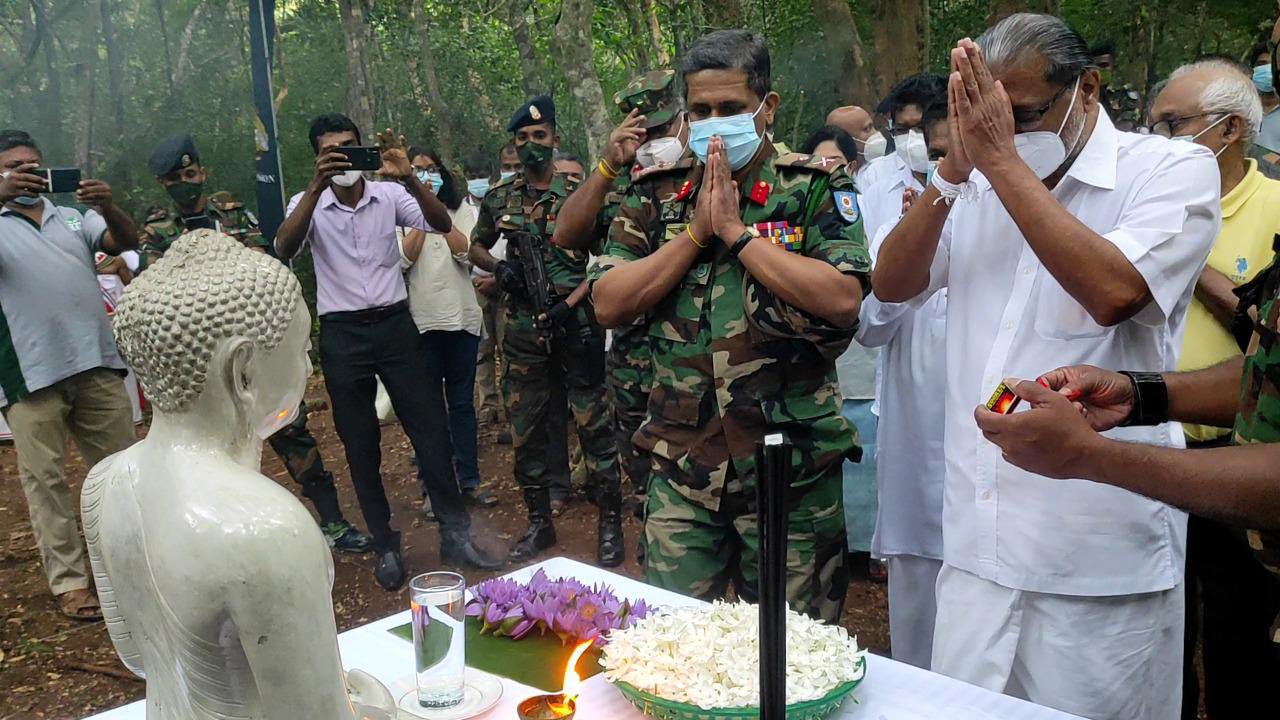 Vidura Wickramanayaka, Sri Lanka's state minister for 'national heritage', accompanied by army soldiers and archaeology department officers, led an event on Monday at Kurunthoormalai in which a new Buddha statue was placed and consecrated at the site of the Athi Aiyanar temple.
The temple site, on a hilltop in the Kumulamunai area of  Mullaitivu, has been the target of intense landgrab efforts by Sinhala Buddhist monks, met with fierce resistance from locals which in 2018 led to a court order decreeing that no changes could be made to the site. The court also stated that the archaeology department had abused its power in allowing Buddhist monks to survey the area.
While Tamils have been resisting several attempts at landgrabs and Sinhalisation across the North-East, and...
Ahimsa Wickrematunge the daughter of murdered journalist Lasantha Wickrematunge has filed a complaint to the United Nations Human Rights Committee over the alleged Sri Lankan government involvement in her father's death 12 years ago.

The Centre for Justice and Accountability, an international human rights organisation based in San Francisco, filed the...

The international organisation dedicated to press freedom, Reporters Without Borders (RSF) has called on the Jaffna Magistrate's Court to dismiss the case brought against Tamil Uthayan newspaper under the draconian Prevention of Terrorism Act (PTA) which is due to be heard on Tuesday.

See the tweet here.

US Ambassador to Sri Lanka and the Maldives, Alaina B. Teplitz, has criticised Sri Lanka's policy of forced cremations stating that COVID "should not cost us our compassion and respect for another's beliefs".

Ahimsa Wickrematunge, the daughter of murdered journalist Lasantha Wickrematunge wrote a piece for Groundviews marking the 12th anniversary of his death and detailing why his killers have never punished. 

Lasantha Wickrematunge had been investigating a deal made towards the end of the armed conflict in 2009, in which the Sri Lankan air force was looking to buy...

Hundreds of French Tamils gathered in Paris earlier this week, condemning the destruction of the Mullivaikal memorial monument and expressing solidarity with Jaffna University students.

What started off as a car rally at La Chapelle on Tuesday 12th January, concluded as a protest at Hôtel des...

Human Rights Watch (HRW) has condemned Sri Lanka's continued policy of forced cremations noting that the denial of burial rights was "causing intense distress, stoking communal hatred, and is without any scientific basis".

Responding to a question posed by UK Shadow Minister for Environment, Food and Rural Affairs, Ruth Jones, about Sri Lankan forced, Minister for Asia at the Foreign and Commonwealth Office and Department for International Development, Nigel Adams,  expressed the UK's repeated concern over minority rights in Sri Lanka.

Vidura Wickramanayaka, Sri Lanka's state minister for 'national heritage', accompanied by army soldiers and archaeology department officers, led an event on Monday at Kurunthoormalai in which a new Buddha statue was placed and consecrated at the site of the Athi Aiyanar temple.

The temple...

In advance of the 46th Human Rights Council session, Amnesty International has urged the UN to establish an international accountability mechanism in Sri Lanka to monitor the human rights situations, warning that if there was insufficient progress, that the Human Rights Council must take "international action to ensure accountability".

The removal of over 7,000 voters from the Northern Province's electoral list is a "Violation of a basic human right," claimed Member of Parliament Rishad Bathiudeen, in a letter to Sri Lanka's election commission this week.

The All Ceylon Makkal Congress (ACMC) leader wrote to the Elections Commission, condemning the "unjust" act of removing the names of 7,727 residents originally from the Northern District and demanded that necessary steps be taken to register the individuals in...

Sri Lankan authorities have detained a Muslim businessman, Fawaz Mohamad Nisar, for allegedly posting hate speech on his personal Facebook account, as authorities continue to crackdown on social media posts.

Nisar was detained in prison from January 13, until later today.

Sri Lanka's Criminal Investigations Department (CID) claim Nasir's Facebook posts included content that was demeaning to Buddhist monks, thereby committing an offence under International Covenant on Civil and...

The US State Department has retained the Liberation Tigers of Tamil Eelam (LTTE) on its Foreign Terrorist Organisations (FTO) list, despite almost 12 years since the Sri Lankan government claimed to have eradicated the organisation, in a military offensive that killed tens of thousands of Tamil civilians.

 

Dr Suthan Ulakanathan tells the story of how his family has dealt with grief in a time of chaos.

It's Easter Sunday, 12 April 2020, and my mobile phone rings at 11:55 PM. It is the hospital's intensive care doctor who tells me my father has deteriorated in the last few hours. He asks if...

Wendy Sherman, a former Under Secretary of State for Political Affairs and a lead negotiator on the US-Iran nuclear deal, has been widely reported to have been appointed as the next United States Deputy Secretary of State. 

The situation in Sri Lanka and Tamil politics will not be entirely unfamiliar...

Tamil farmers in the Siththandi area of Mayilathamadu, Batticaloa, organised a protest on January 15 against the occupation of their land by Sinhala settlers. 

As they marked Maatu Pongal, a festival celebrated to give thanks to cattle, Tamil farmers in Siththandi poured into the streets...

At Neeraviyadi Pillaiyar temple in Semmalai, Mullaitivu, Thai Pongal festivities took place amidst surveillance of several police and military investigators who were stationed inside the temple throughout the event.

The Pongal event was attended by many Semmalai residents, including former Northern Provincial Council member...

The Association for Relatives of the Enforced Disappearances have written to Core-Group Ambassadors for Sri Lanka calling on the international community and UN refers the country to the International Criminal Court or establish a specifically created International Criminal Tribunal in advance of...

Responding to a question posed by UK Labour MP Taiwo Owatemi on the legitimacy of exporting military equipment to Sri Lanka, with a "value of £149,724", the Parliamentary Under-Secretary for the Department of Trade, Ranil Jayawardena, denied that this was a breach of international humanitarian law.

Today marks 28 years since the death of Sathasivam Krishnakumar alias Colonel Kittu, and nine other LTTE cadres, who committed suicide after being surrounded by Indian navy warships in 1993.

Ed Davey, Leader of the UK Liberal Democrats, has called on the Prime Minister to "create an International Independent Investigative Mechanism" (IIM) to "investigate and prosecute for serious international crimes committed in Sri Lanka against the Tamils".

In an unprecedented show of unity, major Tamil political leaders, Tamil civil society actors and Tamil victim community representatives have signed a statement declaring that there is "no scope" for a domestic accountability mechanism within Sri Lanka and jointly called for an international accountability process, including a referral to the...

The Sri Lankan army has formed a new corps for Agriculture and Livestock under the army's existing Directorate of Agriculture and Livestock (DAL), as militarisation becomes rampant in the public sphere and amidst attacks on Tamil farmers.

Accused war criminal Shavendra Silva, attended an event where he signed into the order the formation of...

Reconstruction of a memorial that was destroyed by authorities last week has begun at the University of Jaffna this morning.

A banner has been hosted at the site of the demolished memorial, which reads 'Mullivaikkal Ninaivu Mattram' – or Mullivaikkal memorial monument.

Visuvanathan Rudrakumaran, Prime Minister of the Transnational Government of Tamil Eelam (TGTE), urged the government of Tamil Nadu to build a monument commemorating the Mullivaikkal massacre in a recent webinar.

In a digital gathering convened as a mark of protest against the demolition of the Mullivaikkal memorial monument in Jaffna University, Rudrakumaran said that Chennai should erect a monument in the Marina Beach, a prominent landmark in the capital. In a...

The Sri Lankan navy has stepped up land grab operations in Pungudutivu, a coastal island off the Jaffna peninsula.

Earlier this year the navy attempted to expropriate 14 acres of publicly owned land, including land occupied by the Malayadi Nachimar Temple with the permission of the Velanai Divisional Secretary, for the Kottayam navy camp.

The soil in the area is known to be the most fertile region in Pungudutivu.

A cinema theatre in Jaffna has been shut down for at least 14 days, after an early morning screening of Vijay's latest 'Master' movie drew complaints from Sri Lanka's Ministry of Health.

Amnesty International called the acquittal of Sivanesathurai Chandrakanthan, alias Pillayan, over the assassination of Tamil National Alliance (TNA) MP a "failure of justice". 

The rights group responded to the decision by Sri Lanka's Attorney General Department to drop the charges against the suspects involved in the murder of Joseph...

During his Thai Pongal message, Sam Tarry, MP for Ilford South, has expressed his concern over the detonating human rights situation in Sri Lanka for Tamils and Muslims and has called for sanctions against Sri Lankan officials accused by the UN of war crimes.
Three British Sikh men of Indian origin have been arrested by the UK police in connection with the murder of Rulda Singh, a member of the Hindu-supremacist organization Rashtriya Swayamsevak Sangh (RSS), in India in 2009. 

In a series of dawn raids, Gursharanvir Singh Wahiwala and his brother Amritivir Singh aged 37 and 40 respectively were arrested in Coventry and Piara Singh Gill, 38, was arrested in Wolverhampton. 

As Israel spearheads a massively successful vaccination drive against the coronavirus, reports reveal that the Palestinian population residing in the occupied West Bank and Hamas-ruled Gaza strip is deliberately being left out of the programme by the Israeli government. 

A group of United Nations human rights experts have accused US president Donald Trump of violating international law after he pardoned four Blackwater private security contractors who were serving prison sentences for killing 14 innocent Iraqi civilians, including two children, in Baghdad in 2007.

According to the US Justice...

The city of Detroit announced last month that it is countersuing Black Lives Matter protestors after a group of organizers sued the local government in late August. 

After protests across the USA and around the world over the killing of George Floyd police in May, activists in Detroit sued the local...

A cross-party statement by British MPs and peers in the House of Lords has condemned the 'brute force' the Indian government has used in responding to 'hundreds of thousands of peacefully protesting farmers'.

British banks have come under pressure from human rights groups after it was reported that more than $60 million has been lent to a company part-owned and used by the Myanmar military, as it carried out a campaign of ethnic cleansing of Rohingya Muslims.

Trump supporters have stormed the Capitol to prevent Congress from confirming the victory of President-elect Joseph R. Biden Jr.

Lawmakers have been rushed out of the building following the breach. It came as the representatives debated a move by Republicans to overturn November's election results.

The Australian Human Rights Commission (AHRC) has outlined "grave" concern over the government's handling of people held in Australia's immigration detention facilities, as it published a report looking into the immigration detention network last month.

The AHRC found that people were being detained for long periods of time – "orders of magnitude greater...

In reflection of the Australia's grievous history with its Indigenous people, Prime Minister Scott Morrison announced the country's national anthem would be altered from January 1.

Australia will no longer be referred to as "young and free" in the anthem. Instead, people will sing "one and free," in hopes it will create a "spirit of unity" among its inhabitants and acknowledge people who have lived in Australia tens of thousands of years before colonists. 

As the newly formed cabinet of Yemen arrived in the Southern City of Aden, an explosion killed at least 22 people and injured over 50.

Whilst the Prime Minister and his cabinet are reported to be okay, amongst those killed are aid workers and officials. Yemen's information minister has accused Houthi rebels of being behind this "cowardly terrorist act".

Karima Baloch, 37-year-old Balochistan activist and refugee, has been found dead in Canada following her missing disappearance.

The Sandinista National Liberation Front, Nicaragua's ruling party, the Sandinista National Liberation Front, passed a law preventing opposition candidates from running in the 2021 presidential elections. 

The new law has granted Nicaragua's president Daniel Ortega and his government the power to unilaterally declare citizens "terrorists" or coup-mongers, classify them as "traitors to the homeland," inhibiting candidates from running in the election. 

The International Criminal Court (ICC) has refused to investigate allegations of genocide committed by China against the Uighur Muslim minority, rejecting complaints filed by two Uighur exile groups, the East Turkistan Government in Exile and the East Turkistan National Awakening Movement.

The US has imposed sanction on a key official in Turkey's Presidency of Defence Industries, Turkey's military procurement agency, following the procurement of S-400 defence missiles from Russia.

The US has become the first country to recognise Morocco's claims over West Sahara, in exchange, Morocco has become the Arab nation to establish diplomatic ties with Israel since August.

Marking International Human Rights Day, the US and UK announced a new round of sanctions targeting 31 human rights violators from across the globe.

More than 70 farmers from Zabarmari, a village in north-eastern Nigeria, after the Islamist militant group, known as Boko Haram, accused the farmers of betraying them.

On 28 November, 50 farmers were approached by Boko Haram militants and led to the nearby village of Koshebe. Presuming that they protected under the peace deal, they were slaughtered en masse in a building. When 20 more villagers went in search for these farmers they were also killed.

Punjab Haryana border near Ambala

Indian farmers have maintained that they will intensify protests and hold a nationwide strike on Tuesday after negotiations with the Indian government broke down.

Farmers Punjab, Haryana, and Uttar Pradesh are continuing to block key highways on the outskirts of New...

Thousands of Rohingya are being shipped to a remote island by the Bangladesh government says refugees and humanitarian workers, despite government assurances that no one is being forced to leave. 

More than 1,600 Rohingya refugees were sent to Bhasan Char, a flood prone island today, despite the government asserting that they were only moving the Rohingya who were willing to go as a measure to relieve overcrowing in camps. The camps have become home to over a million Rohingya as they...

China is considering drafting a blacklist of "die-hard" supporters of Taiwan's independence as Beijing may take legal steps against democratically-elected President Tsai Ing-wen. 

Reuters reported that Taiwan condemned the plan after pro-Beijing newspaper Ta Kung Pao first reported it this month. China's Global Times tabloid...

France's interior minister, Gerald Darmanin, ordered an internal police investigation after officers were filmed throwing migrants out of tents while evacuating a protest camp in Paris on Tuesday. 

The police were caught by journalists and activists shaking migrants inside tents until they tumbled out and resistors were abused by batons, according to the head of aid group Doctors Without Borders, Corinne Torre. 

At least 600 people have been killed in Mai Kadara massacre in Ethiopia, in the Tigray region, forcing tens of thousands to cross the Tekeze River and seek shelter in Sudan.

An estimated 30,000 refugees have decided to make this journey. 

"It took twelve days to get here," said one relieved looking refugee. "We had to...

A barrage of rocket attacks in residential areas in Kabulon Saturday, killed at least eight and wounded more than 30 people, according to Afghan officials. 

The interior ministry reported that over a dozen rockets were launched from a pickup truck inside the city which the regional Islamic State group confessed to organising. 

The Islamic State group has been behind other attacks that have happened recently in Kabul., including two assaults on education institutions that killed...

On the anniversary of the Nuremberg trials, UK Ambassador, Neil Bush, speaking at the OSCE Permanent Council, reiterated Britain's aims of bringing to "impunity for the worst crimes".

The Nuremberg trials were a series of trials held in the aftermath of the Second World War and in the wake of the Holocaust. Ambassador Bush notes that they were the "first of their...

The United Nations has urged Egypt to release three members of an activist group arrested within days of each other as international pressure abounds. 

The victory of Aung San Suu Kyi's National League for Democracy (NLD) at Myanmar's elections has been heralded as evidence of support for the country's "nascent democracy" in defiance of the half-century military dictatorship.

Australian special forces were allegedly involved in the murder of 39 Afghan civilians according to damning report. 

For over four years, Maj Gen Justice Paul Brereton investigated allegations that a small group within the elite Special Air Services brutally murdered Afghan civilians, allegedly slitting throats, gloating about the murders, keeping kill counts, and photographing bodies with phones and weapons they planted on them to justify their actions. 

Thousands of people joined Thai students in a protest calling for education reforms as a part of wider calls for government removal. 

High school students are seeking greater freedom and fairer treatment within an education system which currently instills obedience. Protesters have three core demands: the removal of Prayuth Chan-ocha as prime minister, a new constitution and reforms to the monarchy of King Maha Vajiralongkorn.

The leader of pro-independence group, Polisario Front, in the Western Sahara declared war on Morocco last week following border confrontation. 

The announcement came a day after Morocco reportedly launched a military operation in a United Nations buffer zone after accusing the pro-independence group of blocking access to Mauritania. 

Aung San Suu Kyi has won enough parliamentary seats to form the next government  in Myanmar while the military backed opposition has called for a new vote.

Ms Suu Kyi's party, National League for Democracy (NLD) has secured 346 seats, more than the 322 needed to secure a majority. According to Myanmar's...