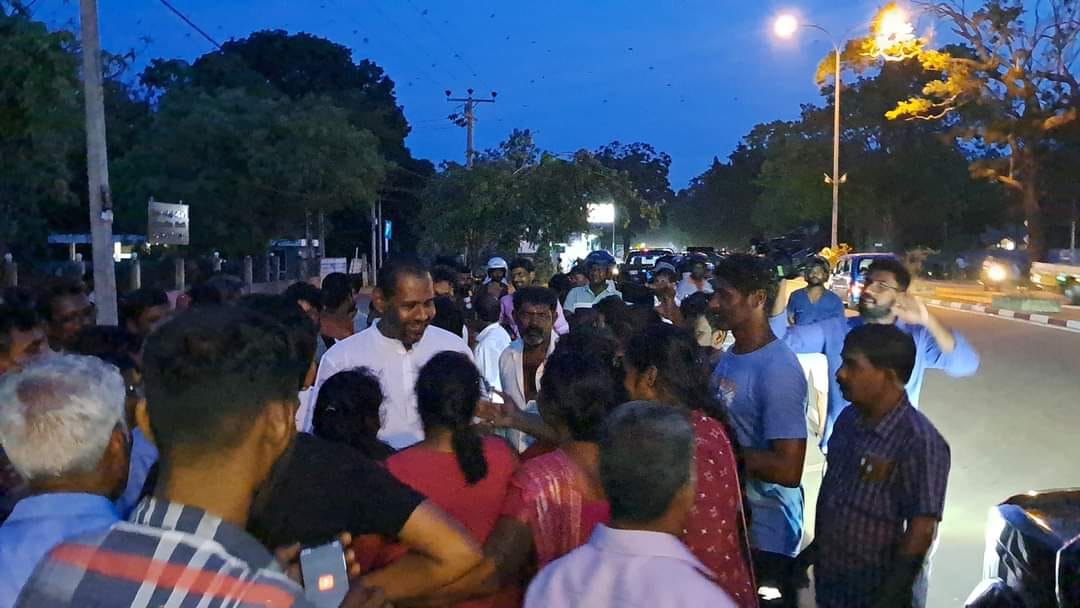 Crowd hugs Mr Ponnambalam outside Kilinochchi Magistrate Court following his release
Tamil National People's Front (TNPF) leader Gajendrakumar Ponnambalam was released on bail after he was arrested this morning. 
This morning, Mr Ponnambalam was arrested at his home in Colombo this morning and was taken to Kilinochchi police station before being taken to Kilinochchi Magistrate Court. 
Mr Ponnambalam was due to table a special motion in Parliament today regarding the assault and threats to life issued towards him by Maruthankerny police last week. The police department has since named him as an 'accused person' in the incident where he was assaulted and a loaded gun drawn on him by police officers in plain clothes.
Speaking to Reuters, an official stated that Sri Lanka and Thailand could potentially sign a free trade agreement (FTA) by March 2024. 

Negotiations between Thailand and Sri Lanka resumed in January. 

K.J. Weerasinghe, Sri Lanka's chief FTA negotiator, stated, "there will be several more rounds of talks, but I am confident we can conclude the...

Speaking in parliament, Tamil National Alliance MPs Shritharan Sivagnanam and Rasamanickam R. Shanakiyan condemned the arrest of Tamil National People's Front leader Gajendrakumar Ponnambalam.

Starting 15 June Sri Lanka will reduce prices for 60 essential drugs by 16%. 

In 2022 the island plunged into a financial crisis that resulted in a shortage of essential drugs and increased drug prices. 

According to Health Minister, Keheliya Rambukwella, the appreciation of the Sri Lankan rupee by about 24% has allowed the government to reduce the prices of 60...

Responding to the arrest of Tamil National People's Front leader, Gajendrakumar Ponnambalam, leader of the UK Liberal Democrats has written to the British Foreign Secretary requesting an update on their understanding of the situation and what communication the Foreign Secretary has had with his Sri Lankan counterpart.

His letter further notes:

The leader of the Tamil National People's Front, Gajendrakumar Ponnambalam MP was arrested at his home in Colombo this morning. The party have confirmed that after being taken to Kollupitiya police station, Mr Ponnambalam is being transported away from Colombo, purportedly to Jaffna.

Sri Lankan police have arrested the Tamil National People's Front's (TNPF) Vadamaradchi East Organiser Ms. Arulmathy days after an incident at Maruthankerny where a police intelligence officer pointed his gun at TNPF leader Gajendrakumar Ponnambalam. 

Tamil National Alliance (TNA) MP, Sivagnanam Sritharan, condemned the intimidation of Tamil National People's Front (TNPF) leader, Gajendrakumar Ponnambalam, after a Sri Lankan intelligence officer pointed his gun at the TNPF leader.

Sritharan slammed the incident as an illustration of "extreme repression". He added that it shows the harm "the military and state investigators can pose to the normal lives of ordinary Tamil people".

The TNA MP demanded immediate action against...

 

A Sri Lankan police intelligence officer pointed his gun to Tamil National People's Front (TNPF) leader Gajendrakumar Ponnambalam after he was attacked during a meeting in Maruthankerny. 

Ponnambalam was at a...

On Monday, the Asian Development Bank (ADB) approved a US 350 million dollar loan for Sri Lanka. 

The loan comes as part of a broader financial assistance package anchored by the International Monetary Fund's (IMF) Extended Fund Facility (EFF) for the island. 

Sri Lanka's cabinet has approved proposals to establish a South African style, "Truth and Reconciliation Commission" (TRC) despite continued demands from Tamil on the island for an international investigation into war crimes.

Tamil families of the disappeared in Vavuniya remembered the 42nd anniversary of the burning of Jaffna library. 

Flowers were laid and candles lit to commemorate the burning which was orchestrated by the Sri Lankan state. 

...

At midnight on May 31, 1981, the Jaffna Public Library, the crucible of Tamil literature and heritage, was set ablaze by Sri Lankan security forces and state-sponsored mobs. The burning has since been marked by Eelam Tamils as an act of genocide....

Last week Sri Lanka's President, Ranil Wickremesinghe, met with Japan's Prime Minister Fumio Kishida, and apologised for Sri Lanka's unilateral withdrawal from an agreed Light Rail Transit (LRT) project and to discuss expanding bilateral projects.

Source: @ShehanSema on Twitter 

India has extended its USD 1 billion credit line to Sri Lanka for an additional year.

In March of last year, an agreement was signed between Sri Lanka and the State Bank of India (SBI) for a $1 billion credit. The credit was intended to aid the island after the economic crisis that left civilians without access to food, fuel, or essential...

Amnesty international has urged the Sri Lankan government to immediately desist from using the Prevention Against Terrorism Act (PTA) following the arrests of four individuals who were charged in connection with the 2019 Easter Sunday bombings on 18 May 2023.

Photograph: A Sinhalese mob beats a Tamil passenger after pulling him out of his car. 1958. (Courtesy Victor Ivan)

On 27 May 1958, the Sri Lankan state declared a state of emergency after Sinhala mobs had began attacking, raping and murdering Tamils across the island on 22 May 1958. The series of violence was to become another in a series of deadly anti-Tamil pogroms.

Tamils in Toronto gathered on May 18 to mark the 14th anniversary since the Mulivaikkal massacre, recently declared Tamil Genocide Remembrance Day in Canada. 

Hundreds of Tamils gathered at Albert Campbell Square in Scarborough, Ontario, to pay their respect to the lives lost. The commemorations were organized by the National Council of...

The nine Tamil National People's Front (TNPF) members, including lawyer Kanagaratnam Sugash, were released on bail today after the were arrested for protesting the illegal construction of a Buddhist temple in Thaiyiddy, Jaffna.

TNPF MP Selvarajah Kajendren was arrested alongside them but was released on the spot while the others were taken...

Tetley and Lipton among other major tea manufacturers are investigating the working conditions on tea plantations in Sri Lanka following a Guardian investigation which revealed that workers were unable to pay for food and were living in unsanitary conditions.

The investigation also revealed that estate owners provided workers with no support during the island's economic crisis. Workers...

Elliot Colburn, MP for Carshalton and Wallington and the Chair of the All Party Parliamentary Group for Tamils (APPGT) has urged the UK Foreign, Commonwealth and Development Office (FCDO) to investigate the arrest of TNPF MP Selvarajah Kajendren. 

 

Photograph courtesy of Virakesari

Ten people, including Tamil National People's Front (TNPF) MP Selvarajah Kajendren were arrested earlier today as they protested against the illegal construction of a Buddhist temple in Thaiyiddy, Jaffna.

On 18 May, Canadian politicians across all spectrums marked the newly recognized 'Tamil Genocide Remembrance Day' and renewed calls for accountability. 

Photograph: Canadian High Commissioner for Canada in Sri Lanka and Maldives 

Sri Lanka's Foreign Minister Ali Sabry summoned Canadian High Commissioner Eric Walsh over the Canadian Prime Minister Justin Trudeau's statement on Tamil Genocide Remembrance Day. 

In a statement, Sri Lanka's Foreign Ministry said that Trudeau's statement...

All photographs: Meera Srinivasan

Sri Lankan riot police were deployed to Borella after Sinhala extremists disrupted a commemoration event which was dedicated to the victims of the Tamil genocide at Mullivaikkal 14 years ago. 

For this anthology, Amazon Prime made the intelligent decision of passing the mantle of Creative Producer to one of Kollywood's best: Thiagarajan Kumararaja. The result of this is a collection of short films at least a few leagues above the standard witnessed in previous attempts.

 

Marking the 14th anniversary of the genocide at Mullivaikkal, Swiss MPs have released statements calling for the establishment of an international investigation into war crimes committed during the final stages of the armed conflict.

Fabian Molina MP, of the Social Democratic Party stated on Twitter:

On the 14th anniversary of the Mullivaikkal genocide, the UK's Minister for Indo-Pacific, Anne-Marie Trevelyan, released a statement reaffirming the government's commitment to "pursuing truth, justice and accountability for all victims of Sri Lanka's conflict".

Marking the 14th anniversary of the Mullivaikkal genocide, the leader of Canada's Conservative Party, Pierre Poilievre, called for the arrest of Sri Lanka's former President Gotabaya Rajapaksa, "so that he answers...
Fighting has intensified in several areas of Khartoum after a ceasefire deal between Sudan's army and the paramilitary Rapid Support Forces (RSF) expired on Saturday. 

Fighting has intensified in several areas of Khartoum after a ceasefire deal between Sudan's army and the paramilitary Rapid Support Forces (RSF) expired on Saturday. 

Former Rwandan military police officer who fled to France after the 1994 genocide and started a new life under a false identity is going on trial in Paris charged with crimes against humanity.

Philippe Hategekimana, 66, fled to France five years after the genocide, under a fake name, Philippe Manier.

Protests are ongoing nationwide, and at least one person has been killed, following the arrest of Imran Khan.

Mr Khan was arrested by security forces at the High Court in the capital, Islamabad.

Dramatic footage showed dozens of officers arriving and detaining the 70-year-old, who was bundled into a vehicle and driven away.

He was appearing in court on charges of...

Airstrikes carried out by Myanmar's military on a civilian crowd have sparked widespread condemnation.

The military, which seized power in a coup in February 2021, has abolished 40 political parties, including Aung San Suu Kyi's National League for Democracy (NLD).

The military imposed the law and began compiling voter lists in preparation for promised elections....

The International Criminal Court (ICC) has issued an arrest warrant for Russian premier, Vladimir Putin, for war crimes committed during his illegal invasion of Ukraine.

In a speech on 21 February, Tunisian President Kais Saied made racist remarks about Black African migrants inciting violent anti-Black mobs. 

60 people including 12 children have been killed after a wooden sailing boat carrying migrants to Europe crashed against rocks near the southern Italian coast according to authorities. 

The crash occured in the early hours of 25 February near Steccato di Cutro. 

The boat was sailing from Turkey and carried migrants from Afghanistan, Iran and several other countries.

Dozens of Australia's leading social justice and civil society bodies are launching a new partnership to support the Indigenous voice to parliament referendum.

Uganda has stated that it will not be renewing the mandate of the United Nations human rights office, the Ugandan government argues that it has sufficient capacity to monitor rights compliance.

On 3 February, the Ugandan Ministry of Foreign Affairs sent a letter to the UN High Commissioner for Human Rights (OHCHR). The letter cites Uganda's progress regarding developing a domestic...

Former president Jair Bolsonaro should be investigated for genocide, Brazil's environment minister, Marina Silva, has said, as she prepares an operation to drive illegal goldminers from the site of a humanitarian disaster on Indigenous land.

Descendants of victims of the genocide in Namibia have called on Germany to "stop hiding" and discuss reparations with them directly, as they take their own government to court for making a deal without their approval.

The Indian government has invoked emergency laws to block a BBC documentary examining the role of the prime minister, Narendra Modi, during riots in the western state of Gujarat in 2002.

Officials say about 1,500 people have been arrested following the storming of the National Congress in Brasília.

Supporters of the former president, Jair Bolsonaro, stormed Congress and other official buildings including the presidential palace and the Supreme Court on Sunday.

The National Liberation Army (ELN), says it is not part of a ceasefire with the goverment that had been announced by the Presidient last week.

Luiz Inácio Lula da Silva will be sworn in as president of Brazil for a historic third term on Sunday.

The inauguration in Brasília, exactly two decades after the veteran politician first assumed office, is expected to attract hundreds of thousands of people for a festival-style celebration with live music.

A Vigil was held at Ahmet Kaya Cultural Centre where hundreds continue to pay their respects to the three Kurdish activists killed in Paris last week. 

Irmgard Furchner 97, a former secretary who worked for the commander of a Nazi concentration camp has been convicted of complicity in the murders of more than 10,500 people.

Irmgard Furchner, 97, was taken on as a teenaged shorthand typist at Stutthof and worked there from 1943 to 1945.

Furchner, the first woman to be tried for Nazi...

Friday, 16th December 2022, Japan's cabinet approved a new national security strategy for the first time in nine years, which includes doubling the country's military budget. 

Serbian President Aleksandar Vučić met with his national security council amidst rising tensions between authorities in Kosovo and ethnic Serbs.

Unknown attackers in Northern Kosovo exchanged gunfire with local police and threw a stun grenade at European Union officers.

Ethnic Serbs set up roadblocks in response to Kosovan police being deployed in a dispute over car license plates...

Guinea's former dictator Moussa Dadis Camara denied responsibility when he took the stand Monday at a trial of officials implicated in a 2009 massacre.

Camara and 10 other former military and government officials are accused of the killing of 156 people and the rape of at least 109 women by forces supporting the military government at a political rally in...

The civilian death toll from what it calls a massacre by the March 23 movement, known as M23 rebel group, has risen to 272, said the Democratic Republic of Congo.

The increased death toll was announced at a press briefing Monday in Kinshasa by Minister of Industry and former governor of North Kivu province, Julien Paluku.

A court in Argentina has sentenced Vice-President Cristina Fernández de Kirchner to six years in jail and have disqualified her from holding public office after being found guilty in a $1bn fraud case related to public works.

Al Jazeera Media Network has submitted a formal request to the International Criminal Court (ICC) to investigate and prosecute those responsible for killing veteran Palestinian-American journalist Shireen Abu Akleh.

More than half of Tigrayan forces have been withdrawn from the frontlines, a month after a ceasefire agreement was signed. 

Following last month's ceasefire agreement which sought to bring an end to the two-year conflict, Tadesse Wereda commander-in-chief of the Tigray People Liberation Front (TPLF) has said, 

"We have accomplished...

Sweden deported a Kurdish man with alleged ties to the Kurdistan Workers Party (PKK) to Turkey. 

Mahamut Tat had sought asylum in Sweden in 2015 after being sentenced in Turkey for six years and 10 months for alleged links to the Kurdistan Workers Party (PKK). His final application was denied last year by the Swedish migration agency. 

On Wednesday, the District Court of The Hague concluded that the 2007 airstrike mounted by the Dutch armed forces on an Afghan residential compound violated international humanitarian law. 

Many of the world's largest asset managers and state pension funds are passively investing in companies that have allegedly engaged in the repression of Uighur Muslims in China, according to a new report.

The supreme court has ruled that the Scottish government cannot hold an independence referendum without the UK government's consent. 

Nicola Sturgeon had planned to hold a referendum on 19 October 2023 but the supreme court ruled unanimously that she does not have the power to do so, stating that the issue is reserved to Westminister.