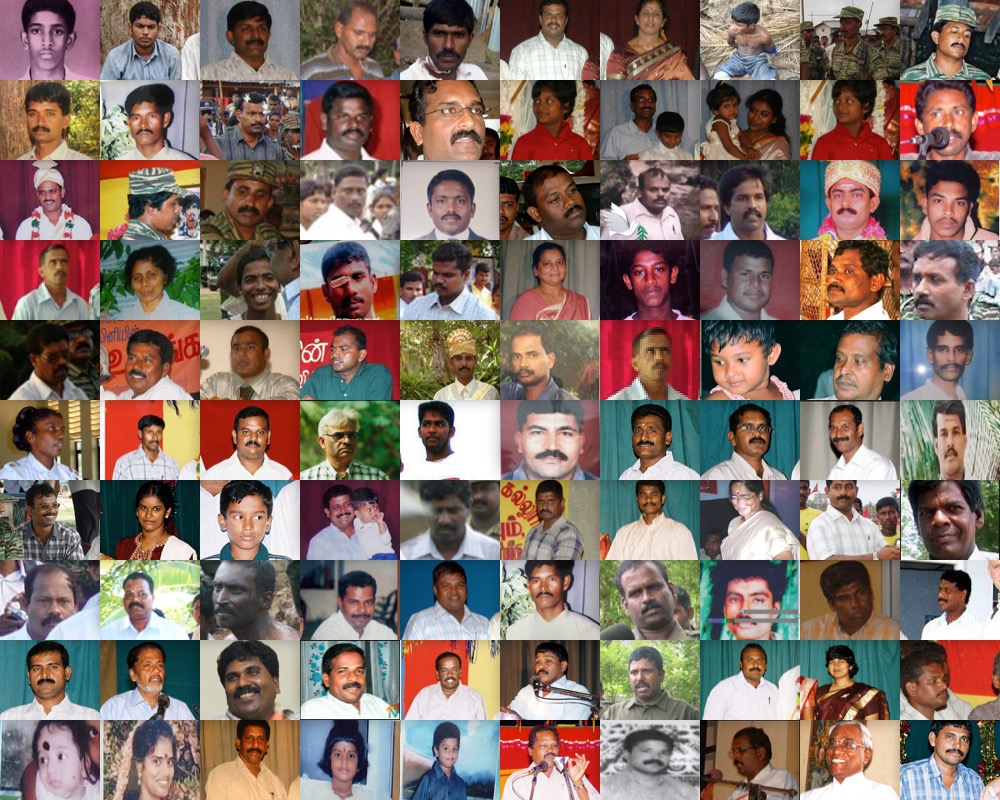 A new study has estimated that over 500 Tamils were forcibly disappeared in just three days, after surrendering to the Sri Lankan army in May 2009.
The disappeared include an elderly Tamil Catholic priest Father Francis Joseph, LTTE cadres and civilians who all surrendered to Sri Lankan troops at the time. The study commented that this event "was extraordinary by the number of people disappeared in one location and in a very brief period".
Sri Lanka's Election Commission said according to their assessment a presidential election should be held before December 9, 2019 and a general election by October 2020. 

The EC chairman said this week they would be seeking a Supreme Court judgement on the holding of Provincial Council elections. 

Rejecting assertions that the EC was responsible for delaying the polls, the chairman, Mahinda Deshapriya, was quoted by the Daily Mirror as saying, they were not responsible for the...

Muslims in the Thoppoor area of Puliyankulam, Trincomalee have condemned what they said was the Sinhala occupation of 125 acres of land. 

The Muslim residents said the occupation and the cultivation of agricultural land was taking place despite the fact that land...

The Tamil National Alliance (TNA) leader, R Sampanthan yesterday rejected reports that a document had been signed with the United National Party (UNP). 

In a written statement Sampanthan said such reports were "deliberately false". 

"It is reported that a document signed by Mr Ranil Wickremesinghe Leader of the UNP and myself as the Leader of the ITAK/ TNA is being widely circulated. I state that I have signed no such document with the Leader of the UNP and the said document is...

Students and staff at the University of Jaffna today held an event remembering the chief political strategist of the Liberation Tigers of Tamil Eelam (LTTE), Anton Balasingham. 

Balasingham, who was known within the Tamil nation as 'Bala anna', passed away 12 years today. 

Students...

A 55 year old father of two, Sivapathasuntharam Sivaseelan, was found dead in Batticaloa today. 

Sivaseelan is believed to be from Koolaavadi Thisaveerasingam Square area of Batticaloa. 

His body was found at a construction site in Kallady, where two buildings are currently being built. 

Kaathankodi police are investigating this matter.

Former Sri Lankan president Mahinda Rajapaksa will step down from the post as prime minister tomorrow, in the latest twist to the island's political crisis.

His son and parliamentarian Namal Rajapaksa tweeted the announcement, stating it was done "to ensure stability of the nation".

Rajapaksa is expected to give an announcement tomorrow.

"The SLPP with Frm President, SLFP & others will now work to form a broader political coalition with President Sirisena," Namal...

The Tamil National Alliance (TNA) and the Tamil National People's Front (TNPF) held commemorative events across the North-East on Friday to remember Anton Balasingham, the chief negotiator and political strategist of the Liberation Tigers of Tamil Eelam (LTTE).

India appears to have adopted a "waiting game" approach to Sri Lanka, said the Hindustan Times in an editorial today, but warned "the wait for the crisis to play out to some sort of conclusion could be a long one".

The paper stated the crisis in Colombo comes amid calls in Sri Lanka for an "inclusive system that takes care of the interests of all sections of society, including the minority Tamils, who have a considerable impact on domestic politics in Tamil Nadu".

The skeletons of at least 21 children have been recovered from a mass grave in Mannar, as excavations continue at what is now reportedly the largest mass grave to have been found on the island.

The Independent spoke to forensic archaeologist Professor Raj Somadeva, who confirmed the bodies of the children were part of 276 skeletons that had been excavated so far.

"We have excavated only 70 per cent of the gravesite, so the body count is bound to be much higher," Professor...

Today marks 12 years since the passing of the chief negotiator and political strategist of the Liberation Tigers of Tamil Eelam (LTTE), Anton Balasingham. 

Balasingham, or as he was fondly known among Tamils - Bala Anna, was widely respected by the nation. His charismatic addresses drew tens of thousands, as he provided political...

Sri Lanka's Supreme Court today began hearing the appeal filed by Mahinda Rajapaksa against the Court of Appeal's interim injunction, preventing them from functioning in their appointments. 

The appeal hearing begins the day after the Supreme Court decision to overturn the dissolution of parliament. 

A request was made for a five-member bench to hear the appeal, however this too was rejected today by the Supreme Court. 

The hearing has been taken up by Justices Eva...

Despite Sri Lanka's Supreme Court judgement on Thursday, Maithripala Sirisena's opponents may not yet be able to write him off, warned The Economist today.

"As unusual as it was, the court's slap to the country's head of state came as no surprise," said the paper. "Mr Sirisena has been testing the limits of his powers ever since October 26th."

"But Mr Sirisena's opponents may not be able to write the president off so easily," it warned.

Security had to be ramped up outside Sri Lanka's oldest major press house on Thursday, after United National Party (UNP) supporters began demonstrating outside the building.

Daily Mirror and Colombo Gazette report that the UNP supporters had...

Residents of Jaffna and Kilinochchi have been alarmed by the sudden deployment of Sri Lankan troops on streets since the beginning of this week, according to local reports.

A heightened military presence was noted by locals in busy areas including Stanley Road and other main streets in Jaffna town, as well as on the main A9 road through Kilinochchi town and its off-roads.

Locals also noted that the troop numbers within the army camp opposite Kilinochchi's Kanthasamy temple had...

In a landmark ruling on Thursday, Sri Lanka's Supreme Court overturned the dissolution of parliament ordered by Maithripala Sirisena, deeming his move illegal in the latest twist in the island's political crisis.

The closely watched decision earlier today, saw judges vote unanimously against Sirisena's move last month, in which, alongside former president Mahinda Rajapaksa, he sought to call snap parliamentary elections. Security was stepped up outside the court...

Families of the disappeared in the Eastern Province protested in Amparai on Monday to mark International Human Rights Day and call for answers and justice for their disappeared relatives.

A protest calling to protect workers' rights and end exploitation of workers took place in Kilinochchi on Sunday.

The demonstration by labour unions in Kilinochchi called for an end to violence against workers, as well as gendered and sexual violence against female workers.

Tamils in Jaffna held a protest today against corruption and administrative mismanagement in Sri Lanka's transport board's Northern province's office. 

Protesters accused senior staff of making false allegations against employees who whistleblow on corruption in the department. 

Demanding that such a culture of retribution...

Transparency International Sri Lanka called for Commission to Investigate Allegations of Bribery or Corruption (CIABOC) to investigate allegations of bribery made by President Sirisena. 

In a filmed interview last week Sirisena said the appointed prime minister, Mahinda Rajapaksa, has large sums of money had been solicited and offered to MPs. 

The TISL has passed on a copy of the president's statement to CIABOC,...

Sri Lanka's parliament was adjourned today until December 18 by the Speaker Karu Jayasuriya. 

The country has been in a state of political turmoil since October when the president sacked the prime minister, Ranil Wickremesinghe and appointed Mahinda Rajapaksa. 

Prior to the adjournament, the UNP member Sajith Premadasa tabled a motion of confidence in the UNP leader, Wickremesinghe. 

The motion comes amid calls for Sajith to put himself forward as a contender for the...

A new study has estimated that over 500 Tamils were forcibly disappeared in just three days, after surrendering to the Sri Lankan army in May 2009.

The disappeared include an elderly Tamil Catholic priest Father Francis Joseph, LTTE cadres and civilians who all surrendered to Sri Lankan troops at the time. The study commented that this...

The mother of a Tamil journalist disappeared in 2007 died on Sunday, following the death of her husband less than a month earlier. The couple had been actively seeking answers for the disappearance of their son, Subramaniam Ramachandran, until their last days.

Ramachandran, a local correspondent for both the Yaal Thinakkural and Valampuri newspapers was disappeared in February 2007 inside a Sri Lankan army camp in Vadamarachchi.

...

The Sri Lankan military organised yet another series of seminars for Tamil schoolchildren last month, as it continued with its militarisation of the North-East.

...

The Sri Lankan army announced that 131 new recruits had completed their training last month, as the military continues to expand its numbers despite calls for demilitarisation.

The Sri Lankan army announced that it had modified and refurbished two gun carriages that it had initially bought from the United Kingdom in 1986.

...

A court case has been filed against Ranil Wickremesinghe, accusing him of part ownership in a company that does business with the Sri Lankan government, which could see him potentially lose his seat as a parliamentarian.

Wickremesinghe is accused of owning 1.33 percent of equity in Lake House Printers & Publishers, a publicly listed company, that reportedly supplies cheque books to two state-banks. In effect, this means Wickremesinghe's company engages in business with the...

The revolutionary Tamil poet Subramani Bharathi or Bharathiyar was celebrated on the 137th anniversary of his birth by the Indian Consulate in Jaffna on Tuesday.

Prominent local figures including politicians, local government officials and elected representatives, and religious leaders attended the event held at the iconic Bharathiyar statue in Nallur.

Bharathi, popularly known as Mahakavi or great poet for his pioneering influence on Tamil literature, was born in...

Sinhalese and Tamil residents of Colombo protested at Fort on Monday, to mark International Human Rights Day and demonstrate solidarity with ongoing protests around the North-East and by up-country Tamils.

Former LTTE cadres living in the Nanattan division of Mannar have expressed their frustration at the lack of support they have received in rebuilding their lives, despite meeting with local and central government officials to discuss their needs.

Over 60 male and female former cadres live in the division, among whom at least 15 have lost limbs or are otherwise disabled.

Speaking to local press, the cadres said they had been called to discuss their needs more than twice with the...

The Sri Lankan president yesterday reiterated his pledge to push ahead with the implementation of the death penalty for those convicted of drug trafficking, despite widespread criticism over the decision. 

Meeting with law enforcement officials at the Presidential Secretariat yesterday, amid the island's ongoing political crisis, Sirisena said "necessary steps should be instantly taken to implement the recently taken decision to enforce the death penalty against the persons who still...
A statue of Mohandas K Gandhi has been removed from the Legon campus on the University of Ghana in Accra on Tuesday night. 

The US Senate approved a resolution calling for an end to United States military support in the Saudi-UAE led campaign in Yemen.

The final vote was 56-41 with seven Republicans defying their party by voting in support of the motion on Thursday.

Speaking to Al Jazeera, a Republican Senator who sponsored the resolution said,

Chile announced this weekend it would be pulling out of the UN Migration Pact. 

The pact, whilst non-binding, offers guidance on how to protect migrants, help them integrate into society, and to help them return to their home countries when it no longer poses a risk. 

So far 150 nations have agreed to be signatories of the pact. 

Israel has become the 38th member of FATF (Financial Action Task Force), a Paris-based international organisation which aims to tackle issues of money laundering and terrorism financing. 

Israel has stated that it has been an observer in the organisation since February 2016 but has now decided to follow up with membership after "successful mutual evaluation". This would allow it a voice in setting the rules and agenda. 

French authorities have arrested Patrice-Edouard Ngaissona, a senior leader and the National General Coordinator of a Anti-Balaka militant group in the Central Africa Republic. 

Ngaissona is charged with having led targeted attacks on the nation's Muslim's population in 2013-14. 

The International Criminal Court (ICC) further alleges he was responsible for war crimes and crimes against humanity including "murder, extermination, deportation, persecution, torture, attacking...

The UN Secretary General's envoy for Western Sahara concluded talks between the the Polisario Front and Morocco, in what were the first political negotiations between the two sides in 6 years.

Last week, two days of talks facilitated by UN envoy Horst Koehler, a former German president, ended with both sides agreeing to meet for a second round of negotiations in the first quarter of 2019.

Chengdu police in South Western China have arrested dozens of Protestant Church members, in a crackdown on unregistered religious groups.

Police are believed to have detained over a hundred members of the Early Rain Covenant Church, making the arrests at their homes. 

Under China's constitution there is a right to religious freedom, but this has been under attack since President Xi Jinping came to office six years ago. 

Jinping views religious freedom as a challenge to...

A US sponsored resolution condemning Hamas' firing of rockets failed to be adopted at the UN General Assembly today. 

The resolution required a two-thirds majority to be passed, however, only 87 states voted in favour of the resolution. 

Sri Lanka was one of 33 states which abstained, along side 57 voting against. 

Hamas thanked UNGA member states who "stood by our people's resistance and the justice of their cause." 

The United Nations will host the first political talks between Morocco and separatist Polisario Front in 6 years, reports the National.

Last month the United Nations Security Council passed a resolution extending the mandate of the UN Mission for the referendum in Western Sahara (MINURSO). The talks under the auspices of the UN Secretary General Antonio...

Israel police have for the third time this year recommended that the country's prime minister Benjamin Netanyahu be indicted on charges including bribery and fraud.

Netanyahu must now wait for the decision of the attorney general, whom he appointed, on whether he will be indicted on all three charges.

In the latest case, police accuse the prime minister of trading regulatory favours for favourable media coverage.

...

Two imprisoned Catalan leaders began a hunger strike this week to protest against what they described as unfair treatment by Spain. 

Jordi Sanchez, the head of the grassroots independence movement Assemblea Nacional Catalana (ANC) and Jordi Turull, former minister in Catalan's regional government, condemned the Spanish government's treatment of them. 

A lawyer representing them, Jordi Pina told reporters that the pair accused Spain's Constitutional Court of preventing their...

An anti-Taliban Shia Hazara militant commander has been released by Afghanistan's government after two days of violent protests, following his arrest earlier this month. 

Alipur, known as "Commander Sword",  has been accused of conducting human rights abuses against the ethnic Pashtuns in the Maidan Wardak region, west of Kabul. Afghan police accuse him of several crimes and arrested him following an earlier failed attempted that ended in a shootout killing 12 people.

A senior Argentinian prosecutor is to launch a case against Crown Prince Mohammed bin Salman of Saudi Arabia over war crimes committed by the country's military in Yemen. 

The decision comes as the Crown Prince arrived in Buenos Aires to attend the G20 summit and follows a petition by Human Rights Watch urging action. 

The case will start with an Argentinian judge requesting information from Saudi and Yemeni authorities regarding the war crimes committed and will likely lead to...

Canada imposed sanctions on 17 Saudi nationals today over the death of the journalist Jamal Khashoggi almost one month ago. 

The affected nationals will not be allowed entrance into Canada and will have any of their assets within Canada frozen. All of the nationals are at present imprisoned however, making travel not possible. 

Stating that the government was also reassessing its arms trade with Saudi Arabia, the Canadian Foreign Affairs Minister, Chrystia Freeland told...

Scottish Nationalist Party (SNP) MP Ian Blackford called for independence earlier this month, calling on Westminster to "show respect for Scotland".

"Scotland voted to remain in the EU," Blackford tweeted.

"Our rights as EU citizens and rights to free movement throughout the EU must not be taken away. Westminster has to show respect for Scotland and our sovereign rights as defined by the claim of right. Ultimately independence the only option".

Uganda police used tear gas and live rounds to break up a gathering of opposition supporters in the southwestern town of Rukungiri on Monday reports Reuters.

Patrick Onyango, a spokesman for the police, reported that they had arrested 15 people from the Forum For Democratic Change (FDC), Uganda's largest opposition party, for allegedly staging an illegal meeting.

He further stated: "we used force that was necessary to match the level of resistance from the offenders".

Santos Lopez Alonzo, 66, a former soldier during the Guatemalan civil war has been tried and sentenced to 5,160 years in prison, more than three decades after the crimes he is accused of took place.

The Guatemalan civil war came to an end on 2nd December 1996 after 36-years of a bloody conflict, with high civilian casualties, several counts of alleged human rights abuses and genocide.  The conflict was between the Guatemalan government, which was receiving support from the US...

Pakistani authorities have arrested the fundamentalist Islamic cleric Khadim Hussain Rizvi whose supporters have held violent rallies against the Supreme Court's decision to acquit the Christian woman, Asia Bibi in a blasphemy case. 

Supporters of the Islamic cleric and his party the Tehreek-e-Labbaik party (TLP), have responded to his arrest on Friday by vowing to shut major cities in a call for stricter adherence to Pakistan's blasphemy laws.

Bermuda's top court ruled legislation banning same-sex marriage violated the 1968 constitution which included protection on freedom of conscience. 

The Bermuda's Domestic Partnership Act which prohibited same-sex marriage in favour of domestic partnerships was passed in June of this year. 

Lawyers contesting the ban have argued the government had only passed it to appease a religious lobby in their small island.

Home Affairs Minister Walter Roban said: 

A suicide bombing in the northwest region of Orakzai in Pakistan on Friday killed at least 25 people. 

A suicide bomber drove into a crowd which had gathered to visit a market and attend a festival before detonating explosives. 

No group has claimed responsibility for this attack.

Abbas Khan, the assistant commissioner of the district, told Reuters that among the 25 killed were three members of the minority Sikh community and two security officials.

The attack...

Security officials have reported 26 people were killed and 50 wounded in a suicide bombing on Friday in a mosque in the Ismail Khel district of Khost province, Afghanistan. 

Whilst there has been no immediate claims on who is responsible for the attack, the Taliban is believed to be responsible.

The Taliban has...

Thousands of farmers have marched close to 40 km from the western state of Maharashtra to the state capital Mumbai to demand the transfer of forest land to villagers who have worked the land for decades.

The protest which took place on Thursday is the second major demonstration against the BJP government with the first occurring in March when over 35,000 farmers marched over 180km from Nashik to Mumbai, led by the left-winged All India Kisan Sabha (AIKS).

The United Nations Security Council extended the mandate of the UN Mission for the referendum in Western Sahara (MINURSO) earlier this month.

Adopting resolution 2240 (2018) by a recorded vote of 12 in favour with 3 abstentions, the Security Council extended the MINURSO mandate by a further 6 months, and backed the UN Secretary General's plan to initiate negotiations for a "realistic, practicable and enduring political solution..which will provide for the self-determination of the...

Denmark's foreign minister, Anders Samuelsen announced this week Denmark will suspend its exportation of weapons to Saudi Arabia following the murder of journalist Jamal Khashoggi and consistent human rights violations in Yemen. 

Saudi Arabia is one of the largest weapons importers and is part of a military coalition waging war in Yemen, that has engaged in human rights violations.

"With the continued deterioration of the already terrible situation in Yemen and the killing of...

The United States Department of Homeland Security has reportedly been gathering intelligence on a caravan of predominantly Central American migrants towards the US-Mexico border through various social media channels, as federal judge ruled that the group could attempt to claim asylum in the US.

It is reported that approximated 3,000 asylum seekers have entered Tijuana and their hopes of asylum swells after US District Judge Jon Tiga blocked president Donald Trump's ban on migrants...

Spanish Foreign Minister, Josep Borrel, told reporters that Spain would not impede Scotland's attempts to join the European Union (EU) if it gained independence from Britain.

The announcement stands in contrast from Spain's previous position which was to veto Scotland's attempts to join the EU so as to dissuade Catalonian separatists.

Scotland's first minister, Nicola Sturgeon, has expressed opposition to Theresa May's Brexit deal and stressed the importance of Scotland staying...

The US based rental accommodation firm Airbnb announced its decision to remove Israeli settlements in the West Bank from their website, stating the settlements break international law and impede a peace solution. 

This move has been hailed by Palestinian groups as a positive first step whilst also being decried by Israeli organisations as an act of capitulation.

The UN Security Council deemed settlements in the West Bank and East Jerusalem violate international law in its...

The United Nations General Assembly Third Committee has unanimously passed a resolution supporting self-determination as a fundamental human right.

The resolution, tabled by Pakistan's permanent representative to the UN Dr Maleeha Lodhi, was passed by the UNGA's Third Committee which deals with social humanitarian and cultural issues.

Tweeting after the vote whish aw a record number of 83 countries cosponsoring it, Dr Lodhi said,

The new government of the Maldives will rejoin the Commonwealth, two years after the country's former president pulled out in protest of the group raising concerns over the country's democracy and human rights.

In a statement on Monday, President Ibramih Mohamed Solih's office said the decision to participate in the Commonwealth of Nations again had been taking into account the education and cultural advantages.