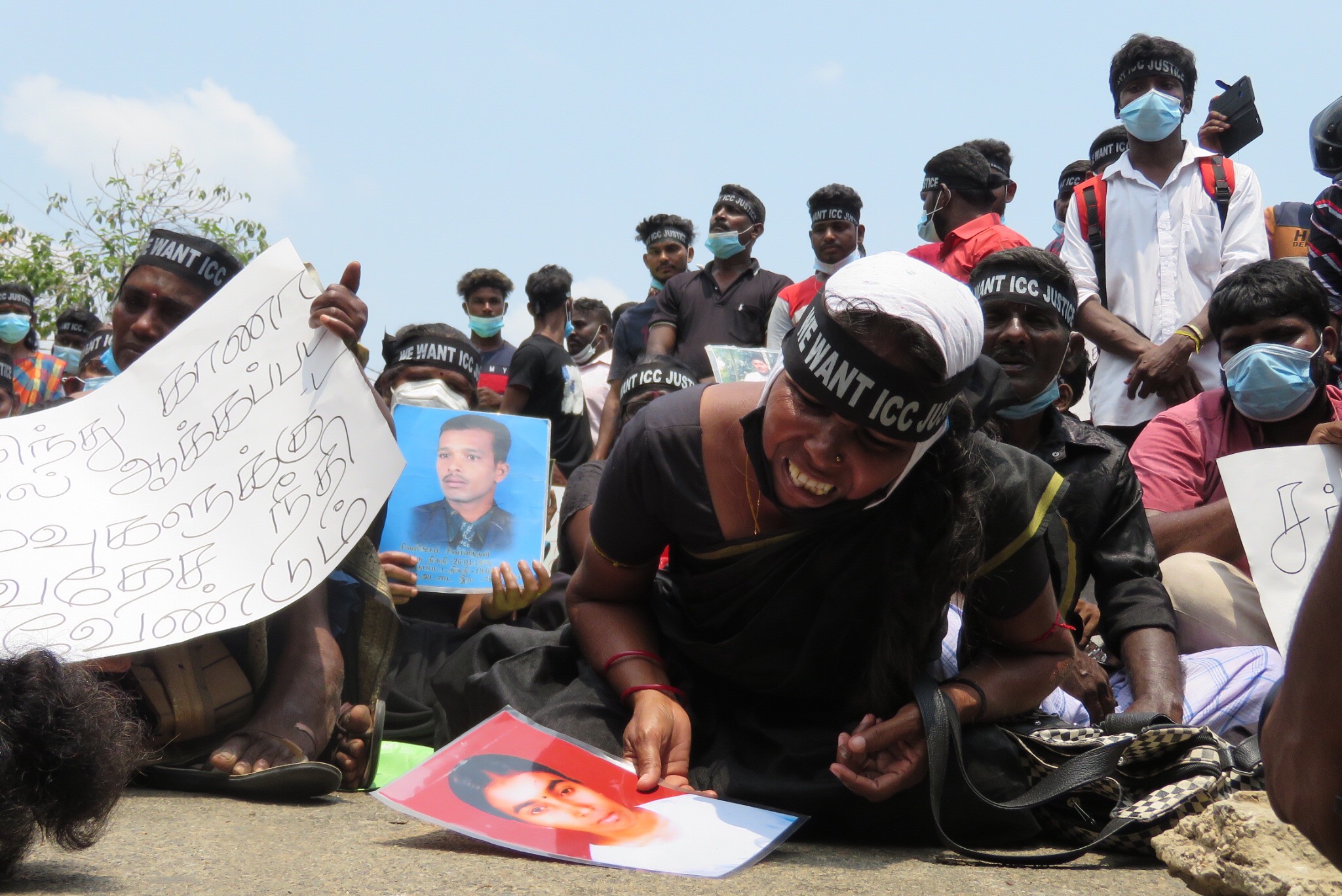 A landmark legal submission has been filed with the International Criminal Court (ICC) calling on the Chief Prosecutor to "investigate and in due course arrest" several senior Sri Lankan officials for crimes against humanity.
The submission, filed by Global Rights Compliance LLP on behalf of 200 Tamil victims in the United Kingdom, is being made under Article 15 of the Rome Statute, which allows the prosecutor to initiate investigations "on the basis of information on crimes within the jurisdiction of the Court".
This morning Instagram disabled Tamil Guardian's page without any prior warning or explanation, a move that amounts to a dangerous and unwarranted form of online censorship.

I don't call myself Buddhist any more. There was a long time when I still automatically used it as an identifier in forms and affidavits, but even that has passed many years ago. But because Buddhism is racialized in Sri Lanka, it's also impossible to entirely escape it: regardless of what you believe or don't believe, practice or don't, Buddhist privilege is...

Sri Lankan police have arrested two illegal sand miners with tractors in Mullaitivu on Monday. 

The police reportedly caught the men in Kaiveli engaged in illegal sand smuggling activities based on a tip.

Police are conducting further investigations and are taking steps to present the...

The Sri Lankan military forces have failed to release Tamil land in Mullaitivu despite moving their army camp out of Puthukkudiyiruppu, with Tamil families in the area continuing to suffer from displacement.

The displaced families asked, "it has been several months since the camp moved, why hasn't our land been returned to us?"...

Sinhala farmers have taken to the streets in Medamulana to express their outrage at the President's blanket ban on the import of chemical fertilisers which have resulted in a plummeting of crop yields and further worsened the country's...

The Sri Lankan army planted coconut trees in Northern Jaffna on occupied Tamil land, residents are raising concerns, whether the land will be returned to its owners.  

According to a statement released by the Vali North Resettlement Society, "soldiers are cutting down coconut trees on private property [then] preparing the same land to plant new coconut trees, they are trying to permanently seize the land."

Responding to the announcement of a new constitution and electoral system before the provincial elections, leader of the Tamil Makkal Thesiya Kootan (TMTK) CV Wigneswaran urged the government to respect the rights of Tamils to self-determination.

He added that Sri Lanka's Sinhala Buddhist leaders had always tried to undermine the concept of a Tamil homeland.

A collection of Tamil parliamentarians recently wrote a letter addressed to Chamal Rajapaksa, the Sri Lankan Internal Security Minister, asking him to put a stop to the "artificial alteration of the demographic pattern" of the Northern Province. 

Referring to a putative attempt by the...


Tamil National People's Front (TNPF) General Secretary and MP, Selvarasa Kajendran, has tested positive for COVID-19 and has been instructed to self-isolate.

The announcement of his positive results follows his arbitrary arrest for commemorating the death of Lt Col Thileepan. Kajendran has also attended a parliamentary session this week.
 

The body of an Indian fisherman, Rajkiran, who was killed in an alleged collision with a Sri Lankan naval vessel on 18 October 2021 in the waters off Karainagar was recovered and sent to Tamil Nadu, India through Kankesanthurai (KKS) on Saturday. 

The Office of the High Commissioner for Human Rights has provided clarifications and updates on the 'Sri Lanka accountability project' which was established by the UN Human Rights Council through Resolution 46/1 on 23 March 2021. 

For four days villagers in Kottaipattinam, Tamil Nadu, have been staging a sit-in protest to demand the return of two Tamil fishermen captured by the Sri Lankan navy, as well as the corpse of Rajkiran.

The protests come days after the fishermen were captured by Sri Lankan authorities with Kottaipattinam's Fishermen Association's...

A Sri Lankan police officer has reportedly carried out another assault on a Tamil youth in Batticaloa, less than 24 hours after a video of a different officer kicking and punching two youths emerged.

Sri Lankan Terrorism Investigation Division has summoned Tamil journalists including U.L.Mabruk, a BBC Tamil journalist, for investigation. 

Mabruk has been asked to report to the Division's office in Colombo on November 8. 

...

Julie Chung, the US nominee ambassador to Sri Lanka, testified before the Senate Committee on Foreign Relations earlier this week.

See the full video of her hearing and read the full text of her testimony below.

Sri Lankan security forces administered COVID-19 vaccines for Mannar students preparing for the GCE Advanced Level on Thursday.

Military personnel facilitated and administered Pfizer vaccines alongside Mannar Regional Health Services Director Dr. R. Vinodan and hospital staff in select schools in Mannar,...

File photo: TNA MP Sivagnanam Sritharan

Tamil National Alliance (TNA) MP Sivagnanam Sritharan told Sri Lankan parliament that, "39 [Tamils were] arrested in North-East in last three months" during a discussion on children's rights on Thursday.

The United States Agency for International Development (USAID) has announced that it will provide an additional US$2.5 million dollars in "urgent COVID-19 assistance" for Sri Lanka. 

The $US2.5 million in...

Speaking in parliament, Tamil National Alliance (TNA) MP MA Sumanthiran detailed how two fellow TNA MPs were denied the right to speak at a consultative committee meeting of the Ministry of Wildlife and Forest Conservation as members...

The 34th anniversary of the Indian Peace Keeping Force (IPKF) massacre was marked at Jaffna Teaching Hospital, with staff and failing members holding a commemorative ceremony on Thursday.

A Sri Lankan police officer was seen brutalising two Tamil citizens in Batticaloa this evening, kicking one individual and dragging and slapping another individual on a motorcycle.

In a statement, Nava Sama Samaja Party (NSSP) leader Dr. Wickramabahu Karunaratne called for the international recognition of the "ongoing" genocide of Tamils and the recognition of Eelam as a state. 

"A...

Dr Beth Van Schaack, an esteemed human rights lawyer and academic that has written extensively on accountability and justice in Sri Lanka, has been nominated by US president Joe Biden for the post of Ambassador at...

In collaboration with several other Tamil Canadian organizations, the Tamil Canadian Centre for Civic Action (TCCCA) donated 18,792lbs of food in their second annual Thiyagi Thileepan Food Drive. 

The Sri Lankan government has reversed its blanket ban on the import of chemical fertilisers following widespread and intense protests by the country's farmers who are overwhelmingly dependent on the commodity, according to a...

Sinhala politicians, trade unions, civil society organisations and religious leaders have all banded together to express their outrage at the Sri Lankan government's signing of a deal with US-based firm New Fortress Energy, which will see the company acquire a 40% stake of the Yugadanavi Power Plant based in Colombo and develop a new offshore liquefied natural gas (LMG)...

Sri Lanka's Public Security Minister Sarath Weerasekara warned the country's striking teachers that the government had "destroyed terrorism" and insinuated that it would deal with any disruption in a similar manner.

Speaking at an event in Colombo last week, the controversial minister said;

Sri Lanka's Media Minister Dullas Alahapperuma, speaking at weekly press briefing has stated that the country's long-delayed provincial elections will only be held after a "suitable election system has been decided upon". 

The statement comes despite reported Indian pressure to hold the polls before the end of the year.

As Sri Lanka faces the threat of financial default, the latest survey by LMD-NielsenIQ Business Confidence Index (BCI) reveals that the majority of Sri Lankans polled (46%) believe that Sri Lanka's economic situation will worsen over the coming 12 months.
A coup is currently underway in Sudan, where the military has dissolved civilian rule, arrested political leaders and declared a state of emergency.

The coup leader, General Abel Fattah Burhan blamed political infighting. In response to the dissolution of civilian rule, protests have erupted in several cities including the capital Khartoum. Three...

The Israeli government has effectively outlawed six prominent Palestinian human rights organisations by declaring them terrorist organisations, in what is considered a major escalation of its crackdown on political activism within the occupied territories. 

Welsh Labour ministers have set up a new body to examine Wales' future relationship with the rest of the United Kingdom, with Welsh independence being one of the options considered. 

Deporting asylum seekers back to Afghanistan presents "no real risk of harm", according to new Home Office guidance that could pave the way for asylum seekers to be sent back to the Taliban controlled country. 

Canada has commemorated its first National Day for Truth and Reconciliation federally, recognising the painful history caused by residential schools and the ongoing impact it has had on indigenous families and communities.

In a statement the Canadian government recognized that the public commemorations of the country's dark history is a...

Democratic Republic of Congo authorities have made "no apparent progress" in their investigations into the September 2020 prison riot at Kasapa Central Prison in Lubumbashi, Human Rights Watch said.

Indian authorities cracked down on public movement and imposed a near-total communications blackout in Kashmir following the death of Syed Ali Geelani, a prominent leader of Kashmir's movement for the right to self-determination. 

Following a series of military victories in which the Taliban seized one provincial capital after another in little over a week, the Islamist group entered Afghanistan's capital Kabul earlier today forcing the country's Western-backed President Ashraf Ghani to flee.  

Writing in Foreign Policy magazine, Kaisar Andrabi and Zubair Amin warn against India's attempts to manipulate the demographics and electoral strength of Kashmir, the only Muslim majority region in India.

British security sources are reported to be concerned that Pakistan is preparing to target exiled dissents living in the UK.

A German court has set a trial date for a 100-year-old man who is charged with 3,518 counts of accessory to murder on allegations he served as a Nazi SS guard at a concentration camp on the outskirts of Berlin during the second world war. 

Dominic Raab - British Foreign Secretary 

A British citizen has claimed he was tortured in Somalia and questioned by US intelligence officers, raising concerns about the continuation of controversial practices of the post-9/11 "war on terror" are still being used, the Guardian...

During an Axios interview, Pakistan's Prime Minister, Imran Khan, fell silent on the Uyghur genocide, claiming that any issues Pakistan had with China would "always be behind closed doors".

Marking the 100th anniversary of the Chinese Communist Party, President Xi Jinping warned foreign powers that China "will never allow any foreign force to bully, oppress, or subjugate us".

751 unmarked graves were discovered at the site of a former residential school in Saskatchewan, just weeks after the remains of 215 children were found in British Columbia. 

The bodies were...

Alieu Kosiah, became the first Liberian to be convicted for war crimes committed during the country's civil war, in a court hearing in Switzerland earlier this month.

Concluding the first-day summit, NATO Secretary-General Jens Stoltenberg called for a unified response to the challenges posed by China.

Photograph: UN News

An appeal by Ratko Mladic, the commander of Bosnian Serb forces in the country's 1992-95 war, against the 2017 verdict that convicted him of genocide has been turned down by the International Criminal Tribunal for the Former Yugoslavia (ICTY).

Switzerland will be holding a referendum on a controversial terrorism bill, which has been widely panned by international human rights organisations, on 13 June.

Photo credit (Twitter: @TVRVNTO)

A mass grave was found at a residential school in British Colombia, Canada, containing the remains of 215 indigenous children on Friday.

French President, Emmanuel Macron, asked for Rwandan's forgiveness its silence over the Rwandan genocide, in which 800,000 Tutsi and Hutu dissidents were killed, however, Macron fell short of apologising for the role France played.

Myanmar's ousted democratic leader Aung San Suu Kyi made her first public appearance since the military deposed her government and seized power on 1 February 2021, at a court hearing on Monday. 

Palestinian casualties have sharply increased as Israel stepped up its bombardment of Gaza early on Friday as tanks and artillery massed at the border and joined aerial attacks.

The Irob minority group in Ethiopia are facing an existential crisis in addition to the mass atrocities inflicted by ongoing conflict in the Tigray state. 

Ethiopian Prime Minister Abiy Ahmed launched military forces in response to "traitorous" attacks on military camps that has since escalated to thousands of civilian casualties, hundreds of thousands of people who have been internally displaced within Tigray, and 63,000 refugees who have fled to Sudan since fighting broke out on...

The Taliban has announced a three-day ceasefire to mark Eid al-Fitr following the bombing of a girls' school in Dasht-e-Barchi, in which over 50 people, mostly young girls, were killed and over 100 were injured.

Afghanistan's President, Ashraf Ghani, accused the Taliban of conducting the attack and declared Tuesday a day of national...

Human Rights Watch (HRW) has reported that Israel's policies constitute apartheid; with the intention to "maintain the domination by Jewish Israelis over Palestinians and grave abuses committed against Palestinians living in the occupied...

Over 100 Palestinians and 20 Israeli police were injured in a far-right Israeli protest in occupied East Jerusalem.

A group of UK charities and Human Rights Watch joined Palestine in condemning British Prime Minister Boris Johnson's letter to the Conservative Friends of Israel, in which he expressed the UK's opposition to the ICC decision to investigate alleged war crimes in Palestine since June 2014.

Joe Biden is the first US President to formally recognise the systematic killing of over a million Armenians by the Ottoman Empire during the First World War, as genocide. 

In a statement marking Armenian Remembrance Day, Biden wrote:

"We remember the lives of all those who died in the Ottoman-era Armenian genocide and...

The European Union (EU) imposed sanctions on eight Iranian militia officers and police chiefs over a deadly crackdown of protests in November 2019 by the Islamic Republic. 

Hossein Salami, the head of the Islamic Revolutionary Guard Corps, was amongst those who were sanctioned. 

"Hossein Salami took part in the sessions that resulted in the orders to use lethal force to suppress the November 2019 protests. Hossein Salami therefore bears responsibility for serious human rights...