08 November 2019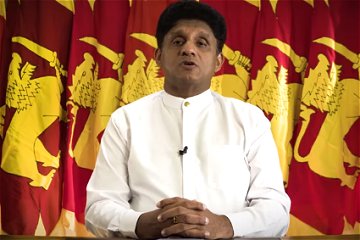 Sajith Premadasa, the UNP's presidential candidate, has stated that once elected he would appoint a new Prime Minister who could command the confidence of parliament.
He told reporters;
"As soon as I'm appointed President, a new Prime Minister who commands the confidence of Parliament will also be appointed. Sri Lanka will have a new first-time Prime Minister who will be endorsed by the majority,"
He has pledged that he would appoint a cabinet of young skilled individuals who are not tainted by issues of corruption. He maintains that this cabinet will be able to publicly declare their assets and liabilities, while he is in office. 
In this light he said;
"Those who have achieved excellence will play a key role in the destiny of our country. It will not be a coterie of businessmen. Openness, transparency and meritocracy will prevail".
Premadasa's statement appears at odds with Ranil Wickremesinghe's claims late last month that if the UNP gained power he would become the Prime Minister.
Read more here: Ranil says he will be PM under Sajith's presidency
Ranil Wickremesinghe has come under fierce criticism after he had admitted that the government failed to act to prevent the Eater Sunday bombings which killed over 250 lives.
Read more here: Ranil admits 'failure' of government to ensure security
According to a Sri Lankan parliamentary select committee report, Sri Lanka's security forces received intelligence that an attack was due to take place on Easter Sunday but may have allowed it to proceed in order to "create chaos and instil fear" ahead of presidential elections.
Read more here: Sri Lankan security forces may have allowed Easter Sunday attack - parliamentary report
Read the Colombo Page here.