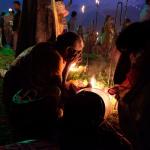 - Brannavy Jeyasundaram Mourning is for the living. It enables us to process grief, understand loss, and above all, invite healing. History is full of rich and meaningful mourning customs, indiscriminate of cultures, because how else could we possibly move on? In a way, mourning the loss of life promises our own survival. It is for this reason, I believe, mourning is a human right.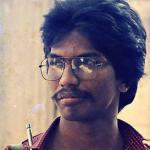 Starvation occurs in three phases. First, the body halts consumption of glucose, its primary energy source. Then, it scrapes away at fat deposits. Once those are depleted, it finally cannibalizes muscle mass to feed the brain. The body enters a delicate balancing act, substituting glucose for fat and eventually protein, until organ function is affected and results in death. The ultimate cause of death, in general, is cardiac arrest or the stopping of the heart. At its core, starvation is a process of desperate sacrifice.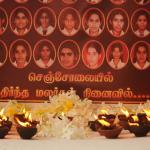 - Brannavy Jeyasundaram It was August 14, 2006; two years after the earth-shattering tsunami had ravaged Sri Lanka, leaving its people in destitute. The North-East was particularly vulnerable, with limited access to resources and deprivation of aid by the Sri Lankan government — despite being the worst-affected region . In this aftermath stood the Sencholai children's home for orphans in Mullaitivu. In an effort to shift the dependence on state-sponsored relief, a ten-day workshop on first aid and disaster management was organized by the Mullaithivu and Kandavalai Principals Association. Over 400 young women between the ages of 17 and 20 years old were gathered at the home to learn how to provide for the suffering. At the beginning of day four, shortly after sunrise, four Sri Lankan air force jets dropped sixteen bombs over the home, killing 53 school girls and 3 teachers. Over 150 girls were seriously injured, suffering deep wounds, lost limbs, and severe burns. In a devastating irony, they had become the subject of their study.