14 August 2018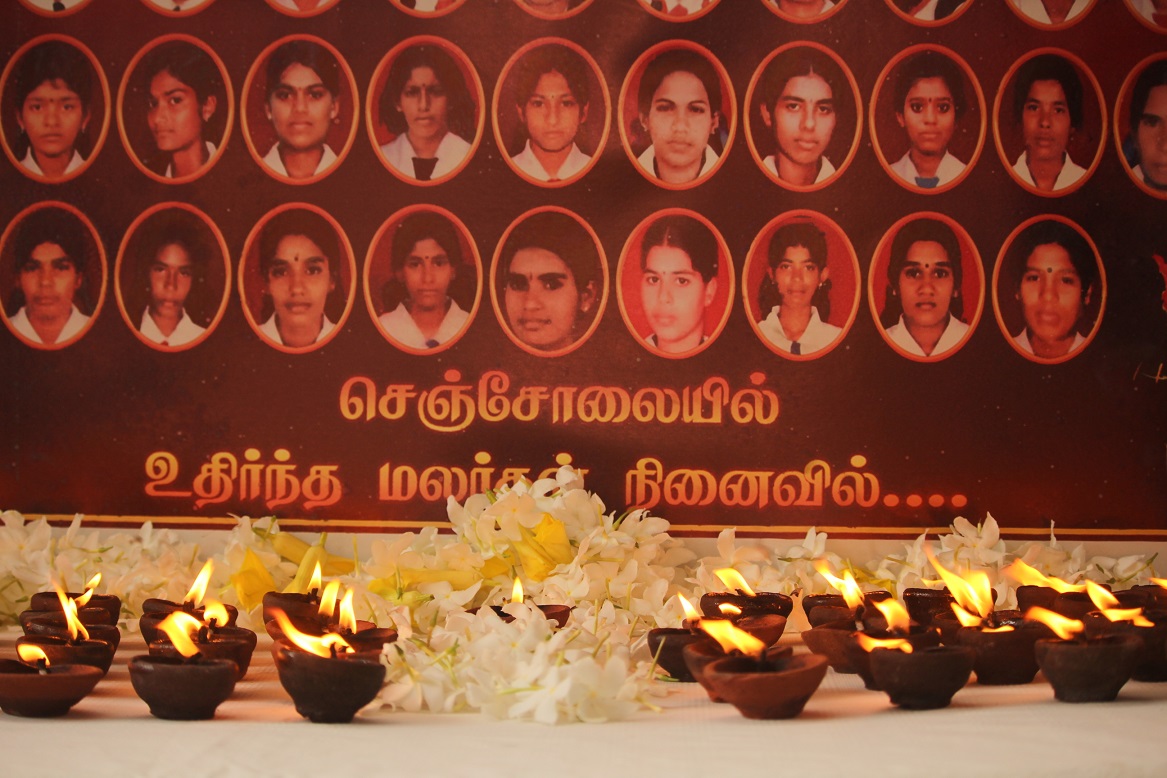 - Brannavy Jeyasundaram
It was August 14, 2006; two years after the earth-shattering tsunami had ravaged Sri Lanka, leaving its people in destitute. The North-East was particularly vulnerable, with limited access to resources and deprivation of aid by the Sri Lankan government — despite being the worst-affected region.
In this aftermath stood the Sencholai children's home for orphans in Mullaitivu. In an effort to shift the dependence on state-sponsored relief, a ten-day workshop on first aid and disaster management was organized by the Mullaithivu and Kandavalai Principals Association. Over 400 young women between the ages of 17 and 20 years old were gathered at the home to learn how to provide for the suffering.
At the beginning of day four, shortly after sunrise, four Sri Lankan air force jets dropped sixteen bombs over the home, killing 53 school girls and 3 teachers. Over 150 girls were seriously injured, suffering deep wounds, lost limbs, and severe burns. In a devastating irony, they had become the subject of their study.
Having originally denied responsibility for the massacre, the Sri Lankan government later  attempted to justify the bombings as an attack on a disguised training camp of the Liberation Tigers (LTTE).
"If the children are terrorists, what can we do?" questioned government spokesperson Keheliya Rambukwella. "The fact is that gender or the age limit is of no concern when it comes to training and when it comes to soldiers, because they are carrying arms in order to kill the enemy."
These claims were rejected by international ceasefire monitors of the Sri Lanka Monitoring Mission (SLMM) and UNICEF after immediate investigation of the site.
Head of the SLMM, Ulf Henricsson said: "We couldn't find any sign of military installations or weapons. … This was not a military installation, we can see [that]."
UNICEF's Colombo chief, Joanna VanGerpen told reporters: "We don't have any evidence that they are LTTE cadres... From what we understand at this point, these children were from surrounding communities."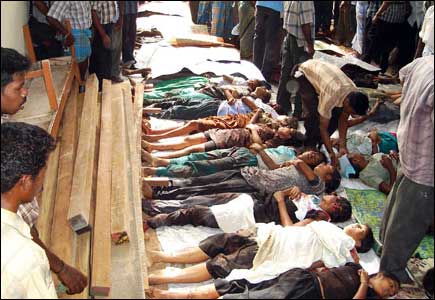 Established in 1991, Sencholai was a girls' home for children whose parents had died in the war. When referred to as an orphanage by an interviewer in 2006, the Director, Janani (last name unknown) said: "Please don't call it an orphanage. Orphans are those children who have no one to care for. Here, we are all one family. We care for all of them. They are our close relatives. They have lost their parents not their identity."
The home contained eleven residential blocks, an administration block, a skill development center, a cultural hall, a health center, and a library. It offered courses ranging from traditional school subjects to unique trades such as; nursing, handcrafts, music, and karate. Its bombing was a gendered attack on Tamil women.
The Sri Lankan government has systemically raped and murdered Tamil women since the inception of the war, their bodies a vessel for state violence. Documentary evidence reveals during the last five years of the war, a Tamil woman was raped every two weeks (this number is severely underreported and realistically significantly higher). The Sencholai massacre calls to question the gendered dimension of genocide — why are women its principal target?
Mary Arulappan Juliet, a survivor of the attack, and student of Paranthan Hindu Mahavidyalam recalled the massacre stating: "As the bombs fell, the girls ran in all directions, and took cover by lying on the ground face down, hoping that the bombers will go away after attacking once. But the Kfir jets returned firing additional munitions directed to our facility."
"I still have memories of the jets and the desperate calls of the girls for help. Earlier, I feared at nothing, but after witnessing this horrific massacre, even slight noises frighten me."
On the twelfth anniversary of the Sencholai massacre it is important to remember the young women and men that were murdered by the Sri Lankan government. It is important to study their faces and say their names. You can find them here and here.