06 August 2015
Protestors holding placards during a demonstration against CEPA in 2010 (File Photo)
The long-delayed signing of the Comprehensive Economic Partnership Agreement (CEPA) between India and Sri Lanka will be "actively opposed" by local entrepreneurs, the Chamber of Young Lankan Entrepreneurs (COYLE) said on Thursday.
The group further demanded the tightening of regulations on foreign investment. The government pledged earlier this year to reduce barriers in order to encourage FDI, but COYLE urged the government to take steps to ensure the protection of Sri Lankan entrepreneurs and all local Small and Medium Enterprises (SMEs), the Daily FT reported.
COYLE member and Chairman of Multichemi Group of Companies, Samantha Kumarasinghe said there was evidence to show that the CEPA agreement was not beneficial to Sri Lanka
"This particular economic summit was conducted by one chamber comprising many foreign members. They may have had an interest in it and we really don't know if it was the view of the Government. But if any Government tries to sign the agreement, we will do our best to oppose it. It is an agreement that's very carefully and shrewdly drafted by India and forced on us," he said.
"If the Government is going to sign CEPA, I think they're either misled or they're making an unwise decision," he added.
The new government has treated the ongoing controversy over the agreement with caution, since it took power earlier this year. In March Sri Lanka said it would bring CEPA back to the negotiating table, however deputy minister of policy planning and economic development Harsha de Silva, stressed that the government had to be convinced that the agreement is beneficial to Sri Lanka, before it would agree to sign it.
During his visit to New Delhi, President Maithripala Sirisena even said he deliberately dodged talks with Prime Minister Narendra Modi on the issue.
"I want to assure you that I will not enter any agreement with any country that will be harmful to our businesses," said Mr Sirisena in March, while addressing Sri Lankan businesses after his trip.
Discussions on the agreement, designed to open up greater trade and investment between the two countries, stalled after protests by Sinhalese professional and business groups opposing the agreement as a threat to Sri Lankan sovereignty.
The deal, which was supposed to have been signed in 2008, was largely finalised under the Rajapaksa government, however Sri Lanka failed to approve it, despite pressure from the IMF.
An IMF official in 2011 stressed the importance of CEPA, saying fears of Indian labour flooding the domestic market were unfounded and argued Sri Lanka's service sector would benefit from Indian clients.
Meanwhile, India has signed similar agreements with several countries, including South Korea and Canada.
The arguments to counter Sri Lanka's apparent phobia of Indian trade are not new (see LBO's analysis of CEPA and the criticisms here). As top Sri Lankan economist R.M.B. Senanayake pointed out in 2010,
"Definitely for there is no more scope for a small country to go it alone in the world of globalization. We should integrate more closely and benefit from the larger regional economy."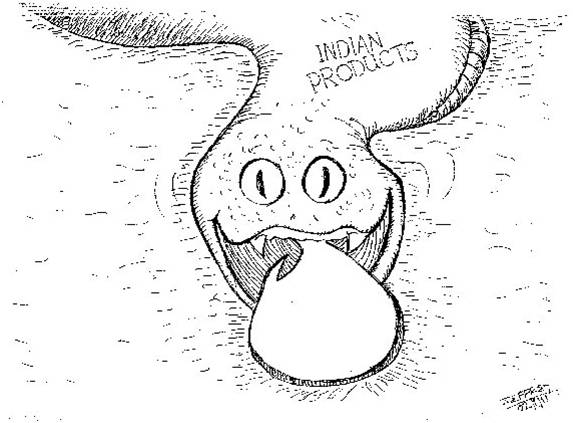 Cartoon published in The Island in 2010
But Sri Lanka also knows its Sinhala first economic vision is at odds with a globalised economy.
---
An economist from Singapore's Lee Kuan Yew School of Public Policy said in 2012 Sri Lanka has been withholding trade from India, most notably the neighbouring Southern states, "for a combination of chauvinistic reasons and defensive economic reasons of some [local] business."

 

See: Chauvinism in Sri Lanka's trade policies - international economist  (24 December 2012)

 
---
In particular, CEPA could enable a revival of the North-Eastern economy. The Northern Provincial Council in particular has specifically called for increased links, including trade, between Tamil Nadu and the island's North-East, something opposed by the Sinhala south. The latest example of the government's reluctance to connect the Tamil region with the outside world is demonstrated by the lack of response to enthusiastic Indian plans for the building of a bridge across the Palk Strait. Despite India having already submitted a feasibility proposal to the Asian Development Bank, Sri Lanka is yet to respond to the plan. Only yesterday, a representative from a major Sinhala federation, the FNO, said the intention behind the bridge was to annex Sri Lanka to India.
CEPA's implementation would also see Sri Lankan firms face competition from Indian companies, looking to expand into the market.
After demonstrations in 2010, just before President Rajapaksa visited India, he met with protestors and his office released a statement vowing:
"The government will not enter into any pact or agreement that is inimical to its people and economic interests."
Comments made by other members of COYLE during the event on Thursday demonstrate the deep-running fear of opening up the economy to India.
Another member of the collective and chairman of KIK Lanka, Lalith Kahatapitiya, also criticised the recent reports of the impending signing of the deal, warning that riots would ensue if Sri Lanka's unemployment rate increased due to the agreement.
"The unemployment of engineers in India is close to half a million. When we have 6,000 to 15,000 engineers graduating from our universities and we don't provide them with jobs, there will be youth unrest. If there are no employment opportunities for Sri Lankan youths, they will start rioting," he said.
The panel at COYLE's media briefing also urged the introduction of restrictions on foreign ownership in all businesses to a maximum of 49%, other than the BOI Export Oriented Industries within the Free Trade Zones. The group further said the retail trade should be reserved for Sri Lankan entrepreneurs only and foreigners cannot be allowed to enter this trade.
COYLE said any bilateral economic deals with other countries should only be agreed once approved by parliament. Responding to a reporter who asked whether the organisation was against foreigners investing in Sri Lanka, chairman of Epic Technology Group Nayana Dehigama said they were in favour, but that the government should take measures to safeguard local entrepreneurs.
"There is a driving force behind this country, which is the entrepreneur community. Think about that. All we ask is to not give them everything on a platter. Think about the local entrepreneur community also. For example, what would happen if an Indian billion dollar company started operating here without any taxes? What would happen to Sri Lankan companies in the same trade? They could dump their prices here over a couple of years until such time they find that no Sri Lankan industry is sustained. And then from there they will take it up.
"That is why we say protect Sri Lankan entrepreneurs by way of implementing existing policies. There are already policies in place, implemented by different governments. We need more, we need protection and there are loopholes. Please address them. Do something to close these loopholes," he said.
As the Tamil Guardian said in 2012,
"In other words, whilst Sri Lanka wants Indian capital investment, it does not want Indian trade, Indian traders or indeed Indian advice on constitutional reform!"
See related articles below:
Helping diaspora invest in North should be prioritised says Jaffna Business Forum (05 August 2015)
India still awaiting Sri Lanka's approval for rail link (03 August 2015)
Trade will improve if Tamil issue solved – India (27 July 2014)
India working on project to build road to Sri Lanka with ADB support (09 July 2015)
No discussions held on India's road-rail link submission at ADB says Sri Lanka (20 June 2015)
UNHCR calls for Sri Lanka to renew ferry service to India to aid Tamil refugee resettlement (14 May 2015)
India 'keen' to restart ferry service between Tamil Nadu and North-East (11 March 2015)
India urges 'political reconciliation' of Tamils in Sri Lanka (19 January 2015)
NPC resolution demands transport links between North-East and India (19 February 2014)
The big bad CEPA (24 August 2012)
Remain 'vigilant' of CEPA and 'Mighty India' (05 August 2012)
Anyone but the Indians (29 April 2012)
Bilateral relations? (10 April 2012)
We need your support
Sri Lanka is one of the most dangerous places in the world to be a journalist. Tamil journalists are particularly at threat, with at least 41 media workers known to have been killed by the Sri Lankan state or its paramilitaries during and after the armed conflict.
Despite the risks, our team on the ground remain committed to providing detailed and accurate reporting of developments in the Tamil homeland, across the island and around the world, as well as providing expert analysis and insight from the Tamil point of view
We need your support in keeping our journalism going. Support our work today.