18 July 2022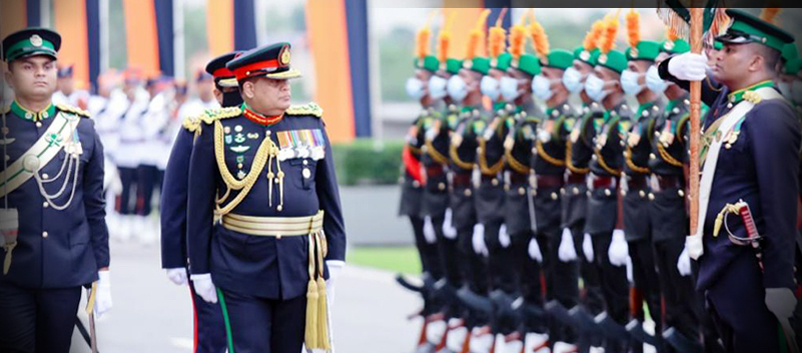 Sri Lanka is in an economic crisis, and the blame is being laid squarely at the door of its president Gotabaya Rajapaksa. Last weekend, tens of thousands of protesters tore that door down and stormed his official residence. Since the beginning of this economic crisis, Sri Lankans have been quick to denounce his corruption and amassing of personal wealth. They picked apart his policies ranging from his tax cuts to his pledge to ban chemical fertilizers. Sri Lanka's protestors, however, have been conspicuously silent about one of the state's most significant policies that have brought the country to this predicament in the first place - the Sri Lankan military occupation of the Tamil North-East.
Many of Sri Lanka's 'Gota Go Home' demonstrators conveniently ignore that Sri Lanka began inherently as a nation-building project to propagate Sinhala-Buddhist nationalism. This has meant launching state-sanctioned violence and genocide against Tamils to quash any aspirations for a separate Tamil state and keeping them under military occupation for decades. It is precisely this military occupation that has laid the groundwork for Sri Lanka's economic crisis to unfold. 
While the entire island is suffering from a scarcity of medicine, food and fuel, the state continues to prioritize structural violence against Tamils by allocating a substantial amount of its GDP to militarily occupying the Tamil-populated North-East. The military budget alone, according to Janes, accounts for 15% of total government expenditure for 2022, a 14% increase from the allocation of the state's GDP in 2021. When compared to similar nations, Sri Lanka is spending an inordinate amount, with Sri Lanka (10.29%) being second to Israel (12.08%) with respect to military expenditure as a % of its government expenditure in 2020. 
Although more than 13 years have passed since the end of the armed conflict, Sri Lanka's military presence remains one of the largest per capita in the world, with military personnel as a percentage of the population estimtaed to be at 1.46% in 2018 alone. This military presence is most concentrated in the Tamil North-East, where a reported 14 of 21 army divisions are located. In March of 2021, the Oakland Institute detailed that for every six civilians, there was one military soldier. In 2017, a report released by the Adayalam Centre for Policy Research (ACPR) details that at least 60,000 Sri Lankan Army troops are currently stationed in the Mullaitivu District, which has 130,322 or approximately 0.6% of the Sri Lankan population. This means that there is one soldier for every two civilians in the district - in essence, a military occupation. 
The Sri Lankan military continues to carry out human rights violations and its military occupation of Tamils while being given the green light from the state to do so under the guise of national security concerns. The military has a history of brutally cracking down on any attempts to commemorate victims of the genocide by routinely threatening, harassing, tear-gassing and arresting Tamil genocide survivors and destroying Tamil war memorials. Elderly Tamil Mothers of the Disappeared movement have similarly been subject to intimidation and brute force from police and military personnel as they demand justice for their forcibly disappeared loved ones. The draconian and much-criticized Prevention of Terrorism Act is still used to this day to arrest and arbitrarily detain Tamil activists, journalists and civilians across the North-East.
Since the culmination of the Tamil genocide in 2009, when the Sri Lankan military massacred as many as 169,796 Tamil civilians, the Sri Lankan military has systemically entrenched itself in every facet of civil society in the north-east, thereby being a constant source of trauma for Tamil genocide victim-survivors. Military-run schools, businesses, tourist resorts, farms and factories are ever-present across the North-East. Tamil survivors have consequently had to learn to live alongside the very perpetrators of mass atrocities and war crimes against their missing and dead loved ones. Amidst this deep sense of insecurity, fear, mistrust and trauma associated with the Sri Lankan military, the military nonetheless claims altruistic intentions behind its increasing penetration of Tamil-run civil institutions. 
While they entrench their presence in schools, for instance, under the guise of cleaning schools, gift-giving, and sports, amongst other absurd engagements for the military, they are really entrenching fear and exercising control over Tamil school children. When considering the military's insidious penetration of all institutions only across the North-East, it is to remind Eelam Tamils that with the military being ever so omnipresent to foster a culture of fear and surveillance in their civil society, they will never truly be free. The military is there to penetrate and crush the Tamil psyche in as many ways as possible - which involves starting from a young age. 
Eliminating and averting future economic crises on the island involves demilitarizing the North-East, defunding the military and ending state occupation of the Tamil homeland. It involves taking a critical look at the ethnocratic state's policies and institutions that have been used to wage genocide on Tamils and dismantling every single one of them. The military as a state institution has been vital for the Rajapaksa regime to carry out genocidal atrocities against Tamils to protect their Sinhala Buddhist nation-building project: Sri Lanka. This has inevitably set the foundation for the island's worst economic crisis to brew. Only with a return to some semblance of normalcy, where Tamils in the North-East are no longer forced to live amongst military personnel and under the state's military occupation, can the island truly ever conceive of achieving economic stability. 
We need your support
Sri Lanka is one of the most dangerous places in the world to be a journalist. Tamil journalists are particularly at threat, with at least 41 media workers known to have been killed by the Sri Lankan state or its paramilitaries during and after the armed conflict.
Despite the risks, our team on the ground remain committed to providing detailed and accurate reporting of developments in the Tamil homeland, across the island and around the world, as well as providing expert analysis and insight from the Tamil point of view
We need your support in keeping our journalism going. Support our work today.
For more ways to donate visit https://donate.tamilguardian.com.