18 September 2020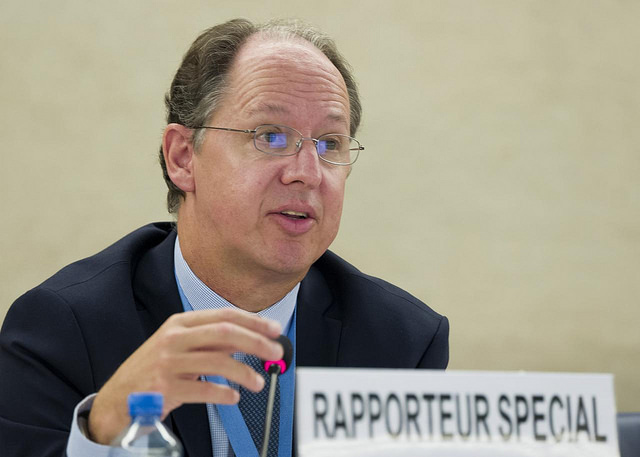 Reporting on the developments towards transitional justice since his first visit in March 2015, the UN Special Rapporteur on the promotion of truth, justice, reparation and guarantees of non-recurrence, Pablo de Greiff, noted that Sri Lanka appears to have missed a "historic opportunity" for sustainable peace due to the government's "lack of commitment"
In his report he notes;
"Nothing has hindered the transitional justice programme in Sri Lanka more than lack of commitment on the part of the Government, which was not only slow in terms of design and implementation, but which wavered in its messaging and ultimately has failed up to this point to take full ownership of the process. Sri Lanka has a long history of partial compliance with its human rights obligations, which is not actually a form of compliance but, ultimately, one of non-compliance".
The 'Good Governance' regime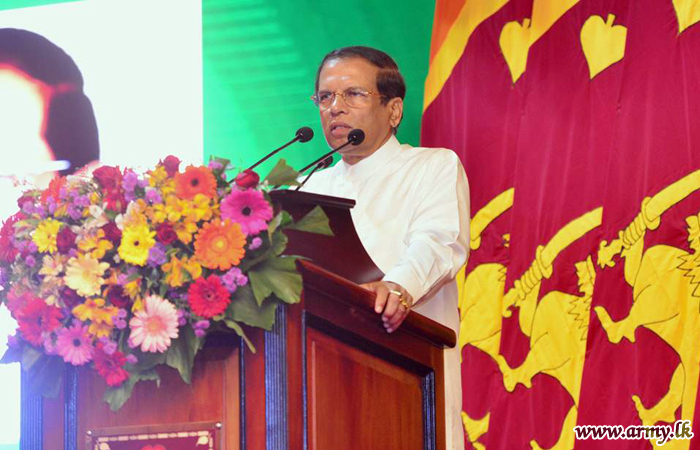 Commenting on the progress made under the previous administration, the UN Special Rapporteur notes that the "January 2015 presidential elections offered a chance for lasting peace, justice and reconciliation". This was signified in October 2015, when Sri Lanka co-sponsored UN resolution 30/1 and thereby pledged "to undertake a meaningful transitional justice process, including setting up a hybrid court with international judges, security sector reform and a political settlement that would address the root causes of the ethnic conflict on the island".
In February of this year, the Rajapaksa administration withdrew from the UN resolution and insisted on a "domestic process" to address concerns over transitional justice but this has been met with concerns from the international community. The Core Group, representing the UK, Germany, Canada, North Macedonia, and Montenegro, has expressed alarm over this domestic-led approach stating, "previous such processes have, regrettably, proved insufficient to tackle impunity and deliver real reconciliation".
Whilst noting some progression in terms of transitional justice, the UN Special Rapporteur notes, that certain confidence-building measures are still pending. These include; "the release of land, the replacement of the Prevention of Terrorism Act with legislation that complies with human rights standards, the establishment of a mechanism to review expeditiously the cases of persons held under the Act and the cessation of overbearing and intimidating forms of surveillance, especially against women, human rights activists and persons involved in memorialization initiatives in the North and East".
Ultimately, Greiff states that;
"none of the constituent elements of transitional justice policy, namely, justice initiatives, truth-seeking mechanisms, reparations programmes and guarantees of non-recurrence are fully in place. The failure to achieve progress constitutes a denial of justice for victims".
Commenting on the issues of transitional justice, Greiff further adds that there has been a distortion of what transitional justice entails which has been coupled with an increased ethnicisation of the issue. It has been "represented as a boon for only one minority group and as a threat for the majority community", Greiff states.
Transitional justice and economic development
Whilst recognising that those suffering under the greatest burden are the victims who are not permitted transitional justice, Greiff also acknowledges that "society as a whole pays a significant price".
In this regard, he maintains that the government's unwillingness to adopt a comprehensive transitional justice programme undermines public trust and perpetuates violence. To illustrate this point he draws upon the issue of military land grabs which denote weak property rights in Sri Lanka.
"Although some of the land occupied by the armed forces has been returned, the lack of clarity and comprehensiveness of the process – in which the armed forces are both a party and the judge – has serious consequences not only for those directly affected but also, more generally, for economic development. The underlying problem uncovers a weak regime of property rights that is also a great disincentive for foreign investors", Greiff notes.
The cost of delaying transitional justice not only holds dire economic costs but undermines basic rights and risks "fuelling new cycles of violence, as history has repeatedly shown".
He further adds that;
"For a measure to be reparative, it must be accompanied by truth, acknowledgement, justice and guarantees of non-recurrence. The previous claim that victims prefer development to reparations has turned out to be false. Victims have an interest in, a need for and a right to reparations".
Read more: What Gotabaya's Presidency will mean for Tamil politics and development in Sri Lanka
A "dismal record" on accountability
Commenting on Sri Lanka's failure to tackle issues of accountability, the Special Rapporteur notes that Sri Lanka's dismal record is in part due to the country's criminal justice system which is "inadequate and flawed".
Sri Lanka's willingness to pursue convictions is "the State is often absent when State agents are the presumed perpetrators", Greiff notes. The UN Rapporteur highlights that the "Office of the United Nations High Commissioner for Human Rights (OHCHR) has tracked more than 20 emblematic cases, including the killing of 5 youth in Trincomalee in 2006, the disappearance of 11 youth in 2008 and 2009, the killing of 17 humanitarian workers in Muttur in 2006, the assassination of Members of Parliament Joseph Pararajasingham and Nadarajah Raviraj in 2005 and 2006 and the killing of journalist Lashanta Wickremantunge in 2009". In all of these cases, no progress has been made.
In noting the manifold issues with Sri Lanka's criminal justice system, Sri Lanka's Attorney General has noted issues in "obtaining evidence, witnesses, and military records" however, whilst recognising these issues, the UN Rapporteur states that "it is hard to accept that they alone can explain the decade-long lack of progress".
Sri Lanka's criminal justice system also suffers from;
"inadequate administrative procedures, such as the non-consecutive nature of trial hearings; inadequate personnel management, with frequent transfers of judges, which increases delays; insufficient human and material resources; and unresolved challenges relating to the political sensitivity of these cases".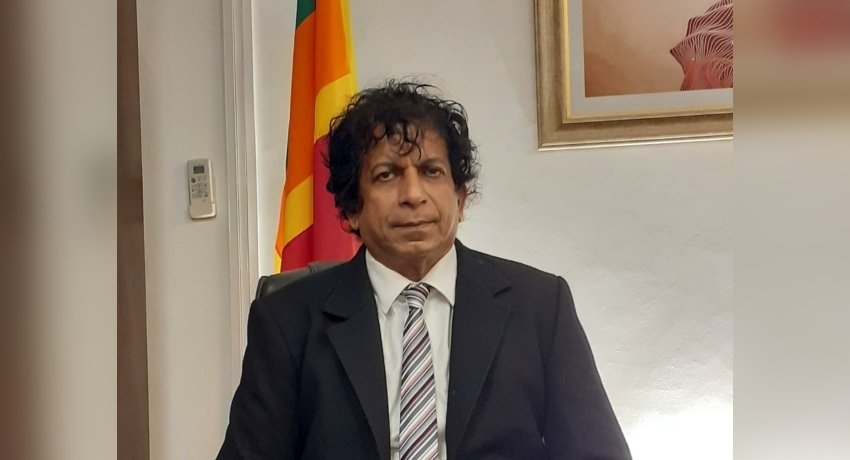 (Photo of current Sri Lankan Attorney General: Dappula de Livera)
The UN Rapporteur further calls on the government to restructure the "Office of the Attorney General, which currently acts both as a public prosecutor and as attorney for the State". He notes that this dual role enables for a conflict of interest when address crimes committed by state officials. This is because the Attorney General may choose to continue or suspend investigations as well as decide upon the venue for a criminal proceeding, which "plays an almost determining role". The role of the Attorney General is "largely unaccountable and compounds the difficulties".
The Office also plays a central role in litigation and drafting legislation, this the Special Rapporteur notes, has led to "an institutional culture seems to have developed that sees the Office as the judicial arm of the State, rather than as the protector of the individual rights of citizens".
Biased reparation schemes
Commenting on the issue of reparation schemes, the UN Special Rapporteur highlights that reparations have been mainly carried out through the "Rehabilitation of Persons, Properties and Industries Authority, established by Act No. 29 of 1987".
He notes that these programmes have often suffered from serious issues in the past and draws upon the "Payment of Compensation to Most Affected Persons, a government scheme established in 1988" as a clear example. This scheme enabled for compensation for those who have died or were injured as a result of "terrorist activities and security operations carried out after July 1983".
Under the scheme surviving spouses and children SL Rs 50,000 ($800) but if the victim was a minister, governor, member of Parliament or Chief Minister, they were granted SL Rs 600,000 ($9,600). Patronage was an issue identified by the Rapporteur in regard to reparations.
The Rapporteur further notes that "the families of alleged terrorists did not receive compensation and, since it was the police force that determined who were the terrorists if the State security forces were responsible for the killing, it was assumed that the person had terrorist links".
Another key issue identified regards how reparations were processed as often the "the provision of reparations was used to shield perpetrators from prosecution". The UN rapporteur notes that to apply for compensation from the Rehabilitation of Persons, Properties and Industries Authority, relatives of the disappeared or killed would need to provide copies of complaints filed to the police. However, if they referred to a perpetrator by name their compensation process would stop as the case would be moved to a court. Yet, if they signed the authority's form, victims would recognise a lack of knowledge of the perpetrator and years later when cases were filed, "the defence counsel used their earlier statement on the compensation form to impugn their credibility"
Restitution of Land
Commenting on the issue of property restitution, whilst the Rapporteur recognises some progress on this matter, he also acknowledges confusion over the exact amount of land released. He notes that whilst Sri Lanka has objected to figures presented by the UN High Commissioner for Human Rights, they have failed to "present a clear mapping of the private and public land occupied by the military and to address the problem of that land's restitution".
With respect to claims over land, there is no mechanism to adjudicate on this issue and "armed forces alone seem to have been the ones to determine which areas of land are to be returned and when".  In contrast, local courts are unable to function independently and impartially with their decisions often being driven by "ethnic, political, or religious objectives". This has resulted in further mistrust and tensions between communities.
Continued occupation of land by government forces has led to successive protests, particularly in the predominately Tamil North.
Read more: Military-occupied land will 'never' be returned states Sri Lankan minister
Internal Displacement
On the issues of internal displacement, the Rapporteur notes a strong desire of those displaced to return to their homes, however;
"The occupation of land by the military, sometimes for economic activities, coupled with the presence of landmines, the lack of titles and other documentation, and the deliberate resettlement of southern Sinhalese people in the North are preventing the return of displaced people"
This has compromised their access to education, livelihoods and voting rights consequently.
Those displaced, notes the Rapporteur, are "also exposed to harassment by host communities and face inadequate access to employment and even sanitation".
The Special Rapporteur notes that there has been little to no consultation with those displaced during the process of relocation and this has led, in many cases, to land provided for their resettlement being unsuitable for livelihood activities.
Denials of suffering
The Special Rapporteur also raises the importance of psychological support throughout Sri Lanka but "particularly in the North and East, where trauma and tensions have been exacerbated by official denials of the suffering experienced by Tamil civilians during the civil war".
He notes that intensified militarisation, surveillance, and proliferation of victory monuments pose a serious obstacle "to local forms of memorialization". The Rapporteur maintains that "preventing people from accessing or building memorials or from carrying out memorialization activities or occupying their space with memorials they do not identify with" can pose serious psychological harm.
In the past Sri Lanka's central government had partly eased restrictions on memorialisation in the North and East, however, he notes that "at the local level, however, surveillance, intimidation and arrests continue to hamper memorialization activities; family members of victims do not have access to memorials and monuments, some of which have been deliberately destroyed; and the prohibition on the memorialization of fallen Tamil Tigers persists".
He further states that;
"Grieving families have expressed the need to bury or destroy photographs of their deceased loved ones in uniform for fear of harassment by the security forces".
The rapporteur notes that this dynamic of denying victims of a chance to memorialise their experience is "retraumatizing and alienating".
In terms of relative psychological support, the Rapporteur notes, an uneven distribution with a lack of support for Muslim communities, victims of sexual and gender-based violence, and a reluctance of former Tamil Tigers cadre to seek such support due to fear of scrutiny from security personnel. There is also a dearth of Tamil-speaking counsellors.
Demilitarise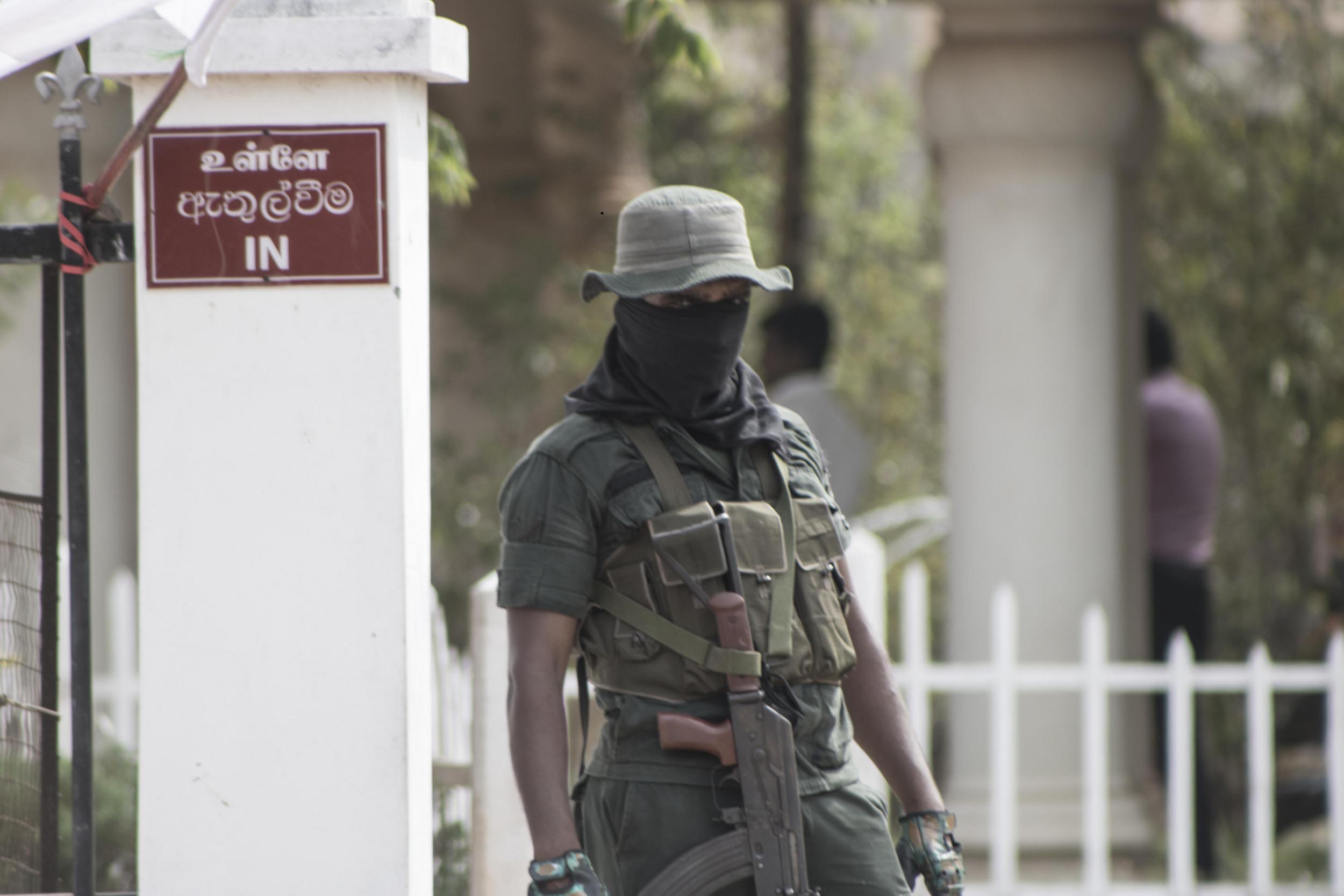 With respects to Sri Lanka's bloated military, the UN Special Rapporteur has called for a strengthening of "civilian capacities" and to "rationalise structure of its armed forces". He further notes that it is unlikely that the "heavy-handed form of surveillance of the civilian population, that a security sector that remains virtually monoethnic and that a police force in which the pervasiveness of torture and abuse" can support the investigatory capacities of the country.
Public Trust in Government commissions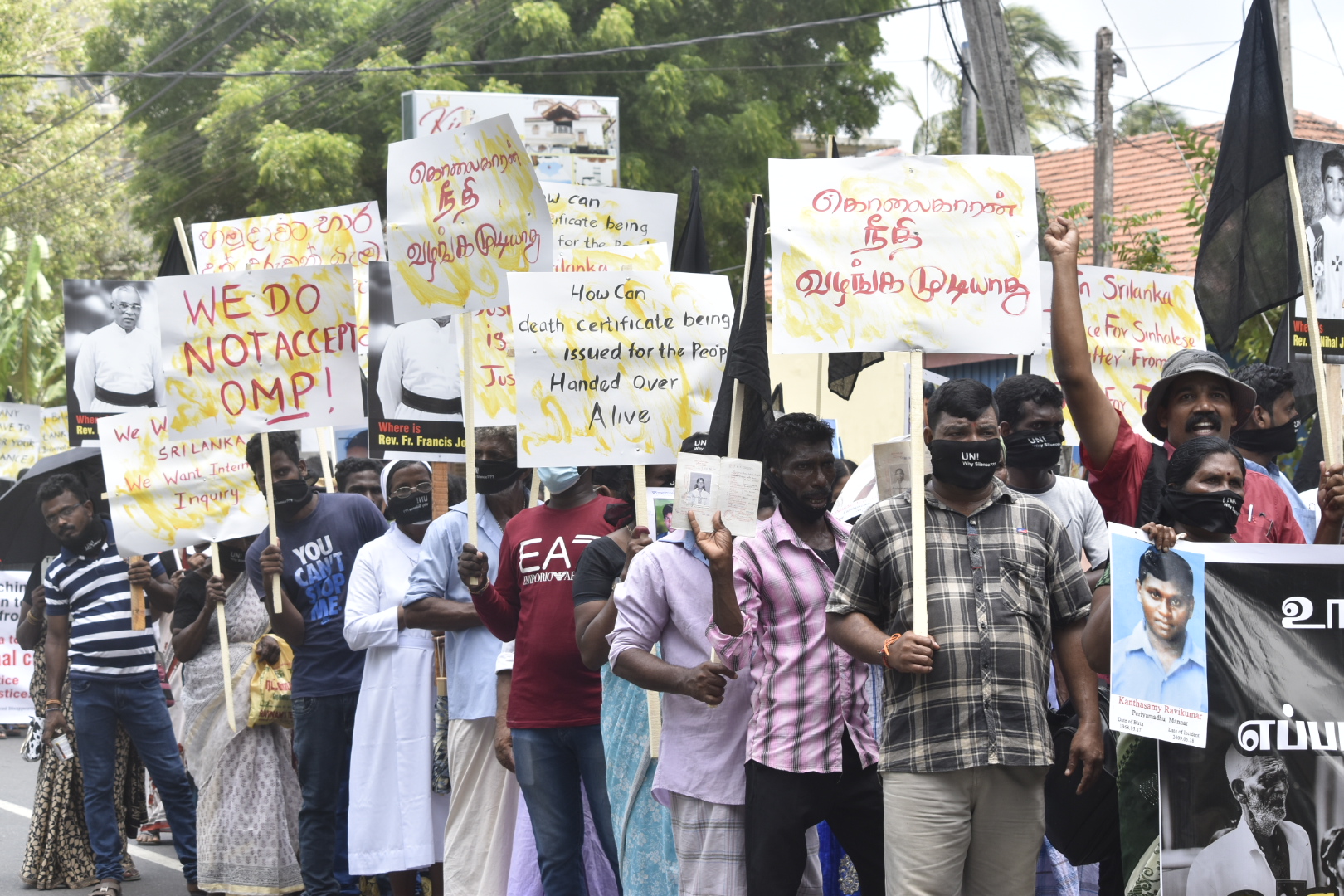 Commenting on the issue of government commissions, the Rapporteur highlights a failure to gain trust amongst victims in part due to their inability to restore victims' rights. These commissions have been criticised for "their lack of independence, manipulation of evidence, inadequate access or linguistic incompetence, and questionable guarantees for participants, given the absence of a witness protection programme".
Whilst he acknowledges that unearthed significant information and made useful recommendations, critics maintain that these efforts have been to "deflect international pressure and calls for judicial investigations". The Rapporteur maintains that key failures of these commissions further include "weak mandates, problematic membership, lack of resources, procedural opacity, poor collaboration from the Government, lack of publicity of some of their reports and the overall lack of implementation of their recommendations".
Truth Commission and enforced disappearances
With respects to a truth commission, the rapporteur calls for greater collaboration with the Office of Missing Persons, so as to "identify patterns of violations and abuses and must cooperate with the Office for Reparations to identify patterns of victimhood and the needs of victims".
However, there has been inadequate criminalisation of enforced disappearances and "no observable progress has been made on pending cases, including habeas corpus applications into the disappearance of Tamil Tigers and members of their families who surrendered during the final days of the war".
Most worryingly, the Rapporteur notes; is the "recurrence of disappearances following the change in Government". He maintains that this raises "serious questions about the ability and willingness to end the practice altogether".
Read the full UN Special Rapporteur statement here.
We need your support
Sri Lanka is one of the most dangerous places in the world to be a journalist. Tamil journalists are particularly at threat, with at least 41 media workers known to have been killed by the Sri Lankan state or its paramilitaries during and after the armed conflict.
Despite the risks, our team on the ground remain committed to providing detailed and accurate reporting of developments in the Tamil homeland, across the island and around the world, as well as providing expert analysis and insight from the Tamil point of view
We need your support in keeping our journalism going. Support our work today.
For more ways to donate visit https://donate.tamilguardian.com.