07 July 2020
Speaking with People for Equality and Relief in Lanka (PEARL), Gowri Koneswaran, a lawyer and writer, Ram Paramanathan, a journalist and media critic, and Abhirami Balachandran, researcher and educator, gave enlightening discussions on queer identity in the Tamil community as part of their final discussion in their Tamil Struggle 101 workshop.
Rejecting cis-heterosexual normativity
Speaking on how we engage with LGBTQ issues, Gowri Koneswaran reminds us to challenge preconceived conceptions and to be inclusive. Her talk not only challenges traditional mainstream narratives of queer identity, but also highlights the privileges cis straight individuals have and how we should be mindful of them. She also provides excellent recommendations on how cis straight people may support the LGBTQ community.
"When I enter a Tamil space, whether there is 30 in the room or 100. The assumption should be that absolutely there are queer people in this room, absolutely there are trans people in this room. Whether or not they have identified themselves to me or to the rest of us, is irrelevant. Of course, we are here", Koneswaran notes.
Koneswaran also criticises the conventional narrative surrounding coming out, stating that whether or not they share that aspect of themselves is their choice.
"[I do not] endorse this mainstream White narrative that coming out is necessary for LGBTQ people or that coming out somehow makes us more authentically queer. I was just as queer before I came out as I am now".

"For all of you watching this later, who have no intention of ever coming out, I see you, I see your queerness, I see your transness and you don't have to tell anyone if you don't want to".
Koneswaran reminds us that there are many reasons why individuals may choose not "to make a blanket announcement" but instead to choose carefully who they share that information with. Instead of thinking of this as "coming out", she instead asks us to conceptualise this as them "inviting us in" to this aspect of their identity. If invited in, she asks that out of respect, we treat that knowledge as confidential unless otherwise specified by the individual.
Whilst she stresses the importance of listening to LGBT people and amplifying their voices, she also calls on non-LGBT people to speak out against homophobia and transphobia. To use their position of privilege to help normalise the existence of LGBT people.
She notes;

"[We should] not be waiting until it's absolutely necessary to talk about it. Or not be waiting to hear the transphobic and homophobic remark but engaging people in conversations from the get-go".
She concludes asking us to reflect on what it means to be "queer or trans in the Tamil spaces?"
"Are we understood and accepted and celebrated, if we openly embrace that part of our identities?

And then on the flip side you know what does it mean to Tamil in LGBTQ spaces?  Are we read or even understood as being Tamil and having our own history of genocide and oppression, as members of our ethnic group?

How are our struggles as Tamils and LGBTQ people intertwined? 

There is this idea that marginalised groups within the community must wait for our broader issues to be addressed for the larger community before we can sort of get to our issues.

That notion is one of erasure.

I am as queer as I am Tamil.

I am just as Tamil as I am queer, I come from lineage in both capacities, I'm an elder in both capacities.

You talk about the idea of self-determination for Tamil Eelam what does that mean to support the idea of self-determination politically but not support the idea of individuals within our community having free choice to decide their actions for themselves, without being told from our larger community that its not time for us yet".
"Symbolic annihilation of Queer people through story-telling"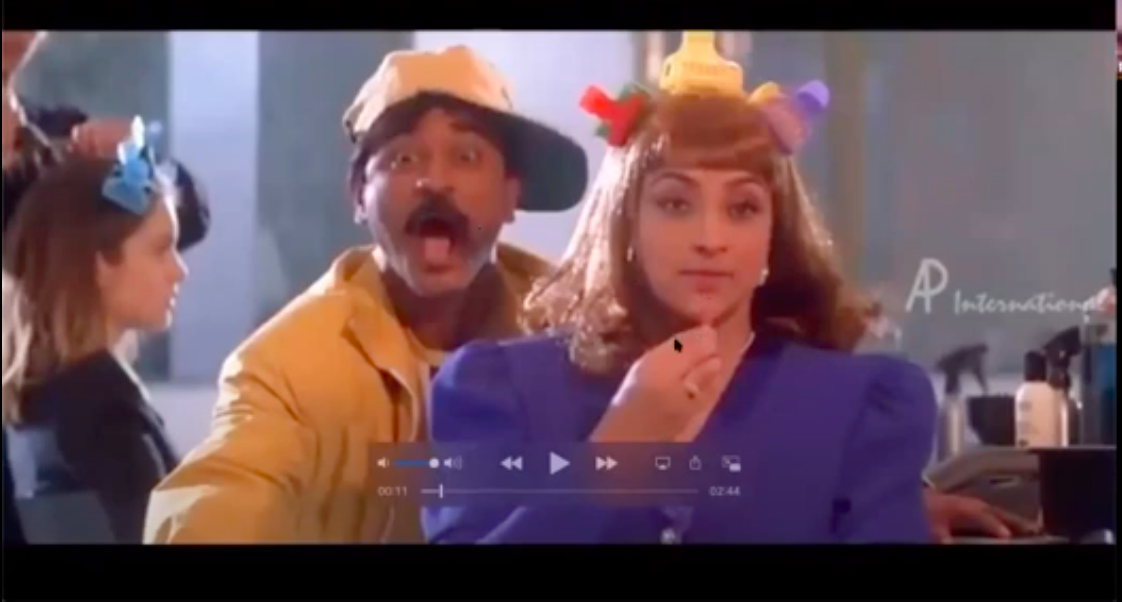 Scene from the film Jeans by Shankar Shanmugam featuring Raju Sundaram
Ram Paramanathan provided an excellent discussion on media representation of LGBT issues within Tamil cinema.
He notes that through the art of "story-telling and media we find people who are like us". We find ourselves asking, "Will this person who I see as my hero, accept me as I am? Is there any hero or heroine like me?" What if I do not fit in within these binary terms?
Paramanathan notes that a lack of representation leads to people thinking of these communities "as secondary citizens". He notes that individuals are often only visible "until they declare themselves as part of the LGBTQIA+".
He further notes that whilst there is to some extent an acceptance of queerness for whites, this is not extended into the Tamil community.
"We tend to think queerness is okay for white people but not for us. If we see queerness in a white gaze only see queerness in its white form. We can't see Tamil queerness".
Despite the lack of adequate LGBT representation in Tamil media, Paramanathan notes that beneath the surface there is a rich tapestry of queerness within Tamil cinema.
Drawing on the serial, "Odyssey", he speaks of the transgender character "Radhika". Whilst she is often spoken of in derogatory fashion, he adored her for "owning her trans identity". He also notes a clear duality in the character's presentation as whilst "she is a criminal", she is also shown to be loving and caring towards the family.
 The second movie he draws upon is Jeans by Shankar Shanmugam Shankar Raju Sundaram. Within this movie, there is a character named Madhesh, played by Raju Sundaram, who is presented in an eccentric fashion. Paramanathan notes that whilst "everyone else is dressed muted colours", he wears bold bright campy outfits.
Whilst the film and character are amusing, he also highlights the problematic implications that comes with his presentation.
He notes that in Tamil cinema, "femininity is presented in a childish manner", in consequence, his childishness presents queerness in similar terms.
What does it mean to be queer and Tamil?
Concluding the talks, Abhirami Balachandran provided a deeply moving recollection of her journey as a queer Tamil. Her talk challenges cis-centric narratives of Tamil identity but also questions the very meaning of liberation. For her "rainbow capitalism" is not sufficient, liberation must mean liberation for all.
Speaking on her journey she notes:
"I tried my best to make sense of the truth that was unfolding within me and so I tried to ask my elders if there was gay people in Tamil Eelam and they would tell me no they were shot and killed or sent away or no only white people do that.

Not having any facts to back this claim I ingested what they told me, and I carried it through my adolescence, it was clear that cisgender straight people did not have the capacity to make space for us despite having historical records of our existence predating colonisation. The erasure of queer histories was deliberate and in my opinion, was also a form of sexual violence".
She further notes this constant sense of erasure:
 "So many people ask themselves what does it mean to be queer and Tamil when we have to erase our queerness to be present in these spaces

Are we also not worthy of liberation?

I did what many queer people do, bury those questions deep inside because we weren't ready for what we would have to face if these questions were asked out loud".
She further states this struggle against erasure was something she struggled with much of her life:
"I constantly found myself having to navigate erasure in some form

Erasure in mainstream white queer spaces as a racialised body

Erasure of my Tamil identity in South Asian queer spaces

Erasure of my queerness and Tamilness, all I wanted was somewhere to feel whole.

It took me years to finally find the queer Tamil family I was desperately yearning for my whole life".
Her call for liberation notes that our community needs to step up "because we're failing many right now".
She concluded her speech quoting Marsha P. Johnson, one of the founding members of the Gay Liberation Front who played a prominent role in the Stonewall uprising.
"There will be no pride for some of us, without liberation for all of us"
We need your support
Sri Lanka is one of the most dangerous places in the world to be a journalist. Tamil journalists are particularly at threat, with at least 41 media workers known to have been killed by the Sri Lankan state or its paramilitaries during and after the armed conflict.
Despite the risks, our team on the ground remain committed to providing detailed and accurate reporting of developments in the Tamil homeland, across the island and around the world, as well as providing expert analysis and insight from the Tamil point of view
We need your support in keeping our journalism going. Support our work today.