13 November 2013
As India's External Affairs Minister arrived for the CHOGM summit today, he sought to underplay the significance of the Indian Prime Minister's absence. Manmohan Singh was forced to withdraw in response to concerted political pressure from Tamil Nadu where the State Assembly has unanimously passed two resolutions demanding an Indian boycott. Whilst Tamil Nadu insists that India must make justice for the Tamils central to its policy in Sri Lanka, Delhi thinks otherwise. Wedded to an out of date Cold War framework in which great power interests are calibrated by spheres of influence, and subsequently driven by paranoia about Chinese investments in the region, it desperately seeks influence in Sri Lanka and is willing to collude with Colombo's crimes to that end. But this conciliatory approach is bound to fail. The central obstacle to Indian interests on the island is the Sinhala Buddhist majoritarian order that produced the Rajapaksa presidency. Until India works to undermine and contain this, it will not be able to realise any of its commercial, political or diplomatic objectives on the island.
In order to placate sentiments in Colombo, India is sending a significant and high level delegation to the summit. Military relations are meticulously maintained and trade deals are eagerly sought, all in the hope of strengthening influence on an island just a few miles off its southern shores. Manmohan Singh's withdrawal from the summit was tactical – rather than principled – and clearly reluctant. Delhi has been at pains to signal that Singh's absence should not be read as a sanction against Colombo's appalling record against the Tamils. The unexplained denial of an Indian visa for Callum Macrae, director of the No Fire Zone and Killing Fields documentaries, as well as the destruction of part of the Mullivaikal memorial in Thanjavur, are indicative of the real mood in Delhi.
The fear of Chinese 'encroachment' and a desperate need to maintain an Indian 'sphere of influence' has undoubtedly given Sri Lanka the upper hand in Indo – Lanka relations. Instead of responding positively to India's overtures, Sri Lanka simply plays on India's paranoia and uses Chinese investment and diplomatic overtures as a tool to solicit further engagement from Delhi, but giving scant in return. Indian projects and initiatives remain stalled and unimplemented. The Comprehensive Economic Partnership Agreement has been largely abandoned and the much lauded '50, 000' houses – if they are ever all built - will be distributed via centrally controlled patronage networks to consolidate Sinhala domination in the Tamil areas.
Meanwhile the Thirteenth Amendment, that venerable centre piece of Indian diplomacy, is on life support as Sri Lanka systematically dismantles it,constitutionally and practically. Even otherwise, the toothless Provincial Councils it created cannot address any of the core political demands or minimal practical needs of the Tamil people; they cannot work for a merger of the northern and eastern councils, they cannot stop the military from destroying homes and confiscating land, they cannot resettle the displaced; they cannot protect civilians from sexual abuse by the security forces and their paramilitaries and they cannot stimulate much needed economic growth and jobs while the Sinhala military continues to appropriate lucrative activities.
Sri Lanka's reluctance to take the hand of friendship cannot, however, be overcome by even more 'engagement'. It is ideologically rooted. Indian influence on the island is an anathema to the Sinhala Buddhist ethos that underpins Sri Lanka's state and its policies against the Tamils. In the 'Mahavamsa mindset' that has driven Sri Lanka's politics in the decades since independence, India is viewed as an ancient menace, constantly threatening to sully the pristine Sinhala people and their Buddhist religion with its alien culture and demographic bulk. Just as there is no place for India in this Mahavamsa ideal of a Sinhala Buddhist polity, there is also no question of equality between the Tamils and the Sinhalese. No amount of Indian cajoling will persuade Colombo to share power with the Tamils or indeed pull back from its violent efforts to transform the ethnic demography of the Tamil homeland.
While India's Sri Lanka policy is stuck in a bygone 'geopolitical' era of 'regional spheres' and international 'Realpolitik' divorced from domestic or ethical concerns, the rest of the world has moved on. Global power requires a global perspective, unrestrained by national or regional boundaries. Chinese building projects range from harbours in Sri Lanka to ports in Italy to airports in Manchester and more recently a nuclear power station in Somerset. Indeed there are suggestions of Chinese investment in infrastructure projects in Mexico and even in the USA itself. It seems that while China's activities in Sri Lanka fit within a larger global framework, India remains wedded to a parochial regional one.
The biggest threat to Indian foreign policy interests is not China or indeed the legitimate demands - on quintissentially universal, not particularist issues - by Tamil Nadu, but the continuance of Sinhala Buddhist order on the island. Delhi's policy of engagement has been utterly counterproductive. It has served only to strengthen the Sinhala Buddhist order, and as long as India continues with this policy it will be excluded from a meaningful role in securing a solution to the island's ongoing ethnic crisis. In short, this obsession with 'regional influence' has foreclosed the possibility of India leading, rather than stalling, international action on Sri Lanka and thereby undermined the ambitions for global stature that Delhi so ardently pursues.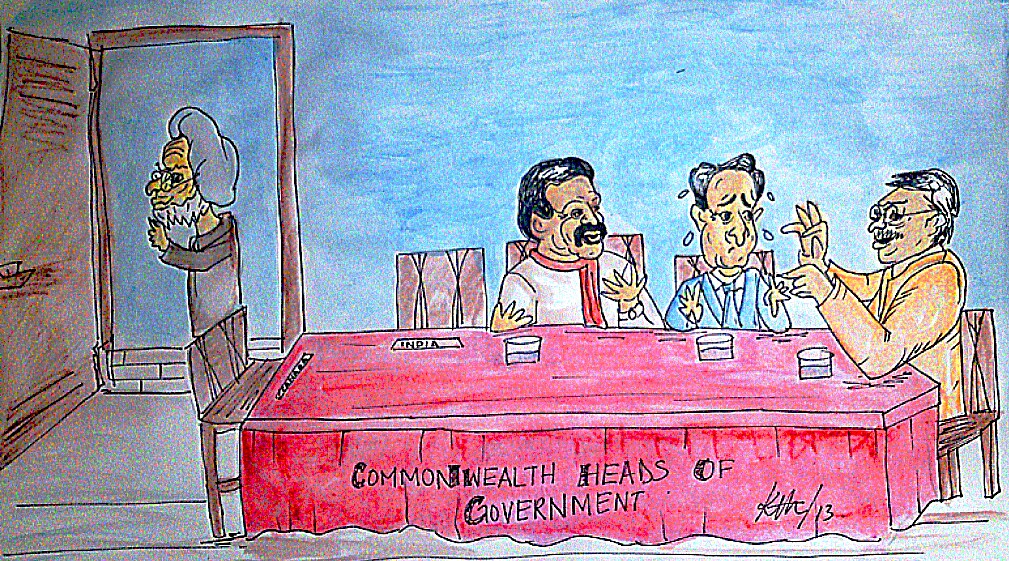 Illustration by Keera Ratnam

We need your support
Sri Lanka is one of the most dangerous places in the world to be a journalist. Tamil journalists are particularly at threat, with at least 41 media workers known to have been killed by the Sri Lankan state or its paramilitaries during and after the armed conflict.
Despite the risks, our team on the ground remain committed to providing detailed and accurate reporting of developments in the Tamil homeland, across the island and around the world, as well as providing expert analysis and insight from the Tamil point of view
We need your support in keeping our journalism going. Support our work today.
For more ways to donate visit https://donate.tamilguardian.com.