01 July 2021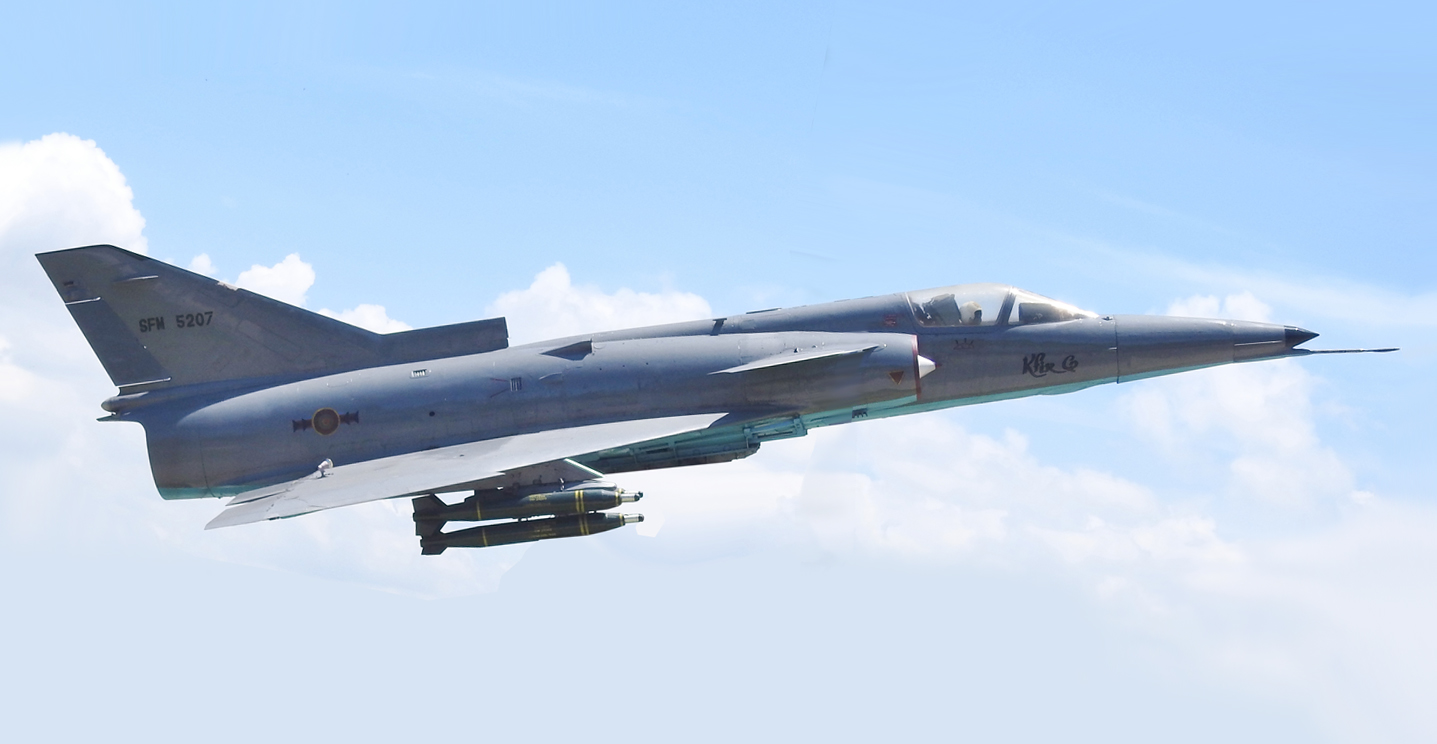 An Israeli-made Kfir, flown by the Sri Lankan Air Force (Courtesy: Rehman Abubakr)
An Israeli weapons manufacturer announced that the Sri Lankan military has signed a new US$50 million contract this week, in a move that will see Colombo's infamous Kfir bomber jets revamped and upgraded.
"I am grateful to Sri Lanka's Air Force (SLAF) for choosing to renew their Kfir selection and continue using the Kfir as their Multi-Role Combat Aircraft," said Yossi Melamed, Israel Aerospace Industries (IAI) Executive VP and GM of IAI's Aviation Group.
The deal will fit Sri Lanka's Kfir jets with advanced fighter aircraft avionics which will allow radar, sensors and communication systems to be integrated in the future, and will see the Israeli arms company working alongside the Sri Lankan air force, IAI said. "I believe this deal is an early step in preparing for future upgrades to the advanced model KNG (Kfir New Generation)," added Melamed. The IAI went on to describe the Kfir jets as "a game-changer on the battlefield with its ability to carry heavy ammunition and reach enemy targets in a precise manner".
A Kfir jet emblazoned with a lion sits in a Sri Lankan hangar. (Courtesy: Chamal Pathirana)
Earlier this year the Sri Lankan government had already reportedly approved the deal, with Air Marshal Pathirana claiming that it would give the existing Kfir fleet a 15-year life cycle.
"Once the agreement is signed, the IAI team will overhaul and upgrade one aircraft, the second, third and fourth aircraft will be overhauled jointly with the SLAF, so that we can learn from them," he added. "The final aircraft will be overhauled and upgraded by a SLAF team under IAI supervision."
A history of massacres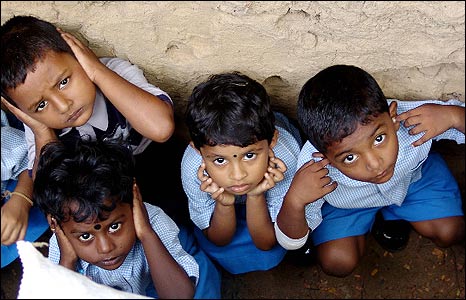 File photograph: Tamil children shelter in a bunker during a Sri Lankan air strike
Kfir jets, which have been extensively used by the Sri Lankan Air Force to carry out bombing raids across the North-East, have killed thousands of Tamils throughout the years.
Sri Lanka first purchased the Kfir jets from Israel in 1996, by which time the jet had been withdrawn from the Israeli Air Force but was being exported internationally. A new unit was formed – the No. 10 Fighter Squadron – based at the SLAF barracks in Katunayake, adjacent to the island's international airport, just 25 minutes flying time from the North-East.
The six newly purchased jets were immediately put to use by the military, as it began to extensively bomb the Tamil homeland, causing massive loss of life and widespread destruction. The use of the aircraft became so prevalent that for Tamils the name Kfir, Hebrew for "Lion Cub", became synonymous with all the aircraft used by the Sri Lankan military during attacks on the Tamil homeland.
In one notorious massacre in 1999, more than 21 Tamil civilians were killed in a Kfir bombing on a crowded market in Puthukkudiyiruppu. See the names of some of those killed here.
In 2001, the Liberation Tigers of Tamil Eelam (LTTE) launched an audacious attack on the Katunayake base where the No. 10 Fighter Squadron was housed, with 14 Black Tigers destroying several Sri Lankan military aircraft, including several Kfir jets. The Sri Lankan government had estimated the initial damage at US$539.3 million, but the true total is thought to have been much higher. No civilians were killed in the attack.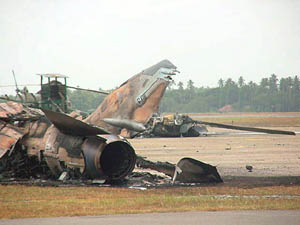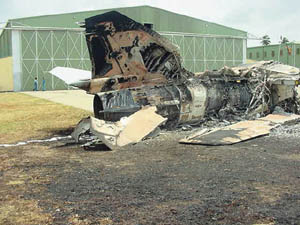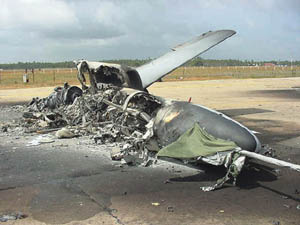 Remnants of the Sri Lankan military jets that were destroyed in the LTTE raid on Katunayake air base in 2001.
In response, however the state immediately launched further airstrikes. And though a peace process the following year brought a temporary reprieve, as talks broke down the Sri Lankan government replenished its military arsenal and Kfir jets began their bombardment once again.
Kfir strikes ramp up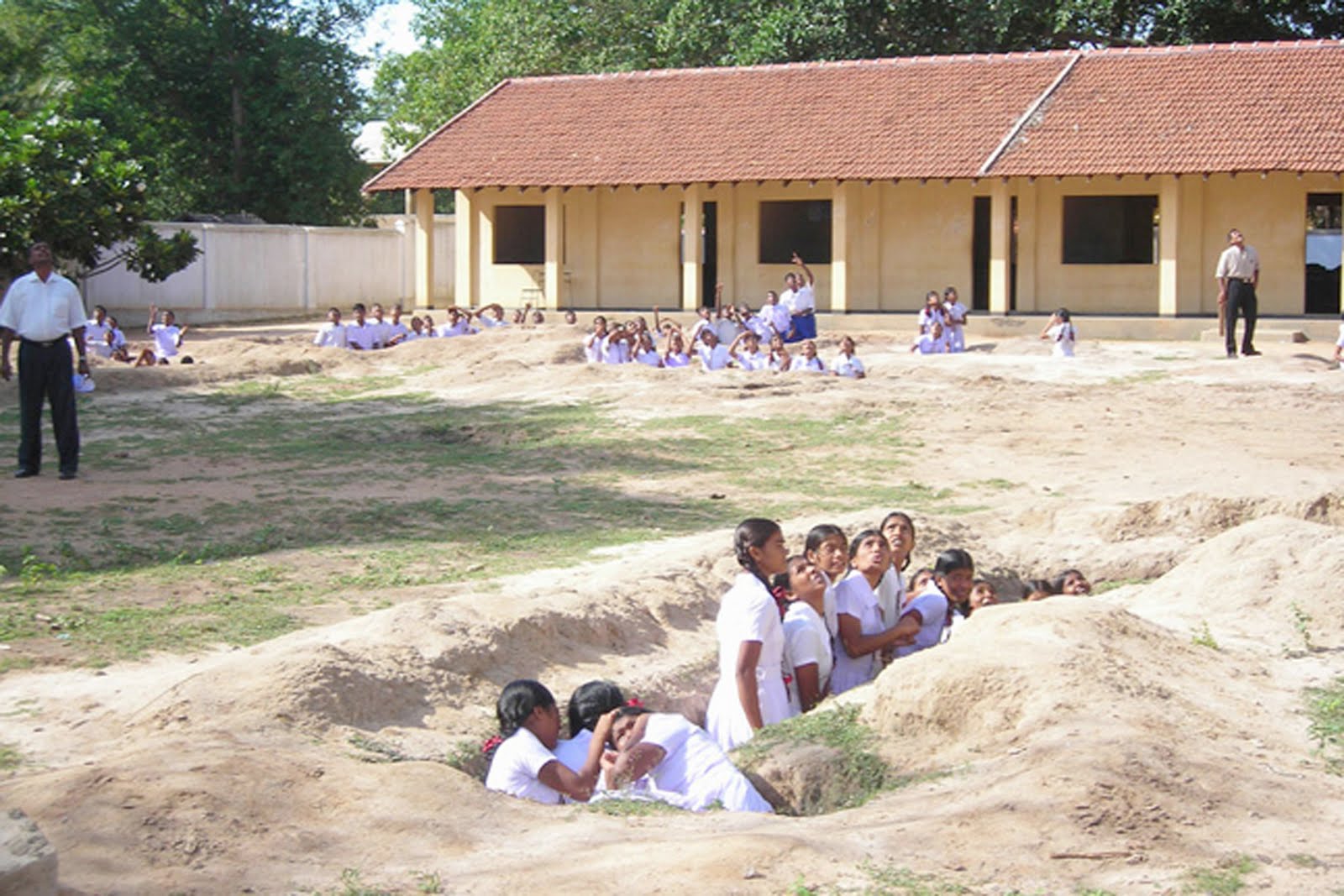 File photograph: Tamil schoolchildren shelter in a bunker during a Sri Lankan air raid
With the Sri Lankan military offensive gaining momentum, airstrikes in particular began to ramp up.
On August 14 2006, Sri Lanka launched one its deadliest Kfir attacks. Four jets flew over the Vanni and dropped sixteen bombs over the Sencholai children's home for orphans, killing 53 school girls and 3 teachers.
The children's home had been designated a humanitarian zone and its GPS coordinates had been passed to the Sri Lankan military via the UN children's agency, UNICEF, and the International Committee for the Red Cross (ICRC). A survivor of the attack, Paranthan Hindu Mahavidyalam student Mary Arulappan Juliet, recalled the horror of the massacre, in an interview just days later.
"It was 7 a.m., we were by the compound well, when we saw the Kfir jets far-away and thought that they heading to the battle theater elsewhere," she said. "Within a seconds we saw them heading directly to our centre and suddenly started bombing our premises."
"As the bombs fell, the girls ran in all directions, and took cover by lying on the ground face down, hoping that the bombers will go away after attacking once. But the Kfir jets returned firing additional munitions directed to our facility," Juliet added. "There was chaos within the Sencholai premises with each round of bombing, as more students were getting wounded severely and getting killed. In between air strikes, the girls changed their cover locations by running to other positions to take better cover".
"In the aerial strikes, many died on the spot, and many were wounded, most had multiple injuries, some lost their limbs, some had severe burns. All the girls were pleading for help, pleading to be taken to a hospital."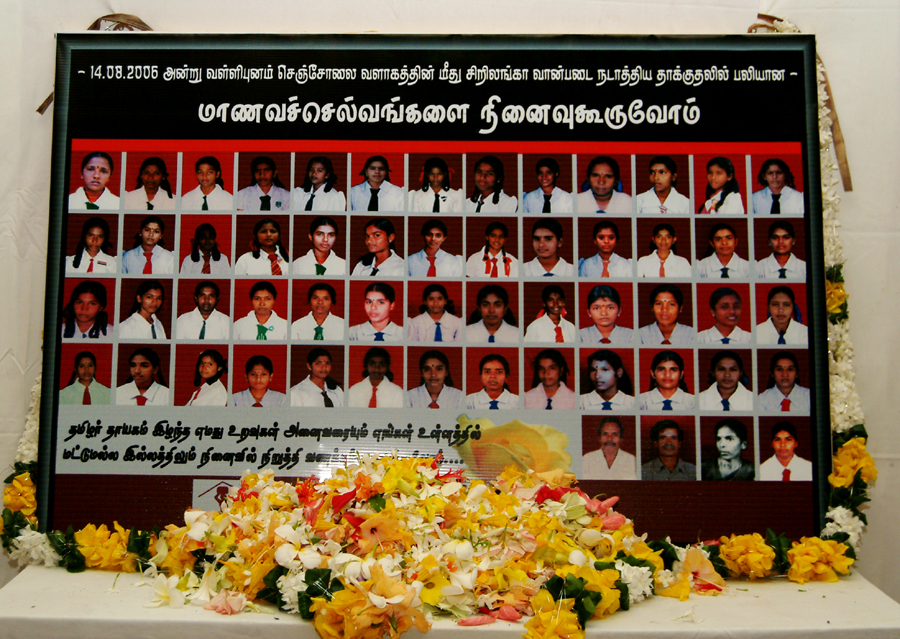 Read more about the massacre here: Remembering the Sencholai massacre 14 years on
In the years and months to follow, the bombings and massacres would continue.
In October 2006, Kfir bombers destroyed the main broadcast tower and transmitter of the Thamileelam Radio.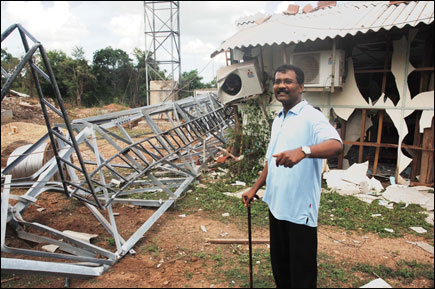 LTTE Political Head S.P. Thamilselvan inspects damage from the October 2006 attack. He would go on to be assassinated by a Kfir attack.
In November 2006, five members of a single family were amongst those killed when Kfirs dropped 16 bombs just metres from the newly built Kilinochchi General Hospital. Patients were forced to flee, whilst the hospital building itself sustained damage.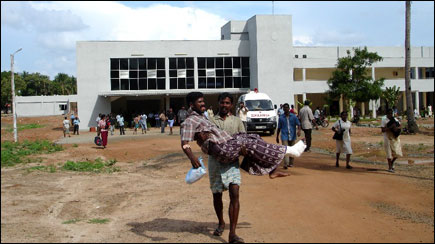 Patients fleeing from Kilinochchi General Hospital in November 2006.
In January 2007, at least 15 people, including 7 children below age nine and a pregnant woman, were killed as Kfirs attacked Padahuthurai in Mannar.
One of the many damanged homes in Padahuthurai, January 2007.
In March 2007, Kfirs bombed a school in Chundikulam, injuring several people and forcing students to scramble and hide and bunkers.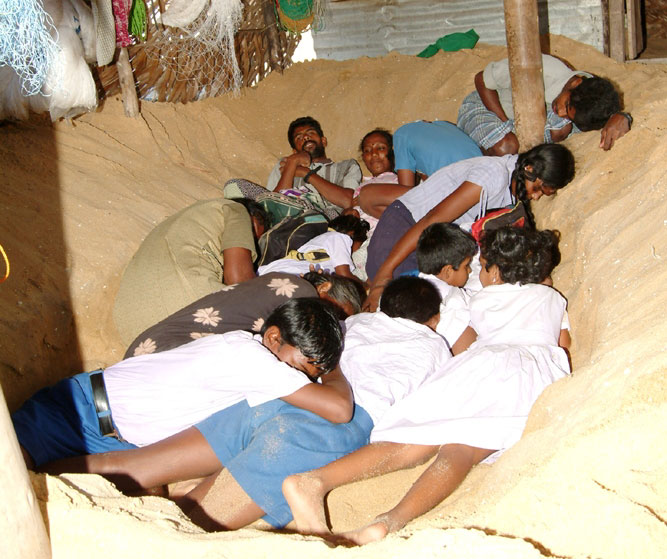 Schoolchildren scramble to a bunker in Chundikulam, March 2007.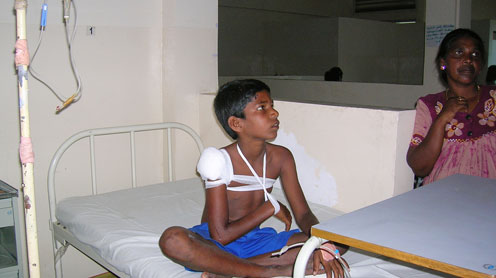 A child injured from a Kfir strikeo​in Chundikulam, March 2007.
More bombings would follow in July, October and November of that month.
Most significantly, in November 2007, S. P. Thamilselvan, the head of the political wing of the Liberation Tigers of Tamil Eelam (LTTE), was assassinated by a Kfir strike on the LTTE's political division. Five other LTTE officials - Lt. Col. Anpumani (Alex), Major Mikuthan, Major Nethaaji, Lt. Aadchiveal and Lt. Maavaikkumaran - were killed alongside Brigadier Thamilselvan, in the attack. Thamilchelvan was a member of the LTTE negotiating team that took part in peace talks with the Sri Lankan government in 2002 and 2003, becoming the Chief Negotiator after the death of Anton Balasingham.
The Office of the High Commissioner for Human Rights' (OHCHR) report into Sri Lanka's atrocities (OISL) noted that Sri Lanka's military killed the LTTE's political head before it officially withdrew from the Cease Fire Agreement (CFA) in 2008. It noted that the attack was preceded by a military budget that "had reportedly risen by 40 percent and the Army had tripled in size from 100,000 to 300,000, with almost an additional 5,000 troops recruited per month between 2005 and 2008".
The No. 10 Squadron continues to boast about the assassination to this day, calling it a "history-making decapitation strike directed by the Kfirs".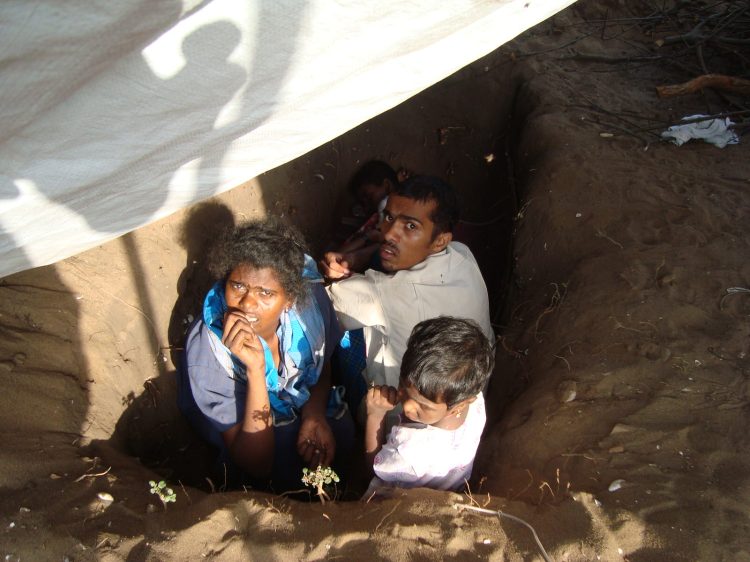 A family shelters in a bunker in Mullivaikkal, 2009. 
The OISL went on to name the No. 10 Squadron and its Kfir aircraft as one of "three air squadrons were particularly involved in the conflict". Tens of thousands of Tamil civilians would be killed in the months to follow, many of them by airstrikes.
'Israel's Genocidal Arms Customers'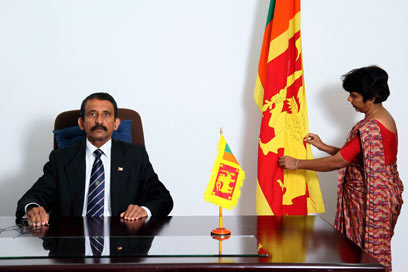 File photograph: Donald Perera
The latest deal between Israel and Sri Lanka, also continues a long and close military relationship between the two states. "I had a great relationship with your military industries and with Israel Aerospace Industries," said Donald Perera, who served as Sri Lanka's commander of the Air Force and Chief of the Defence Staff, before going on to become Colombo's ambassador to Israel.
"For years Israel has aided our war on terror through the exchange of information and the sale of military technology and equipment," he added in 2010. "Our air force fleet includes 17 Kfir warplanes, and we also have Dabur patrol boats. Our pilots were trained in Israel, and we have received billions of dollars in aid over the past few years. This is why I asked to be assigned to Israel – a country I consider a partner in the war against terror. Many Sri Lankans admire Israel."
Whilst Perera was proud of the security assistance being provided, Israel however has made attempts to cover up its arms sales to Colombo. Human rights lawyer Eitay Mack led a team who attempted to uncover Israel's murky arms trades with regimes around the world, and in particular its ties with Sri Lanka.
When a 2016 freedom of information request was denied, Mack took the issue to the court, which led to a revealing ruling by District Court Judge Shaul Shohat who held a closed-door hearing with defense ministry officials, and Israel's national intelligence agency, the Mossad. Though Shohat agreed with the state's refusal to publicly release details of arms deals with Sri Lanka, he revealed that "there is a secrecy agreement with Sri Lanka" and that Mossad had urged him to restrict media publication about Israeli arms sales to Colombo.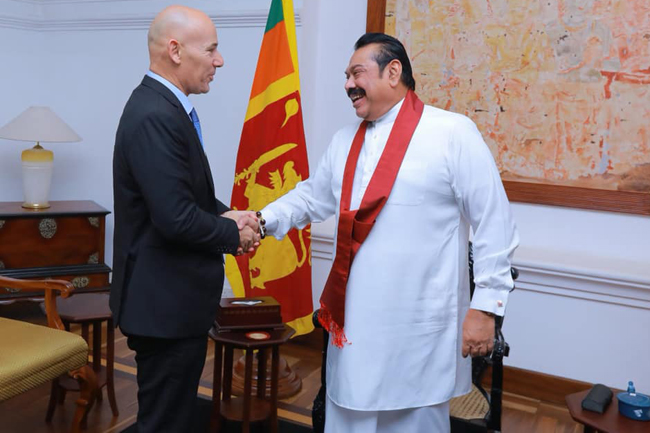 Sri Lankan prime minister Mahinda Rajapaksa meets with Israel's ambassador to Sri Lanka Ron Malka last year.
Despite the ruling, many Sri Lankan officials, such as Perera, would continue to publicly praise Israel's role in arming the state. And the latest, more public deal, comes as Israel signed defence exports contracts worth US$8.3 billion in 2020, a rise of 15% from the previous year. A staggering 44% of those exports were sold to states in Asia, according to the Tel Aviv-based Globes, which listed Sri Lanka as one of "Israel's biggest customers".
"Israel isn't just maintaining a brutal military occupation," wrote Richard Silverstein for Jacobin in 2018. "It's also supplying weapons to genocidal regimes around the world."           
We need your support
Sri Lanka is one of the most dangerous places in the world to be a journalist. Tamil journalists are particularly at threat, with at least 41 media workers known to have been killed by the Sri Lankan state or its paramilitaries during and after the armed conflict.
Despite the risks, our team on the ground remain committed to providing detailed and accurate reporting of developments in the Tamil homeland, across the island and around the world, as well as providing expert analysis and insight from the Tamil point of view
We need your support in keeping our journalism going. Support our work today.
For more ways to donate visit https://donate.tamilguardian.com.