16 January 2019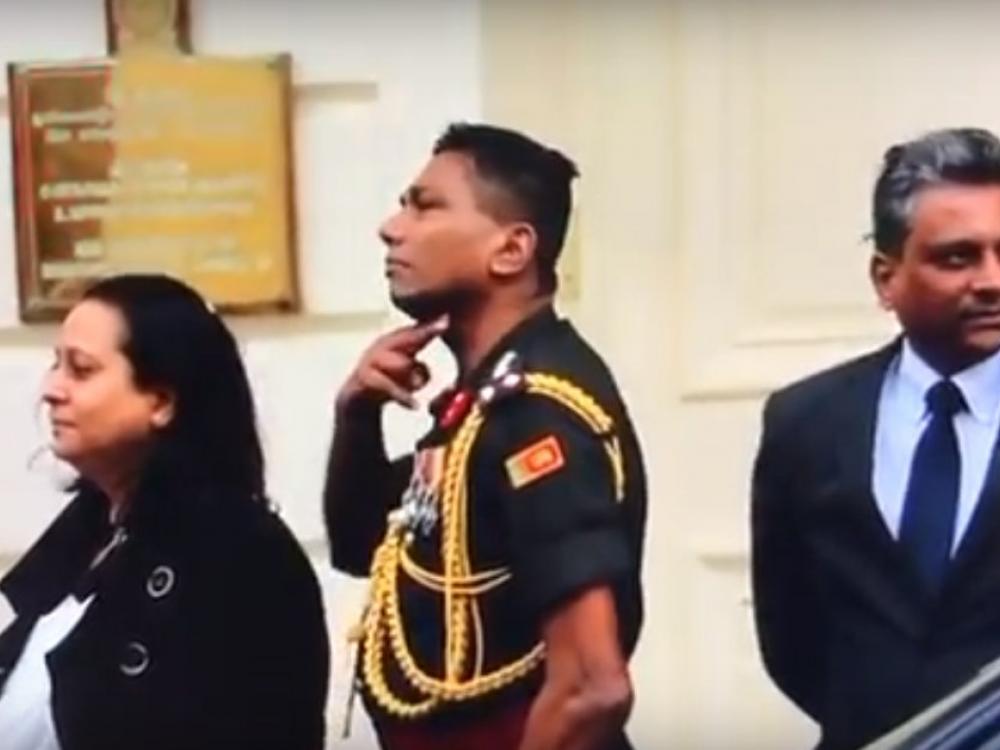 A Sri Lankan brigadier who was caught on video threatening Tamil protestors in London faces court proceedings, after a private prosecution was brought against him.
Brigadier Priyanka Fernando was filmed motioning a death threat to Tamils in London last year, running his finger across his neck whilst dressed in full military uniform. He was attending a celebration at the Sri Lankan High Commission in the UK to mark 'Independence Day' at the time, whilst British Tamils held a demonstration outside with placards and Tamil Eelam flags. Fernando is accused of violating the Public Order Act by using "threatening or abusive" behaviour.
In the context of a lack of accountability for war crimes and a culture of impunity within the military, "the threat by a serving Sri Lankan military official has had a visceral impact on Tamil activists," said the Public Interest Law Centre in a press briefing. "The fact that it happened in the United Kingdom illustrates the strength of the confidence of the Sri Lankan military in their ability to evade accountability."
"Although it would be welcome for Brigadier Fernando to attend the trial to answer for his actions, the Complainants intend to apply for the case to proceed in his absence if he fails to do so," the press release added. "It will be one of the rare occasions where an overseas army officer will be held to account for his unlawful actions."
The brigadier's threat last year stirred outcry across the UK, with British parliamentarians condemning the brigadier and calling for his diplomatic immunity to be removed so his actions could be investigated. MPs also called for him to be expelled.
Fernando was posted as Sri Lanka's Defence Attaché to Britain and was attending 'Independence Day' celebrations at the High Commission at the time. He was part of Sri Lanka's military offensive in 2009 that massacred tens of thousands of Tamil civilians and is implicated in war crimes that were committed at the time.
Though he was recalled back to Colombo, Sri Lankan lawmakers such as the defence minister, praised the brigadier, for giving what he described as the "right signal the pro-LTTE diaspora".  Sinhalese groups in London also came out in support of Fernando.
Commenting on the case the International Centre for the Prevention and Prosecution of Genocide said it hoped it would "help us to expose the Sri Lankan Government's attempt to protect the war criminals by appointing them in decorative high-profile diplomatic positions abroad".
The case is due to be heard at the Westminster Magistrate's Court on Monday.
See the full text of the press release from the Public Interest Law Centre
here.