08 February 2018
The MP for Kingston and Surbiton, Ed Davey on Thursday joined fellow UK parliamentarians in calling for Sri Lanka's Defence Attache to be expelled after he was filmed making a throat slitting gesture to Tamils protesting in London. 
In a letter to the foreign secretary, Mr Davey said, "I share the view that you should withdraw Brigadier Priyanka Fernando's diplomatic papers and immediately expel him from this country". 
Describing the incident, Mr Davey said the gesture "was clearly meant to intimidate the British Tamils who were peacefully protesting."
"This threatening behaviour came from a person who is here in an official capacity. Formally, Brigadier Priyanka is a guest of the United Kingdom. I hope you agree that we would normally expect diplomatic guests in London to respect all our citizens here and not intimidate them."

"We have to send a signal that such behaviour will not be tolerated and I hope you will therefore do the right thing and expel Brigadier Priyanka."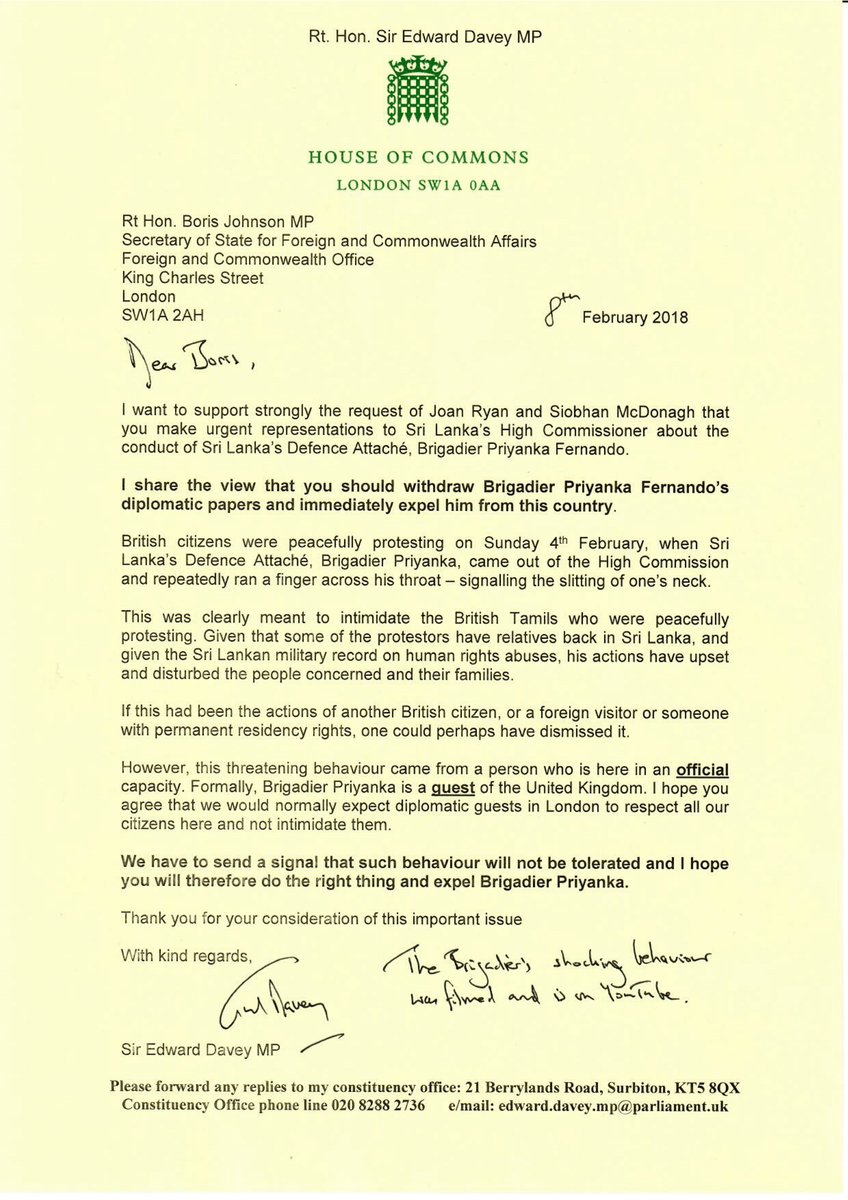 The MP for Harrow West, Gareth Thomas also urged the foreign secretary to take action on the issue. 
"After the throat slitting gesture by Sri Lanka's military attaché the @foreignoffice & @BorisJohnson shd summon the Ambassador & condemn such behaviour towards those peacefully demonstrating incl constituents of mine," he tweeted on Thursday. 
The chair of the cross-party group for Tamils, Paul Scully MP, as well as Joan Ryan MP and Siobhan McDonagh MP had this week written to Mr Johnson, calling on him to take action. 
Responding to the calls for expulsion, Sri Lankan ministers today came out in defence of the brigadier, praising his actions. 
Brigadier Prianka Fernando was seen gesturing the slitting of one's throat to Tamils protesting against Independence Day celebrations outside the Sri Lankan High Commission in London on Sunday. 
He was suspended by the Ministry of External Affairs earlier this week, only to be reinstated by the Sri Lankan president the following day. 
Brigadier Priyanka Fernando was posted to London as the Sri Lankan High Commission's defence attache last year said a briefing note by journalists for Democracy in Sri Lanka (JDS) & the International Truth and Justice Project (IJTP).
As part of the military offensive in 2009, Brigadier Fernando fought in Weli Oya and Janakapura for the 11 Gemunu Watch Battalion as part of the 59 Division of the Sri Lankan Army.
The United Nations OHCHR Investigation into Sri Lanka detailed multiple incidents, implicating the 59 Division in the shelling of hospitals south of Mullaitivu.
"Brigadier Fernando was clearly active in the final offensive in the north of Sri Lanka from at least April 2008 – and on those grounds alone should have been subjected to a scrupulous vetting process by both the Government of Sri Lanka and the UK which should have precluded his diplomatic appointment to London," said the briefing note.