08 February 2018
Sri Lankan ministers today came out in support of Brigadier Priyanka Fernando, the country's Defence Attache to London who was filmed making a throat slitting gesture to Tamils protesting outside the Sri Lankan High Commission on Sunday, just days after his suspension was revoked by the Sri Lankan president. 
Sri Lanka's State Minister of Defence Ruwan Wijewardene praised Brigadier Fernando for giving what he described as the "right signal the pro-LTTE diaspora". 
"My preference is for Brigadier Fernando as he had given the right signal to pro LTTE Diaspora," Mr Wijewardene was quoted by the Daily Mirror as saying. 
"However, the President intervened and asked him to remain in the UK. I am happy about it as the State Minister of Defense, my vote is for the Brigadier as he gave a signal to the pro LTTE group. I thank him as I don't think any of the pro LTTE people who protested there have ever come to Sri Lanka. They collect funds for various organizations. They don't love the Tamils at all," Mr Wijewardene added. 
Sri Lanka's minister of plantations, Navin Dissanayake also defended the brigadier's actions, in a letter to the British MPs Siobhan McDonagh and Joan Ryan, who had written a letter to the UK foreign secretary urging the brigadier's expulsion.
"As the protesters behaviour was offense to Sri Lanka Brig Fernando a valiant officer of the Sri Lanka army pointed to the lion emblem in his uniform to countenance the digust he felt when he saw the tiger flags that he saw displayed in front of him."
"Both of you have been carrying a deeply hateful, vindictive and offensive campaign against Sri Lanka," he added, accusing the two MPs of supporting "front organisations of the LTTE".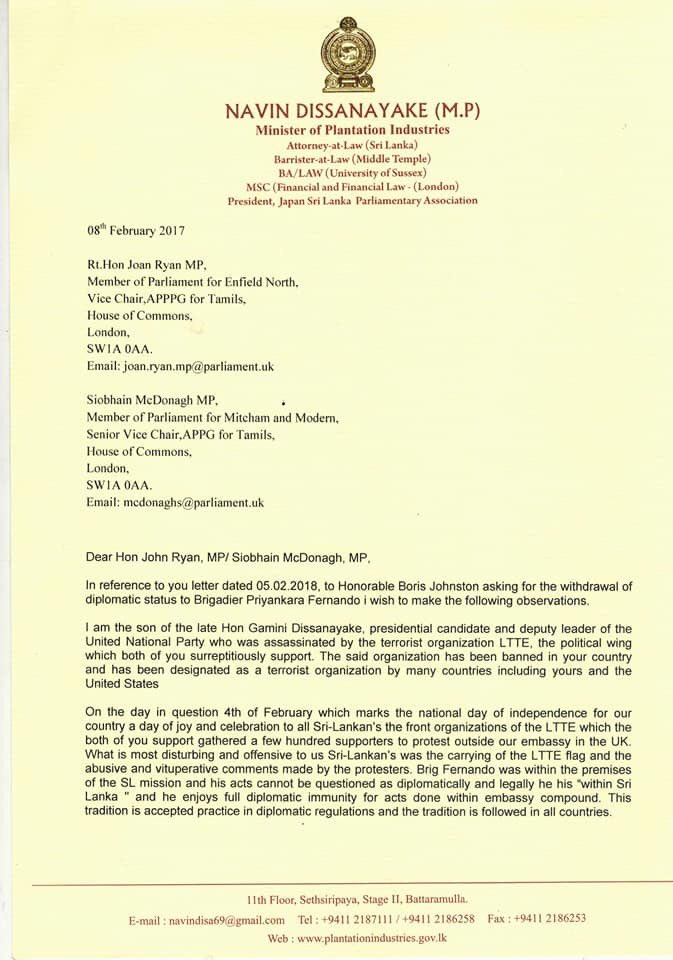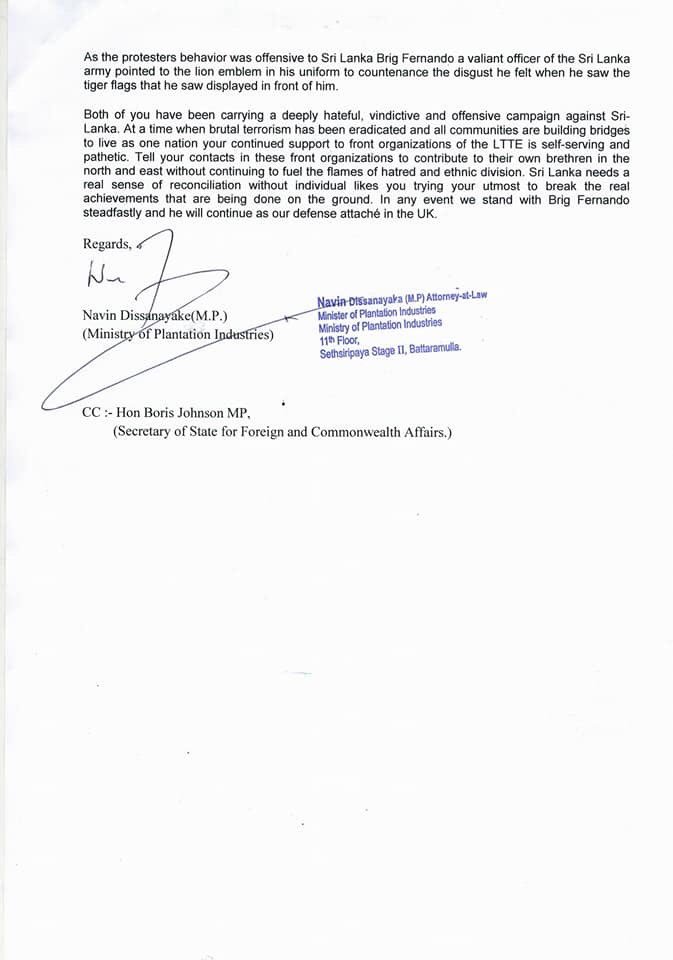 Photographs @AzzamAmeen
Brigadier Fernando was seen gesturing the slitting of one's throat to Tamils protesting against Independence Day celebrations outside the Sri Lankan High Commission in London on Sunday.
Brigadier Priyanka Fernando was posted to London as the Sri Lankan High Commission's defence attache last year said a briefing note by journalists for Democracy in Sri Lanka (JDS) & the International Truth and Justice Project (IJTP).
As part of the military offensive in 2009, Brigadier Fernando fought in Weli Oya and Janakapura for the 11 Gemunu Watch Battalion as part of the 59 Division of the Sri Lankan Army.
The United Nations OHCHR Investigation into Sri Lanka detailed multiple incidents, implicating the 59 Division in the shelling of hospitals south of Mullaitivu.
"Brigadier Fernando was clearly active in the final offensive in the north of Sri Lanka from at least April 2008 – and on those grounds alone should have been subjected to a scrupulous vetting process by both the Government of Sri Lanka and the UK which should have precluded his diplomatic appointment to London," said the briefing note.