07 February 2021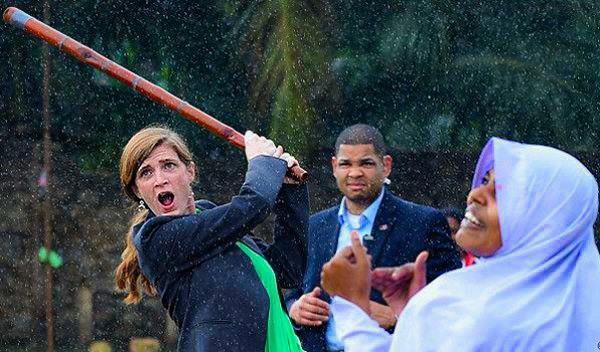 Power in Jaffna in 2015
US President Joe Biden announced that Samantha Power, the former ambassador to the United Nations who has visited Sri Lanka on at least three occasions, will be his pick to lead the United States Agency for International Development (USAID) in a bid to confront "climate change, global poverty and democratic backsliding".
Power, a Pulitzer Prize-winning journalist and genocide scholar, was called "a world-renowned voice of conscience and moral clarity" by Biden as he made his announcement last month. "Clear-eyed, resolute, and guided by a true moral compass, Ambassador Power is a seasoned leader and innovative thinker," added Vice President Kamala Harris. "She will not only help lift up the world's most vulnerable and advance our nation's interests around the world, she will be a powerful voice for the values and ideals we cherish as Americans." 
Under the Obama administration, she served as a White House national security staffer from 2009 to 2013, before going on to become the US ambassador to the UN until 2017.
During her tenure, however, she came under both praise and criticism, particularly for the way in which the administration handled Sri Lanka.
The first visit to Sri Lanka
Power's first visit to the island came in 2010, just over a year after Sri Lankan government forces massacred tens of thousands of Tamil civilians. The atrocities peaked just months into the Obama presidency and caught the attention of the new administration.
"I had successfully pushed for Obama to raise his voice against the wartime atrocities being carried out in countries such as Sri Lanka," wrote Power in her 2019 book, The Education of an Idealist. And though the US president addressed the situation personally, the US government faced widespread criticism for doing little to stop what Obama himself would later term "ethnic slaughter".
When Power arrived in Sri Lanka that year, the crimes committed had increasingly come under the international spotlight with pressure beginning to mount on the then-Rajapaksa regime to prosecute perpetrators of atrocities. As a senior foreign policy advisor to Obama, Power and David Pressman, National Security Council Director for War Crimes and Atrocities, travelled to Colombo, Jaffna and Batticaloa. 
"The visit of Samantha Power and Mr Pressman to Sri Lanka amidst increasing calls by the international community for war crimes investigations in Sri Lanka is very significant," said a spokesperson for Together Against Genocide (TAG) at the time. "Ms. Power has been an outspoken critic of the western institutions and the past US Governments for inaction and empty rhetoric against rights violations and crimes amounting to genocide, crimes very similar to what Sri Lanka has allegedly committed against Tamil civilians... Tamil expatriates are waiting to see if Power lives by her words in Problem from Hell, or has herself succumbed to the force of political expediency."
'Problem from Hell' was the 2003 Pulitzer prize-winning work that propelled Power into the international spotlight, where she critiqued the US administration for its failure to act in the face of genocide.
Within two years of her first visit to the island, amidst sustained calls for accountability from Tamils around the world, the US administration began shaping international moves for justice. "In response to Sri Lankan president Mahinda Rajapaksa's atrocities against Tamil civilians, we led the Human Rights Council to adopt resolutions insisting on accountability for wartime abuses," Power would later state.
Though the Sri Lankan government refused to comply with the resolutions and little headway was made, the resolutions signalled Washington's intention. Following the passing of yet another resolution in 2014, Power said that the move was "significant". She went on to tweet,
"After 5 years in which the Sri Lanka government has undermined democracy & refused to investigate war crimes allegations, accountability [is] overdue."
A return to Jaffna
The following year, Power was scheduled to visit Jaffna again, in a more public and high-profile trip. In Sri Lanka, significant changes had taken place.
With international pressure increasing and domestic discontent rising, Rajapaksa faced a tough presidential re-election campaign. In January 2015, up against Maithriapala Sirisena, a former minister in his own cabinet, Rajapaksa was narrowly ousted. Though he still won a majority of votes in Sinhala south, the overwhelming turnout in North-East from Tamil and Muslim voters tipped the balance towards the opposition. Rajapaksa's ousting provided a welcome reprieve for much of the island, but Tamils, in particular, remained cautious. Sirisena's campaign was still laced with Sinhala nationalist rhetoric that has plagued much of the island's politics for decades, whilst a host of extremist figures remained in the regime.
International pressure, however, which by now had led to several resolutions on Sri Lanka at the UN Human Rights Council, immediately eased. Despite criticism, the Obama administration's engagement to Sri Lanka too had shifted markedly.
Power in Colombo.
"The incumbent Rajapaksa administration had governed largely through divisiveness and fear, and it had persecuted critics," said Power in October 2015, several months after Sirisena had taken office. "And that's why it's so encouraging that, at the same time it's confronting some of the darkest and most painful chapters in its country's past, the Sirisena administration is also pursuing initiatives to open itself up to greater scrutiny."
Visiting Jaffna for a second time, Power pushed the message of reform. She stressed the importance of demilitarisation in the North, in a meeting with Sri Lanka's then Governor of the Northern Province. She visited the Uthayan newspaper headquarters and met with Tamil media workers who continue to work despite the stifling of a free press. Drawing on her experiences as a journalist, Power praised Tamil media workers for their resilience and urged them to continue to be a "check and balance of state power".
Examining bullet holes left by assassination attempts at the Uthayan newspaper office in Jaffna.
On her return to Colombo, Power told Sri Lanka's president and prime minister that the US was hoping for "swift and credible" implementation of the UN resolutions, even as opposition MPs and Southern newspapers rallied against her.
"President Obama is asking every day, "How is it going in Sri Lanka, how are they doing? What's going on with that prevention of terrorism act? What's going on with that land reclamation? What's going on on reconciliation?"," she told a town hall in Colombo.
And yet, despite the relatively slow pace of progress on demilitarisation and lack of accountability for rights abuses, Power was lavish in her praise. "I cannot think of a country in the world today where there has been this much change in this short a period of time," she said.
'A special friendship?'
The expectations of reform, however, were quickly dashed. Whilst some in the ruling regime paid lip service to accountability, senior government figures, including Sirisena himself, repeatedly vowed to protect troops from prosecution. Just months after Power's visit, the Sri Lankan president declared that no international experts would be included in any accountability mechanism, despite this being a specific aspect of the UN Human Rights Council resolution that his government co-sponsored.
TAG said it was "horrified at Sri Lanka's u-turn on the pledges it made". "Other recommendations of the OISL remain unfulfilled," the organisation continued. "Contrary to recommended demilitarisation, Sri Lanka continued to increase its military budget and the vast majority of its ethnically Sinhala troops remain stationed in the Tamil North-East."
Sri Lanka's backsliding, however, had remarkably little impact on its relationship with the US. In fact, Foreign Minister Mangala Samaraweera, claimed that high level visits from power and US Secretary of state John Kerry "elevated what has always been a cordial relationship to… a special friendship".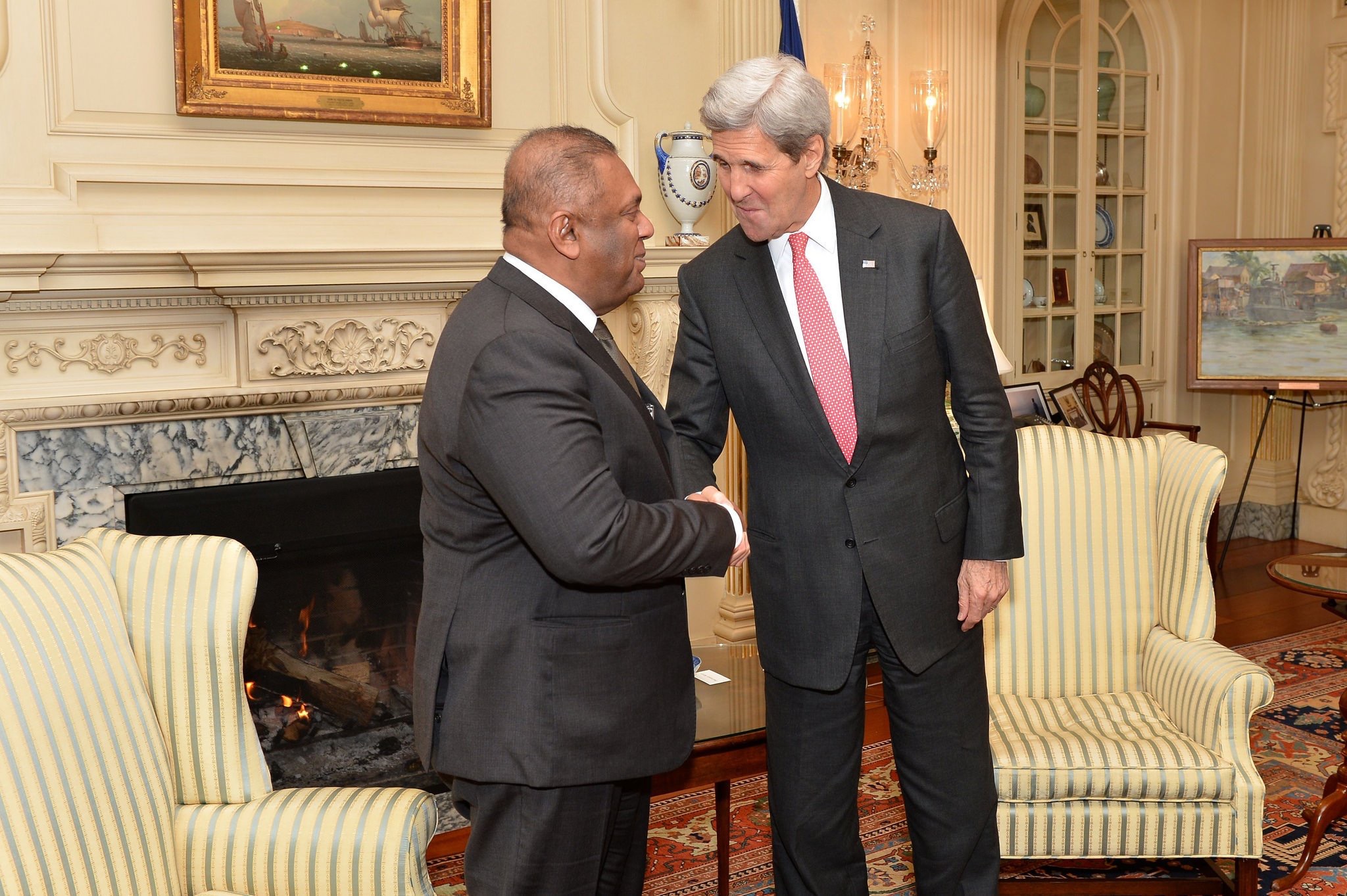 Samaraweera with Kerry in 2016.
As the government continued to evade international commitments, the following April, Power declared Sri Lanka "a global champion of human rights and democratic accountability".
Her comments sparked an immediate backlash from human rights defenders and commentators around the world, accusing her of missing the mark on Sri Lanka "yet again".
"With the greatest of respect," tweeted the Sri Lankan Campaign, "that is an absurd statement". "'Global champions of human rights' don't rape and torture 3 people a month. 'Global champions of human rights' don't snatch people off the streets."
.@USEmbSL @AmbassadorPower with the greatest of respect that is an absurd statement.

— Sri Lanka Campaign (@SLcampaign) April 29, 2016
"Do human rights now include illegal land grabs, militarization [and the] PTA?" added Dharsha Jegatheeswaran, then research director at the Jaffna-based Adayaalam Centre for Policy and Research. "[The] US is trading rights for politics."
Do human rights now include illegal land grabs, militarization + PTA? #US is trading rights for politics in #lka https://t.co/CAMtNTQ5H7

— Dharsha Jegatheeswaran (@dharsha_J) April 29, 2016
"Words fail me," concluded Tejshree Thapa, a South Asia analyst with Human Rights Watch.
#SriLanka now hailed by US as global champion of human rights. Words fail me. https://t.co/N6yBrkR5SB

— Tejshree Thapa (@TejshreeThapa) April 29, 2016
Meanwhile, Sri Lanka's regression continued. Military bases remained dominating the North-East, with armed soldiers frequently involved in civilian activities. Incidents of torture and other rights violations carried on with impunity. And families of the disappeared, frustrated with the ongoing lack of progress with regards to accountability for their loved ones, launched roadside protests across the Tamil homeland, that still continue to this day.
"I remember citing her admiringly in an article I wrote for Tamil Guardian in 2008," said TAG director Jan Jananayagam, referring to her piece Loud echoes of a bloody past. "I was hoping to raise awareness among the Tamil diaspora about mass atrocities in other parts of the world and their sometimes shared dynamics."
"But once Ms Power was part of the Obama administration, there was, as we all now know, no accountability for genocide in Sri Lanka."
Shaking hands with Rajapaksa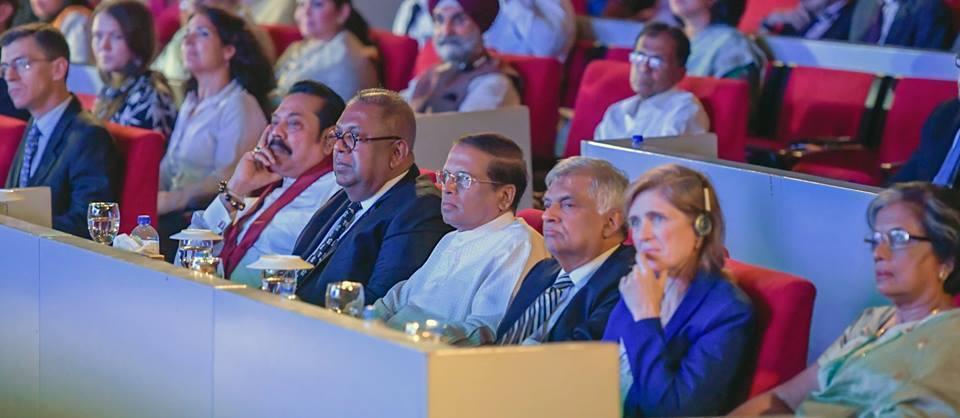 Three years later, with still virtually no progress on accountability, rising Tamil protests and a Rajapaksa resurgence gaining ground, Power made yet another visit to Sri Lanka. This time though, there was to be no visit to the war-torn North-East. Instead, she flew to Colombo to address a celebration for Samaraweera, as he marked 30 years in parliamentary politics.
The veteran politician was initially part of the Sri Lanka Freedom Party and joined several Sinhala nationalist rallies, including a 2003 demonstration alongside Mahinda Rajapaksa that marched against the "betrayal of Sinhala nation" by signing a ceasefire with the LTTE. As an aide to former Sri Lankan president Chandrika Kumaratunga he slammed Norwegian peace brokers as a "nation of salmon-eaters who turned into international busybodies", before serving as Rajapaksa's foreign secretary as the Sri Lankan military began the offensive that would kill tens of thousands.
"Mangala is one of the most remarkable people I encountered during my eight years serving in the US government," said Power, as she gave the keynote address to a Colombo audience. "I simply had to be part of this occasion," she added, before going on to reference Martin Luther King Jr, the unknown protestor at Tiananmen Square and Nelson Mandela.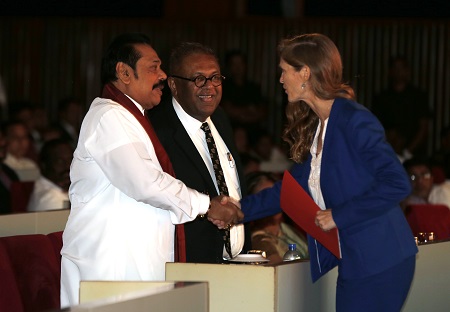 Even more striking than her speech, Power was seated on the front row alongside Sri Lanka's most senior leaders - including Mahinda Rajapaksa, a man she herself said was responsible for war crimes and whom she had earlier declared ruled through "divisiveness and fear". She was photographed shaking his hand, as a smiling Samaraweera looked on.
"It's an image that truly captures the moment," wrote Taylor Dibbert in his piece, Samantha Power Visits Sri Lanka and Ignores History.
"Power was sitting alongside, not one, but three people with command responsibility for mass atrocities in that country," Jananayagam added. "So yes, that was all something of a damp squib."
Sri Lanka's sad turn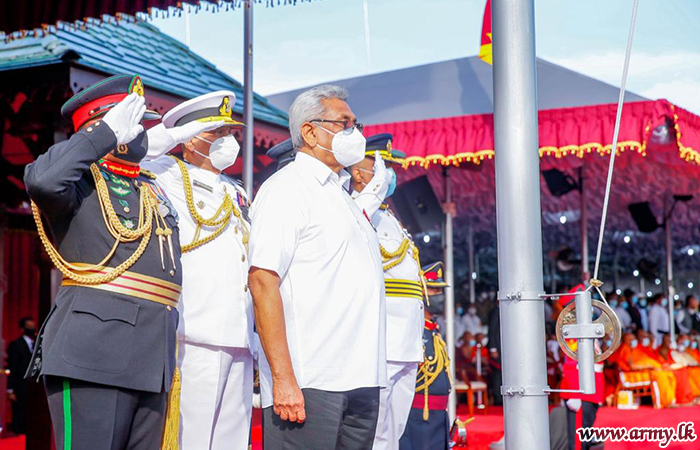 Rajapaksa at a military parade for Sri Lanka's Independence Day last week
Since her 2019 speech, Sri Lanka has only slid further backwards. The Rajapaksas have returned to power with decisive victories at the 2019 presidential and 2020 parliamentary elections, riding a wave of Sinhala Buddhist nationalism. Rajapaksa's younger sibling and former defence secretary Gotabaya is now president, whilst Mahinda has the role of prime minister. Generals accused of overseeing war crimes have been elevated to senior positions in government and state-sponsored colonisation of Tamil lands has ramped up. Despite international criticism, Gotabaya Rajapaksa continues to solidify his authoritarian rule, reject calls for accountability and actively foster Sinhala nationalism, most recently in an address this week, where he declared "I am a Sinhala Buddhist leader and I will never hesitate to state so". "I govern this country in accordance with Buddhist teachings," he added.
The regression has not been missed by Washington. The US Foreign Select Committee reacted to yet another UN report on Sri Lanka last month, by stating that "the U.S. & partners must explore alternative options as laid out" by the UN human rights chief. The report had called on member states to explore "travel bans and asset freezes" on Sri Lankan officials accused of crimes.
Power too has been monitoring events in Sri Lanka since leaving her post in 2017. "Another sad turn for [Sri Lanka]," tweeted Power last year, responding to news of Rajapaksa granting a presidential pardon to a Sri Lankan soldier who was sentenced to death over the massacre of eight Tamil civilians. "This pardon for the perpetrator of the Mirusuvil massacre was not about compassion. It was about Rajapaksa's self-interest & his desire to deepen the culture of impunity."
Democracy in #SriLanka upended by Pres. Sirisena's actions. He promised accountability but now brings back Rajapaksa, who was responsible for war crimes, disappearances. Urgent diplomacy needed – Sri Lankans have dealt w/ too much bloodshed to go backwards https://t.co/uC6QwFhv4L

— Samantha Power (@SamanthaJPower) October 29, 2018
Her return to government has reportedly, and understandably, made some diplomats in the Sri Lankan regime nervous. And though she will not be directly working on Sri Lanka, she will join several senior officials to whom the island will not be unfamiliar – including to the top three members of the State Department; Tony Blinken, Wendy Sherman and Victoria Nuland.
Her role at USAID is also set to become more influential than her predecessors, as Biden elevated her to the National Security Council. "She won't have to fight for a seat at the table," a current USAID official wrote to Devex this month. "She will be a player from day one because of the respect that she has with other key members of the administration."
Amongst Tamils, there is tempered optimism about what the new administration may bring. "Power well understands the circumstances behind the marginalization and exclusion of the Tamils and Muslims on the island," said the president of United States Tamils Action Group (USTAG) Seetharam Sivam, adding he was "pleased" with her appointment.
"We believe that under her leadership, USAID will consider directing more funds and efforts for development to the war-ravaged North East of Sri Lanka, where there exists a stark disparity in resources and opportunities in comparison to the rest of the island," Sivam added.
"As a journalist, activist, and diplomat, I've seen the world-changing impact of USAID," Power said as she announced her new post last month. "Our security is connected to the security of people who live elsewhere. Many of the issues we in the US are grappling with, the pandemic, the economic crisis, climate consequences, threats to the rule of law, even to democracy – these are issues that people all around the world are grappling with."
Ambassador Samantha Power is a world-renowned voice of conscience and moral clarity—challenging and rallying the international community to stand up for the dignity and humanity of all people. As USAID Administrator, she'll be a powerful force for principled American engagement. pic.twitter.com/jwseGEsb8c

— Joe Biden (@JoeBiden) January 13, 2021
"Power will rally the international community and work with our partners to confront the biggest challenges of our time, including Covid-19, climate change, global poverty and democratic backsliding," Biden's transition team added in a statement.
"A crisis-tested public servant and diplomat, Ambassador Power has been a leader in marshalling the world to resolve long-running conflicts, respond to humanitarian emergencies, defend human dignity, and strengthen the rule of law and democracy."
With Sri Lanka looking to sink further into authoritarianism and Tamil protests to oppression growing since she left office, her new role may provide another opportunity to do just that.
We need your support
Sri Lanka is one of the most dangerous places in the world to be a journalist. Tamil journalists are particularly at threat, with at least 41 media workers known to have been killed by the Sri Lankan state or its paramilitaries during and after the armed conflict.
Despite the risks, our team on the ground remain committed to providing detailed and accurate reporting of developments in the Tamil homeland, across the island and around the world, as well as providing expert analysis and insight from the Tamil point of view
We need your support in keeping our journalism going. Support our work today.
For more ways to donate visit https://donate.tamilguardian.com.