06 December 2020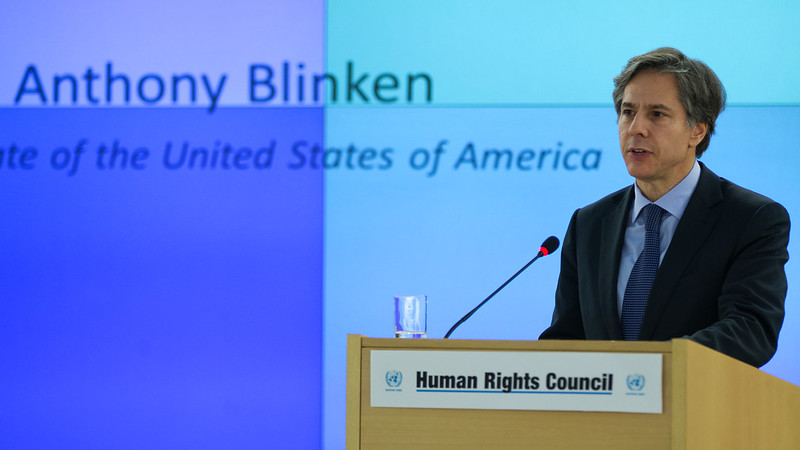 Blinken at the UN Human Rights Council in 2016
After US President-elect Joe Biden announced Antony Blinken as his pick for Secretary of State, we take a look at his previous comments on Sri Lanka, his internationalist and interventionist position and his remarks on American global leadership.
On Sri Lanka
In 2010, just one year after the massacres at Mullivaikkal in which tens of thousands of Tamil civilians were killed, Blinken addressed the US Holocaust Museum on the occasion of the 15th anniversary of the genocide at Srebrenica. He was then the Deputy Assistant to the President and National Security Advisor to the Vice President.
"The link between peace and justice is one we see all over the world," he said. "We have seen it in Bosnia, Rwanda and Sierra Leone. We see it now in Sudan and Sri Lanka."
"In Sri Lanka, we know all too well the crimes committed by the Tamil Tigers… but also the thousands and probably tens of thousands of civilians killed in the final months of the war. Holding accountable those responsible is necessary… and it will speed national reconciliation."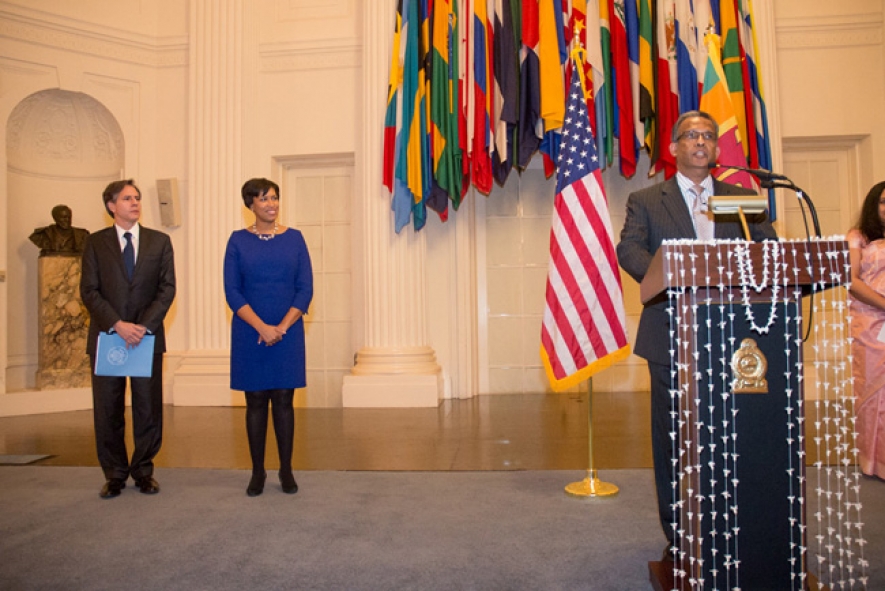 Blinken at the Sri Lankan embassy in Washington, 2015.
Blinken went on to serve as deputy secretary of state under President Obama. In 2015, he delivered an address at the Sri Lankan embassy in Washington DC, where a reception had been organised to mark Sri Lanka's 67th Independence Day.
The speech was delivered just weeks after Maithripala Sirisena defeated Mahinda Rajpaksa in Sri Lanka's presidential elections. Sirisena was carried to victory by a massive turn out from Tamils and Muslims across the North-East, even as Rajapaksa held on to the southern Sinhala electorate. Blinken hailed the outcome of the polls.
"After the most successful election in your country's history, Sri Lankans can stand proud alongside Americans as keepers of the democratic dream," he said. "The people of Sri Lanka – from Jaffna to Galle – sent a clear signal from the ballot box: that they wanted your country to take a step forward, to realize its tremendous potential, and to finally enjoy the fruits of peace."
"Less than four weeks into taking office, President Sirisena is pursuing an ambitious agenda. The world took notice when he lifted restrictions on the media; restored independence to government institutions; and committed to respect human rights not just for some Sri Lankans, but for all Sri Lankans," he continued. "It was particularly moving to see members of the Tamil National Alliance join the celebrations in Colombo yesterday. President Sirisena's remembrance of all the Sri Lankans who perished in the war and his pledge to never again allow Sri Lanka "to be traumatized by the shedding of innocent blood" was an important step towards healing your country's wounds."
"I believe it is time for your country to return to its rightful place as a respected member of the international community – and I think your people demand it… We will support Sri Lanka's efforts to expand democratic freedom and political rights; to prevent corruption and investigate financial crimes; and to promote sustainable economic growth."
"Today, we can all feel the promise of that day quickening into life in a new way," he concluded. "We can all see a future for Sri Lanka brimming with happiness and prosperity."
A year later, Blinken told the UN Human Rights Council that the global body "has an obligation and a mandate to shine a bright light on grievous violations of human rights and help hold perpetrators accountable".
"When it does, we have seen the difference it can make," he continued. "We have seen the hope and promise of nations, like Burma and Sri Lanka, taking stock of the aspirations of their citizens and setting out on a new journey to meet those aspirations. While we celebrate and support their progress, we believe it is important for the Council to remain engaged, as the governments confront their legacies of human rights violations and address the challenges that remain."
Sirisena, however, reneged on many international commitments, including on justice and accountability for mass atrocities, as well as devolution of powers to the Tamil North-East. He served only one term as president, before going on to make alliances with his former presidential rival Mahinda Rajapaksa. In 2019, Rajapaksa's younger sibling Gotabaya was voted in as president on the back of a hard line Sinhala chauvinist platform.
Gotabaya Rajapaksa also stands accused of overseeing war crimes during his tenure as defence secretary.  He has previously justified the bombing of hospitals, accused journalists of being "terrorists" and said he would hang a commander who spoke of testifying before an independent war crimes investigation.
Read more on Rajapaksa in our feature: 'We will hang him!' - A glimpse of Gotabaya
Son of a Holocaust survivor
"Those who know Blinken well insist that his commitment to human rights is genuine and rooted in experience," said The Guardian.
Blinken's stepfather, Samuel Pisar, was a Holocaust survivor who lived through Majdanek, Dachau and Auschwitz. "I came from oblivion," Pisar told the Washington Post in 2013. He was sent to a labour camp aged 13 and orphaned at 16. In 1945, he escaped from the concentration camps.
"He wanted to know," Pisar said, speaking on his conversations with Blinken. "He took in what had happened to me when I was his age, and I think it impressed him and it gave him another dimension, another look at the world and what can happen here. When he has to worry today about poison gas in Syria, he almost inevitably thinks about the gas with which my entire family was eliminated."
"He is somebody within the Obama administration and the Biden team who really understands the role that promoting and protecting human rights can play as advantageous to US policy," said Rob Berschinski, who was deputy assistant secretary of state for democracy, human rights and labour. The view was echoed by Michael McFaul, a former US ambassador to Russia, who said Blinken was also a strong proponent of advocating for human rights. "I was very struck that he was passionate about that," he said.
"While less of an ideologue than Samantha Power, the U.S. ambassador to the United Nations (a job for which he was considered), he not surprisingly shares her belief that global powers such as the United States have a "responsibility to protect" against atrocities," added the Washington Post.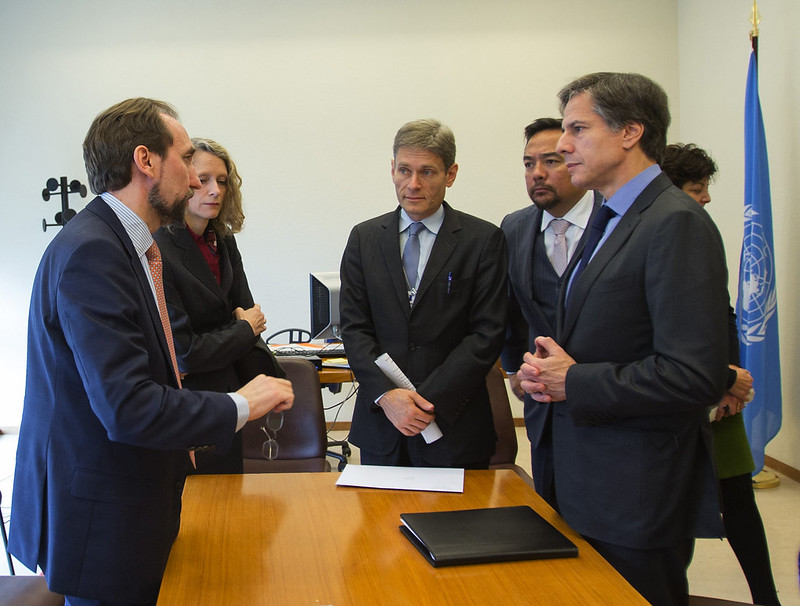 Blinken with Zeid Ra'ad Al Hussein, the United Nations High Commissioner for Human Rights, in 2016.
'An interventionist streak'
"Antony Blinken, President-elect Joe Biden's pick for secretary of state, has an interventionist streak — a position influenced by hearing the stories of his stepfather, a holocaust survivor, and by witnessing, when part of the Clinton administration, the consequences of not having intervened earlier to stop the Rwandan genocide," said the New York Times.
In 2017, Blinken wrote an op-ed in the New York Times calling for the arming of Syrian Kurds to defeat ISIS. "The only fighters capable of seizing Raqqa belong to our most effective partner on the ground — the Syrian Democratic Forces, a mixture of Arabs and Kurds dominated by the People's Protection Units, a Kurdish militia," he wrote. "The S.D.F. can succeed only if it is armed."
Later that year, he called for the Trump administration to arm Ukraine, stating that "what might give Mr. Putin pause at turning up the temperature yet again within eastern Ukraine — or worse, taking another whole bite out of the country — is the knowledge his troops would be seriously bloodied in the doing".
Blinken is also known to have advocated for military action against Syria in 2013, after the Assad regime used chemical weapons in 2013, and applauded the Trump administration for doing so.
"When a tyrant blatantly violates a basic norm of international conduct — in this case, the ban on using chemical or biological weapons in armed conflict, put in place after World War I — the world looks to America to act," he said. "Mr. Trump did, and for that he should be commended."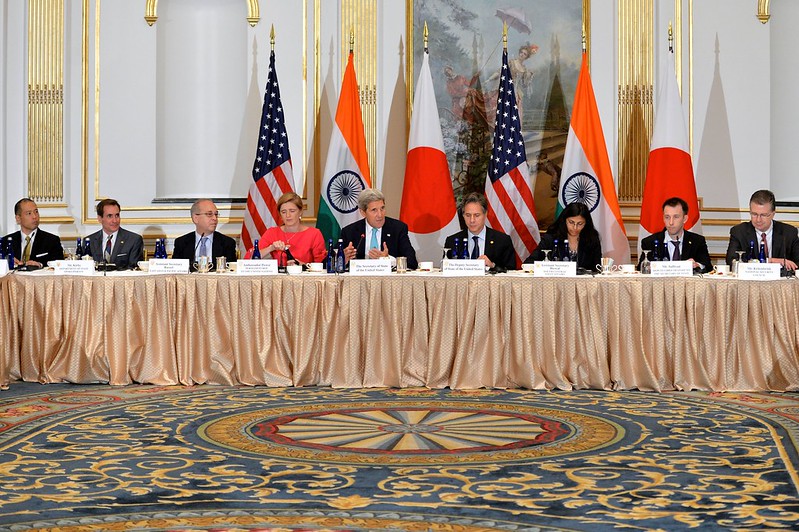 Blinken at the inaugural U.S.-India-Japan Trilateral Ministerial in 2015.
'It is the United States that the world turns to first and always'
"Robert Malley, the head of International Crisis Group who was Mr Blinken's high-school classmate, said the Washington veteran had the perfect background to restore American credibility," reports the Financial Times.
The concept of American global leadership is one that Blinken has repeatedly harked back to.
"In times of crisis or calamity, it is the United States that the world turns to first and always," he said at a speech at the Center for a New American Security in 2015.
"We are not the leader of first choice because we're always right, or because we're universally liked, or because we can dictate outcomes," he said. "It's because we strive to the best of our ability to align our actions with our principles, and because American leadership has a unique ability to mobilize others and to make a difference."
"America's greatest contribution to peace and progress has been laying the foundation for an open, rules-based, connected world", Blinken wrote in the New York Times a year later. "Now we have to decide whether to continue to defend, amend and build upon that foundation or become complicit in dismantling it."
Speaking on an Intelligence Matters podcast earlier this year, Blinken added that the US had to rebuild alliances to tackle the "democratic recession" enabled by the outgoing US administration that let "autocracies from Russia to China... exploit our difficulties".
As Biden announced his selection of Blinken last month, he proclaimed that  "no one is better prepared" to be secretary of state.
"The team meets this moment," said Biden. "They embody my core belief that America is strongest when it works with its allies. Collectively, this team has secured some of the most defining national security and diplomatic achievements in recent memory, made possible through decades of experience working with our partners. That's how we truly keep America safe.
"It's a team that reflects the fact that America is back, ready to lead the world, not retreat from it, once again sit at the head of the table, ready to confront our adversaries and not reject our allies, ready to stand up for our values."
Read more on the new US administration below.
We need your support
Sri Lanka is one of the most dangerous places in the world to be a journalist. Tamil journalists are particularly at threat, with at least 41 media workers known to have been killed by the Sri Lankan state or its paramilitaries during and after the armed conflict.
Despite the risks, our team on the ground remain committed to providing detailed and accurate reporting of developments in the Tamil homeland, across the island and around the world, as well as providing expert analysis and insight from the Tamil point of view
We need your support in keeping our journalism going. Support our work today.
For more ways to donate visit https://donate.tamilguardian.com.