21 January 2021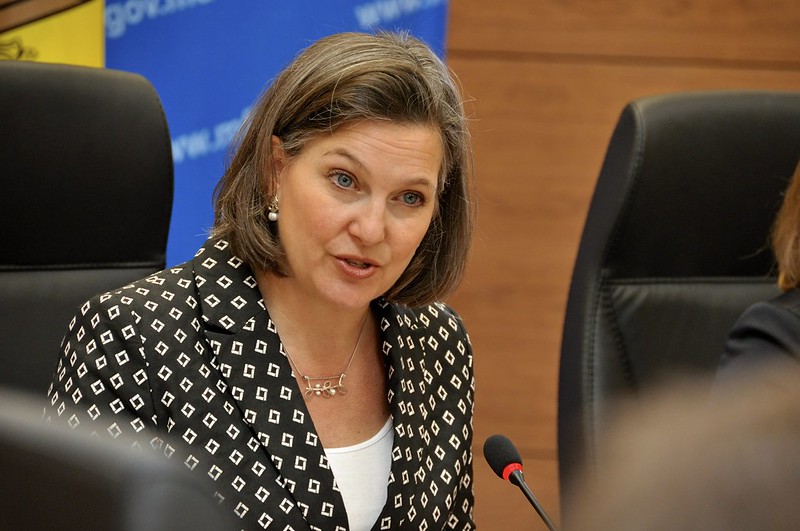 As US President Joe Biden looks to take up duties this week, Victoria Nuland is set to serve as his Under Secretary of State for Political Affairs – a figure who in her previous role as State Department spokesperson commented extensively on Sri Lanka and calls for an internationalised accountability process.
Nuland is set to become the State Department's third highest ranking official, serving under Antony Blinken and Wendy Sherman, both of whom have also commented on Sri Lanka in the past.
Read more:

Antony Blinken and Sri Lanka – A look at the new US Secretary of State
See below for a selection of remarks by Nuland on Sri Lanka, accountability for atrocities and the justice process.
QUESTION: A question on Sri Lanka, madam. On Friday, Asia Society had a special function on inside Sri Lanka, and they brought five U.S. former ambassadors to Sri Lanka. Now, they all agreed as far as the UN report and now a film is going on – atrocities committed in Sri Lanka. What they are saying is that U.S. shouldn't continue engage with the Sri Lanka for humanitarian aid to the minorities of the Tamils in Sri Lanka, and as far as the reports going on that if the president of Sri Lanka should be brought to – or before the International Criminal Court for atrocities he committed against the Tamil and other minorities in Sri Lanka during the war. Any comments that you have maybe as far as this new film going on, atrocities, and new – UN report, and also what can – the U.S. is going to take as far as atrocities committed? 
MS. NULAND: Let me say that U.S. personnel have seen the film. It includes some very disturbing images. As we've stated, we are deeply concerned about credible allegations of violations of international humanitarian law and human rights in Sri Lanka. We support a full accounting of and accountability for those who engage in acts that violated international human rights in Sri Lanka. Assistant Secretary Blake and other senior officials have regularly raised these concerns. 
QUESTION: Continuing on your lead about the U.S. giving the lead, in an interview with Headlines Today, Sri Lankan Defense Secretary Rajapaksa rejected calls from the UN, U.S., and international communities for a neutral international investigation into the war crimes. And the top Sri Lankan diplomat today reiterated his stand. So what is the latest from the U.S. for these people who are homeless and in the camps? 
MS. NULAND: Well, we have said repeatedly for a long time that we support a full and credible and independent investigation of alleged violations of international human rights and law and international humanitarian law in Sri Lanka. We want to see the Sri Lankans do this themselves in a way that meets international standards. So what I would say to Sri Lankan critics is take your responsibility and mount an investigation that meets international standards. And we continue to urge the Government of Sri Lanka to do just that and to do it quickly. And we hope Sri Lankans will do this themselves. But if they do not, there's going to be growing pressure from the international community for exactly the kind of international action that Sri Lankans say they don't want. 
QUESTION: On the same subject, during her visit last month, Secretary Clinton spoke to Tamil Nadu Chief Minister Jayalalithaa and said, to quote, "that the U.S. is looking at innovative and creative ideas," unquote, to break the impasse, which is going on for people living in the camps and not able to go back home. Can you update us on this innovative and creative ideas of the State Department? 
MS. NULAND: I'm not prepared today to go further than the Secretary went during her trip. But again, if Sri Lankans want to take their responsibility to solve these issues themselves, then they need to do it and they need to do it quickly. Please. 
QUESTION: And another – just a last one. Are you going to put a time period that you're going to give the Sri Lankans? Can it be 10 years, 20 years, or 10 months? 
MS. NULAND: I'm not going to speculate on timelines. 
QUESTION: Madam, as far as Tamils of Sri Lanka are concerned, inside Sri Lanka or outside, what they've been hearing from the United States, they're not happy as for atrocities were committed against their people and millions are still left behind without any basics. And what they're blaming that after the war they are – they were killed by – with the – by the order of this current president, and they are seeking now justice and human rights from the United States and the United Nations. What they're saying is why there's this double standard when Sri Lankan Tamils are concerned, when other nations that – why this case is not going in Hague to be – to the International Criminal Justice Court against the Sri Lankan president. 
MS. NULAND: Goyal, I think we spoke to the issue of justice and accountability in Sri Lanka as recently as Tuesday. The United States view hasn't changed. We would like the Sri Lankan Government to take its responsibility and establish the kind of accountable system that its people can have confidence it. But if that does not happen and does not happen expeditiously, then we reserve the right to discuss international mechanisms. 
QUESTION: Just to follow, the reason I ask, because they are watching whatever we do here, State Department, as far as Tamil issues are concerned. After your response, that's why they said they are not happy, and Sri Lankan president and Government has repeatedly said that they will not investigate their president or whatever, if the crimes were committed or not. Now the Tamils are in your hands. 
MS. NULAND: Again, this is a Sri Lankan Government responsibility that we want to see them take on for the good of their own nation. 
QUESTION: So have you given – is there any timeline of – how much time do you expect? 
MS. NULAND: I'm not going to set artificial timelines from this podium, but we understand the frustration and the concern of Sri Lankan people. 
MS. NULAND: Well, thank you for that, Goyal. We do welcome the news that Sri Lankan President Rajapaksa has proposed to the parliament that the emergency laws be withdrawn, and we do see this as a positive step for the Sri Lankan people. It sets up a good visit for Assistant Secretary Blake, who will be talking to the – to a broad cross-section of Sri Lankans, both to the government and to human rights groups and NGOs, about all of these issues. He'll meet with government officials, civil society representatives, university students, political leaders in Colombo, and he's also going to Jaffna. We continue to urge the Government of Sri Lanka to meet its international humanitarian law and international human rights law obligations, and we continue to say that if they cannot do this nationally, then the international community will have to step in. So Bob Blake will be talking about all these issues on his visit.
QUESTION: (Inaudible.) Thank you very much. As we still wait for the report on November 15 by the Sri Lankan Government, in the meantime the report had been coming that things are changing in Sri Lanka as far as economically and also humanitarian aids. And also for the Sri Lankan Ambassador in Washington is saying that his country's moving forward and IMF has now more interest and also faith in Sri Lanka's economy and for – my question is a number of lawmakers, U.S. lawmakers, visited Sri Lanka recently. They came back and also they had a positive view of Sri Lanka's moving forward.
Now, Sri Lanka's lawmakers were in Washington, here in the State Department also, but I want to know what they had to say and what happened during their visit as far as things in Sri Lanka, please, as far as Tamils are concerned. These are – these were the Tamil lawmakers.
MS. NULAND: Right. The Tamil National Alliance representatives were in Washington last week. They met in the State Department with Under Secretary of State Sherman. I'll leave to them to characterize their views. Under Secretary Sherman's main point was that we have high expectations for the Lessons Learned and Reconciliation Commission report which is due later in the month – not only that the report will be of highest quality, but that the Sri Lankan Government will take steps to implement it. So that was the main message that we were giving, and we look forward to seeing that report.
QUESTION: Is Secretary aware of these movements in Sri Lanka?
MS. NULAND: Absolutely.                                                                                     
QUESTION: Sri Lanka's Lessons Learned and Reconciliation Commission has cleared the country's army of deliberately targeting civilians during the final days of its war against LTTE. Do you have any comments? And where are they heading? 
MS. NULAND: Well, we appreciate the important work of the Sri Lankan Lessons Learned and Reconciliation Commission. The Commission has addressed a number of the crucial areas of concern to Sri Lankans. In particular, the report recognizes and makes substantive recommendations in the areas of reconciliation, devolution of authority, demilitarization, rule of law, media freedom, disappearances, human rights violations. 
And while we're still studying the full report, I do have to say that we have concerns that the report, nonetheless, does not fully address all the allegations of serious human rights violations that occurred in the final phase of the conflict. So this leaves questions about accountability and – for those allegations, and so we urge the Sri Lankan Government not only to fulfill all of the recommendations of the report as it stands, but also to address those issues that the report did not cover. 
QUESTION: Has there been any official communication between Washington and Colombo? 
MS. NULAND: There has. Assistant Secretary Blake has been in contact with various Sri Lankan counterparts, as has our ambassador there. I'd also say that we've seen the government's preliminary action plan, but we don't think it really provides the kind of detailed roadmap that we had hoped to see for fulfilling all of the Commission's recommendations. So those are the things that we are, in our private conversation, urging them to continue to work on, implementation of the recommendations in the report, and addressing those gaps that the report left. 
QUESTION: Are you looking forward to, or – in your discussions, have you put any time period, any kind of – that – it cannot just go on for next 10 years or 20 years? 
MS. NULAND: No, of course. But we're looking in the first instance to a report – a response from the Sri Lankan Government to these concerns that we've expressed and that a number of Sri Lankans have expressed, to hear what their proposed timetable, as I said, their proposed roadmap is for remediating these issues. 
QUESTION: Thank you. 
QUESTION: Just to follow up, human rights groups in response to this report said that this is time for an independent, international probe into what happened in 2009. Is that the U.S. position? Does the U.S. think that there should be an international effort at this point? Or do you think the Sri Lankan effort is still – will suffice for the time being? 
MS. NULAND: Well, obviously, we've long said that it is better for Sri Lankans to take these issues themselves and address them fully. That remains our position, so now we want to see if the Sri Lankan Government will lead their country in the next step to ensure that there is full implementation of the recommendations that we have and filling in of the gaps. So let's see what they are willing to do going forward. 
QUESTION: Now after this passing of the resolution by UNSCR, what are the options Sri Lanka has? And if it doesn't implement those recommendations, what it's going to face now? 
MS. NULAND: Well, this is pretty straightforward. It's not any different than what we've been asking for since November, which is for the Government of Sri Lanka to communicate to its own people but also to the international community what it intends to do to implement the LLRC's recommendations. Specifically, we want to see Sri Lanka take concrete action that brings accountability and reconciliation and to put forward a formal implementation plan on the recommendations. 
QUESTION: So do they have any timeline for this? Have they informed you of anything? 
MS. NULAND: As soon as possible. We've been proposing and urging this kind of action for many months now. 
QUESTION: In her statement, Secretary also mentioned that she is looking forward to meet the Sri Lankan foreign minister. Do you know when this is expected – the meeting? 
MS. NULAND: I don't think it's been scheduled yet. 
QUESTION: On Sri Lanka, the Sri Lankan Government has said that --
MS. NULAND: Oops, sorry. We'll come back to Samir on Iraq. Yeah.
QUESTION: -- it will not implement the UN Human Rights Commission resolution on Sri Lanka. And last week you had said that Secretary Clinton is planning to meet the Sri Lankan foreign minister. Do you have any dates for those?
MS. NULAND: Well, first, the Secretary will welcome Foreign Minister Peiris to the State Department on May 18th. As you know, the call in the Human Rights Council resolution was for the Sri Lankan Government to implement the recommendations of the LLRC. So that's what we're all hoping Sri Lanka can move forward with. And to date, as you know, they have not taken concrete action required for accountability and reconciliation. So that's what we are looking and hoping to see.
QUESTION: Do you have a readout on Secretary's meeting with the Sri Lankan foreign minister this morning?
MS. NULAND: I do. Secretary met this morning for about 45 minutes with Sri Lankan Foreign Minister Peiris. The foreign minister presented a very serious and comprehensive approach to the Lessons Learned and Reconciliation Commission's implementation and the plans that the government has, including plans to make it more public and accessible both to Sri Lankans and to those outside Sri Lanka, what the government intends to do in the implementation realm.
The Secretary encouraged a really transparent, open, public process, not only on the LLRC specifically and its implementation, but also with regard to accountability; to strengthen reconciliation, public confidence inside and outside Sri Lanka in the process; and frankly, to speed the healing of the country. So she really – she said good plan, now you really need to make it public; now you really need to show your people, the world, the concrete implementation steps going forward.
She also stressed the importance, as she always does, of demilitarizing the north; of getting to the provincial elections in the north; protection of human rights, including protection of the press; and generally the creation of an environment that's inclusive; engagement and the creation of space for civil society along the lines of what she talked about globally earlier in the week.
They also had an exchange on Sri Lanka's efforts to reduce its dependence on Iranian crude, and we are encouraged by the steps that Sri Lanka has taken.
QUESTION: Can we follow up there?
MS. NULAND: Yeah, please.
QUESTION: Did – on accountability, did she refer specifically to prosecuting war crimes at the end of the war – the 40,000 civilians who died?
MS. NULAND: This is precisely what we mean when we talk about accountability in all of it.
The United States is concerned by actions taken to impeach Sri Lankan Chief Justice Shirani Bandaranayake. We also note with concern recent threats to Sri Lankan judicial officials, including the assault last month on a judge who had publicly criticized government pressure on members of the judiciary. We urge the Government of Sri Lanka to avoid any action that would impede the efficacy and independence of Sri Lanka's judiciary. 
The United States, along with our partners in the international community, continues to urge Sri Lanka to address outstanding issues of the rule of law, democratic governance, accountability and reconciliation. 
QUESTION: And on the continued impeachment of the Sri Lankan chief justice, now there's a confrontation between the Sri Lankan parliament and the court, supreme court. One of the courts have said it's – the decision taken by Sri Lankan parliament is not valid. How do you see this ongoing confrontation between the various wings of the government?
MS. NULAND: Well, I understand the parliament is just back from recess and we are, as we said before, we had serious concerns about the actions that were taken to impeach the chief justice and the timing of the impeachment, and that it raised serious questions about the process and government pressure on the judiciary. With regard to what's been happening today with the parliament back in session, let me see if we have any further comment for you, Lalit.
QUESTION: Now that the Sri Lankan chief justice has been removed by the President following her impeachment, what do you have to say now on this? 
MS. NULAND: Well, we are deeply concerned about the impeachment of Sri Lankan Chief Justice Shirani Bandaranayake. The impeachment proceedings against her were conducted, as you know, in defiance of the Supreme Court order. And from our perspective, this impeachment raises serious questions about the separation of powers in Sri Lanka, which is a fundamental tenet of a healthy democracy. Throughout these proceedings, we've repeatedly conveyed to the Government of Sri Lanka our concern that there was a lack of due process, and we've also made very clear our view that actions undermining an independent judiciary would impact on Sri Lanka's ability to attract foreign investment. 
I would also note that we weren't alone in our concern. The United Kingdom, Canada, the European Union, and the United Nations have all issued statements expressing strong concerns about this process. 
QUESTION: Do you believe, by such measures, you think Sri Lanka is moving towards an authoritarian regime kind of thing? 
MS. NULAND: Look, we think that there are serious questions about the health and future of Sri Lanka's democracy and that they really need to roll up their sleeves and work on it. 
QUESTION: The chief justice issue, do you have anything to add to it? The new chief justice has taken over. And following from yesterday's question, would it have any impact on the U.S. aid to Sri Lanka?
MS. NULAND: We talked about the successor yesterday. We did look into the assistance situation. Just for your records, U.S. Government assistance for FY2012 for Sri Lanka was $27 million. This included 13.3 million in bilateral assistance programs which primarily related to peace and security, human rights, economic growth, and democracy programs. We have a 2013 request for 16.5 billion for Sri Lanka in the same – million, million, what did I say?
QUESTION: Billion.
MS. NULAND: Million. In bilateral assistance for Sri Lanka. Frankly, Lalit, I will say that it is too soon to say what impact the actions will have on our foreign assistance for Sri Lanka going forward.
QUESTION: And have you received any response from the Sri Lankan Government explaining why did it take such a measure?
MS. NULAND: We are obviously in contact with them. I would not say that the explanations are satisfactory in terms of protecting democracy.
QUESTION: Just so we're clear, when you say the actions, you mean specifically the impeachment of the chief justice?
MS. NULAND: Correct, correct.
QUESTION: On Sri Lanka. Have you seen the news reports of indication of killing of 12-year-old son of LTTE leader by the Sri Lankan army? 
MS. NULAND: We continue to be deeply concerned by allegations of violations of international humanitarian law and human rights in Sri Lanka. At the end of this conflict, we support a full accounting for all who are engaged in acts of violated international humanitarian law. We also welcome the report by UN High Commissioner for Human Rights Navi Pillay, noting the strong concern about the Government of Sri Lanka's lack of action to address these longstanding issues of reconciliation and accountability. And as you know, we plan to introduce our own resolution on this into the Human Rights Council. 
QUESTION: If I can check with you on Sri Lanka. The U.S. delegation which is going to – in Geneva right now, the kind of talks you're having with the Sri Lankan government and also the Indian government on this issue, do you have something to say on that?
MS. NULAND: Well, you know when we've spoken about it here that we are sponsoring a new resolution in the Human Rights Council and we're working with a lot of governments who share our concerns about the lack of progress in Sri Lanka. It is not a surprise to the Government of Sri Lanka that we are doing this. We made clear publicly and privately that this was a response to the fact that we just didn't see the kind of movement that was necessary. We didn't see promises fulfilled. So we're being very transparent with the Government of Sri Lanka, and we're expecting strong support for the resolution that we've put forward.
QUESTION: But there are sections from the pro-LTT groups which are coming up very strongly in support of the resolutions in Geneva. Do you think that this – there are some critics who say the passing of this resolution will give boost to LTT activities not only in Sri Lanka but world over.
MS. NULAND: Well, the best thing that the Government of Sri Lanka could do for its own people and to undercut the claims of these groups would be to fulfill the obligations that it made to the international community to take the process forward. So that hasn't happened, and we are taking more measures in the Human Rights Council to make clear that progress has been insufficient.
QUESTION: And then lastly, has the Indian government approached you for any change in the draft resolution?
MS. NULAND: I don't have any details about the discussions that are ongoing. I'll send you to our mission out there.
QUESTION: Madam, after this UN Security Council – Human Rights Council vote on Sri Lanka, what are the consequences or what do you think the Sri Lankan Government should do now?
MS. NULAND: They should implement the plan that they have never implemented. They should listen to the words of the international community. As you know, we welcome the passage of this new resolution; 24 other countries also voted for it. We call on the Government of Sri Lanka to fulfill its obligations to its own people. The resolution very clearly expresses the support of the international community for Sri Lanka, addressing its outstanding issues related to reconciliation and for meeting its obligations for accountability, which it has not yet done.
QUESTION: Let me ask you, since this resolution has been going on for some time, and I'm sure there was ample warning and discussions and dialogue with Sri Lankan Government or officials, either from the U.S. or UN or other international community, was there any time when – that Sri Lanka could have avoided this resolution against them?
MS. NULAND: We've talked about this for the past week here, Goyal, and I said that we had made clear, including when senior Sri Lankans had visited Washington, that if they didn't take steps that they could – would see this kind of a resolution coming forward. That was about six months ago, and we didn't see any progress.
QUESTION: So finally, how can you enforce it now?
MS. NULAND: Again, we want to see the Sri Lankans take their own decisions. As we've said before, if those are not forthcoming, the international community will look at whether there are other steps we can take.
Also read more on the new US administration below.
We need your support
Sri Lanka is one of the most dangerous places in the world to be a journalist. Tamil journalists are particularly at threat, with at least 41 media workers known to have been killed by the Sri Lankan state or its paramilitaries during and after the armed conflict.
Despite the risks, our team on the ground remain committed to providing detailed and accurate reporting of developments in the Tamil homeland, across the island and around the world, as well as providing expert analysis and insight from the Tamil point of view
We need your support in keeping our journalism going. Support our work today.