17 May 2015
18 May 2009 - Civilians walk into SL camps after thousands killed in night of shelling, surrendering LTTE leadership killed, Tamils blockade Westminster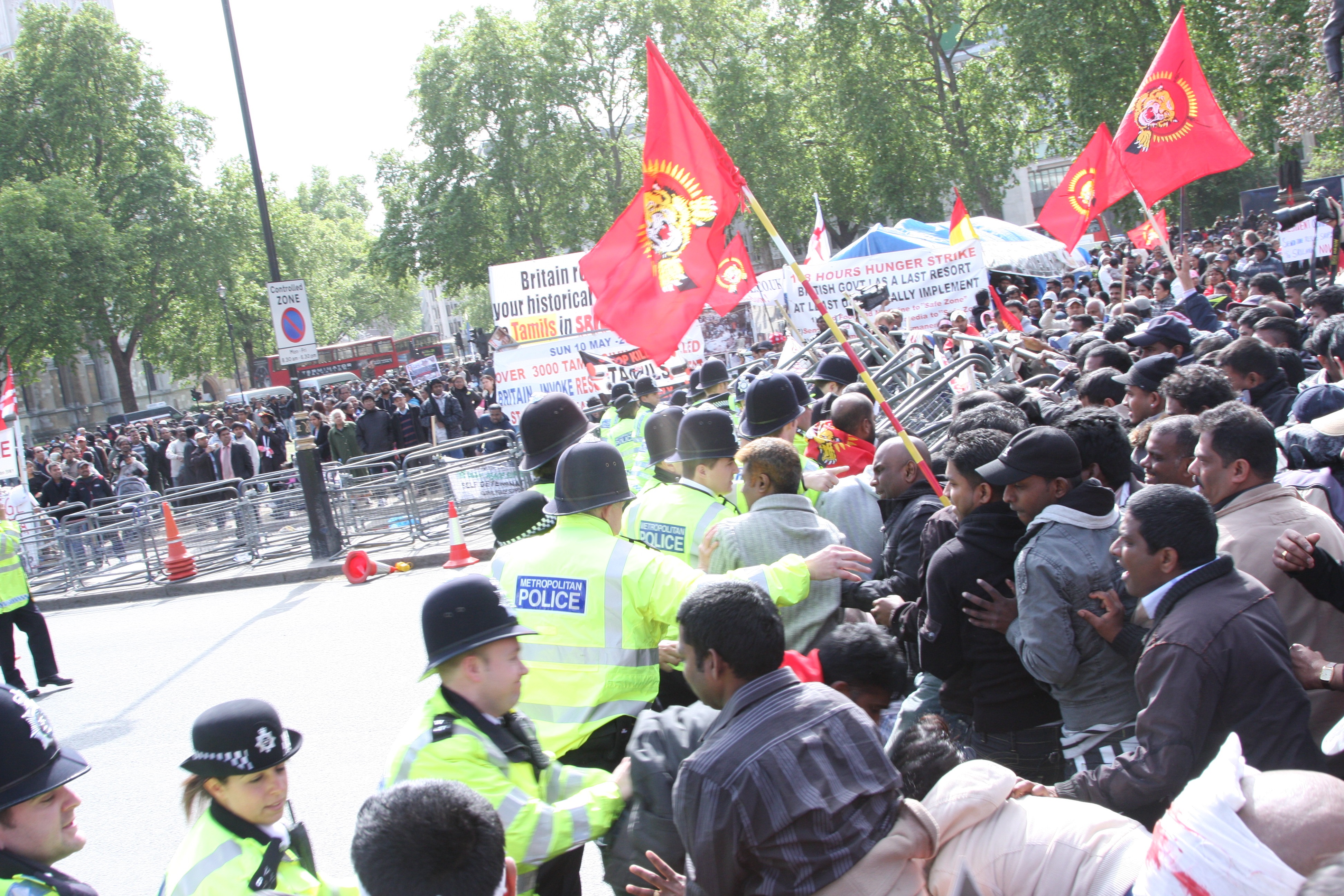 Photo: Tamil Guardian

The Sri Lankan Army in its final onslaught killed thousands of civilians whilst the LTTE tried to negotiate a surrender mechanism throughout the night.
A surrender deal was eventually agreed upon between the senior leadership of the LTTE, the Sri Lankan government, a UN official and the British embassy a report titled, '5 years on: The White Flag Incident' and the UN Panel of Experts report found.
Amnesty International in a statement called on the Sri Lankan government to allow full international access to monitor and aid those in need and "accept the surrender of any LTTE fighter and treat humanely LTTE fighters who have laid down their arms."
Pictures of dead senior LTTE leaders shown on Sri Lankan state television indicated that the Sri Lankan government broke the agreement and violated international law by executing them after surrendering. 
The Sri Lankan government later that  day announced that LTTE leader Vellupillai Prabhakaran had been killed during an ambush.
(The commander of the Sri Lankan Army, General Fonseka, in an interview months later, stated that the Defence Secretary had instructed the army to kill all surrendering LTTE leaders, says the UN Panel of Experts report on Sri Lanka.)
The Asia Pacific Director of Amnesty International, Sam Zarifi, further called for an international Commission of Inquiry to "investigate allegations of international human rights and humanitarian law by all warring parties in the course of the conflict and make recommendations on the best way to ensure full accountability."
See full statement here.
Thousands of civilians walked out of the No Fire Zone over the Wadduvakal Bridge into Sri Lankan military territory to be put in screening camps.
A civilian heading towards the bridge to leave the No Fire Zone recalled,


"The sound of crying and pleading and the smells of explosives blood and dead bodies was beyond endurance. There was no one at this time to bury corpses. As I tried to escape south towards Waddavukal, I saw dead bodies and blood spread everywhere. I had to step over the corpses as I walked."
Scenes of jubilation in Colombo were in stark contrast to the images of broken Tamil civilians that had left the conflict zone in the North-East reported Aljazeera.
Tamils across the diaspora continued to protest calling for the international community to intervene and save Tamil civilians from the Sri Lankan government. British Tamils once again brought Westminster to a standstill by blockading roads outside the Houses of Parliament.