04 December 2012
The Bishop of Mannar has written to Australian authorities calling on them to halt deportations of people from the North-East of Sri Lanka, stating it was "highly dangerous" for them to return.
Revealing the fate of those who have been returned to the island following deportation, Bishop Rayappu Joseph stated that they were considered "traitors by the Government and its armed forces" and forced to become "informants".
In a letter dated 3rd of December, the Bishop Rayappu Joseph went on to say that those who are forced to return from Australia are subjected to "restrictions, threats, intimidation, questionings, surveillance and other forms of harassments and discrimination by the military, police and intelligence officers".
His letter comes as more than 50 Australian asylum seekers filed an injunction against their scheduled removal from Australia, claiming that the Australian government has ignored their pleas that they face persecution upon return to the island.
See the full text of the letter reproduced below.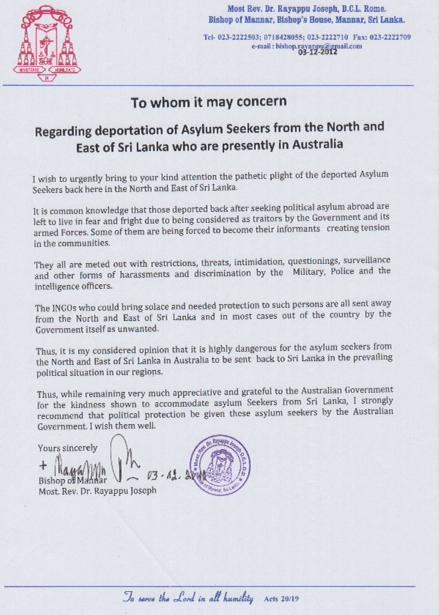 To whom it may concern,

Regarding deportation of Asylum Seekers from the North and East of Sri Lanka who are presently in Australia

I wish to urgently bring to your kind attention the pathetic plight of the deported Asylum Seekers back here in the North and East of Sri Lanka,

It is common knowledge that those deported back after seeking political asylum abroad are left to live in fear and fright due to being considered traitors by the Government and its armed Forces. Some of them are being forced to become informants creating tension in the communities.

They all are meted out with restrictions, threats, intimidation, questionings, surveillance and other forms of harassments and discrimination by the Military, Police and the intelligence officers.

The INGOs who could bring solace and needed protection to such persons are all send away from the North and East of Sri Lanka and in most cases out of the country by the Government itself as unwanted.

This, it is my considered opinion that it is highly dangerous for the asylum seekers from the North and East of Sri Lanka in Australia to be sent back to Sri Lanka in the prevailing political situation in our regions.

Thus, while remaining very much appreciative and grateful to the Australian Government for the kindness shown to accommodate asylum seekers from Sri Lanka, I strongly recommened that political protection be given these asylum seekers by the Australian Government, I wish them well.

Yours sincerely,

Bishop of Mannar
Most Rev Dr Rayappu Joseph