24 January 2015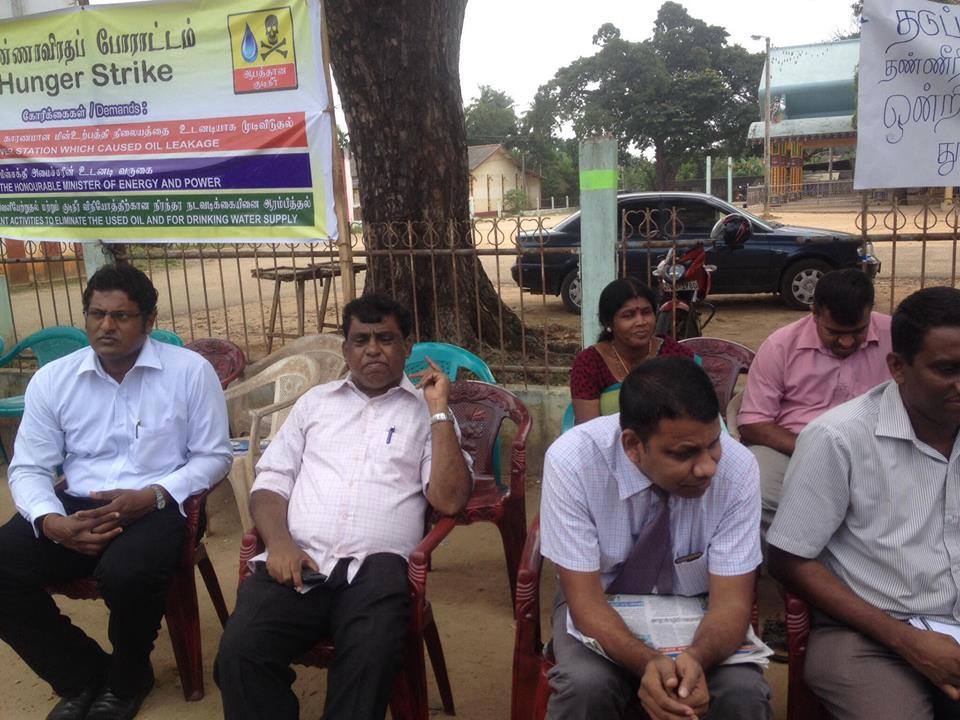 Hunger strike continues - 24 Jan 2015
Locals protesting against the contamination of water supplies by waste oil seepage by Chunnakam power station, paused their ongoing hunger strike on Saturday, after officials said a commission would investigate the situation on February 6.
The hunger strike, launched on January 20, was supported by over 60 local doctors, teachers, university lecturers, village groups and Tamil politicians from both main parties, and took place by the Chunnakam Sivan Kovil.
Announcing the team, at a meeting on Saturday evening with concerned residents, the Northern Province's environment minister, P. Aingaranesan said: "The issue regarding oil spill from the Chunnakam Power plant has become a disaster and is causing panic among the people in the region."
A team to review the situation has been formed in order to seek a solution for this problem soon, he said. The team includes doctors, regional council leaders and higher officials, he added.
Protesters had made three demands: close the power station which caused the oil leakage; an immediate visit by the Minister of Energy and Power in order to resolve the situation; and find a permanent solution to the contamination of water by constructing improved water supplies.
"For the last three years, almost 400,000 litres of oil has been leaking from the Chunnakam thermal power station and seeping into local water supplies," one of the organisers, Dr Senthuran told Tamil Guardian last week.
The hunger strike is part of growing outcry against water contamination by the power plant.
Earlier this week, school children in Jaffna protested outside the their school entrance, calling for an investigation to be launched. See more here.
On Saturday, the locals in Chunnakam protested outside the power station.
"Water poison is another way to kill people?" read placards carried by protesters. See more here.