19 November 2019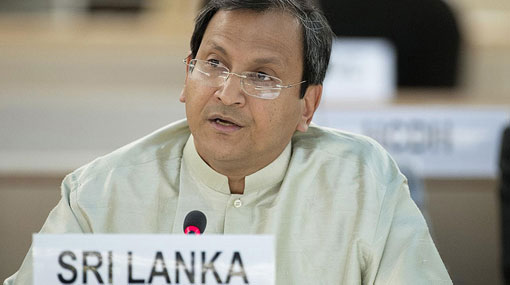 Sri Lanka's Foreign Affairs Ministry has reappointed Ravainatha Aryasinha as Foreign Secretary today.
Aryasinha was appointed by President Gotabaya Rajapaksa who has been accused of overseeing war crimes, torture and running "white van" squads who would abduct dissenting journalists.
Aryasinha has openly defended the accused war criminal Shavendra Silva despite overwhelming evidence that he has overseen a litany of human rights violations. He has also criticised several reports from the United Nations and the International Truth and Justice Project (ITJP) for providing evidence of this.
Read more here: Sri Lanka slams UN for banning peacekeepers over war crimes
He has also criticised moves towards an independent international investigation, maintaining that Sri Lanka will not submit its people to an unfair investigation and expressed concern about the "intemperate language" used by the human rights chief to "attack and vilify a sovereign member of the UN".
Read more here: Sri Lanka condemns 'denigration' by UN rights chief
Read the Sunday Times reporting here.