10 March 2020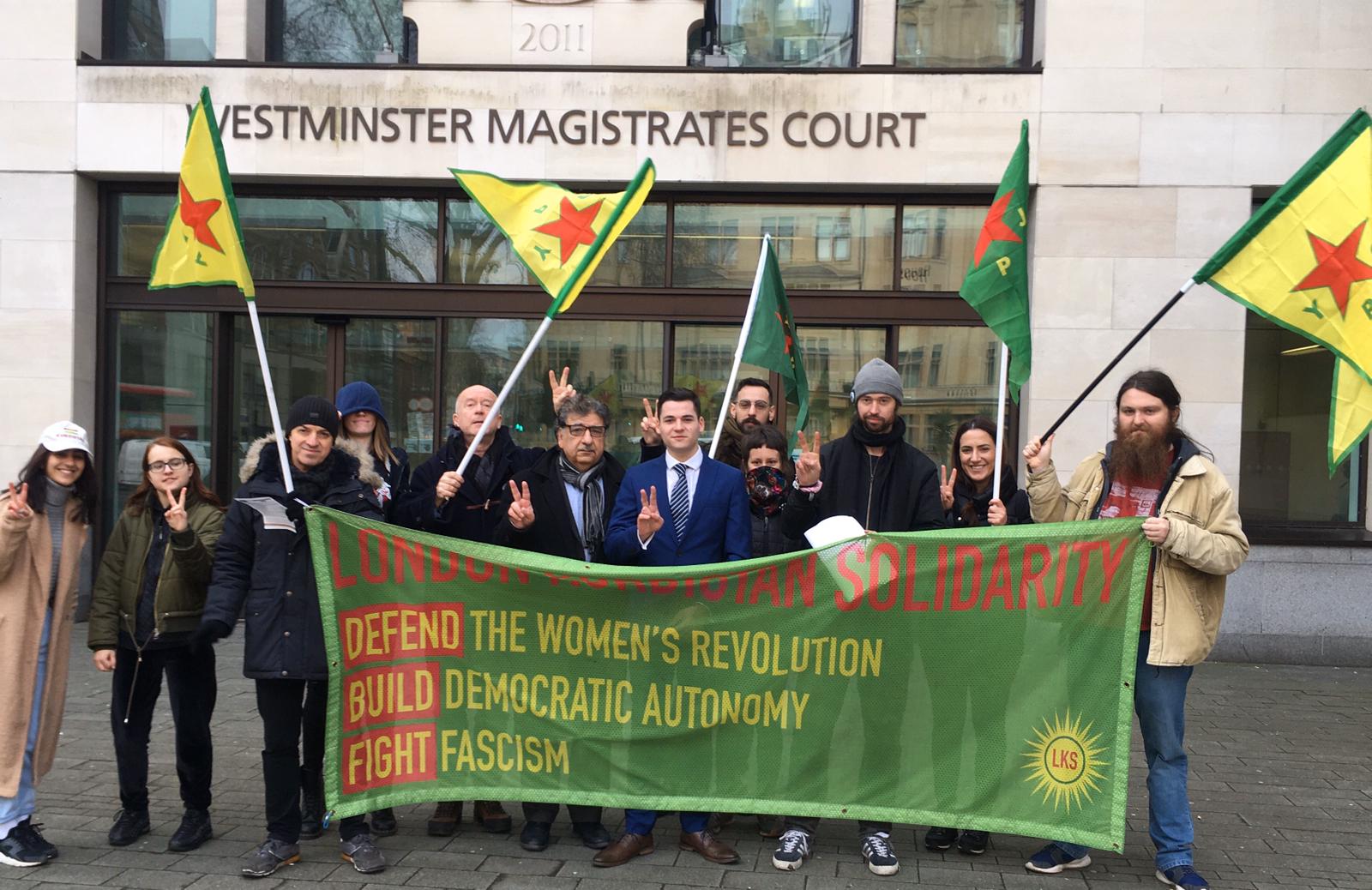 (Photo Credit:  Kurdistan Solidarity Campaign Facebook Page)  - Demonstrators show support in solidarity with Paul and Sam Newey outside Old Bailey Central Criminal Court
Paul Newey and his son, Dan Newey were both charged for terrorism-related offences in a pretrial hearing last month, as the British government continues to clamp down on people involved with and in support of the Rojava revolution. 
The case of Paul Newey – who was charged for sending £150 to his son – demonstrates the escalation in sanctions imposed for personnel supporting the self-determination struggle in Rojava, with family members of volunteers now also being targeted.
Paul Newey's house was raided by 11 armed officers in the early hours of 11 December 2019, from which he and his son, Sam were taken away for questioning. After being detained in a high-surveillance security cell for four straight days, they were both charged.
UK criminalisation legislations and targeted harassment
Last year, then UK Home Secretary Sajid Javid, threatened British citizens volunteering in Rojava with a warning that they risk a 10-year jail sentence if they do not leave Rojava within a month. It was outlawed for any British citizen to even visit or remain in North-East Syria without a 'legitimate reason' at all. 
The move made by Sajid Javid to criminalise the British citizens volunteering in Rojava was condemned by many. Britain's unfair treatment of its own citizens and their neglect towards the minorities' fight against state-inflicted oppression and self-governance is deeply worrying. 
Activists, along with their friends and families, rallying for the Kurdish freedom movement and Rojava uprising, have been the target of repeated brutal attacks of harassment, intimidation and criminalisation, with multiple community centres and demonstrations targeted for arrests and raids.
The Terrorism Act has evidently been used to heighten surveillance on Muslim, Middle Eastern and South Asian people in the UK and establishes an unfair basis for suspicion to enable illegal and unfair harassment.
Counter-terrorism laws have been exploited to mask intimidation and surveillance tactics imposed on diaspora groups "such as Tamils, Kurds, Baluch and Palestinians – who remain connected to armed struggles for self-determination by virtue of being a people with a shared historical and political culture," according to Law lecturer and expert Vicki Sentas.
The label of Kurdish separatists as 'terrorists' – brandished by the Turkish government – has not only been used to delegitimise the Rojava political movement but has also allowed Turkey to get away with unprovoked attacks on Kurdish civilians, Kurdish separatist groups and to suppress the autonomous region of Rojava from operating peacefully after seeing it as a threat to Turkey's political agenda.
Turkey has insisted on calling Kurdish separatists 'terrorists' and has mounted pressure on its allies to follow suit; US President Donald Trump claimed that the Kurdish forces were "probably worse at terror and more of a terrorist threat than ISIS," whilst UK Home Secretary Priti Patel stressed "the PKK has long been considered to be involved in terrorism and these orders will prevent individuals circumventing efforts to counter its activity," shortly after banning Kurdish groups Teyre Azadiye Kurdistan (TAK) and Hêzên Parastina Gel (HPG) and calling them aliases of PKK. The PKK have insisted they are not affiliated with the two breakaway groups and that this is an attempt to further fuel accusations that they are a terrorist threat. 
Previously, former British Prime Minister Theresa May also dealt a blow to Kurdish hopes by warning Turkey to be vigilant of the threat of 'Kurdish terrorism' during a press conference.
The Rojava and Turkish-Kurd Conflict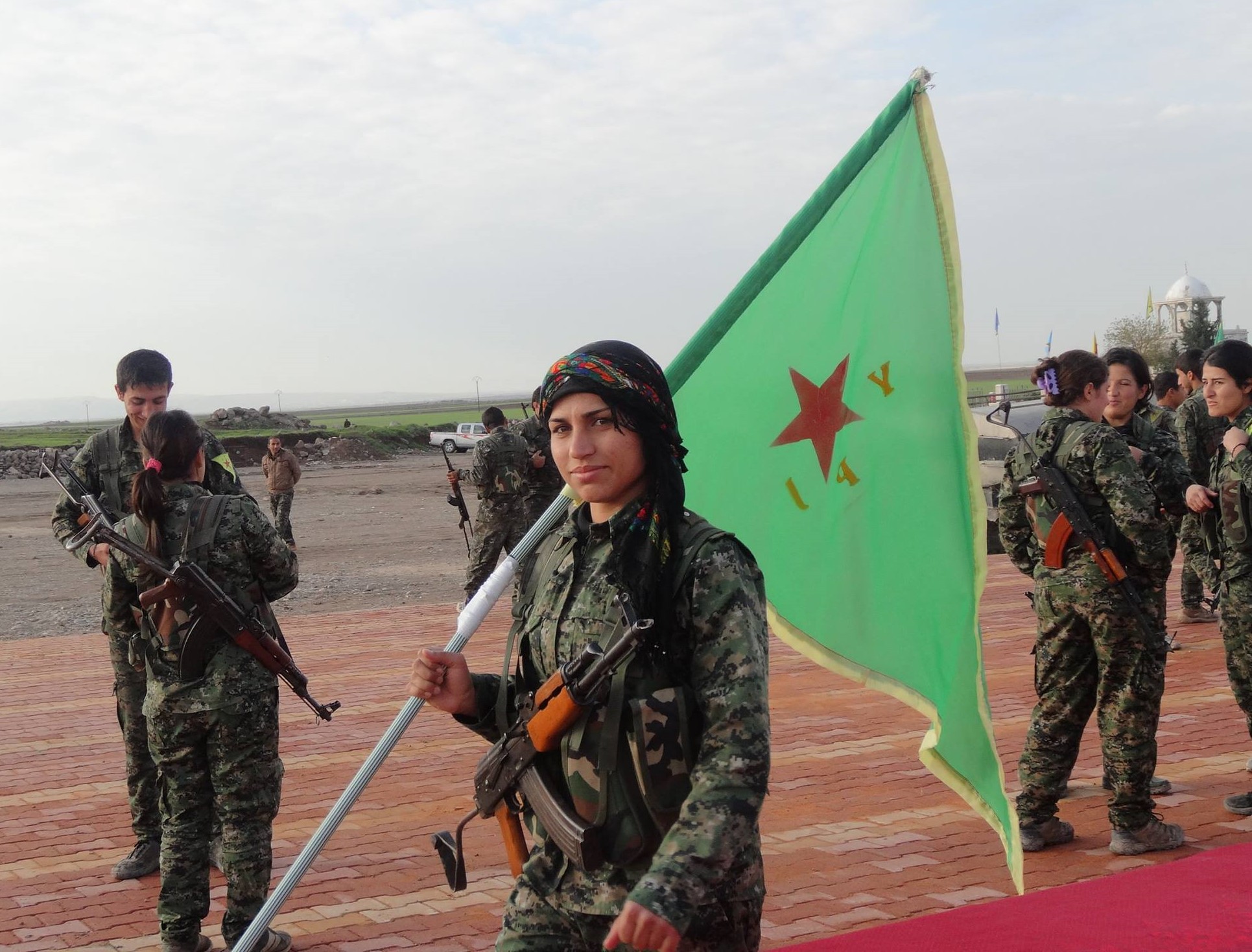 Dan Newey left the UK in 2017 to volunteer for the People's Protection Units (YPG) – a militia group formed of Kurdish, Syrian, Assyrian, Armenian Christians and foreign volunteers who aim to fight against ISIS fighters for the occupation of Northern Syria. The YPG, initially backed by the US, UK and France among others, was praised for its 'historic defeat' against ISIS forces before the US began withdrawing troops from Syria at the end of 2018, under Trump's orders. The US opportunistically used the YPG and the Syrian Defence Forces (SDF) to neutralise the threat of the Islamic State. 
Ever since the YPG was forced to defend North-East Syria from the unprovoked invasion by Turkey, their relationship with Turkey's NATO allies (including the US, UK and the EU nations), has soured. Turkey and the Kurds have been embroiled in a deep-rooted regional power struggle and this is further complicated by the US allyship to the YPG and Turkey. The "US support for the Kurds may dwindle with the diminished need to fight the Islamic State in Syria," said Syrian analyst and author Hassan Hassan, whilst Kurdish analyst insisted US would be wise to restore their relationship with the Kurds and "that it is surely possible that the Americans will find real reasons to deepen their relationship with the Kurds in a strategic sense."
The YPG is not currently listed as a terrorist organisation, but it has widely become condemned and volunteers have been investigated for associating themselves with the YPG due to its proximity in ideology to the Kurdistan Workers' Party (PKK) and Abdullah Öcalan.
Abdullah Öcalan, the founding member of the PKK and a current political prisoner, called for a peaceful solution to the conflict from the island he has been imprisoned for 21 years. Öcalan, known to his supporters as "Apo", has often been likened to anti-apartheid revolutionary and former South Africa President, Nelson Mandela. Mandela empathised with the "terrorist" label given to Öcalan by comparing it to when he himself was branded as a terrorist by the same Western countries and even declined Turkey's Atatürk Peace award after stating that Turkey's regime was inflicting "a war against human rights and against the masses".
After his arrest, Öcalan soon left the idea of Kurdish national liberation and adopted Murray Bookchin's social ecology societal approach, in order to prevent the prospect of Kurds being the dominant ethnic group of a state resulting in the oppression of minorities. Instead, he encouraged a polyethnic operational state, separate from the shackles of Turkey's confines. 
The Kurds have been longing for their promised independent Kurdish state since the fall of the Ottoman Empire and the First World War, but these promises have yet to be fulfilled. The PKK has clarified it is seeking a democratic solution where Kurds and other minorities will be allowed to embrace and explore their own culture without restrictions.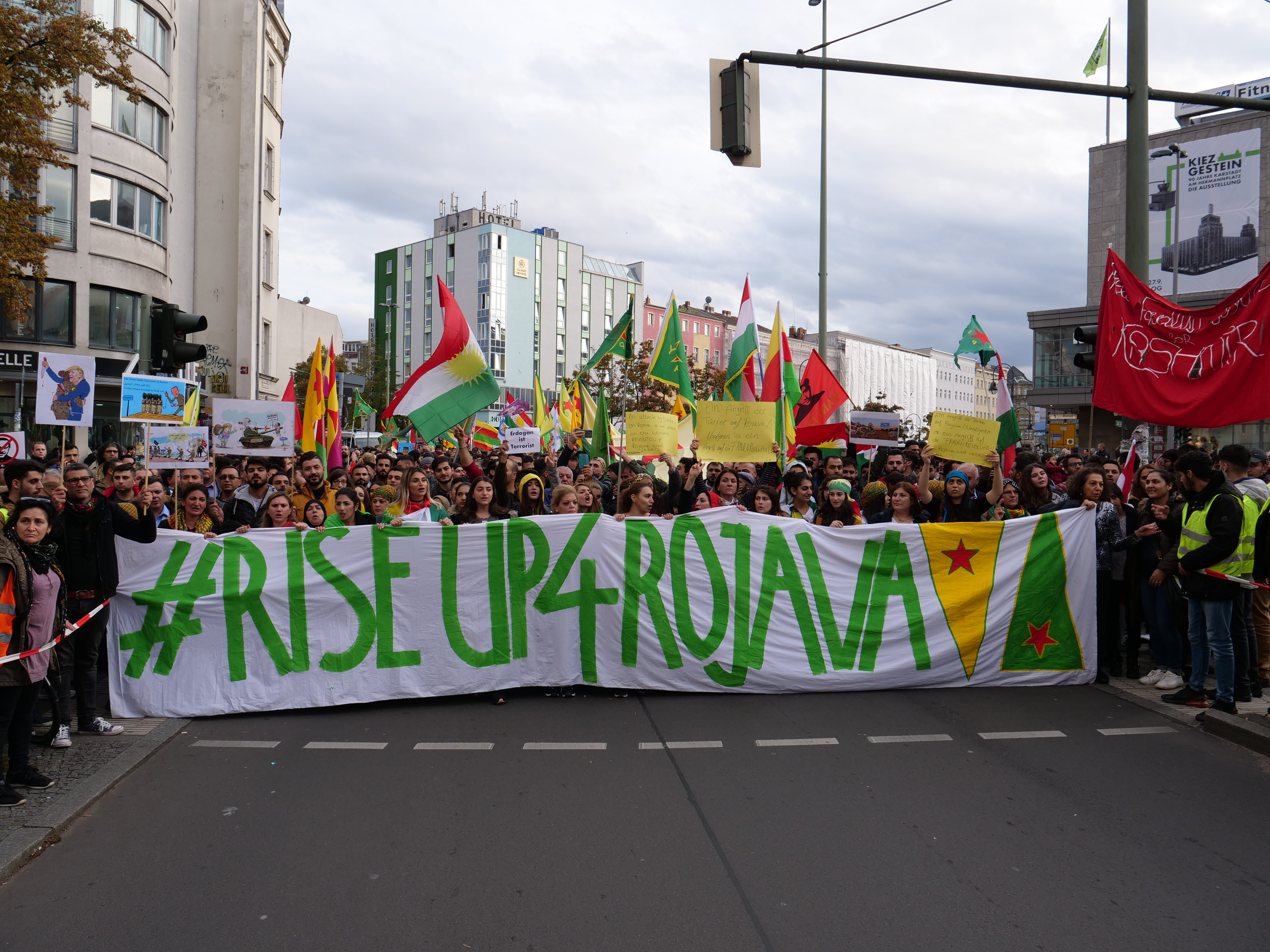 However, the Turkish government's denial to PKK's demands was displayed by their brutal invasion of Rojava while their commitment to outlaw the 'Kurdish terrorists' of PKK, extends to the lengths of committing human rights abuses, mass displacement and ethnic cleansing.
The conflict with Turkey and PKK dates back to the early 1980's when the PKK announced a Kurdish uprising against the oppressive Turkish government. Kurdish clothes, culture and language was forbidden and many who used Kurdish language in public were imprisoned. After a clash during the insurgency, around 35,000 casualties were recorded, according to a parliamentary commission report published in 2013. 
The Democratic Union Party (PYD) formed in 2013 to mobilise autonomy – with the aid of the YPG and YPJ in 2014 – expunged ISIS forces to establish Rojava successfully.
The de-facto state of Rojava – grounded from the promotion of woman's liberation, decentralised self-governance, social equality, regenerative agriculture and an inclusive justice system featuring reconciliation mechanisms – presents the potential of how a multi-ethnic community can respectfully and successfully co-exist despite the burdens of patriarchy, capitalism and state-sanctioned violence and oppression. The aspirations for the autonomy of Rojava, fully documented on the Charter of the Social Contract, demonstrate the willingness to co-exist with all members of society whilst also reaffirming the peoples' right to self-determination.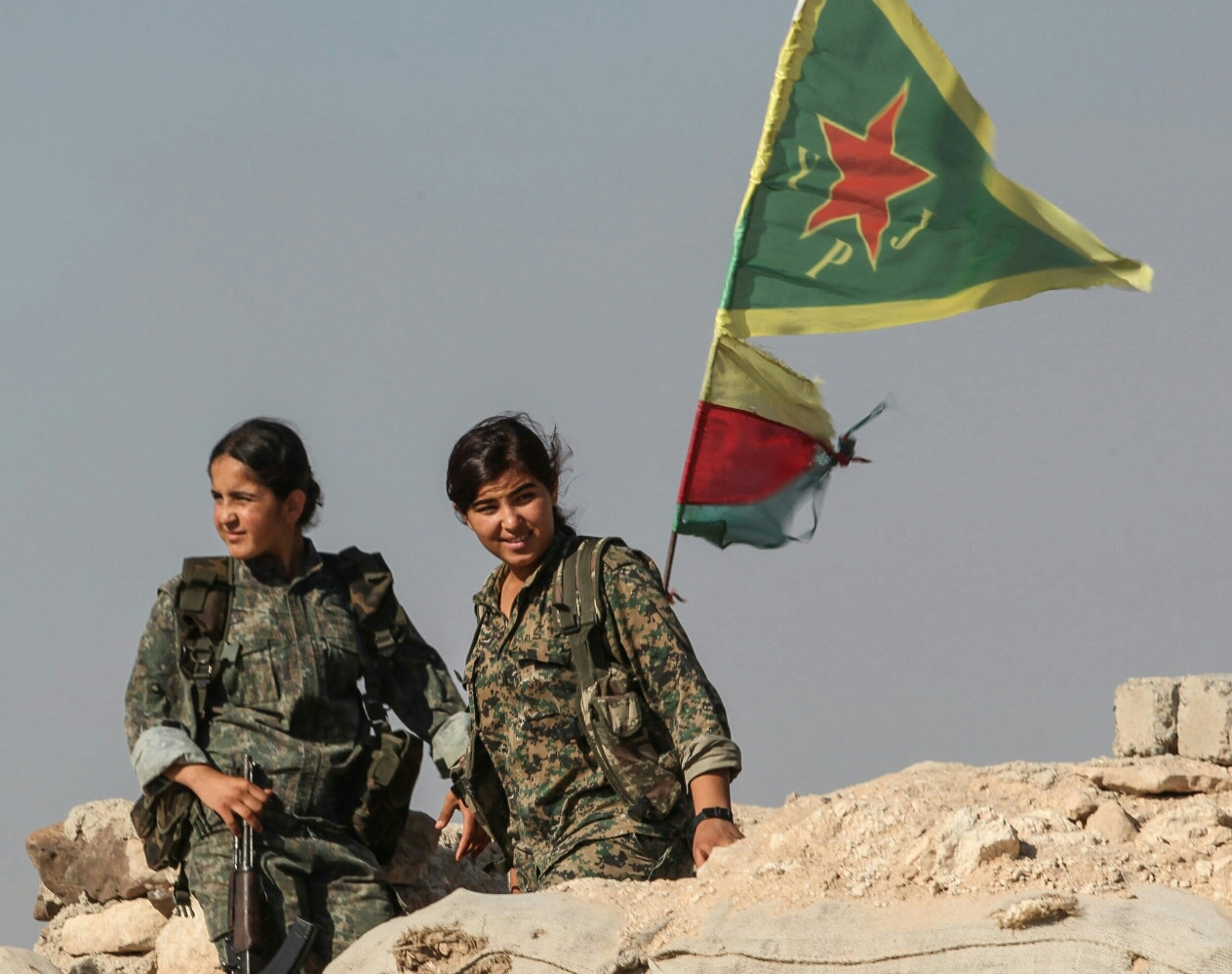 Similar to the women's wing of Liberation Tigers of Tamil Eelam (LTTE), the Women's Protection Units (YPJ) is an all-women militia group and one of the two main armed forces in Rojava. They have been instrumental in fighting and eradicating threats from Turkish-backed forces and ISIS. The YPJ represents hope for many women who have felt repressed for most of their lives by the state. One new recruit said, "I am proud to join [the fight], especially after suffering a lot of suppression in my private life. Being a part of those forces would give me the opportunity to protect other women in my society and fight for their rights."
After the SDF and YPG consolidated a stronghold over the territory that the Islamic State tried to occupy in Northern Syria, unprovoked attacks from Turkey and Turkish-backed Syrian militias ousted Kurds from these areas, as they took control of Afrin city, in 2018. Turkey's threat of launching assaults and extending control over other Kurdish-held areas in Syria persist.
In 2019, Turkish launched an operation to expel the SDF in North-Eastern Syria and also 'correct' the demographics that the PKK and YPG caused by resettling Syrian Arabs in the heavily Kurdish areas. However, Turkey's claims were unconvincing on the basis that there has been a great commitment by the SDF and the autonomous administration to ensure that internally displaced person (IDP's) are accommodated in areas despite their own limited resources. Even last month, they released a statement reassuring the 1,500 families that fled the war in Idlib to the autonomous region of North and East Syria, "we declare that despite the high number of migrants in our region we will fulfill our duty." 
The assault – dubbed as "Operation Peace Spring" – resulted in the displacement of over 300,000 people, up to 100 civilian deaths and multiple human rights violations. Despite agreed ceasefires and 'safe zone', Turkey violated them, allowing them to neutralise the alleged threat of SDF military personnel. Many condemned Turkey at the time, with a US official describing the safe zones 'a total surrender and a disgusting betrayal'. 
Current concerns
Human rights groups have documented human rights violations among both Kurdish paramilitary groups and the Turkey government, but a recent report issued by Human Rights Watch (HRW) highlighted the tyrannical attitudes of Turkey towards the Kurdish community as it continues to harass and arrest individuals, mainly Kurds, under alleged terrorism charges. At least 69,259 people were on trial and 155,560 people still under criminal investigation on terrorism charges, according to the Ministry of Justice. The numbers, in reality, are understood to be much higher, with claims that tens of thousands of university students have been jailed for speaking out against the government's brutal treatment of the Kurds and other minorities. 
These figures include politicians and journalists who committed offences such as "spreading terrorist propaganda" and being a "membership of a terrorist organization." Turkey has been vilified for its perpetration of a myriad of kidnapping, rape and murder cases. Last year, they brutally tortured and murdered local Kurdish politican, Hevrin Khalaf.
HRW has since expressed its concern over the lack of evidence used to pursue most of these terrorist charges and showed their worries in the rise in allegations of torture, ill-treatment and cruel and inhuman or degrading treatment in police custody and prison.
The dangerous misuse of the terrorism label to suppress and delegitimise political opponents should be very concerning for everyone, especially seeing that narrative is becoming adopted globally by nations such as the US, Australia and UK. It should also be particularly worrying that Turkey has not been sanctioned for their unprovoked attacks on political opponents and their execution of ethnic cleansing of Kurds and other minorities. 
A Belgian court earlier this year upheld the decision to rule that the PKK is not a terrorist organisation and acquitted 37 Kurdish politicians implicated with terrorist charges.       
The YPG have themselves acknowledged the casualties that have resulted from the conflict but suggest that they are simply seeking a solution to allow their people to exist peacefully. The YPG, merely for having links to the PKK ideology, has become increasingly scrutinised. 
German student, Jan-Lukas Kuhley, volunteered for the YPG in 2017 and was subject to investigations by German authorities for his involvement and despite not being charged, it is understood that pressure from Turkey on allies to recognise the YPG as a terrorist group, has caused this action.
Paul and Sam Newey are expected to appear at a pretrial hearing in May, followed by their trial in Birmingham on June 8, along with former YPG soldier, Daniel Burke, who is accused on similar terrorist charges.
Turkey's government has clearly shown a vigorous intent to systematically target the Kurds and other minorities including the Yezidis, Armenians, Assyrian Christians and others to ensure it maintains its political endeavours. Even though there is a slight majority of Kurds in the makeup of Rojava, it is apparent that the autonomous administration is committed to protecting its polyethnic aspirations for all Syrians.
The YPG and YPJ were applauded for their role in the defeat of ISIS, yet subjecting them - and anyone associated with them - to the unwarranted label of a "terrorist" for displaying their right to self-determination and resistance against the tyranny of Turkey, would show that we have drastically failed them as an international community. 
We need your support
Sri Lanka is one of the most dangerous places in the world to be a journalist. Tamil journalists are particularly at threat, with at least 41 media workers known to have been killed by the Sri Lankan state or its paramilitaries during and after the armed conflict.
Despite the risks, our team on the ground remain committed to providing detailed and accurate reporting of developments in the Tamil homeland, across the island and around the world, as well as providing expert analysis and insight from the Tamil point of view
We need your support in keeping our journalism going. Support our work today.
For more ways to donate visit https://donate.tamilguardian.com.