23 October 2019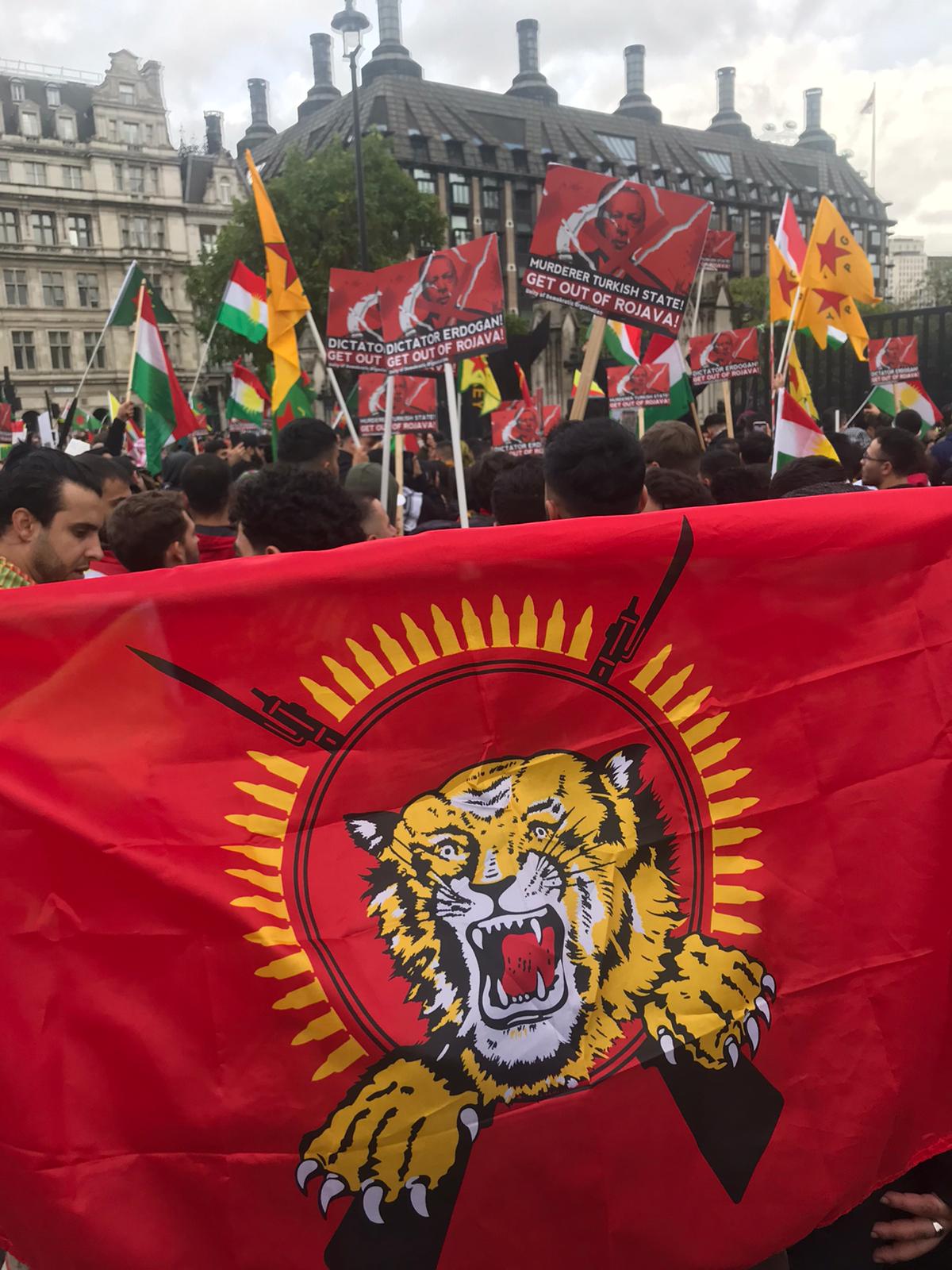 The deafening din of explosions; chaotic coughs through the black smoke; mechanical murmurs of invading tanks, as the international community looks away. The indigenous civilians of the land - retreating in tears. Forced to leave their homes without the remains of loved ones, for family members and martyrs are not distinct. Through their pain, they strive to survive clutching to the dream, that the homeland they loved was not lost. As they navigate the forced disorder, they maintain the belief that the oasis they had built will not be drained. Does this tragedy sound familiar?
For many Tamils, these words trigger the trauma that was the genocidal onslaught of Mullivaikkal. The images we've witnessed this week parallel the struggle Tamils have gone through, as the people of Kurdistan fight for their security and self-determination. Turkey's 'Peace Spring' operation has been ceaselessly targeting the YPG or People's Protection Units. Though a shaky ceasefire is now in place, for the Turkish state, October 9th was their green light for a brutal offensive as the USA withdrew from Kurdistan. Kurdish troops are now left to fight the Islamic State and the Turkish military without support. Calls for the USA to implement a no-fly zone have so far fallen on deaf ears. The USA, which many Kurds now accuse of "betrayal", continues to lose its international credibility. As evident by past policy, the Turkish authorities see a Kurdish de facto state as more of a threat than Islamic fundamentalist militias.
This cruel assault against the Kurdish people is causing immense distress amongst the Tamil diaspora. The people of Kurdistan, like the citizens of Tamil Eelam, have demonstrated their ability to run their state affairs, worthy of a recognised independent and secular nation. Yet, the international community, which had turned a blind eye to Sri Lanka's military assault that killed tens of thousands, is now also blind to Turkey's imperial objectives. 
Tamil activists stand in solidarity with the Kurds - a bond between oppressed peoples that goes far beyond ideology and our self-determination struggles. In fact, our solidarity runs deep, with strong emotional ties. 
The novel experience of carrying the national flag of Tamil Eelam, at a Kurdish rally in London, allowed me to see how even non-Tamils viewed our symbols of resistance. An overwhelming number walked over to say a few words, hoist the flag higher, or display recognition from afar.
Attending Mehmet Aksoy's funeral, I saw myself the close ties between our two nations. A Kurd born in Istanbul, he migrated to London as a youngster. He was a leader amongst the British Kurdish diaspora and worked as a press officer for the YPG. He was sadly killed, aged just 32, as the base he was stationed at was attacked. Thousands of Kurds attended his funeral in London with many roads being closed off.
I walked through the crowds on the street to find countless Kurdish security guards, sadly having to turn people away from the overcrowded community centre. As I walked to the  front, I too - looking distinctively non-Kurdish - was told there was no further space for mourners to enter. Though I couldn't speak Kurdish, I opened my coat to show them my metal chain with a pendant of the Tamil Eelam flag. Upon recognition, one of the security guards gave me a warm embrace. Others beamed wide smiles, even in the environment of tragedy. Another man took my hand with the informality of a family member and squeezed me through to the front of the memorial services. Faces of all ages and both genders were marred by tears, some overly zealous for the unacquainted singing spirited Kurdish songs in unison celebrating his life, courage and sacrifice. Staring at the wreaths and messages, tears welled up behind my eyes.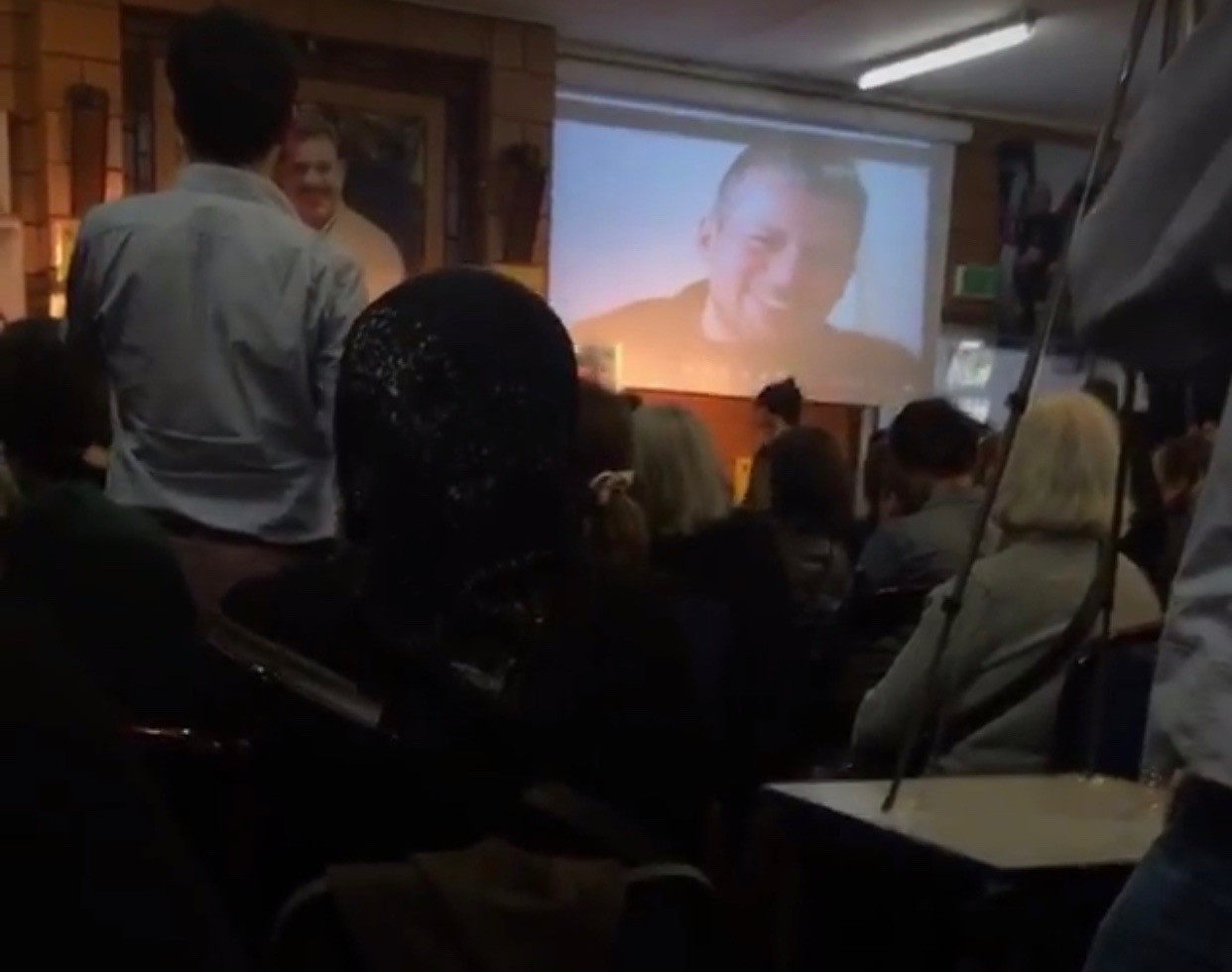 I think back on martyrdom - a concept genuinely understood by communities of unrecognised nations. I closed my eyes and laid the bouquet, a red and yellow cut-out of Eelam on it with a written message thanking Mehmet for his solidarity with the Tamil struggle. This renowned activist stood by Tamil Eelam's people in 2009 and more. He recorded interviews which showed his admiration of the LTTE and the Tamil movement as a whole. His solidarity was unwavering till the very end. His mother, sat at the front, cried defiantly. I bowed and pressed her hands on my forehead. The security guard told her I was a Tamil. She almost violently grasped my head and planted her quivering lips on my forehead. I offered her my silent condolences.
The distinct look of a martyrs' mother is one I have never become accustomed to but have witnessed countless times. From the Tamil mothers I saw at the Thuyillum Ilams in Kilinochchi, to this brave Kurdish mother. They share the same eyes. Eyes of overwhelming sorrow at the loss of their child. But regret cannot be discerned. Instead, pride takes its place, a stubborn affirmation that their child was not martyred in vain. It's a bond the Kurds and Tamils know well. Our distinct ancient tongues may be a crucial factor in our people's identities, but we speak the same language. Liberation.
As the Kurdish nation undergoes yet another threat, us Tamils will always be staunchly against genocide and on the side of the oppressed.