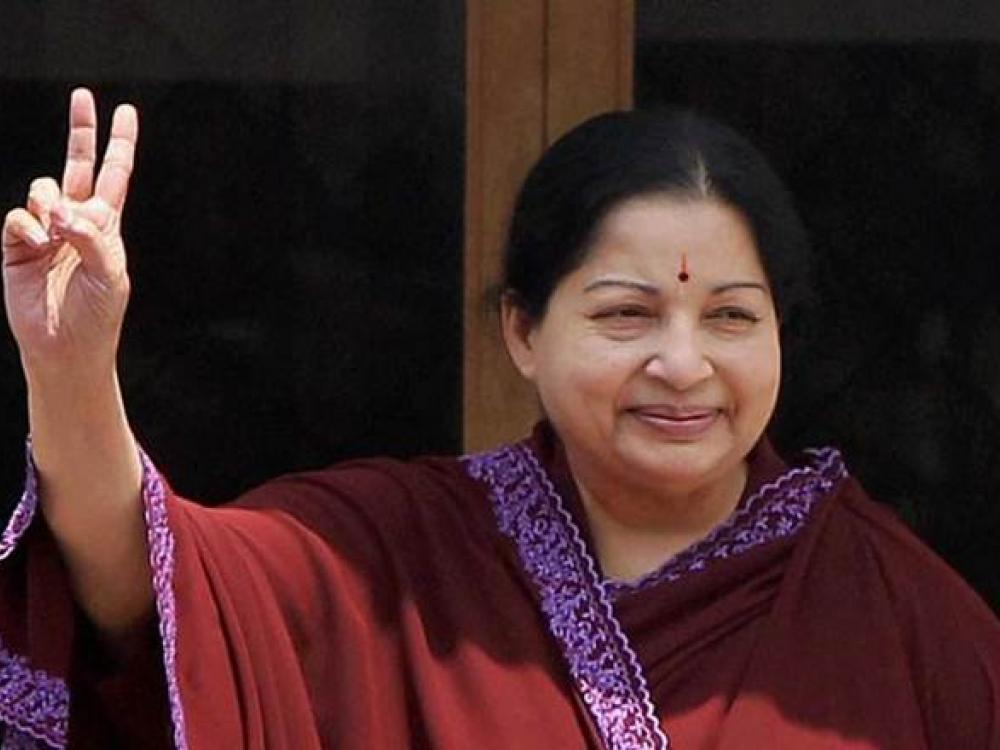 Tamil Nadu's Chief Minister Jayaram Jayalalithaa has passed away on Monday evening, according to officially confirmed reports from both her AIADMK party and the hospital in Chennai where she has been receiving medical treatment.
Following a prolonged hospital admission, Ms Jayalalithaa eventually succumbed to complications after suffering a cardiac arrest on Sunday evening. The influential and popular figure in Tamil Nadu politics was 68 years old.
Thousands of supporters have gathered outside the Apollo Hospital in Chennai, whilst Tamil Nadu police have deployed extra security personnel across the state due to fears of unrest.
Reacting to news of her death, Indian Prime Minister Narendra Modi called her a "source of inspiration" and that he "will always cherish the innumerable occasions when I had the opportunity to interact with Jayalalithaa ji".
"Her demise has left a huge void in Indian politics," he added.
Known as "Amma" – or mother – to her supporters, she has been sworn in as the Chief Minister of Tamil Nadu four times. Her massive election victory on 1991 led to Ms Jayalalithaa becoming the first female, and youngest Chief Minister of Tamil Nadu to serve a full term.
 
Supporting an independent Tamil Eelam
In recent years, Ms Jayalalithaa has been a staunch supporter of the Eelam Tamil cause. Whilst the chief minister had earlier arrested Eelam activists in Tamil Nadu, as the Sri Lankan government launched its massive military offensive against the Tamil people, her stance on the issue began to shift.
In 2009, as India geared up for general elections and with Sri Lankan forces on the rampage in the North-East, Ms Jayalalithaa compared the massacres in Mullivaikkal to the Holocaust and unequivocally declared her support for the formation of an independent Tamil state.
"We will fight to attain that independent, separate Eelam. Till today, I have never said that separate Eelam is the only solution. I have spoken about political solution, this and that. But, now I emphatically say, a separate Eelam is the only permanent solution to the Lankan conflict, "she said.
Her criticism of the Sri Lankan state continued after the end of the armed conflict, as more evidence of the crimes committed by the Sri Lankan military emerged. "No democracy sanctions this sort of summary mass execution, where human dignity is wantonly trampled upon," she said in September 2009.
As mass protests were launched across the state in 2013, Ms Jayalalithaa  led the Tamil Nadu Assembly in adopting a resolution calling for a referendum among Eelam Tamils in the North-East of the island of the Sri Lanka, and those who have fled the conflict, on the formation of an independent state of Tamil Eelam.
Announcing the decision, she said:
"The referendum should be conducted among Tamils in Sri Lanka and other displaced Tamils across the world. A resolution should also be adopted in the UN security council in this regard."
Confronting the Central government
After becoming chief minister once more in 2011, she continued to voice criticism of Colombo's treatment of the Eelam Tamils and frequent attacks on Tamil Nadu fishermen, as well as the Indian central government's lack of action on the issue.
Accusing the Sri Lankan government of genocide, she wrote several letters to the Indian Prime Minister, as well as handing official memorandums, calling on him "to take necessary measures to bring to book those in Sri Lanka who had perpetrated the genocide on innocent Tamils in Sri Lanka".
The chief minister did not shy away from confronting the Centre, speaking out against military training for Sri Lankan troops and stating that "it is regrettable that India, instead of leaping like a tiger is cowering like a mouse before the Sri Lankan government".
India must act "as a leader of the region and as a champion of human rights" she told Prime Minister Manmohan Singh, saying it cannot remain a "passive bystander" on Sri Lanka.
"It is very important that Sri Lanka is held to account on this occasion and India plays a crucial role in this regard, given not only the deep and widespread sentiment prevailing amongst all sections of Society and shades of political opinion in Tamil Nadu, but also the need to establish India as a global leader standing up for democracy and human rights."
She went on to add that Tamils across the world were "outraged and incensed over the impunity with which the Sri Lankan government was ignoring international sentiments and binding resolutions relating to reconciliation and rehabilitation and the ongoing gross human rights abuses against Lankan Tamils."
The chief minister's criticism of the Central government led to her boycotting the swearing in ceremony of the Prime Minister Narendra Modi, after it emerged the then Sri Lankan President Mahinda Rajapaksa would be in attendance.
Indeed, the chief minister felt the Eelam Tamil issue was important enough to be raised with the United States, discussing it with then US Secretary of State Hillary Clinton, as she visited Chennai in 2011. After their meeting, Ms Clinton spoke of how Tamil Nadu's capital was an example of how much society can achieve when all citizens fully join their country's political and economic life.
"There is no better place to speak about Asia Pacific than Chennai, which looks out onto the Bay of Bengal. Indian traders have sailed these waters for thousands of years and their influence can still be seen across the region – in the Tamil influences in the Angkor Wat temples in Cambodia and in the Ganesha gods that guard homes in Indonesia," said Ms Clinton.
"India will have the duty to speak out against human rights violations in Asia… We encourage India not just to look east but also act east."
"India's diverse and democratic system can serve as a model for Sri Lanka. In Chennai and in Tamil Nadu, you can see how much society can achieve when all citizens participate in political and economic life. Every citizen of Sri Lanka deserves the same."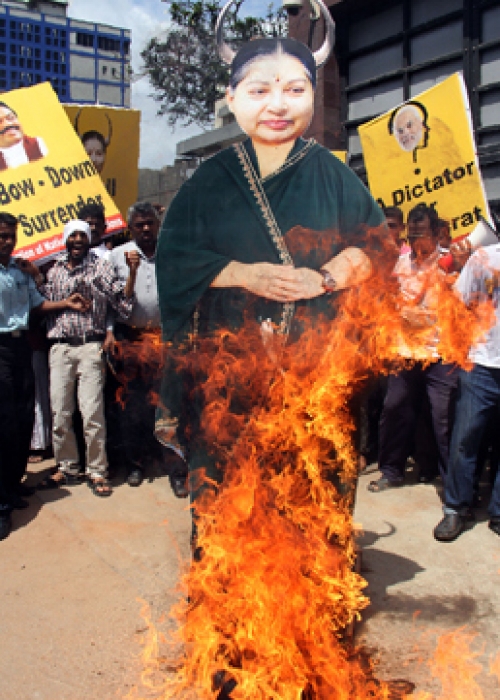 The Sri Lankan response
The Sri Lankan government lashed out in response to her firm stances, stating that the chief minister had made "wild allegations" against Colombo.
Sri Lankan officials went on to express relief following Hillary Clinton's hour-long meeting with Ms Jayalalithaa that the discussion around the island yielded only "lukewarm remarks" from the Secretary of State.
Protests against the chief minister took place in the south though, where Ms Jayalalithaa was decried as a "liar" and effigies of her were burnt by Sinhala nationalists.
Though Colombo did not apologise for the demonstrations, it was later forced to offer an "unqualified apology" to both Ms Jayalalithaa and Indian Prime Minister following a derogatory article posted by Sri Lanka's Ministry of Defence. After publication of the article, which described the chief minister numerous communications to the Indian Prime Minister on Sri Lanka as "love letters", there was widespread outrage in India. Both the upper and lower houses of parliament had proceedings adjourned, Indian ministers condemned the article whilst celebrities from the Tamil film industry staged a protest outside the Sri Lankan Consulate - a testament to her widespread influence. 
 
A growing popularity
Criticism from Colombo though only added to her standing in Tamil Nadu, where she was a fiercely popular figure. Her passing of a resolution calling for an investigation in Sri Lanka was widely hailed, even from long-time political rival DMK leader M Karunanidhi.
With her burgeoning popularity, in 2014 the AIADMK won an unprecedented 37 out of 39 seats in the state of Tamil Nadu, enough to allow the party to become the third-largest in India's parliament. The official party manifesto had called for a referendum to establish Tamil Eelam.
Ms Jayalalithaa speaking on her party's election pledge of working towards a separate state of Tamil Eelam.
In 2016, she became the Chief Minister of Tamil Nadu for the second term running, becoming the first since M. G. Ramachandran, to do so. The Chief Minister of the Northern Province C V Wigneswaran congratulated her on the election victory and stated that he looked "forward to seeing her assist the Eelam Tamil struggle".
Earlier this year she reiterated her commitment to Tamil Eelam, stating her party "will take steps for creation of separate Tamil Eelam for Sri Lankan Tamils where they can live an independent and respectable life". She went on to reiterate her call for an investigation into the genocide of Tamils as well as the establishment of a referendum on independence.
"I have continuously demanded an independent international investigation on the people who committed genocide," she told crowds.