25 November 2017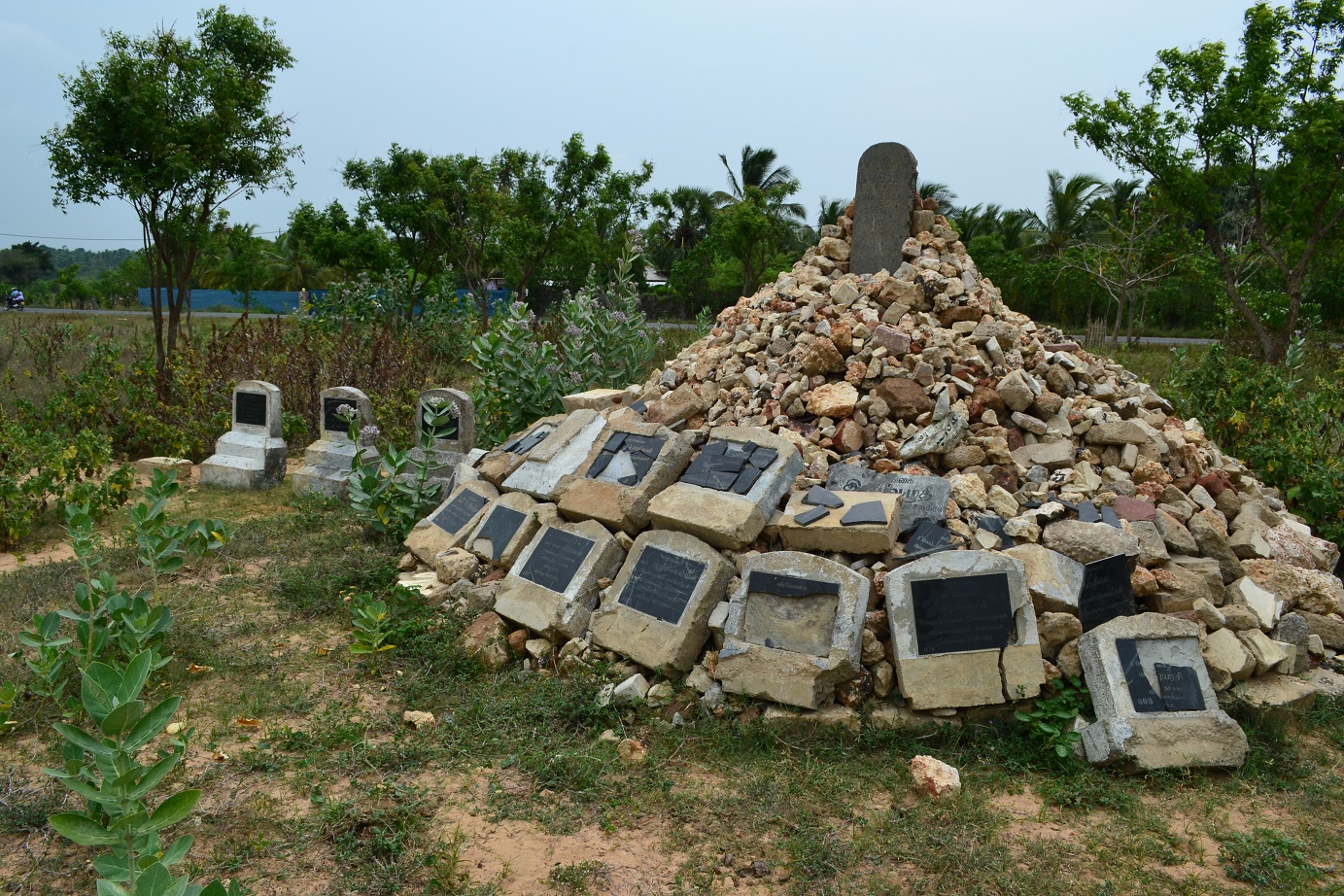 Photograph: A Thuyilum Illam in Kanagapuram, Kilinochchi earlier this year.
- Thusiyan Nandakumar, Jaffna.
As the sun began to set over the Vanni last November, thousands of locals stood before the crumbled remains of gravestones at an LTTE cemetery in Kilinochchi. The graves had been bulldozed by the Sri Lankan military years before. Few had ventured to the site since, fearful of reprisals from security forces. But last year, with the military seemingly restrained, residents of the town cleared the rubble and constructed a makeshift monument with the remains.
At 18:05 precisely, they lit lamps and played a song in remembrance of those buried there. It marked the first time since the brutal end of the armed conflict on the island that Tamils had gathered to publicly mark Heroes' Day – or Maaveerar Naal.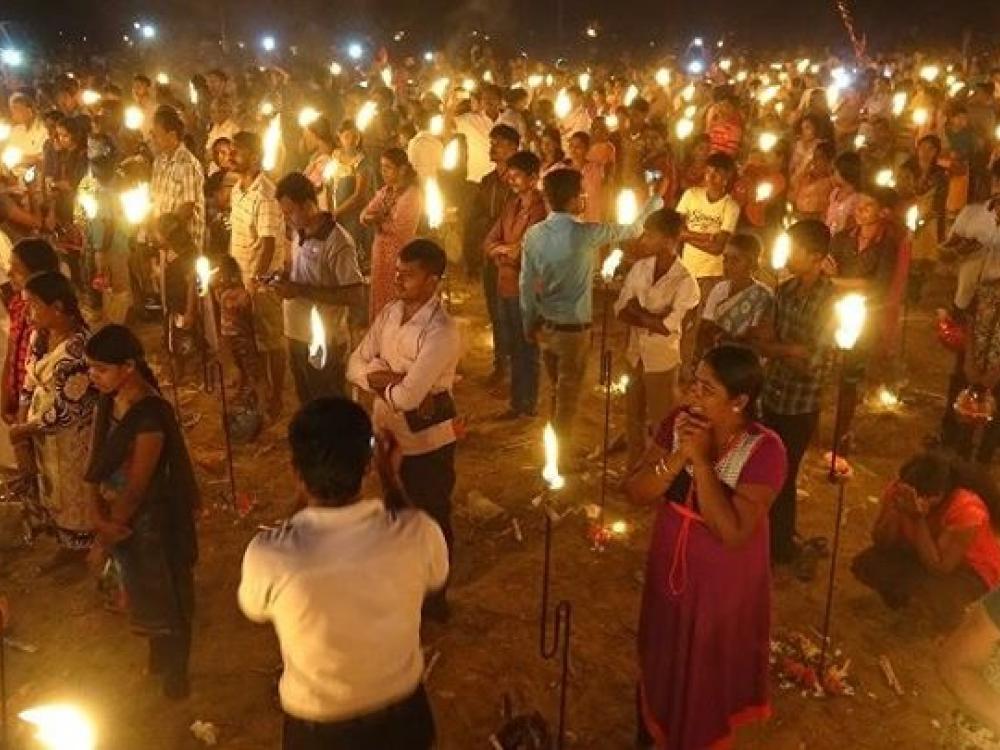 The site where locals flocked to last year in Kanagapuram, once housed thousands of graves. It was one of at least 27 Maaveerar Thuyilum Illam – Heroes' Resting Places – that were constructed by the LTTE for their fighters. These vast war cemeteries were first laid out in the early 1990's as the organisation began the practice of formally observing a day in remembrance of its war dead. The Thuyilum Illam were elaborately constructed with intricately decorated cenotaphs and tombstones laid down.
"It took as at least 6 months to construct the Thuyilum Illam in Chaaty," recalls Siva*, a Jaffna local who was part of the construction team. "The designs were all specially created," he adds. He was particularly proud of the towering archway that once stood at the entrance, painted a bright red and yellow. Hundreds of fighters must have been buried there, he mused.
But as Sri Lankan military offensives captured territory from the LTTE, security forces bulldozed the cemeteries they came across. In 1995, after the Sri Lankan army wrested control of Jaffna for instance, three cemeteries, Koppay, Kodikamam and Ellaankulam were destroyed. The ceasefire agreement of 2002 provided some respite in hostilities, which allowed the reconstruction of sites such as Koppay.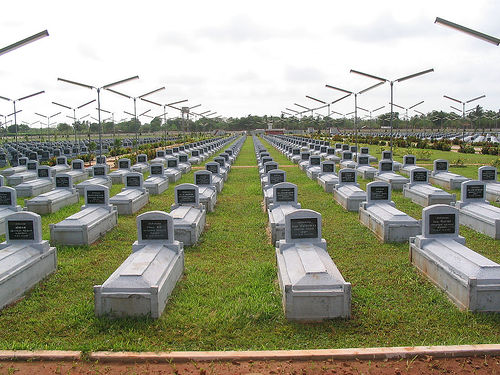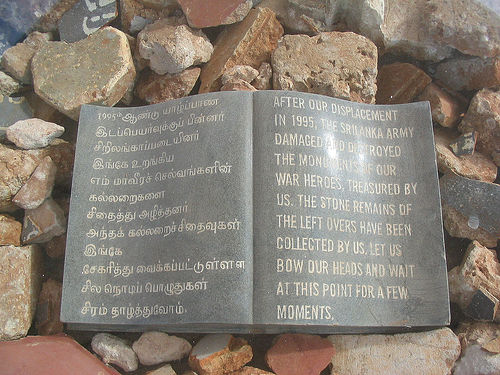 Photographs: (Above right) Crowds gather at a cemetery in Kilinochchi to mark Maaveerar Naal last year. (Above) The Koppay Thuyilum Illam with a monument to commemorate its reconstruction, before it was once again destroyed.
"We saw them as temples," said Theepan* a community activist involved in organising this year's commemorations. They were meticulously maintained with workers diligently ensuring the cemeteries were kept spotless. Even curious Sinhala tourists used to visit, he adds, marvelling at the architecture and the reverence the sites were shown. On November 27th every year, lamps were lit and thousands of Tamils gathered to shed tears, to mourn and remember their war dead. It was and remains a sobering moment of reflection for the Tamil people, where the losses of war would be laid bare before them.
But after the military defeat of the LTTE in 2009, the cemeteries were razed to the ground once more. There was no public declaration. Instead the military, in a seemingly co-ordinated effort, destroyed every cemetery across the North-East. Today, not a single site remains standing.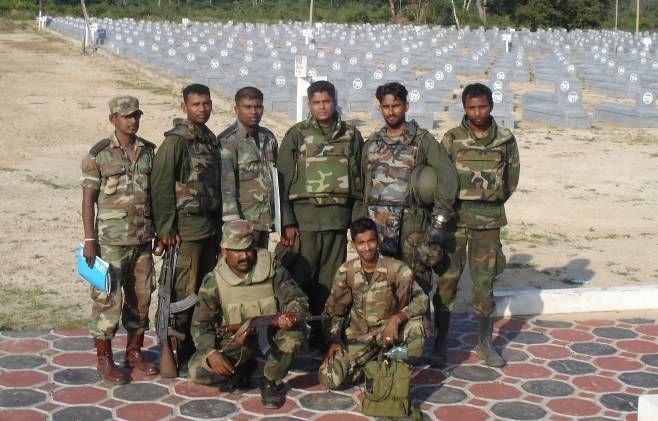 Photograph: Members of the Sri Lankam army's Sinha Regiment pose at the Thuyilum Illam in Visavamadu in 2009. The cemetery was destroyed shortly afterwards and a military base now encroaches it. Locals still  do not have access to the site.
"It pains me to see it this way," says Siva, staring at the remains of the Chaaty archway he once constructed. It lays opposite the Thuyilum Illam, hauled across the road from where it once stood. The paint has worn and the designs faded. It has been smashed to pieces. "They must have used a bulldozer or maybe a tank," he remarks.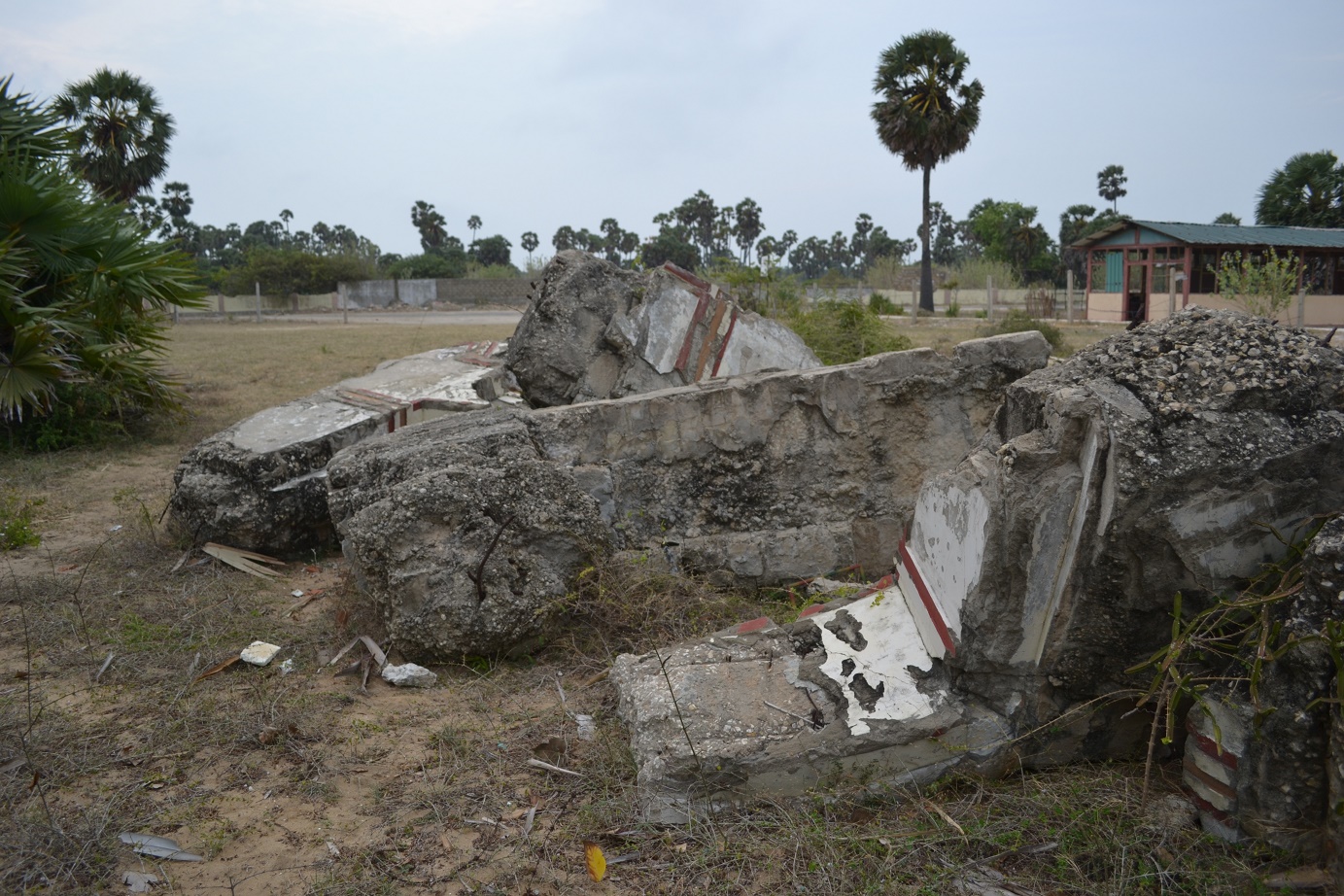 Photograph: The destroyed archway of the Chaaty Thuyilum Illam.. 
Since the destruction, the sites have remained derelict. Some, such as the cemetery in Koppay, where at least 2,000 LTTE cadres are reported to have been buried, have been paved over. The Sri Lankan military's 51 Division base now stands on top of it. The military seems to have done the same to other sites across the North-East, claimed Batticaloa MP Gnanamuttu Srinesan in an interview last year.
"In Gandhiyady a Maaveerar cemetery has been taken over by the Special Task Force to put up their camp," said the Tamil National Alliance politician. "Leave aside the LTTE, it is generally a cemetery and it should be given due respect, instead it is being trampled on and not maintained. We don't do the same thing in other cemeteries. It is place where bodies are buried and as humans we must give respect."
"The army that had encroached on the LTTE cemeteries are standing there with shoes over the faces of our children who lie buried there," said fellow TNA parliamentarian Sritharan earlier this year. "How can we ever consider rapprochement while the army stands over the faces of our children with their shoes?"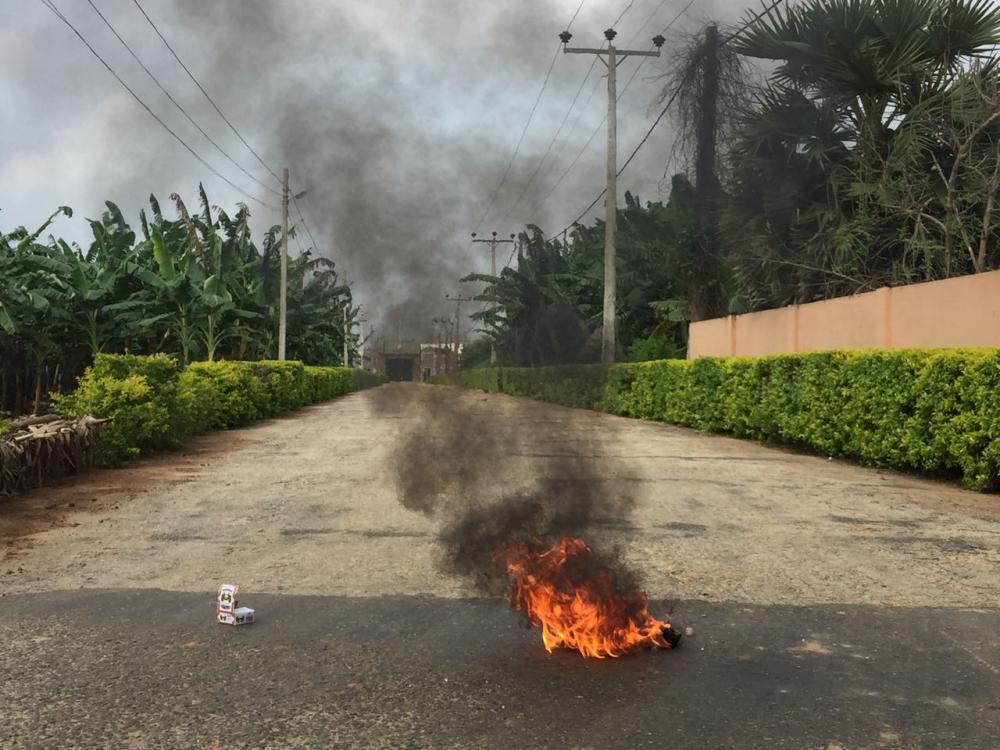 Photograph: A flame was lit outside the Sri Lankan Army's 51 Division base in Jaffna on Maaveerar Naal last year, which is built on top of the Koppay Thuyilum Illam.
Though for years, remembrance events had to be conducted in secret, last year marked a change. No official declaration was made, but the Sri Lankan military largely steered clear from obstructing commemorations. "People were still a bit scared," says Selvan* a senior Jaffna based journalist, given the state's history of brutally clamping down on remembrance events. "Those same problems still exist," he continues. "Police arrests and everything else. But the people are now emboldened."
Over the last few weeks, dozens of people have ventured to the Thuyilum Illams planted across the North-East to clear up the cemeteries and gather pieces of tombstones. They have used a range of tools from excavators to their bare hands. Former LTTE members, families of those killed and local residents have all been involved in the clearing and subsequent commemorative activities that have taken place in every district. Theepan who organised some of these groups says there are plans underway to restore the cemeteries back to their former condition.
| | |
| --- | --- |
| |   |
| Photograph:  Clearing work takes place at cemeteries in the East. |   |
"We are gathering the names of all the Maaveerar buried in each grave in each Thuyilum Illam," he says, as a team behind him are busy working away at designing banners and posters to mark the occasion. His phone buzzes, as he hurriedly makes preparations, including arranging free buses to transport people to the cemeteries on Monday. Thousands are expected. Plans are already underway to restore other destroyed monuments constructed in remembrance of fallen LTTE fighters."The government haven't told us we can remember Maaveerar Naal but they haven't said we cannot either," he quips.
Offers of financial support have come from political parties, but this renewed surge of activity comes from the community, he adds. Various pledges have been made by the Northern Provincial Council and district committees, to restore the cemeteries and other monuments but little work has actually commenced.
In any case, Theepan stressed that restoration work had to commence as soon as possible, before any more destruction was to take place. People such as himself had organised across the North-East, he added. "This is the work of the people only," he says. "We don't want any political parties behind us."
Yet despite renewed energies and efforts to commemorate Maaveerar Naal, the last few weeks have seen a visible step up of police presence in the North who have openly stated the increase is timed to coincide with the date. The notorious Special Task Force has also ramped up patrols in the peninsula, which authorities claim is due to increased gang violence. The claim has little traction amongst locals. Many remain sceptical that remembrance events can take place without hindrance, with some Thuyilim Illam clear ups already having been prevented. "There is still a fear amongst the people that if photos are taken they may be used against them later," says Selvan. "Later, meaning if there is a change of government," he adds, noting that similar tactics have been used by security forces in the past.
Earlier this year, for another important day of remembrance for the Tamil population on May 18th, police actively stopped a memorial for those who died during the last phase of the conflict and even obtained a court order to that effect. In response, Sri Lanka's own Human Rights Commission reminded the President of the right to memorialise one's loved ones, "irrespective of political beliefs", but the court case continues to date. That sentiment was echoed in a July report by the International Crisis Group. It called on the Sri Lankan state to "acknowledge and facilitate" the right of everyone to be able to remember their war dead, including the family of former LTTE members. "For them, the destruction of the burial sites is an insult to those they consider war heroes, and worse, leaves them with no public place to grieve," it adds.
"External constraints on commemoration only exacerbate divisions and contribute to further tensions," stated PEARL in a report examining memorialisation in the North-East. "And the restrictions on discussing the LTTE make it harder for Tamils to openly engage with the history of the armed struggle -- a prerequisite for critical introspection."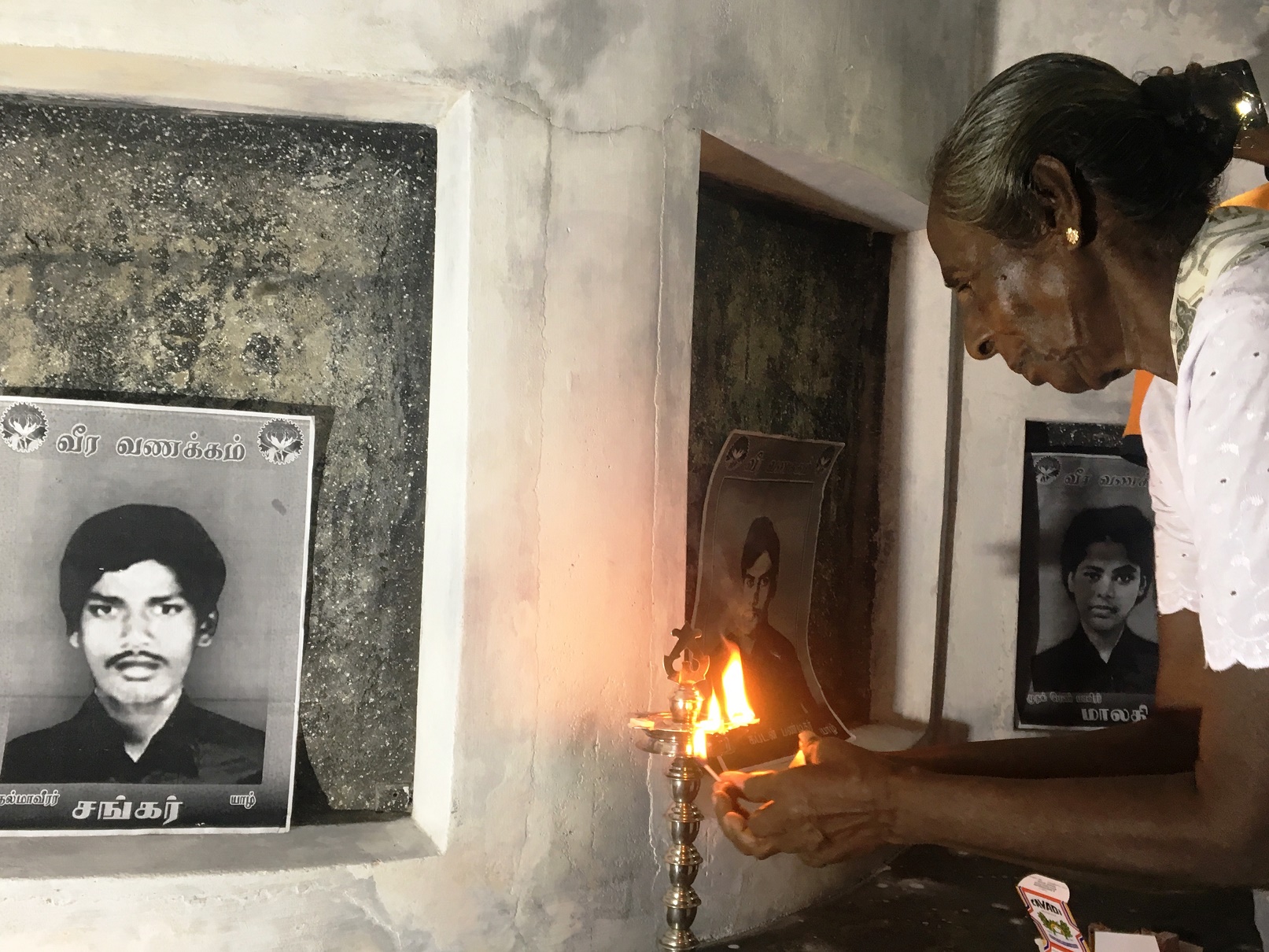 Photograph: Ms Maheswary lights a flame on Tuesday. 
On Tuesday, a crowd gathered at a monument in Valvettithurai to mark the start of a week of remembrance leading up to November 27th. There were only a dozen or so people last year. This time there were almost 100. Sinnththurai Maheswary, the mother of Captain Pandithar, told the crowd that they would no longer be scared to hold memorials for their children after she lit a lamp in front of a black and white printed portrait of her son.
"No matter what anyone does, we won't be afraid to remember our children," she said.
Watching a short distance away was a Sri Lankan police jeep.
-----
* Interviewees names have been changed on request.
 
We need your support
Sri Lanka is one of the most dangerous places in the world to be a journalist. Tamil journalists are particularly at threat, with at least 41 media workers known to have been killed by the Sri Lankan state or its paramilitaries during and after the armed conflict.
Despite the risks, our team on the ground remain committed to providing detailed and accurate reporting of developments in the Tamil homeland, across the island and around the world, as well as providing expert analysis and insight from the Tamil point of view
We need your support in keeping our journalism going. Support our work today.
For more ways to donate visit https://donate.tamilguardian.com.