29 July 2017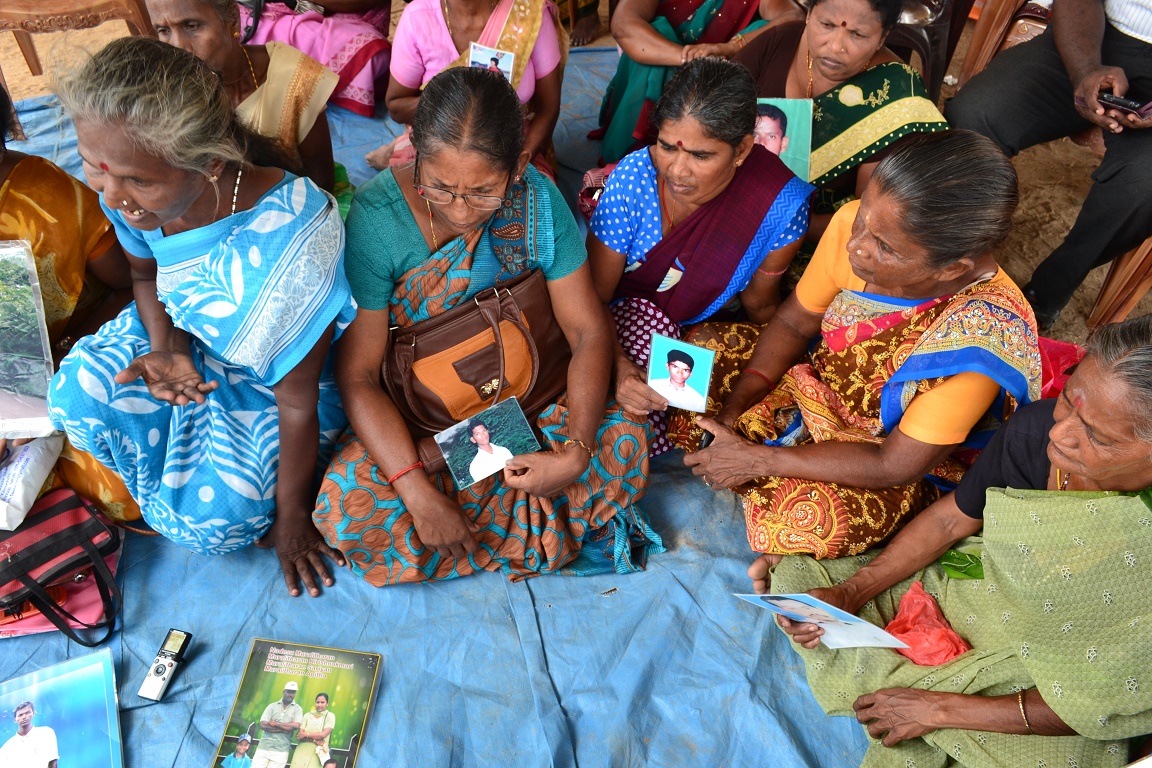 File photograph: Mothers of the disappeared in Kilinochchi earlier this year
The Sri Lankan government has marginalised Tamil women in shaping transitional justice policies and has failed to deliver on promises to the UN Human Rights Council, writes the International Crisis Group (ICG) in a report released earlier today.
Stating that "Tamil speaking women in the north and east have arguably been more affected by the conflict and its aftermath than any other group in Sri Lanka," the ICG praised them for braving "a powerful military and an authoritarian government to press for truth and accountability".
Yet despite their activism, which "helped bring transitional justice issues onto the domestic and international agenda", these women have been marginalised said the ICG.
Listing a range of issues the report stated,
"The legacy of war continues to impose hardships, particularly on conflict-affected women: lack of information on missing relatives, displacement from their land, economic deprivation, psychological trauma, vulnerability to sexual violence and exploitation, plus a militarised environment that reinforces much of the above."
It went on to conclude,
"Addressing the specific needs of conflict-affected women and involving them more fully in the design and implementation of transitional justice programs are essential steps, both for reducing the rising tension in the north and east and for restoring hope that the political transition promised in 2015 can still be realised."
Read the full text of the report here.
Sri Lanka's failure to deliver

The report criticised the Sri Lankan government for its failure to deliver on "bold promises… to the United Nations Human Rights Council in 2015".
"The government is unwilling or unable to overcome the political and administrative obstacles that stymie progress on the reparations office, truth and reconciliation commission and special court," it added.
"Faced with widely held Sinhala nationalist beliefs, which were strengthened by the military victory over the LTTE, the government has side-lined the UNHRC agenda, treating it principally as a way to win international approval and buy time for the economic reforms it deems more important."
The ICG named Sri Lankan President Maithripala Sirisena in particular for failing to defend transitional justice policies. Mr Sirisena has repeatedly spoken out against an international accountability mechanism since he came into power in January 2015 and denied allegations of war crimes.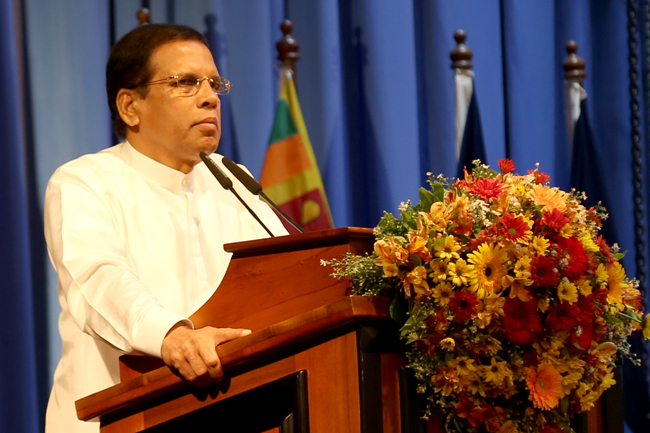 Sri Lankan President Sirisena at a speech earlier this month where he vowed to "protect war heroes".
"Rather than respond by defending transitional justice, President Sirisena has praised the military in increasingly strong terms, promising to protect its members from prosecution," said the ICG.
His latest such statement came just weeks ago, where he said his government would protect Sri Lankan soldiers and the "freedom earned for the country" by the military, in a speech at Temple Trees.
Continuing insecurity – psychological, economical, physical
Noting that there are reports of some 90,000 widows in the North-East, not including wives of the disappeared, the ICG stated that insecurity remained rampant.
"The repercussions of war are clearly visible in Tamil society in the north and the east: rates of alcoholism, drug use, suicide, domestic and societal violence have increased significantly over the past eight years," said the report.
"All the women interviewed for this report were suffering from trauma," it continued. "When they spoke in detail during Crisis Group interviews, women's emotional pain was obvious and intense."
Meanwhile, economic insecurity continued with limited job opportunities available. "Men and women suspected of having been LTTE cadres have the hardest time finding jobs; potential employers fear increased police and military scrutiny if they hire them," said the report.
The report went on to state,
"One activist priest argues that keeping women in poverty is "one of the strategies used by the government to distract people from demanding justice. When I am hungry I am not going to ask about justice"."
Military occupation of land, destruction and debt have also left many women with little. A report earlier this month a report by The Hindu examined how microfinance loans with soaring interest rates have left the community in Batticaloa trapped in a cycle of debt. Women in particular have been targeted by microfinance companies – and subsequently face notoriously aggressive recovery agents hounding them for repayments.
In 2013, voluntary organisations in Batticaloa accused microcredit lenders of sexually harassing vulnerable female borrowers. Lending officials reportedly harass women for sexual bribes when they struggled with repayments.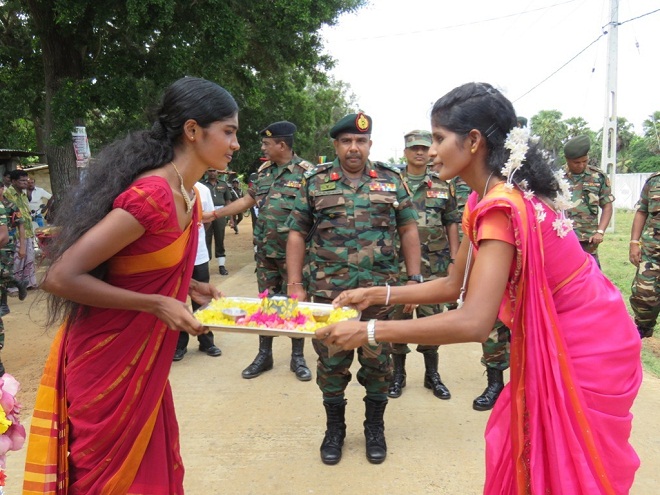 File photograph: The Sri Lankan army handed out basic supplies to pregnant Tamil women, at a military ceremony in Kilinochchi last month. Crisis Group says Tamil women are operating in a context made insecure by the continued presence of the Sinhalese military.
"Tens of thousands of war widows and wives of the missing have been forced to become heads of household and primary income earners, leaving behind traditional domestic roles and entering the public realm to engage politically, economically and socially," said the Crisis Group. "They do this in a highly patriarchal context regulated by rigid cultural and social practices, and made insecure by the continued presence of the Sinhalese military."
Sexual exploitation and physical insecurity were also reported on by the ICG, who stated that there was "routine exploitation by men in a range of positions: state officials, non-governmental organisation (NGO) staff, workers and military personnel".
"Justice for sexual and gender crimes is rare: few cases are prosecuted, especially if the alleged perpetrator is in the security services, and even fewer end with convictions."
Sexual violence against Tamils has continued into 2017 found the International Truth and Justice Project's (ITJP) latest report released earlier this month, with little hope of perpetrators being brought to justice.
The insecurity that Tamil women feel now "contrasts starkly with the level of security women felt when they lived under the rule of the LTTE, which had strictly enforced prohibitions against sexual abuse," added the report.
"Nearly every woman interviewed for this research spoke with regret of no longer being free to walk safely at night, expressing contempt for social behaviours, such as the casual harassment of women, which they found degrading and disrespectful."
The justice process
 "Since 2009, Tamil women in the north and east have led the national quest for truth and justice, particularly for enforced disappearances," said the ICG, yet many have been left "marginalised".
File photograph: Mothers of the disappeared met with
Mr
Sirisena in Jaffna last month. He pledged to issue directives to the National Security Council the following day to release lists of
surrendees
, detainees, and political prisoners. No such lists have since been released.
"Conflict-affected women were also critical to the emergence of the current transitional justice process… Their evidence informed key UN reports and advocacy at the UNHRC, showing that human rights violations continued despite the end of the war and helping to build the case for an international investigation."
Whilst government mandated mechanisms have female staff "they are for the most part Colombo-based and English- or Sinhalese-speaking. In the north and east, they are perceived as disconnected," said the ICG. "Even the Tamil National Alliance (TNA), which says it supports truth and accountability, has generally given little attention to these issues, despite having the most MPs from conflict-affected areas."
"The lack of tangible process on many of their central concerns has disillusioned and angered victims, families and activists," it continued, noting that protests over enforced disappearances in multiple locations across the North-East have become the longest running and best known.
However, these women still face intimidation from the Sri Lankan state.
"The government has responded to the protests with a combination of disdain, reluctant and partial engagement, and intimidating surveillance… Police and military intelligence regularly photograph or video activists and their supporters, warning them to stop protesting."
The neglected gap

Crisis Group went on to state that there was "an unsurprising, though often neglected, gap between conceptions of transitional justice among conflict-affected women and in the national and international discourse".
"In any truth-seeking mechanism, [the government] has to accept that this was strategically planned and executed against the Tamil people", a Kilinochchi woman told the ICG.
When it came to the question of justice for crimes committed by the military and government, the women "made clear that international involvement was needed for any judicial process to be fair and effective".
The women also identified the LTTE as "guilty of abuses" but "few were critical of the militants" said Crisis Group. Even former combatants said they "benefited from being part of the group, even when fighting had left them with permanent physical impairments".
Though there was "bitterness and anger" amongst those whose children had been forcibly recruited, Crisis Group went on to state,
"The Tamil nationalist cause, however, commands such loyalty, and the state has been seen as so hostile to ordinary Tamils, that despite acknowledging the LTTE's abuses, most women did not want former Tigers to be punished as harshly as the government and military."

"For women with relatives who were in the LTTE, the prospect of prosecuting its members was especially painful. Many said the LTTE had no choice but to do what it did in the final months of fighting. In Kilinochchi, the LTTE's former de facto capital, most women Crisis Group interviewed still identified with the movement and said its members had done nothing to deserve punishment."
ICG also highlighted, in particular, the need for justice for sexual crimes. "As a violation of international law and a war crime, at least some cases of sexual violence will need to be addressed by the proposed special accountability court," it said.
Memorialisation
The report called on the Sri Lankan state to "acknowledge and facilitate" the right of everyone to be able to remember their war dead, including the family of former LTTE members.
"After the war, the military destroyed all LTTE war memorials, including gravesites of cadres, and replaced them with large victory monuments," it said.  Some of LTTE cemeteries have also had army camps constructed over them.
Whilst "most Sinhalese and many Muslims" supported this, for Tamils it was different. "In the Vanni, however, nearly every family had someone in the LTTE. For them, the destruction of the burial sites is an insult to those they consider war heroes, and worse, leaves them with no public place to grieve."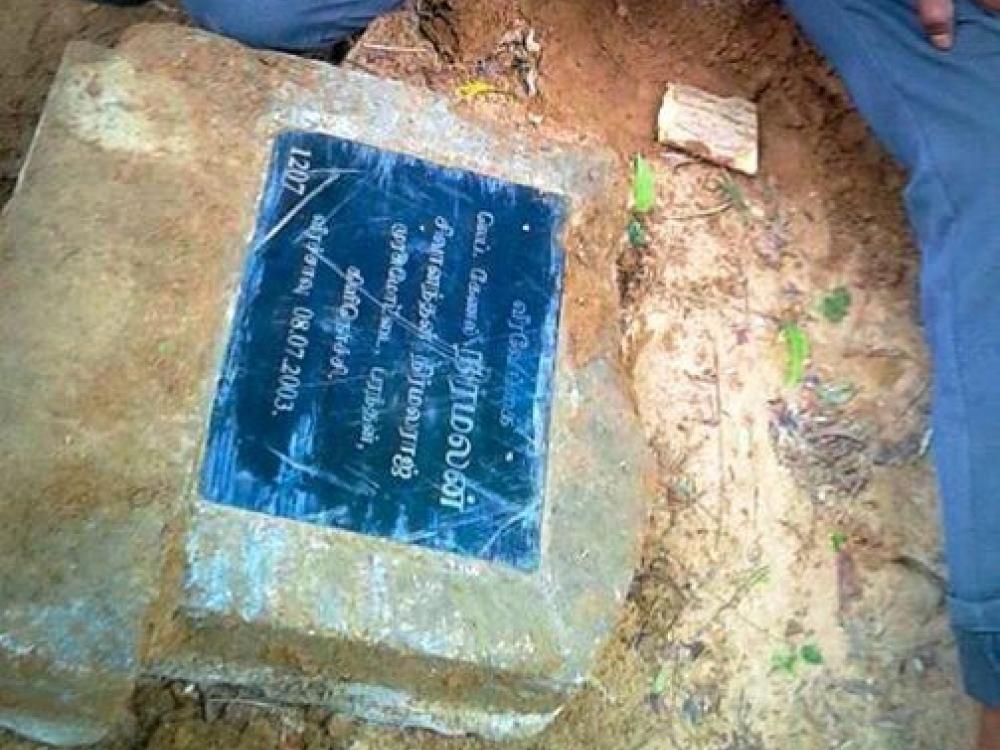 File photograph: The destroyed grave of an LTTE fighter at a cemetery in Kilinochchi
Muslim women
"The experience of Muslim women in the north and east has been very different from that of Tamil women," noted the ICG, stating that "Muslim distrust of both the state and the Tamils runs high".
Recent weeks have seen tensions escalate in the North-East as hundreds of Tamils protested in Mullaitivu against Sri Lankan state-organised resettlement schemes for Muslims that that locals say are intended to alter the ethno-demography of the area and destroy hundreds of acres of forest planted and preserved by the LTTE and three Muslim men were arrested later that week following an attack on a Catholic shrine in Mannar.
"For Muslim women, truth seeking means above all acknowledgement of their suffering," read the report. "They want perpetrators to admit what they did, the violations to be publicised, and the government – and international actors – to recognise publicly their failure either to protect them or facilitate their return home."
Growing threadbare
Crisis Group concluding by calling on international donors "to examine their own programming critically… to avoid repeating the failures of past programming".
"The UN and donors should review their Peacebuilding Priority Plan to respond better to the current, more difficult political context and to new government programs," it continued.
The Sri Lankan government must also "directly engage women and other survivors, rather than relying on intermediaries or ignoring grassroots opinions".
International donors could also help in this regard by "providing financial support to community- and district-level women's groups, including female members of the zonal task forces, all of whom constitute a vital social resource".
The report concluded by stating,
"The past two years have seen the government's promises of a comprehensive transitional justice process grow increasingly threadbare. Survivors and victims, who have waited painfully long for justice and relief, are increasingly desperate. To avoid losing this historic opportunity to right past wrongs and build lasting peace, the government must finally start to fulfil its promises, beginning with policies that address the needs of conflict-affected women."
We need your support
Sri Lanka is one of the most dangerous places in the world to be a journalist. Tamil journalists are particularly at threat, with at least 41 media workers known to have been killed by the Sri Lankan state or its paramilitaries during and after the armed conflict.
Despite the risks, our team on the ground remain committed to providing detailed and accurate reporting of developments in the Tamil homeland, across the island and around the world, as well as providing expert analysis and insight from the Tamil point of view
We need your support in keeping our journalism going. Support our work today.
For more ways to donate visit https://donate.tamilguardian.com.