20 June 2020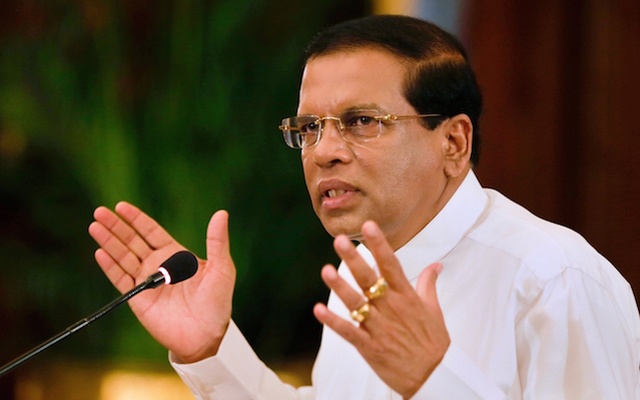 During an interview with BBC Sinhala, Sri Lanka's former President, Maithripala Sirisena, denied responsibility for the Easter Sunday bombing which left over 250 people killed.
According to a Sri Lankan parliamentary select committee report, the country's security forces were given intelligence that showed that an attack was due to take place on Easter Sunday but may have permitted it to 'create chaos and instil fear' ahead of presidential elections. That election led to the victory of Gotabaya Rajapaksa who blamed the previous government, stating that they 'diluted the service' and must be held responsible. He has since gone on to increasingly militarise the island and established a presidential task forces with a worryingly broad mandate.
When questioned by the BBC journalist, Sirisena lashed out asking;
'if I had known about it, would I have allowed it to happen?'
He further denied responsibility stating:
'Why should I accept responsibility for the Easter attacks? Responsibility should be taken by those responsible'.
Sirisena further denied responsibility claiming that:
'The president doesn't go to apprehend moonshiners or rapists or drug peddlers or terrorists himself. The president's role is in policy, planning, issuing directives and advice – [interruption] – the president carried out those duties properly. It's the people downward that didn't [carry out their duties].'
Sirisena maintains that those responsible for the attack have been suspended and their cases are being heard in court. Hemasiri Fernando, the then Secretary to the Ministry of Defence, and Pujith Jayasundara, the Inspector General of Police, were arrested last September on the charge that they did not act to prevent the attack.
The BBC journalist asked Sirisena if he would express regret, noting that in similar situations ministers and high-ranking officials have apologised for their conduct and resigned.
Sirisena responded stating;
'To express regret, I had to have known about it beforehand. Why you keep raising this question – I can't fathom why you keep going on about it. If the information hadn't been given even to the security division of either the president or the PM, how could the president or the PM have known?'
Read more from Economy Next.