14 November 2019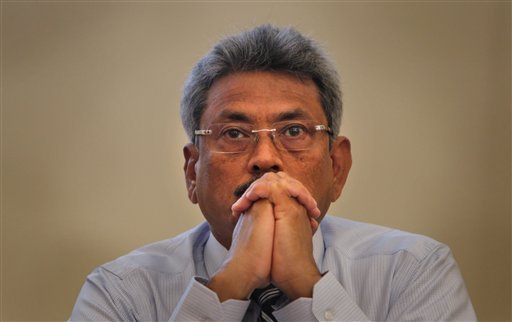 Gotabaya Rajapaksa blamed the incumbent government for the Easter Sunday bombings stating that those who "diluted the intelligence service" must be held responsible. 
These comments were delivered during a rally at Wennapuwa on 12 November, where he blamed rival political motives for a lack of security. During his speech he stated;
"It is unfortunate that political agendas resulted in a country where there is no national security".
He has based much of his campaign on the promise that he will be able to deliver national security. 
Gotabaya was the Defence Secretary during the final stages of the armed conflict and has been implicated in the deaths of an estimated 40,000 Tamil civilians; as well as the enforced disappearance of journalists; and, the routine use of torture and sexual violence.
This statement follows a report by Sri Lanka's parliamentary select committee which warns that Sri Lanka's security forces received intelligence that an attack was due to take place on Easter Sunday but may have allowed it to proceed in order to "create chaos and instil fear" ahead of presidential elections.
Concerns have been further raised by Gotabaya's connections to the NTJ, the Islamist extremist group held responsible for the bomb blasts. Dozens of the organisation's members were on the Sri Lankan intelligence payroll, and one MP claimed that the organisation had been given an office in Colombo by the former defence secretary himself.
Gotabaya has continued to support hardline Buddhist nationalists who have been involved in anti-muslim pogroms. Earlier this month, Ali Sabry, a member of the legal team of Gotabaya's presidential counsel, has reportedly told a Muslim audience that they will need to vote for Gotabaya or may face reprisals.
Read more here: "If we don't support him, what will happen?" - Ali Sabry
Read the Daily Mirror here.