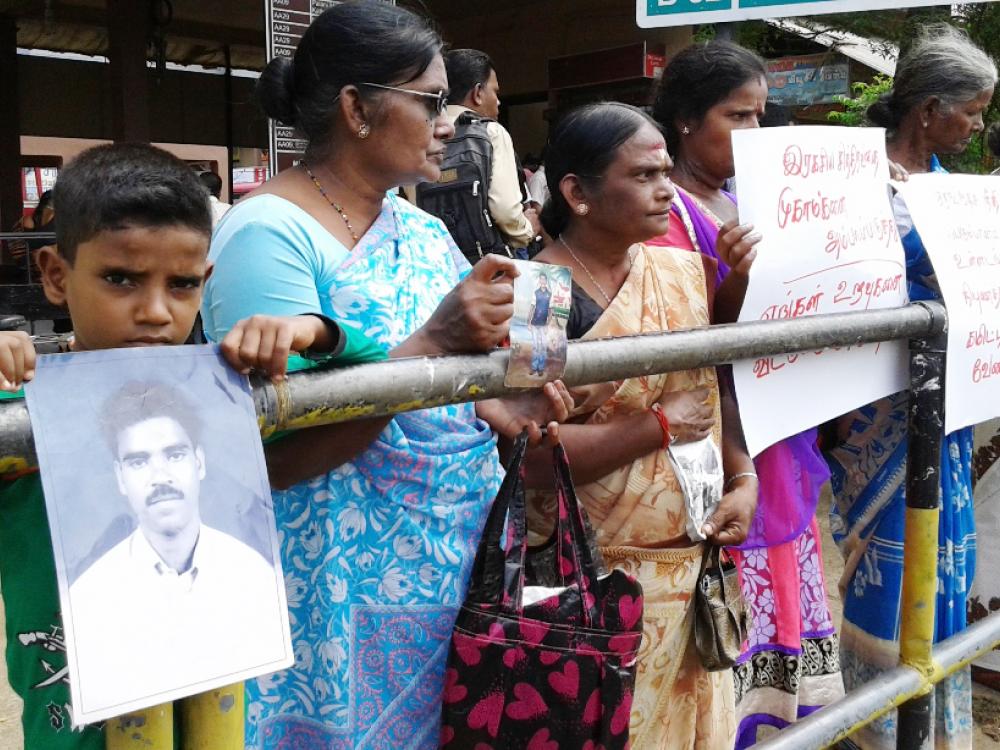 A Tamil child holds a photograph of his missing father at a demonstration in Vavuniya earlier this year. Thousands of  relatives continue to search for their disappeared loved ones.
The wife of a disappeared Tamil human rights activists has appealed to the international community not to forget the victims, in a passionate address to the UN Human Rights Council this week.
Arulvathana Stephen Sunthararaj told the council that,
"The UN staff and member states doesn't seem to recognize these realities and appear to be losing interest in us, families of disappeared".
She spoke of how victims such as her had raised hopes with the presentation of the OISL report, which detailed numerous reports of human rights abuses and led to a resolution being passed at the council calling for an accountability mechanism with international involvement.
However "progress in implementation has been slow and the government appears not to have political will to ensure rights of families of disappeared like me," she said.
Abducted in 2009
Her husband, Stephen Sunthararaj, was the Project Manager of Centre for Human Rights and Development (CHRD) in Colombo. As part of his work he had told the then United States Ambassador in Colombo about prostitution rings run by government aligned paramilitaries in Jaffna, who were trafficking children into sex rings in India and Malaysia with the help of immigration officials.
Sri Lanka's Special Task Force had initially attempted to force Mr Sunthararaj into a white van on February 12 2009, but after police officers witnessed the incident, he was instead arrested under the Prevention of Terrorism Act. After a two-month detention without charge, the father of three was eventually released on May 7 2009. He was abducted by unknown gunmen dressed in army uniforms whilst travelling in his lawyer's car, a few hours after his release.
In December 2009, Sri Lanka's then Permanent Secretary to the Ministry of Foreign Affairs, Palitha Kohana, admitted to US and EU officials that Mr Sunthararaj had probably been arrested by Sri Lankan intelligence officials. Yet, despite repeated efforts by his wife to locate him, he has still not been found, with police officials denying knowledge of his whereabouts. She told The Economist earlier this year that she could identify two if his abductors. She insists he is still alive.
"I got no answers for 7 years," she told the council. "Like me, many other wives, mothers, daughters, sisters are in search of their loved ones. So we have lost faith in government initiated mechanisms."
'Genuine consultations and international experts'
Mechanisms such as the recently passed Office of Missing Persons (OMP) were "rushed through parliament without genuine consultations" with the victims affected by disappearances, Ms Sunthararaj said in her address. "Families fear that it may obstruct our right to criminal justice and reinforce impunity, as it appears to lack linkages to a justice process. We want to make sure the OMP has strong involvement of families of disappeared and international experts."
Her call for international experts echoes that made by the UN Working Group on Enforced Disappearances, who recommended "international judges, prosecutors, lawyers and investigators" to take part in a judicial accountability mechanism for human rights abuses, including disappearances in a report released this week.
Faith in government mechanisms seems belittled with reports of ongoing abductions, allegedly by Sri Lankan security forces. There have been abductions reported in the months before and after Sri Lanka ratified the UN convention on disappearances, claimed Ms Suntharara. Some have been "found in police custody," she added. "Others fate [are] still unknown".
She concluded by calling on the international community to ensure interest in the victims is not lost. A recent visit to the Tamil North-East by UN Secretary General Ban Ki Moon left victims such as Ms Sunthararaj disappointed. "The UN Secretary-General didn't meet us during his visit," she said. "I appeal to you not to abandon us. We need your help."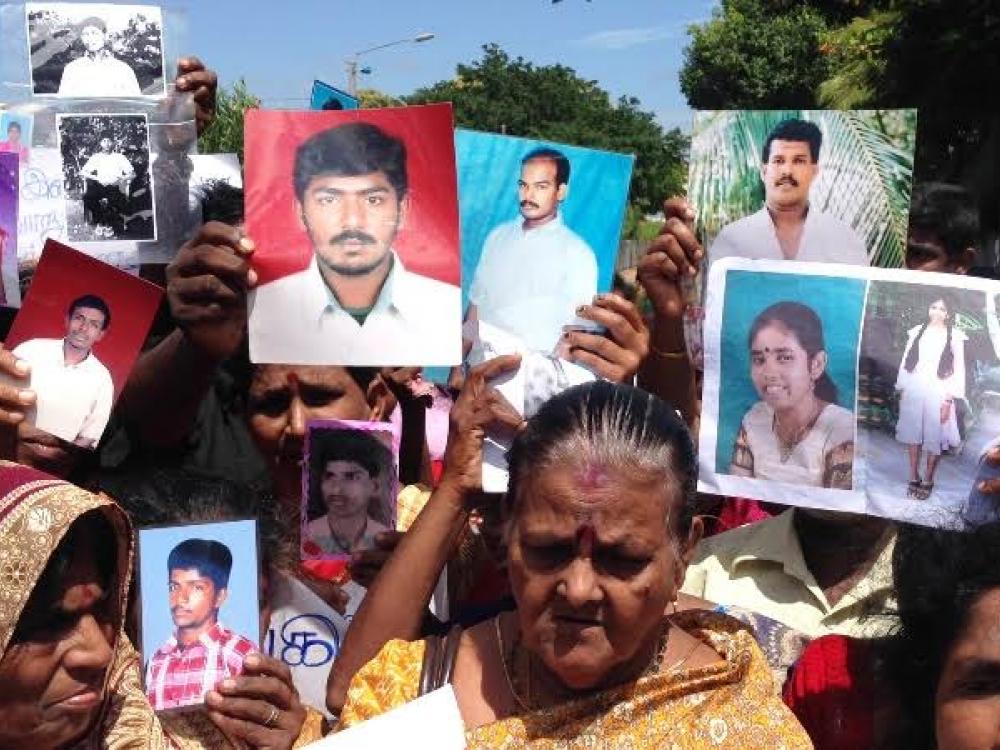 Tamil relatives of the disappeared drawing attention to their plight as UN Secretary-General Ban Ki Moon visited Jaffna earlier this month.
See the full text of her address, on behalf of Forum Asia, here.