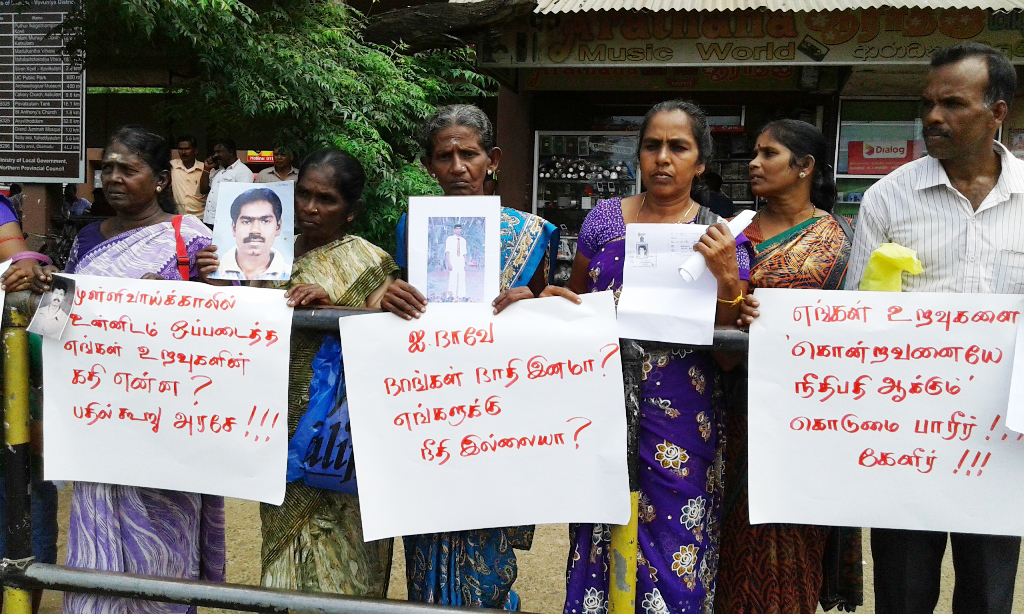 Photographs: Tamil Guardian
Families of the disappeared gathered to protest over the lack of consultation with the victim community in producing the Office of Missing Persons (OMP) bill that gained the confidence of the victims.

In a protest organised by the Forum for Searching Handed, Kidnapped and Forcibly Disappeared Relatives and the Vavuniya District Citizens Team, protesters gathered in front of the town centre accusing Sri Lanka's President of continuing to protect people responsible for abduction.
Protesters expressed further concern at the OMP legislation's failure to address the longstanding issues of inadequate witness protection and win the confidence of the Tamil community.
Placards reiterated  calls for a missing perosns commission that consisted of international experts that were approved by civil society organisations representing the victim community.
Lamenting the lack of consultation with victim communities in setting up the OMP, the Secretary of the Forum for Searching, Handed, Kidnapped and Forcibly Disappeared Relatives, Mrs P Baaleshwari, said,
"We have already emphasised that the OMP offices should only after taking into account the recommendations of the affected families in the North-East. We also requested that we could specify trustworthy people to be involved in the activities of the office that had the confidence of the victim community.

Ms Baaleshwari went on to add that the despite their request, the government went ahead with the setting up of the OMP office and allocated foreign funds to Non-Governmental Organisations (NGOs) that were favourable to the current government, instead of NGOs representing the victim community, stating,
"Without considering any of our reasonable requests, the government chose people to work in the office under a veil of secrecy, giving huge amounts of foreign aid money to civil society organisations that represented them instead of the victim community in the North-East. They are conducting seminars amongst themselves whilst forcibly getting consent of some individual affected people."
The rights activist went on to add that the OMP had fail to outline how it would bring justice to the affected families, ensure the safety of witnesses and  had only mentioned compensation procedures to the victim families. Ms Baaleshwari added,
"The office is not talking about how it will bring justice to the affected people, and instead keeps promising us compensations. Moreover there are no safety measures for the new witnesses who are going to record their statements trusting them. We have seen numerous commissions by Sri Lanka. What have they achieved? Who are the murderers? Who are the torturers?  Who are the abductors?"
Highlighting that torture was ongoing, Ms Baaleshwari, demanded that the government made public the location of the torture camps, and opened up access to them.