26 March 2019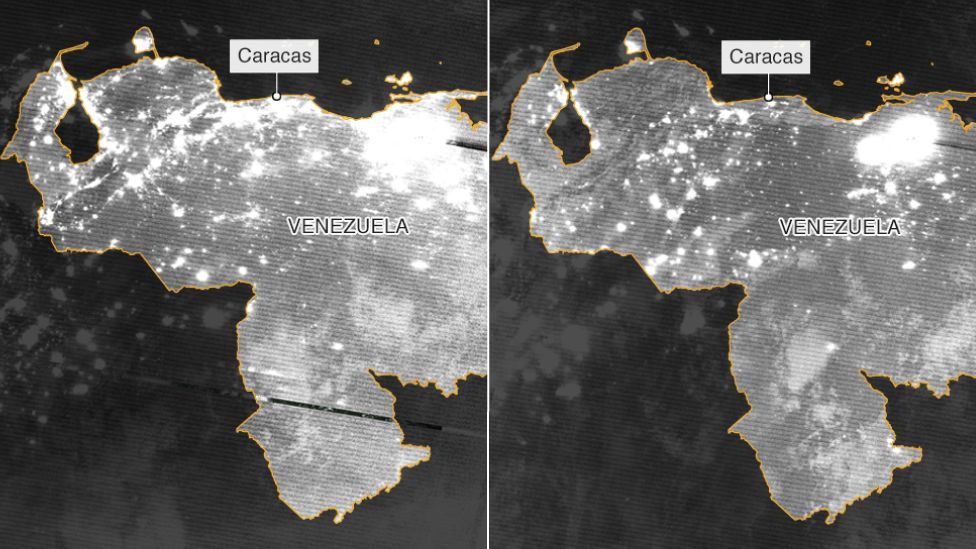 A comparison from satellite imagery showing the blackout from March 7 and March 12 (Photograph: NASA)
Venezuela has been hit by a second blackout this month, leaving 21 out of 23 states, including the capital, Caracas, without power.
The communications minister, Jorge Rodríguez, said in a televised broadcast to the nation, that the power cut was the result of a "brutal" attack on a hydroelectric plant on Monday.
"We will manage to defeat this electricity war against the people of Venezuela," he added.
Without any evidence, his sister, Delcy Rodríguez, the Vice President, blamed sabotage by the "fascist right" and its "imperial masters" in Washington.
Opposition politicians have used the nationwide blackout as further proof that Nicolas Maduro, the Venezuelan Presient, must step down. 
The oppositon leader who is recognised as the interim president, Juan Guaidó, tweeted, "right now we are planning actions to express the indignation of the entire population which will no longer tolerate the trickery of those responsible for the disaster they have turned Venezuela into."
The power outage came two weeks after Venezuela faced the worst power failure in its history.
Many believe that Venezuela's crumbling infrastructure is responsible for the blackouts.
Read more here.