04 March 2019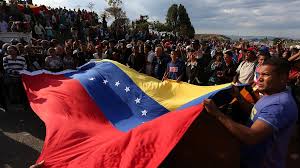 The US State Department has imposed sanctions on six security officials within Nichola Maduro's government who were associated with obstructing "the entry of international aid" and threatening "violence against those who attempted to deliver this assistance".
The State Department further maintained its support for Juan Guaido, the partially recognised interim president of Venezuela.
Maduro's supporters have condemned US offer of humanitarian aid however, as a cover for regime change.
In the last couple of weeks, the US has amassed several tons of non-perishable food and medical supplies near the Colombian border.
Maduro has refused to accept the aid despite the heavy shortages of food and medical supplies, which have led to over 3 million Venezuelans to leave the country, instead blocking the port of entry and claiming the aid being offered by the US is a trojan horse to enable a military invasion of Venezuela. Maduro has allowed some aid from Russia and other international organisations.
The International Committee of the Red Cross, United Nations agencies and other relief organisations have refused to collaborate with the United States and its allies in the Venezuelan opposition, as they view such relief efforts as being politically motivated.
Stéphane Dujarric, a spokesperson for the UN told reporters "humanitarian action needs to be independent of political, military or any other objectives […] The needs of the people should lead in terms of when and how humanitarian assistance is used".
Senior US officials have acknowledged that positioning aid on the border was in part a plan to provoke the Maduro administration and persuade military officials to defect.
Elliot Abrams, US special envoy for Venezuela, told reporters at the State Department, "members of the army are Venezuelan citizens. ... Our hope is that they will be able to persuade Maduro, or they will simply disobey orders to continue the starvation of the people of Venezuela".
The latest comments come as another round of sanctions look to block Venezuela's exportation of oil, the main source of revenue used for the importation of food and medical supplies.
Phil Gunson, a representative for the International Crisis Group warned this could mean "rice, milk, antibiotics and other vital products could become even more scarce". He compared the US strategy to a "medieval siege where you prevent your adversary from obtaining resources from outside the city walls."
Read the US State Department's statement here.