24 April 2020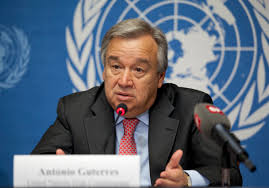 António Guterres, UN secretary-general, warned against authoritarians utilising the current virus pandemic to undermine individual human rights, promote racism and restrict free speech.
This statement follows his calls for a global ceasefire and his further warnings that domestic violence will escalate as a result of the pandemic.
Guterres maintained that whilst migration needed to be curbed the scale of restrictions could be overcome by increased testing and targeted quarantine measures. Over 131 countries have shut down their borders with only 30 permitting exemptions for asylum seekers.  There has been a marked rise in hate crimes as the virus is being termed by some as the "foreigner's disease".
In his statement Guterres maintained;
"the virus is having a disproportionate impact on certain communities through the rise of hate speech, the targeting of vulnerable groups, and the risks of heavy-handed security responses undermining the health response".
Read more from the Guardian