09 June 2020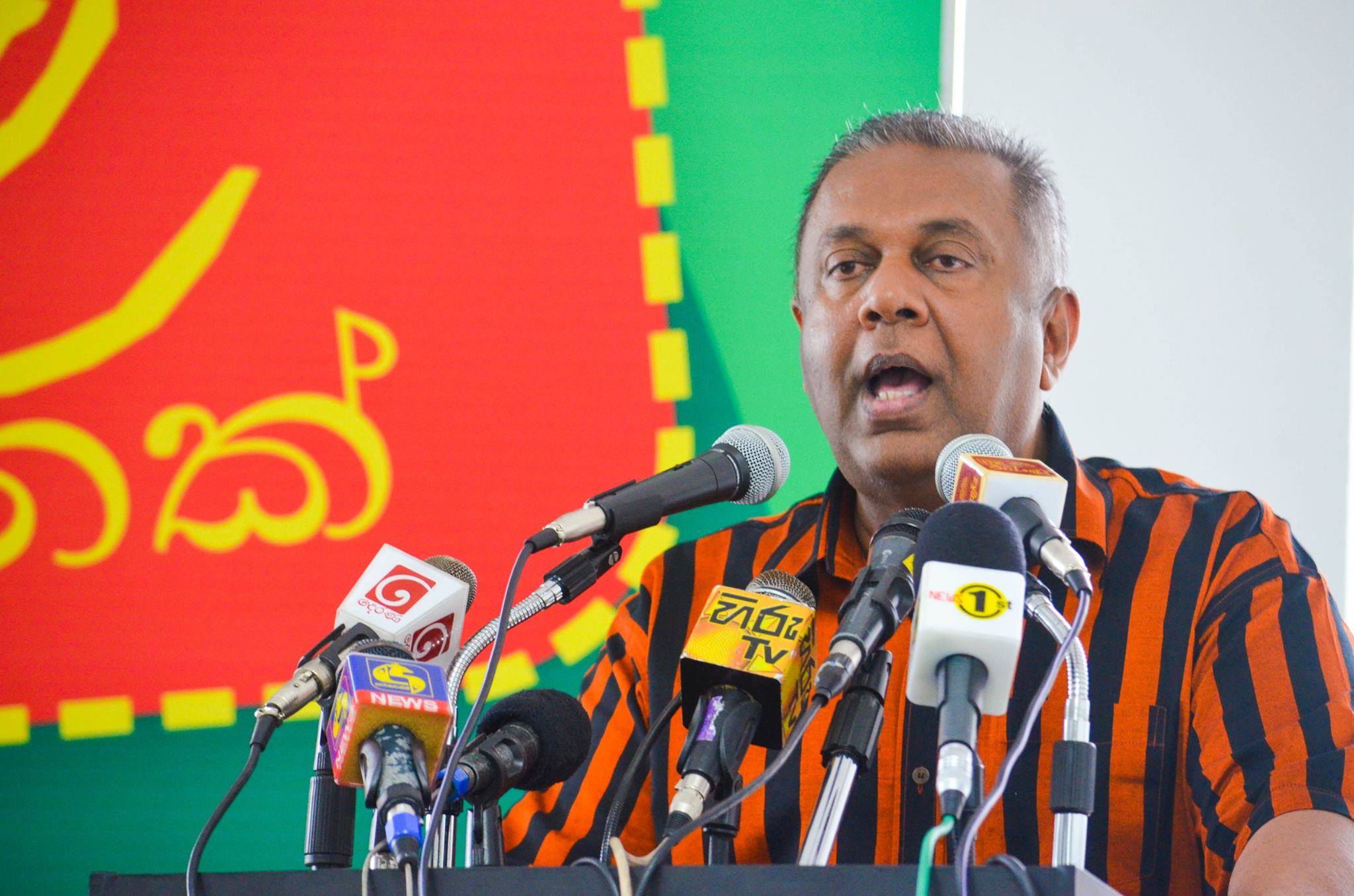 Former Sri Lankan Finance Minister, Mangala Samaraweera proposed dramatic reforms in response to the economic havoc Sri Lanka is facing, as he warned the "tempest has only just begun".
Samaraweera described how fragile Colombo's position was at present, stating that Sri Lanka was in "a sordid state" and had "lived beyond its means and did not undertake the reforms".
His proposals centre on receiving foreign aid, restraining public expenditure, privatisation and reforming Sri Lanka's tax system and state-owned enterprises. According to Samaraweera, Sri Lanka's economic worries long precede the coronavirus and are due to a dependence on borrowing from international capital markets as well as a failure to reform the economy.
Foreign Aid - GSP Plus
Commenting on the country's overwhelming debt, Samaraweera notes that the interest Sri Lanka must pay for overseas borrowing is nearly fifty per cent. He insists that in light of this Sri Lanka is heavily dependent on foreign aid.
However, Samaraweera warned that the regime's threats to withdraw from the United Nations amidst its refusal to prosecute Sri Lankan soldiers for war crimes was "irresponsible".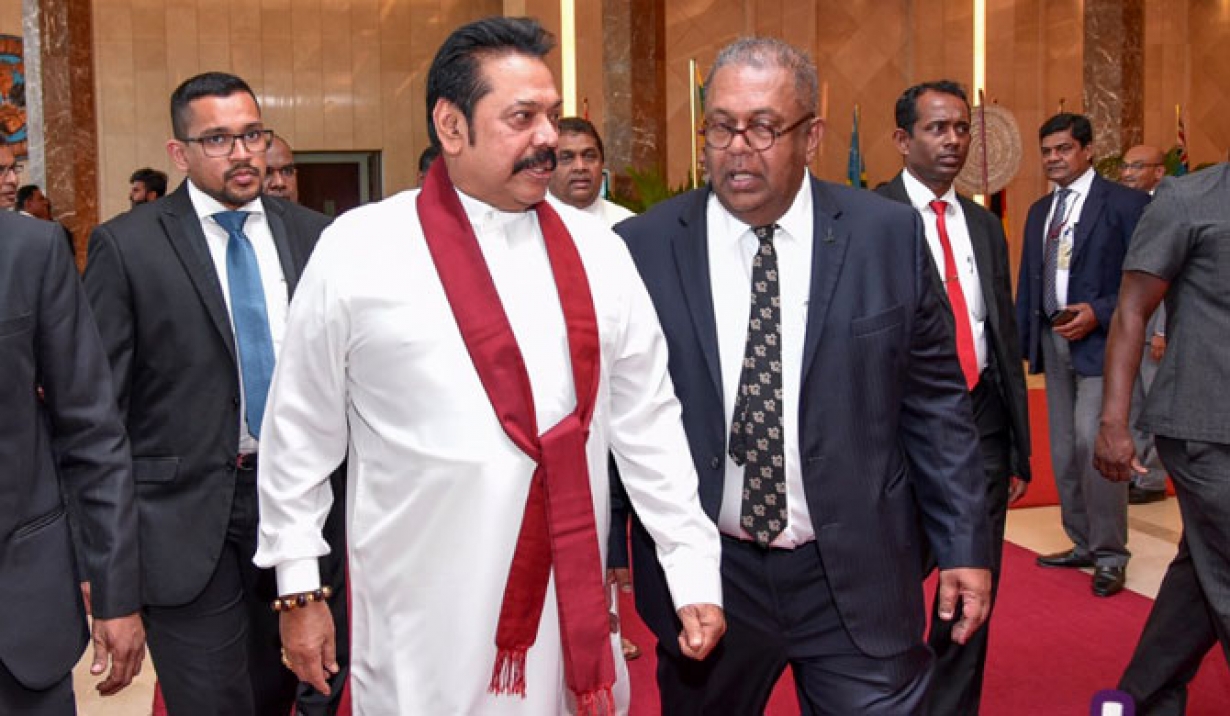 Just this year however, Samaraweera claimed his regime saved current prime minister Mahinda Rajapaksa from the "electric chair" and "saved" Sri Lankan soldiers from international prosecution, in an address to parliament.
News First reported Samaraweera telling parliament that the former regime's decision to co-sponsor a resolution at the UN Human Rights Council "saved Mahinda Rajapaksa from the electric chair". Economy Next reported that the former foreign minister added co-sponsorship "stopped international investigations against the brave soldiers who fought the war and their leaders".
"We said at the Geneva convention that we do not want foreigners to investigate on our country and that we can do our own investigations," Samaraweera reportedly told lawmakers. "Through that we were able to divert international attention from the issue."
However, Samaraweera now stated that talk of withdrawing from the UN "and, more importantly, failure to uphold human rights and the rule-of-law could again lead to the discontinuation of GSP+, which would be a death blow to our already gasping apparel sector". 
The GSP+ agreement with the EU allows Sri Lanka favourable tax concessions but Sri Lanka's continued use of the Prevention of Terrorism Act (PTA), which facilitates detentions without charge, has raised EU concerns. Sri Lanka had vowed the repeal the draconian legislation as part of the GSP+ agreement and the UN Human Rights Council Resolution 30/1. However, the Rajapaksa administration has since disavowed commitments made under Resolution 30/1.
58% of Sri Lanka's exports benefit from the GSP+ scheme and the EU remains Sri Lanka's largest export market. In 2010 Sri Lanka lost the benefits conferred to it under the GSP+ scheme due to its human rights record but this was reinstated in 2017. In 2018 exports to the EU grew 5%. The reinstatement of the GSP+ in 2017 was met with widespread criticism from human rights organisations and Tamil civil society.
Samaraweera has previously criticised Rajapaksa, accusing him of branding Sri Lankan soldiers as "war criminals" and of making "secret deals" with the LTTE and the Tamil diaspora. He has also persistently claimed that his regime's actions have saved Sri Lankan soldiers, "restored military honour" and halted international action.
Foreign aid - MCC
Samaraweera also maintains that the Millennium Challenge Corporation (MCC) grant, which is worth $500 million, is vital for Sri Lanka's relief and recovery programme. He states that donor agencies, such as IMF, World Bank, ADB, support for Sri Lanka is "greatly depend on adhering to the rule-of-law, especially in relation to public finance".
In February 2020, Minister Bandula Gunawardena announced that the government would be suspending the signing of the MCC agreement. The government had stated that the proposals "included in the program will have significant adverse impacts on the national, social and economic well-being of Sri Lanka". This was because the agreement restricted the government's ability to "raise the financial resources needed for investment in mitigating basic economic constraints".
In the run-up to the Presidential elections in November 2019, there was a short-lived hunger strike undertaken by a Sinhala Buddhist monk against the MCC grant which the previous administration had hailed as a victory.
Despite Sri Lanka's heavy debt burden, Samaraweera also argued that more borrowing was needed.
Providing Relief
With the economic hardship brought by the outbreak of the coronavirus, Samaraweera has argued for the government to continue relief efforts. He states that the government must ensure that "the Rs. 5000 relief continues throughout this crisis period and increased to Rs. 10,000 for the most vulnerable families". 
However, many Tamils in the North-East, who have been promised of an emergency fund of Rs.5,000.00 per family, have not been given these funds and are at risk of starvation.
Samaraweera has also called for the government to ensure banks can extend "the moratorium on loan payments, especially in micro-finance and leasing". He also insists that firms are provided with concessionary loans and greater relief so long as they do not lay-off workers.
Government Assets
Commenting on the state ownership of certain competitive industries, Samaraweera asks:
When people are jobless and going hungry, what is the use of the government owning assets in competitive industries such as hotels, port-concessions, oil-farms and plantations? […]

Who wouldn't sell or lease part of their estate to provide for their children?
Samaraweera calls for the selling or leasing these State-Owned Enterprises to offset the public debt. This extends to land, much of which has been seized by the military from Tamils in the North-East. Commenting on the issue of land ownership, Samaraweera states:
We know that small-holder plantations have higher yields. So why then are not plantations broken up and given to the people of those areas, especially as they are some of our poorest citizens? The wealth-effect alone could help restore some consumer confidence.
Military ownership of public land is an issue of increasing militarisation which the Economist expressed similar concerns over, earlier this year.
In May, the Economist wrote, there is little reason to suspect that military men will "do a better job of running ports, reducing poverty or increasing crop yields". The concern, they note, is accountability as, "the positions filled by officers have little civilian oversight".
Read more here: Sri Lanka's new president is putting soldiers in charge of everything – The Economist
The ongoing militarisation of the North and East threatens the economic livelihood of local communities. A 2018 report entitled, "The Vanni: Civilian Land under Military Occupation", states:
"Although the war ended nine years ago, the military in the Northern Province still occupies vast stretches of land and is using it for economic purposes, among other things, with serious consequences […]
Countless people are still unable to return to their ancestral land, while many have lost their traditional livelihood as farmers or fishers"
Read more here: Rights groups warn UNHRC of ongoing militarisation of Tamil homeland
Samaraweera attributes the main issues behind State-owned enterprises to be the "politicization" of these enterprises and calls for structural reforms. He further states that the production of high-value crops could be enhanced if "more land was available in the wet-zone".
Public Expenditure
With respect to public expenditure, Samaraweera has called for the government to introduce fiscal constraints which will bring the government's expenditure in parity with its borrowing. By passing the Monetary Law Act, Samaraweera states that the government will be able to "bring down Sri Lanka's debt-to-GDP ratio to 70 per cent by 2030" which "will greatly restore creditor confidence".
In his statement he criticises the government stating:
"I fear the Government's unfortunate policy of placing the family's interest over the public interest is leading to precisely such delays".
The Rajapaksa family have a long history of corruption. In 2007 a leaked US embassy cable noted that Basil Rajapaksa "worked for the Ministry of Mahaweli Development, where he earned the nickname "Mr. Ten Percent" for demanding a ten per cent commission on every project".
Samaraweera stressed that not only will these fiscal restraints need to be implemented by the government but also enforced by the courts. A failure to ensure these safeguards would undermine Sri Lanka's borrowing ability.
He further notes that the issue with Sri Lanka's borrowing was that its debt was "toxic dollar-denominated, short-maturity commercial borrowing from international capital markets". This left an expectation that Sri Lanka would default on payments. Whilst Sri Lanka was heavily reliant on borrowing it failed to take the appropriate steps to build an export-orientated economy.
Samaraweera also argues for a reform of Sri Lanka's current taxation system stating:
"Direct taxes, which are paid for much more by the middle-class and the rich, are one-fifth of total taxation. Indirect taxes, which place a much greater burden on the poor, account for four-fifth of total taxes. In addition to moving towards direct taxation, we also need to re-assess property taxes".
Restructuring the economy
Samaraweera maintains that Sri Lanka needs to decrease its tariffs and to open up its markets as well as initiating "a labour-intensive public works drive in productive infrastructure". He further calls for workers to be re-skilled to make them "employment-ready for new generation and export industries".
He concludes his piece calling on the government to implement these five recommendations:
1. Ensure that the Rs. 5000 relief continues throughout this crisis period and increased to Rs. 10,000 for the most vulnerable families.
2. Supply banks with the necessary funds to effectively implement and extend the moratorium on loan payments, especially in micro-finance and leasing.
3. Provide firms with further concessionary loans another relief, subject to the condition that they do not lay-off workers.
4. Commence a labour-intensive public works drive in productive infrastructure, especially public transportation.
5. Re-skill workers who are made unemployed, making them employment-ready for new generation and export industries.
Read Mangala Samaraweera's full piece here.
Samaraweera and the Rajapaksas
Samaraweera also has a long history in southern politics, having previously served as foreign minister under Rajapaksa.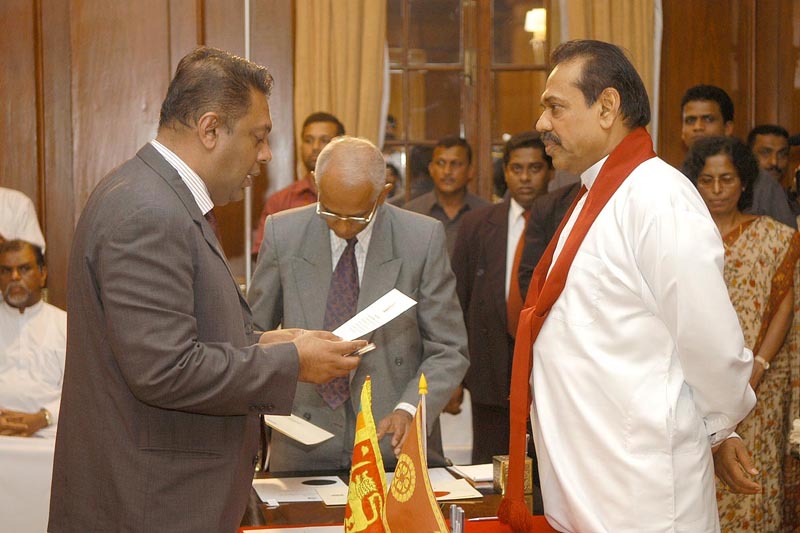 He started as the Sri Lanka Freedom Party's chief organiser for Matara in 1983 and Assistant Secretary of the SLFP Coordinating Secretary of the Mother's Front.
As a leading member of the SLFP, Samaraweera also participated in several Sinhala nationalist rallies, including a 2003 demonstration alongside Mahinda Rajapaksa that marched against the "betrayal of Sinhala nation" by signing a ceasefire with the LTTE.
He was an aide of then Sri Lankan president Chandrika Kumaratunga, when he lashed out at Norwegian peace brokers claiming they had "not shown any sensitivity to the feelings of Sri Lankans".
"Of course we can't expect anything better from a nation of salmon-eaters who turned into international busybodies," he added.
He then rose to the post of Mahinda Rajapaksa's foreign secretary as the Sri Lankan military began a massive military offensive that killed tens of thousands of Tamils.
Samaraweera also spoke out against peace monitors from the Sri Lankan Monitoring Mission (SLMM) who stated that Sri Lankan security forces were responsible for the murder of 17 ACF aid workers in Muttur. 
"I am not calling him [SLMM] a liar, but I am calling it a very, very irresponsible statement," he said in an interview with the BBC.
We need your support
Sri Lanka is one of the most dangerous places in the world to be a journalist. Tamil journalists are particularly at threat, with at least 41 media workers known to have been killed by the Sri Lankan state or its paramilitaries during and after the armed conflict.
Despite the risks, our team on the ground remain committed to providing detailed and accurate reporting of developments in the Tamil homeland, across the island and around the world, as well as providing expert analysis and insight from the Tamil point of view
We need your support in keeping our journalism going. Support our work today.
For more ways to donate visit https://donate.tamilguardian.com.