19 April 2018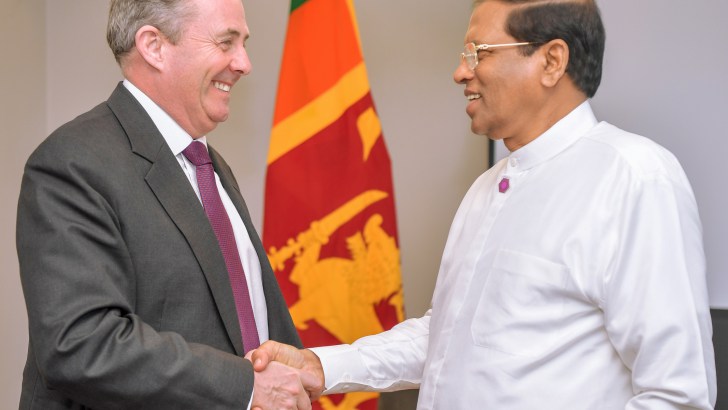 Britain's Secretary of State for International Trade Liam Fox, who has a controversial relationship with Sri Lanka, met with Sri Lankan President Maithripala Sirisena in London yesterday, where they discussed trade and investment opportunities between the two governments.
Dr Fox was forced to resign in 2011, after it emerged that he and a lobbyist friend had been receiving thousands of pounds worth of trips to and from Colombo.
The official President's Media Division reported that Maithripala Sirisena had discussions "in detail regarding further strengthening the bilateral relations between the two countries in a way which will pave the way to expand new trade and investment opportunities".
'The friendly foreign policy of the Government of Sri Lanka has made it possible to achieve victories for the motherland," Mr Sirisena was quoted as saying.
Liam Fox  earlier told the Commonwealth Business Forum that this week's Commonwealth Heads of Government Meeting "offers a fantastic opportunity to promote the important value of free and fair trade within the Commonwealth".
"Our shared bonds of history, culture language and laws have the potential to increase trade drastically over the coming years, whilst also reducing the cost of doing business between member countries by up to 19%," he added.
"This government will continue to champion global trade, which has driven prosperity at home and abroad. As we leave the EU the UK is ready thrive and adapt to a rapidly changing world. That is our ambition for all Commonwealth members, and it is the message I will share with our friends and allies throughout this week."
The meeting with Mr Sirisena comes as the UK met with dozens of other officials from member states across the Commonwealth to discuss trade.
Dr Fox was forced to resign from his previous post as defence secretary in 2011, after a report into his conduct concluded that he did 'breach the ministerial code' and displayed a 'failure of judgment', as he accepted at least three fully paid trips to Sri Lanka, funded by the former government. He stayed in five-star hotels and had first-class travel funded for himself and Adam Werritty, a self-styled 'advisor' and close friend of Liam Fox, who accompanied him on his trips and reportedly discussed arms deals with Colombo.