17 August 2022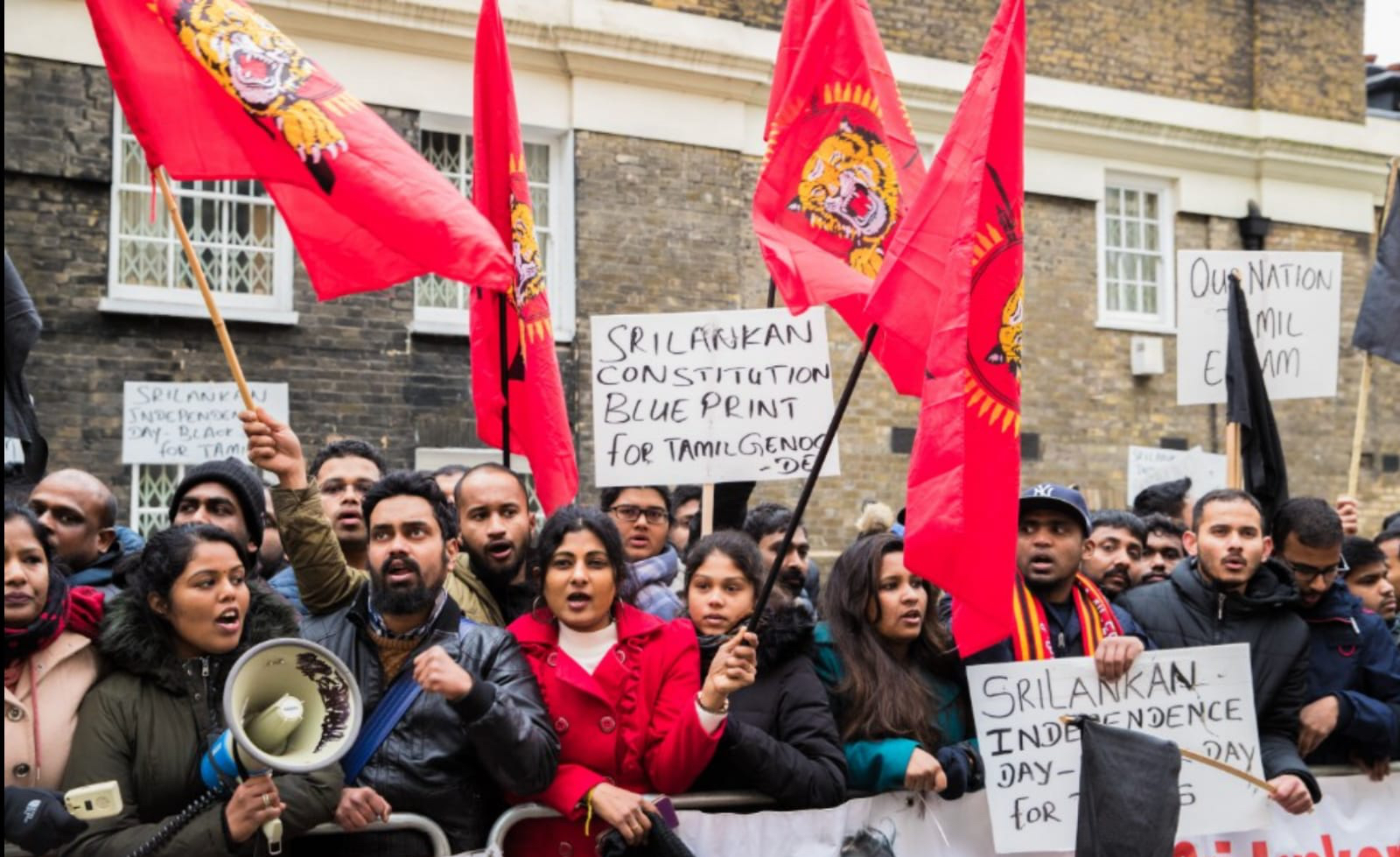 British Tamils protesting on Sri Lanka's Independence Day in February, 2019.
The Sri Lankan government de-proscribed a handful of Tamil diaspora organisations and individuals in a move dubbed "cynical" and "a farce" by activists, as it continues to have hundreds more banned under a terrorist designation law.
Under the latest update from Sri Lankan authorities, the Global Tamil Forum (GTF), British Tamils Forum (BTF) and Canadian Tamil Congress (CTC) have been removed from the Sri Lankan government's list of banned organisations. Though a few organisations and individuals have been removed, major diaspora organisations such as the Tamil Youth Organisation (TYO) which has branches across the globe, the National Council of Canadian Tamils (NCCT) and the Transnational Government of Tamil Eelam (TGTE) remain listed.
For years various Sri Lankan regimes have proscribed a range of Tamil diaspora groups and individuals. A ban could make it a criminal offence for Sri Lankan citizens to maintain contact with these organisations or their members and stifles links between these groups and individuals on the island. Despite outcry over the initial listings in 2014 under Mahinda Rajapaksa, successive governments have continued to maintain the proscription even when the Rajapaksas have been out of power.
All of the still active Tamil groups continue to function openly and legally in states across the world, including the USA, UK and throughout Europe. However, in Sri Lanka, they remain barred.
See the full list of banned organisations and individuals here.
Fraudulent deceptive action
Though the Global Tamil Forum (GTF) welcomed the limited lifting on some organisations it went on to state it was "disappointing that many Tamil and Muslim organisations and individuals are still on the updated list".
"The entire process of publishing a list of designated entities and individuals by the Sri Lankan government is arbitrary, irrational, and an outright abuse of the United Nations Regulations," said spokesperson Suren Surendiran. " From 2014, it was misused by the government to suppress freedom of speech and dissent and intimidate human rights defenders – not just within Sri Lanka but also overseas."
"Our diplomatic engagements, including the crucial meetings in the US in November 2021, were not affected by the listing, but the ban's impact on reconciliation, rehabilitation and economic progress in Sri Lanka was significant," he added.
"We want to make it crystal clear that the Sri Lankan government's decision on imposing or lifting the ban of the BTF shall make no difference in our "cause of actions"," the British Tamils Forum (BTF) told the Tamil Guardian.
"The BTF will proceed with its path and the BTF cannot be deterred by the Sri Lankan government's such futile actions. We, the BTF, are united along with other diaspora Tamil organisations in crashing any hindrance undeterred in seeking justice for the genocide, war crimes and crimes against humanity and for paving a pathway of achieving the right to self-determination via a body of an international arbitrators."
"Lifting the ban on diaspora organisations at this crucial time is nothing other than Sri Lankan government's fraudulent deceptive action of pulling wool over international communities' eyes participating UNHRC 51st Session in September 2022, to divert or dilute the strong resolution that we, the BTF, are pursuing along with the international communities."
"We welcome the delisting of some diaspora organizations and individuals from the terrorism list," said Tamil National Alliance (TNA) spokesperson M A Sumanthiran.
"However, it must be noted that even others who remain on the list have been so named without any evidence connecting them to terrorism and by not following the prescribed procedure. We urge the government to at least continue this process of re-evaluating and de-proscribing all individuals and organizations who ought not to have been listed."
The National Council of Canadian Tamils (NCCT), which remains banned, told the Tamil Guardian that its continued listing "again points to the continued intention of suppressing the Tamil people's voice wherever it comes from".
'We are not surprised by their tactic as they have been doing it for a long time," said Rugsha Sivanandan, spokesperson for organisation. Noting the group's continued work for accountability and remedial justice for Tamil Genocide and a permanent political solution for the Tamil people in the island of Sri Lanka, based on the recognition of Tamil Nation and their inalienable right to self-determination, Sivanandan added it was "evident that NCCT's policy-based approach and its continued success in the advocacy work in Canada and around the world to hold Sri Lanka accountable is putting a lot of pressure on the Government of Sri Lanka."
A difficult time in Geneva
A view from the UN Human Rights Council where Sri Lanka will be discussed in September.
"This is clearly a cynical move by Ranil Wickremesinghe's government to try and appease the international community ahead of what will be a very difficult session at the UN Human Rights Council," said Radha*, a British Tamil activist who has worked closely with several of the organisations, including those who remain proscribed.
Sri Lanka is set to feature on the agenda of the UN Human Rights Council, with reports of another resolution on accountability to be taken up by the global body. Despite more than 13 years shaving passed since the Sri Lankan military offensive that killed tens of thousands of Tamils in massacres that have been repeatedly documented by UN reports, no one has been held accountable for the atrocities.
Radha, who wanted to remain anonymous given his link to Tamils in the North-East, said the move to remove the ban on some groups, whilst maintaining it on others, was part of a Sri Lankan strategy of appearing to engage with the Tamil diaspora.
That view was echoed by C V Wigneswaran, a former Sri Lankan supreme court justice and current head of the Tamil Makkal Kootani (TMK). Speaking to reporters last week, Wigneswaran said the move was "selfish" and was attempting to portray a false image to the international community ahead of the global body's meeting next month.
#SriLanka lifted the ban on some diaspora #Tamil organisations with a "selfish motive" to deal with the crisis @UN_HRC, alleges MP @CWigneswaran & adds that those organisations should realise it.@LkDefence recently revoked some and added more to their list of banned persons. pic.twitter.com/1jAxB4S9qv

— LankaFiles (@lankafiles) August 15, 2022
Successive Sri Lankan regimes have attempted to obfuscate and delay any accountability mechanisms through "domestic" procedures, whilst reiterating their unwillingness to prosecute Sri Lankan troops.
For victims of these crimes, including Tamil mothers who are searching for their forcibly disappeared loved ones, only an international tribunal or a referral to the International Criminal Court will see justice served. The Sri Lankan government though has been steadfastly combatting such moves for international justice and instead claiming to make a domestic process.
"The international community may have been fooled by it once before, but it cannot be deceived again," said Radha.
He was referring to a similarly limited de-listing by the previous Sirisena-Wickremesinghe regime in 2015. At the time, groups such as the GTF were removed from the banned list, as the government admitted that even individuals who had died had been hastily added to the original proscribed list.
In 2020, however, the GTF and other Tamil organisations were proscribed once more.
"It's a farce," said Radha. "And not a new one."
"There is no doubt the timing of the recent delisting is to bolster Sri Lanka's credentials as its human rights record is about to be reviewed at the UNHRC next month for the eighth time since the war ended in 2009," added Surendiran. "This action only confirms the time-tested pattern of Sri Lanka doing the bare minimum just in time for the next UNHRC session – and presents an eloquent argument for increased international scrutiny over Sri Lanka's human rights and governance record."
"The successful protests that deposed Gotabaya Rajapaksa's presidency has created an environment where an unaccountable government will be under increased scrutiny. In addition to wartime accountability, legal, financial, and other governance accountabilities are also under intense focus. This emerging trend needs to be conscientiously promoted by the international community, which is possible only with the adoption of a well-targeted UNHRC resolution."
Sri Lanka in crisis
The limited delisting also comes as the Sri Lankan state continues to grapple with its worst economic crisis since independence. Even under the now fleeing president Gotabaya Rajapaksa, Colombo said it would look to the Tamil diaspora for financial support. But at the time, Tamils inside and outside of the island were sceptical.
"To have confidence to bring their hard-earned monies, they would naturally want a decent political solution first," said Sumanthiran, speaking on Tamil diaspora investments.
"They're oppressing our people with one hand and pleading for our money with the other," said one activist at the time. Continuing to bar several Tamil organisations will no doubt inspire little confidence.
"Considering Sri Lanka's current economic and political crisis, Sri Lanka is in a dire need of assistance from the international community," added NCCT's Sivanandan. "On the other hand, Sri Lanka was already under international pressure for the mass atrocity crimes it committed. Therefore, this delisting is an 'eye-wash' tactic to deceive the international community."
An expansion of oppression
Though some names have been removed, several remain listed, including those currently residing on the island, such as political prisoner Dr Sivaruban, the former Judicial Medical Officer (JMO) at Palai Hospital in Kilinochchi, who was arrested by Sri Lanka's Terrorism Investigation Division (TID) in 2019. Dr Sivaruban had provided medical reports linking the Sri Lankan army with the so-called 'grease devil' attacks of 2011 as well as the murder and rape of a child by a member of the EPDP paramilitary group.
As highlighted by Journalists for Democracy Sri Lanka Ahnaf Jazeem, the young Muslim poet from Mannar, who was arrested in May 2020 under the Prevention of Terrorism Act and detained for 579 days before being released on bail, has also been added to the list.
Ahnaf Jazeem, the young Muslim poet from #Mannar, who was arrested in May 2020 under PTA & detained under squalid conditions for 579 days before being released on bail, has been NOW listed by #SriLanka government as a person "designated" for "terrorism related activities". https://t.co/LYmfJuLpoM pic.twitter.com/kv5pnjsQJk

— JDS (@JDSLanka) August 15, 2022
The list, remains almost exclusively Tamil and Muslim, with notable exceptions such as Viraj Mendis, the Sinhalese chairperson of the International Human Rights Association – Bremen (IMRV). "The continuation of the criminalisation of the oppressed (Tamils) by the oppressor (Sinhalese) – portraying those who are victims of a greatest injustice (Genocide) as being the real criminals – continues to this day," Mendis told the Tamil Guardian when he was added to the list in 2019.
"Characterising a Sinhalese progressive who strenuously challenges this narrative as being also a terrorist is only an extension of this monstrous state of affairs."   
Sri Lankan reaction remains extreme
Whilst Tamil groups and human rights activists have criticised the continuation of the ban on several groups, Sri Lankan officials on the island have reacted differently.
"The timing of the government announcement really worries us," Gunadasa Amarasekera told reporters on behalf of the Federation of National Organizations (FNO), as he denounced even the partial lifting. According to The Island, National Freedom Front (NFF) spokesperson Mohammed Muzammil, MP, "echoed [Amarasekera's] concerns" and said the president must "address the concerns of those who felt betrayed by the disputed de-listing of those who propagated separatist ideology".
As Tamils, both on and off the list have made clear, however, their work towards justice and self-determination will continue.
"The Tamil people around the world are united in their efforts to hold Sri Lanka accountable for Tamil Genocide," said Sivanandan. "This is also putting a lot of pressure on the Government of Sri Lanka. Therefore, they're using this listing and delisting process again as a tool to divide and conquer the Tamil people."
"These principle-based requests have been clearly expressed by the Tamil people for decades. If the  Government of Sri Lanka does not learn from the past, pave a way for structural changes, and stop the ongoing structural genocide against Tamil people, then Sri Lanka will continue to fail."
We need your support
Sri Lanka is one of the most dangerous places in the world to be a journalist. Tamil journalists are particularly at threat, with at least 41 media workers known to have been killed by the Sri Lankan state or its paramilitaries during and after the armed conflict.
Despite the risks, our team on the ground remain committed to providing detailed and accurate reporting of developments in the Tamil homeland, across the island and around the world, as well as providing expert analysis and insight from the Tamil point of view
We need your support in keeping our journalism going. Support our work today.
For more ways to donate visit https://donate.tamilguardian.com.