05 July 2021

21 Black Tiger elite commandos who took part in the raid on a Sri Lankan airbase in Anuradhapura, 2007
On July 5, Eelam Tamils across the world remember and mourn the sacrifices made by the LTTE's elite women and men, the Black Tigers. "Karumpuli Naal" marks the sacrifice made by the first Black Tiger, Captain Miller, or Vallipuram Vasanthan, 34 years ago.
In 1987, he attacked a Sri Lankan Army garrison in Nelliyadi in the Jaffna district, by driving a small truck with explosives into it. Forty Sri Lankan soldiers were killed in the attack.
In 2007, a group of 21 LTTE Black Tiger commandos, smashed the Anuradhapura Air Force Base with reports that all but three of the 27 aircraft in the base were destroyed or damaged. The estmiated damage was reported to be above US$ 30 million. Read our coverage at the time here.
In 2008 the LTTE declared that 356 Black Tigers had laid down their lives, 254 of them in sea operations since Captain Miller's attack. It is not yet known how many sacrificed their lives during the final phases of the war.
A memory that lives on
Karumpuli Naal was observed widely in the North-East until 2009, where thousands of Tamils turned out to show their respect.
Several monuments were constructed in honour of the Black Tigers, including a statue of Captain Miller. Captain Miller, or Vallipuram Vasanthan, was a student at Hartley College in Point Pedro.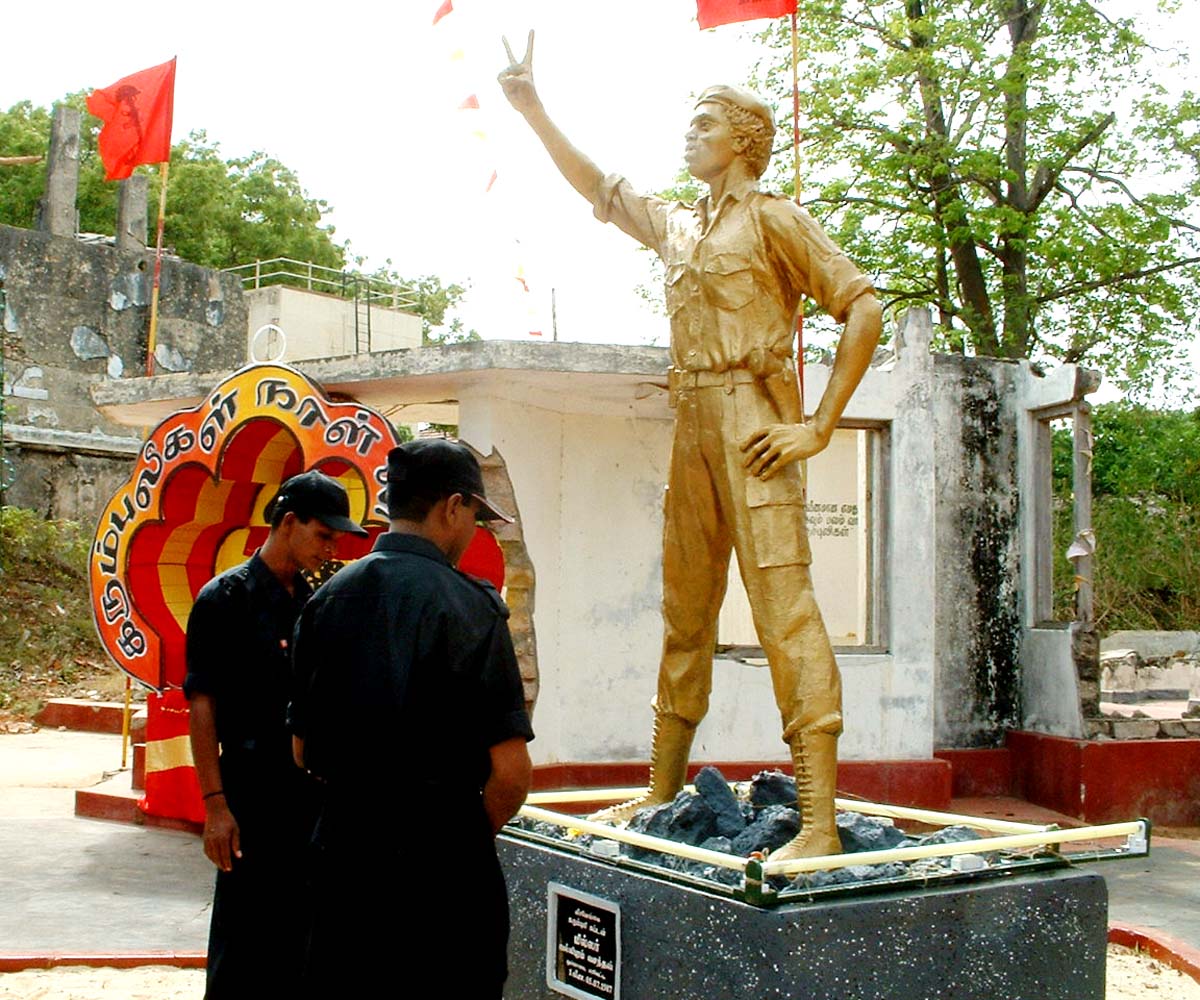 Statue of Captain Miller in Nelliyadi, Jaffna. 2003.
His statue was destroyed by armed men in 2006, suspected to be Sri Lankan soldiers. Other memorial stones have since been destroyed by the Sri Lankan military, including the graves of all LTTE cadre.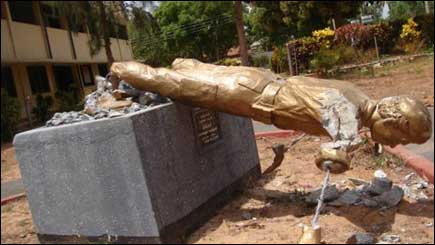 The damaged statue in 2006. Photograph TamilNet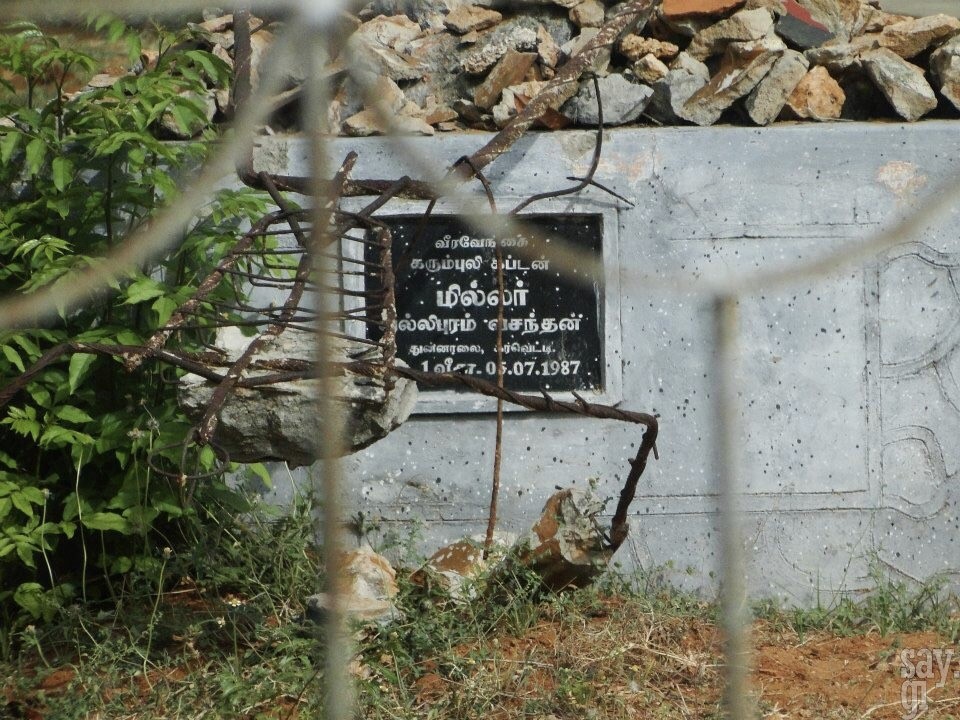 Destroyed Miller statue in 2012. Photograph @Saygi
Tamils across the homeland have also commemorated the sacrifice of Captain Angayarkanni the first female Black Tiger, who was martyred on August 10, 1994. In 2019, Tamils in Kilinochchi remembered her sacrifice as part of International Women's Day.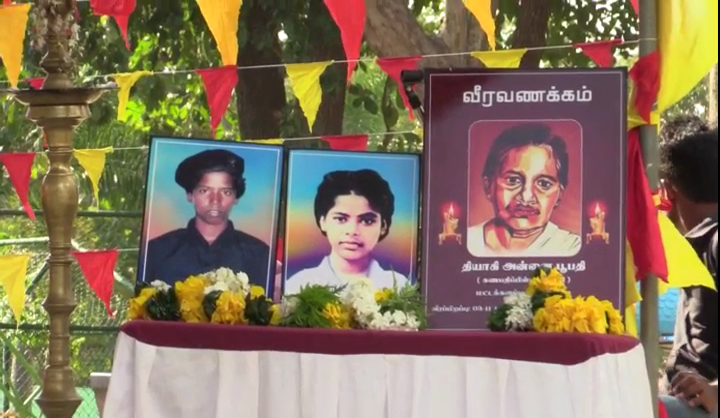 Earlier this year, as tens of thousands of Tamils marched through the homeland as part of the Pottuvil to Polikandy, protestors stopped at Nelliady, Captain Miller's hometown, and held a minute's silence in his honour.
Vignettes
These are just two vignettes of the lives of the men and women who died under the command of the Black Tigers.
Reproduced from a piece by Sachi Sri Kantha.
Sea Black Tiger: Major Santhana
Date of Birth: 1973, February 11  Died: 2000, June 26.
Major Santhana knew well that her long dream and the objective would be successful this time. With this, she went to see her mother at home for the last time. Her mother told her, "Child, will you visit us frequently?". She responded, "I'll return mother, very shortly". Her mother, at that moment, didn't understand the meaning of her daughter's words. She bid farewell to her daughter, by hugging and kissing her, with tears. Her mother was unaware that Santhana would only return in photo.
Major Santha was one of the thousands of young women who joined the Movement to fight and liberate the Tamils from Sinhalese dominance. She was in Women's Tiger battalion and in 1995, she joined the Black Tiger team. Once completing the special training assigned for the Black Tigers, Santhana began to search for targets.
When she was about the launch her final attack, and when she boarded the boat, she handed her slippers to her fellow fighter, saying: "I'll not return; so, you can keep this". Within a minute, she cracked, "Suppose, if I return, please give the slippers back to me". Even in her final moments, she delighted in making others smile, with a joke.
On June 26, 2000, the ship 'Ugana' brought armaments, explosives and food provisions to the Kankesanthurai harbor from Colombo for the army. The battle boats of the Sea Tigers and Black Tiger were on their mission to block and thwart this supply ship. About 55 miles from Point Pedro harbour, in the mid-sea, there was a confrontation of high intensity. Black Tiger boats cavalierly rammed the 'Ugana,' which then sank. Ten Sri Lankan navy cadres got killed. Those who wrote heroic history were Major Santhana and five of her colleagues; Black Sea Tigers, Lt. Col. Gnanendran, Major Suran, Major Nallappan, Capt. Ilamathi and Capt. Bhamini also settled into the sea permanently.
Black Tiger: Lt. Col. Borg
Date of Birth: 1959, November 11  Died: 1990, November 23.
In the heart of the Vanni district, the Mankulam military camp of Sinhalese was located. It carried out quite a number of atrocities. When Eelam War II began, the Liberation Tigers surrounded this military camp. There was a special plan to attack this camp. It was decided that a Black Tiger attack was needed to capture the camp.
Col. Balraj, who led the attack stated, "When we were planning the attack, Borg asserted, 'I'm the one who knows much about this camp. So I'll be the one to drive the explosive-laden vehicle.' "
Col.Balraj continued, "Borg is not a neophyte in the battlefield". "He was in charge of the district, and he led quite a number of attacks. Before he left on his final mission on 1990 November 23, Borg hugged me and said, 'I'm about to leave'. With this, Mankulam military camp was history. He drove the explosive-laden vehicle. In a few minutes, we heard a big explosion. The military camp was floored. In a few hours, we captured the camp territory."
Before his final mission, brother Borg went on his home leave for a few days. His village (Semamadu, in Vanni district) is in the vicinity of the Sinhala border. He walked in the sands of his village and appreciated the lake, fields and forest. He was bidding farewell to his familiar surroundings. Nearby, a few children were playing. Brother Borg sat near them and asked; "Little brothers, you know  Heroes Day is nearing. Suppose if I die, what will you do on that day?" The little guys retorted, "Why? Are you going to die?" Borg responded, "Suppose if I die, in my memory, will you plant a tree? Each one of you?" The little guys laughed. Borg also smiled.
The day to leave home arrived. Borg had lunch and rested on a mat for while on the verandah. His mother also came nearby and placed a mat to rest herself. Borg requested, "Mother, come near me, and place your mat adjacently." Mother obliged and patted his head. That afternoon, Borg said farewell to his family members (father, elder brothers, younger brothers and loving sister). Finally, he went to his mother and said, "Mother, please place a pottu (blessing charm) on my forehead." His mother obliged accordingly. He smiled, and bid farewell to her. He took a last look of all, from the gate and he left.
A few minutes later, his elder brother shrieked: "Thambi has left his lungi and T-shirt". For that, his mother consoled, "Maybe, he left these, because they had worn out".
Borg's mother says sobbingly: "I couldn't understand, why he behaved rather differently on that last day. Only after he died as a Black Tiger, did I realise why he had asked me to come and sleep next to him, why he asked me to place the blessing charm, why left his clothing. Now, I know".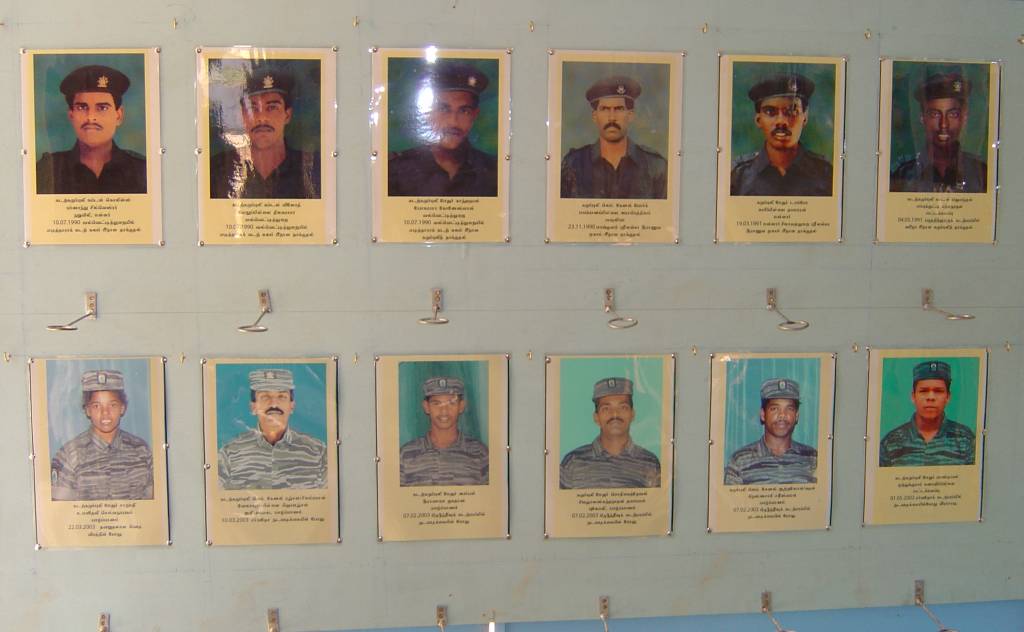 We need your support
Sri Lanka is one of the most dangerous places in the world to be a journalist. Tamil journalists are particularly at threat, with at least 41 media workers known to have been killed by the Sri Lankan state or its paramilitaries during and after the armed conflict.
Despite the risks, our team on the ground remain committed to providing detailed and accurate reporting of developments in the Tamil homeland, across the island and around the world, as well as providing expert analysis and insight from the Tamil point of view
We need your support in keeping our journalism going. Support our work today.
For more ways to donate visit https://donate.tamilguardian.com.