08 February 2021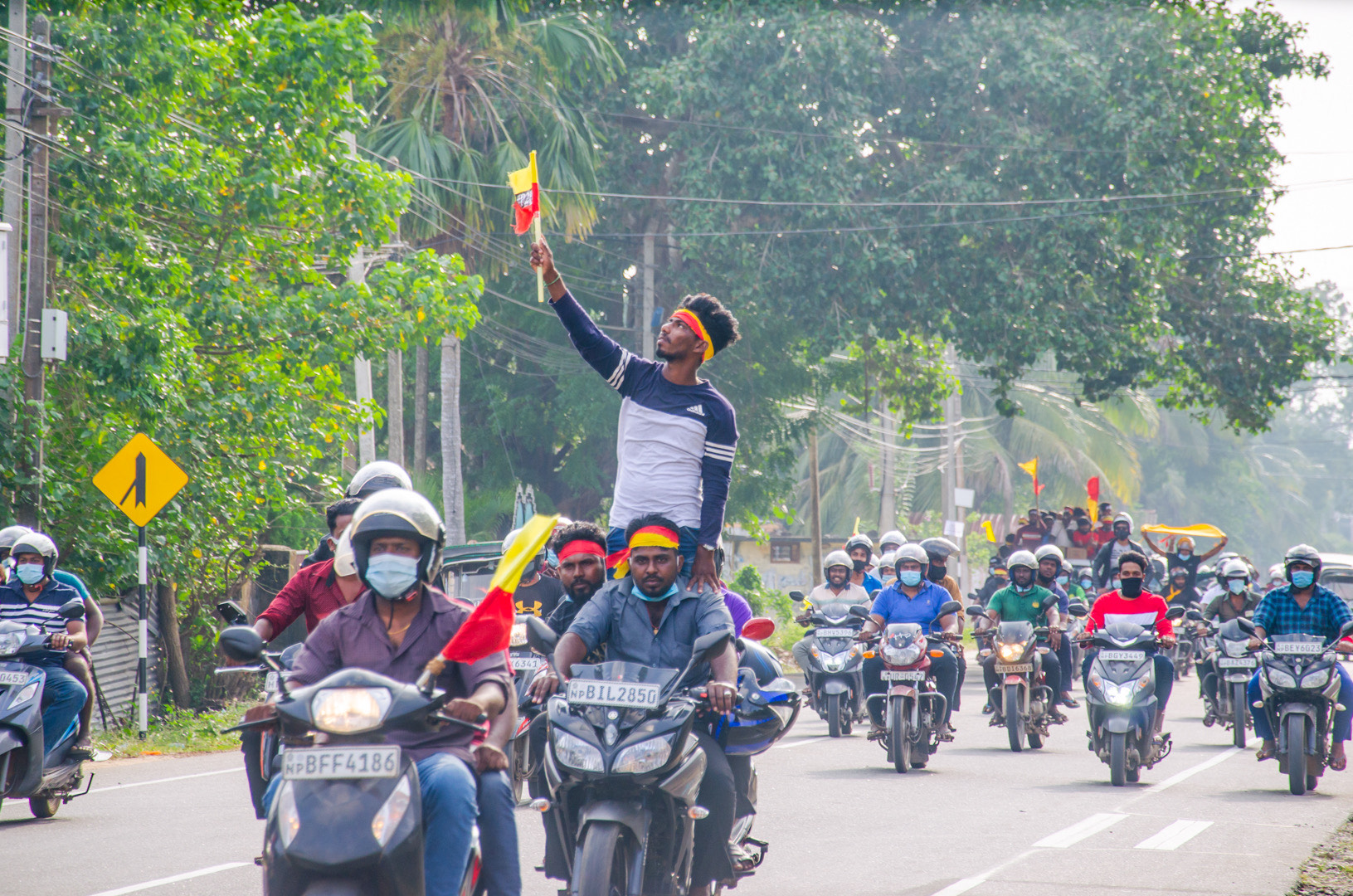 Photo: R. Sriram
On 3 February 2021, Tamils and Muslims in the North-East mobilised en-masse to begin a peaceful march from Pottuvil in Amparai to Polikandy in Jaffna, two points delineating the furthest ends of the traditional Tamil homeland, in defiance of numerous court orders.
Their aim was to raise awareness of the plight of Tamils and Muslims on the island and to call upon the UN and the international community to heed Tamil calls for justice and accountability. Throughout this march, Sri Lanka's security forces attempted to break up the rally at various points by threatening and intimidating demonstrators as well obtaining injunctions against the protest but at each step protesters have defied Sri Lanka's security forces. Whilst the march was initially set to end on 6 February, it was extended to the 7 February due to these disruptions.
Demands to the UN
Organised by civil society organisations from across the North-East, demonstrators outlined the following 10 key demands:
Ending land grabs and Sinhalisation

End the military occupation of the Tamil homeland

End the targeting of journalists and civil society activists

Safeguard Tamil farmers rights

Protect the rights of Tamils to remember their war dead

Repeal the Prevention of Terrorism Act

End forced cremations

Release Tamil political prisoners

Provide answers to the families of the disappeared

Raise the wages of Tamil plantation workers
Read more:
From Pottuvil to Polikandy: Why are Tamils marching?
Also read:
Tamil civil society outline demands of P2P protest to UN
Pottuvil to Polikandy in pictures
A march through the homeland
The rally routed across all eight districts in the North-East that make up the traditional Tamil homeland. Many raised flags with red and yellow stripes - the Tamil national colours, whilst others raised black flags. The rally coincided with Sri Lanka's Independence Day celebrations in Colombo, which was being marked by a military parade and an address from the war crimes-accused president Gotabaya Rajapaksa.
On the final day of the march, protestors stopped at Nelliady, the hometown of the LTTE's first Black Tiger Captain Miller, and held a minute's silence in his honour.
In Nallur, marchers also stopped to pay tribute at a monument for Lt Col Thileepan, a political wing leader of the LTTE who fasted to death, in a protest appealing to the Indian government to honour pledges made to the Tamil people.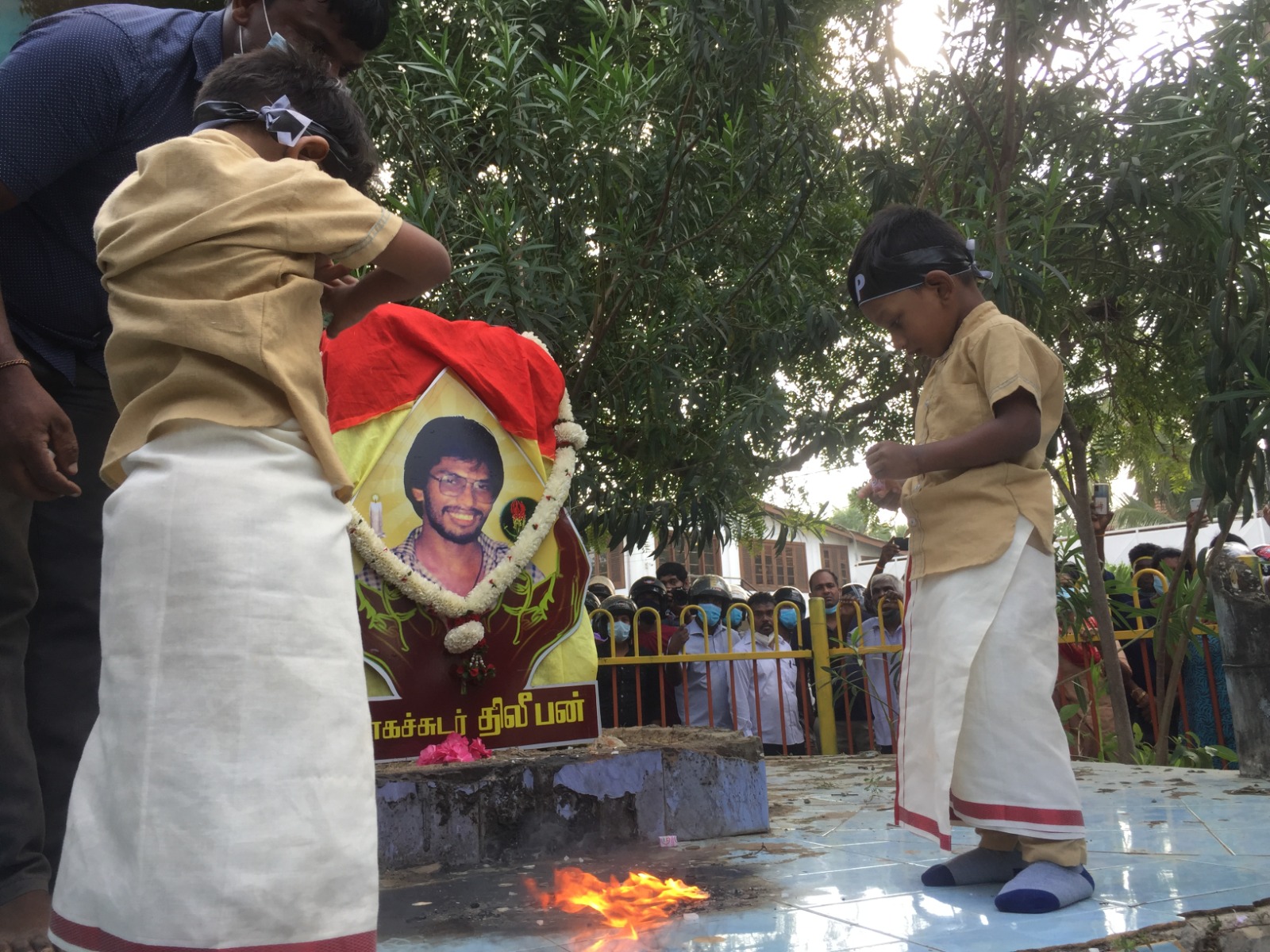 Read more:
Tens of thousands march to Polikandy
Fourth day of P2P protests marked in Vavuniya and Kilinochchi
Third day of P2P protests marked in Trincomalee and Mullaitivu
Solidarity from families of the disappeared
In solidarity with the protesters, families of the disappeared across the North-East launched hunger strikes demanding to know the whereabouts of their forcibly disappeared loved ones. 
In Mullaitivu, families of the disappeared raised black flags in protest against Sri Lanka's 'Independence Day' and called on the international community to ensure justice and accountability for the Tamil victim-survivor community. 
Read more: Tamil families of disappeared launch hunger strike in Mullaitivu as Sri Lanka celebrates 'Independence Day'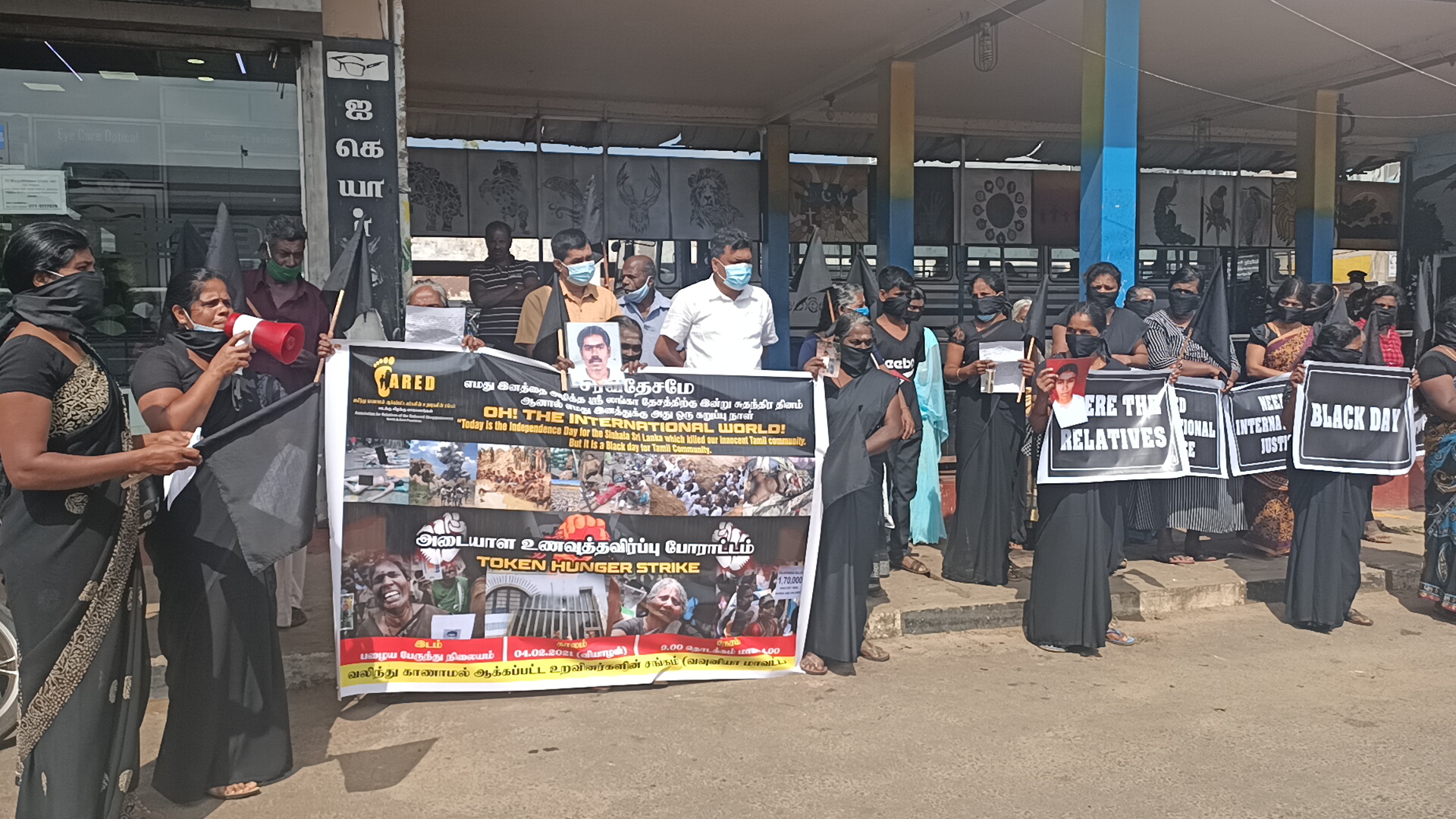 In Vavuniya,  families of disappeared organised and demonstrated with black flags and clothing in front of Vavuniya's old bus station.
A restraining order was obtained by the Vavuniya Police Headquarters and a protest was ordered not to be held inside the Vavuniya police area so the families of disappeared mobilised at Vavuniya old bus station and protested before starting their hunger strike.
Read more: Vavuniya families of disappeared defy court ban with protest and hunger strike on Sri Lankan Independence Day
A similar protest took place in Jaffna, where families of the disappeared braved Sri Lankan police intimidation to demand the whereabouts of their missing loved ones.
Read more: Jaffna families of disappeared resist police intimidation and court bans to protest for their missing relatives
Sri Lankan court orders attempt to block rally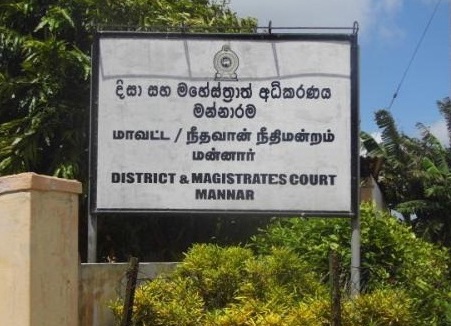 Across the North-East, Sri Lankan courts attempted to bar demonstrations citing a variety of reasons from COVID-19 guidelines to "public harassment", and in Batticaloa, for allegedly promoting "communal disharmony". Amongst the courts which imposed a ban on demonstrations were Jaffna, Point Pedro's, Mannar, Batticaloa and Vavuniya.
This protest said the Batticaloa court, explained was an attempt to "instigating the UNHRC to act against Sri Lanka", and "turning people against the Sri Lankan Government".
Chavakachcheri and Mallakam Magistrates further dismissed petitions submitted by Sri Lankan police on the grounds that people have the right to freedom of speech and assembly.
Commenting on these orders, Tamil Civil Society Forum co-founder and former Senior Lecturer in Law at University of Jaffna, Kumaravadivel Guruparan stated:
"Magistrates in the North and East are almost invariably visibly uncomfortable with these nonsensical police requests lodged under public nuisance provisions but feel obliged because they are afraid to upset those in power".
Read more: 
Court bans issued against #P2P protests across the North-East
Vavuniya court bans Tamil families of disappeared from protesting against Sri Lankan Independence Day
Police and military intimidation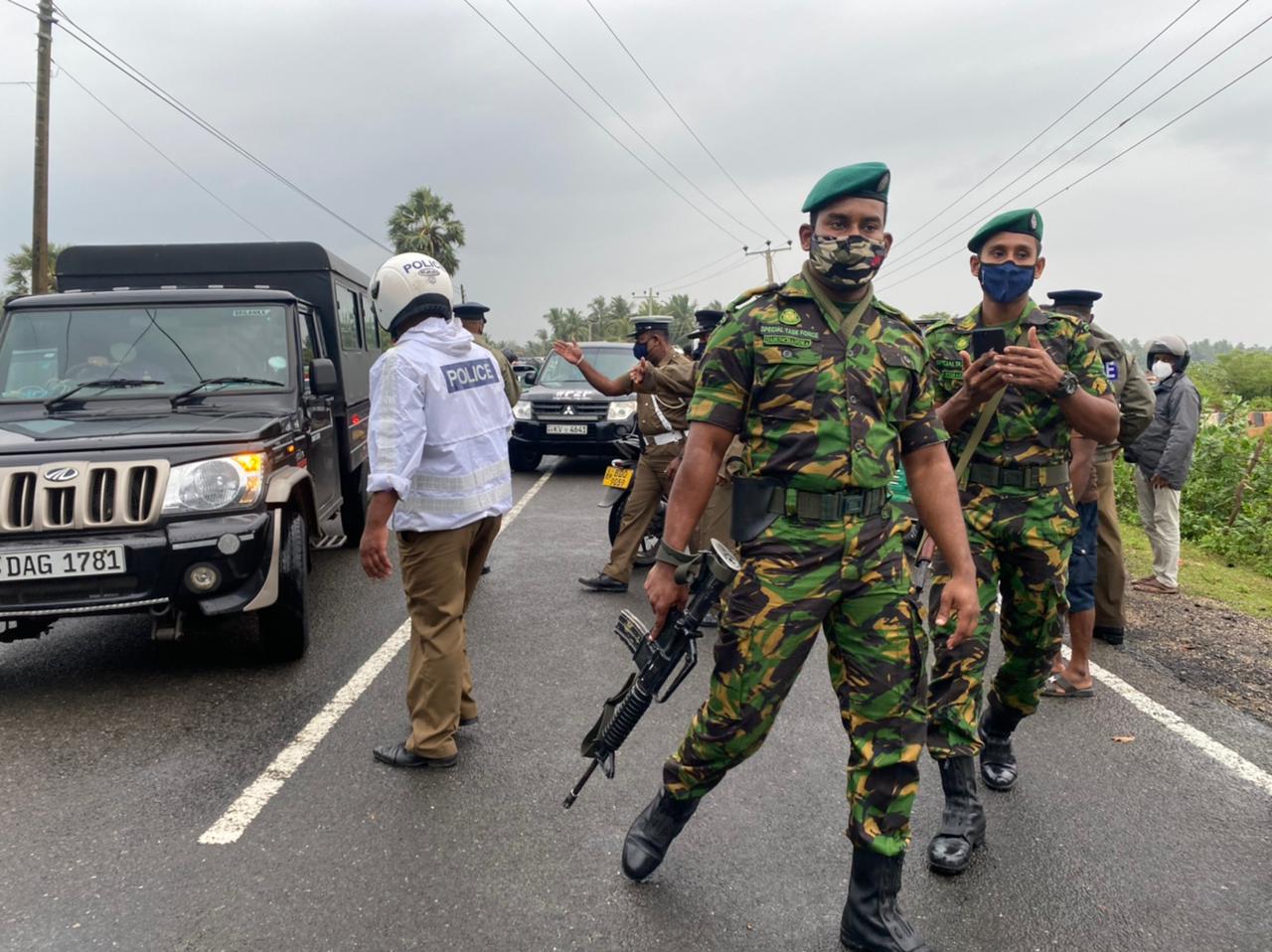 Sri Lankan security forces have attempted to break up the rally at various points of the march by threatening protesters, obstructing protestors with roadblocks and obtaining injunctions against the protest, but protesters have defied these moves and continued their demonstration.
In Vavuniya, police threatened and tracked protesters by recording vehicle and motorcycle numbers of the public supporting those marching. Journalists also reported investigators harassing and taking pictures of them.
In Mullaitivu, police demanded that protesters disperse under alleged COVID-19 concerns. The police had also established rails on the roads at the military checkpoint in front of the Yan Oya bridge near Pulmoddai, disrupting those on vehicles. A similar incident was reported to have occurred previously as vehicles attempted to attend the Kinniya protest.
According to one protester:
"The nails have damaged our tyres and we are on the streets unable to continue our protests. The police van in front of us provided for security does not seem to be helping in any way. Earlier on during our protest march, people threw rocks at the bus. They tried to set [protestors'] cars on fire with petrol cans and they just about escaped death. We urge all human rights organisations to condemn these acts! We will dust these off and continue to protest".
Read more: 
Pottuvil to Polikandi - Tamils brave crackdown to begin marching length of homeland
Police threaten and track protesters in Vavuniya
Tamils to welcome P2P protesters in Mullaitivu despite Sri Lankan police disruption
Political and religious leaders join the rally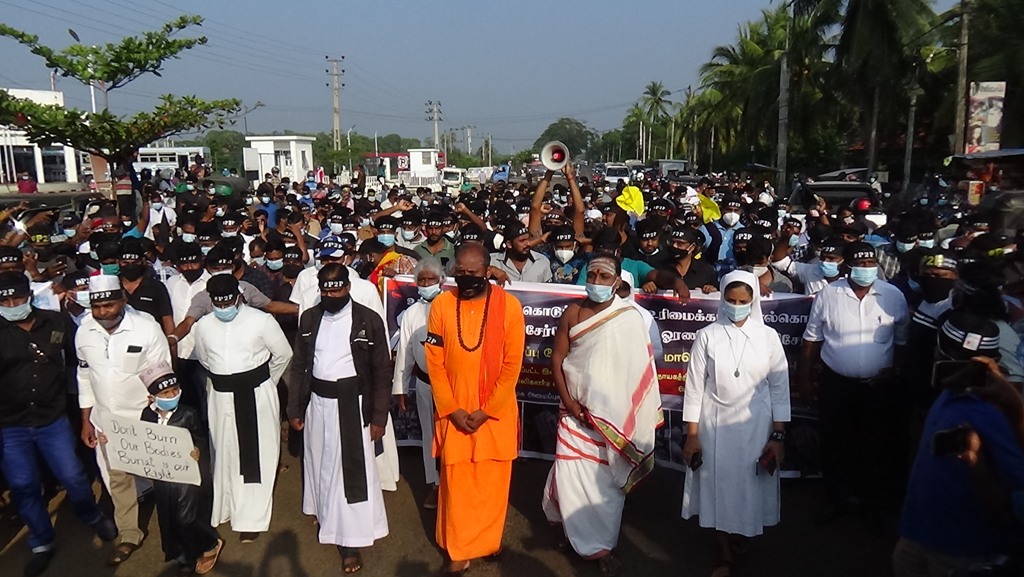 The protests gained the endorsement of several civil society organisations, including prominent Tamil and Muslim politicians and a wide range of religious leaders.
These include Tamil National Alliance (TNA) MP Shanakiyan Rasamanickam, TNA spokesperson and MP M. A. Sumanthiran, TNPF leader and MP Gajendrakumar Ponnambalam, TNPF MP Selvarajah Kajendran, TNA MP Sivagnanam Sritharan, TNA Media Secretary Pakkiyaselvam Ariyanethran and former TNA parliamentarians Seeniththamby Yogeswaran and Kathirgamathamby Thurairetnasingam.
TNA member Ananthy Sasitharan questioned the crackdown by the Sri Lankan security forces on the peaceful P2P protest but not the protests by pro-government protestors.
"When they celebrate 'Independence Day', these COVID-19 restrictions or social distancing measures are not a concern. If it really is "one country one law" then it needs to be applied equally. It is being applied to Tamils in one way and another for the Sinhala chauvinists." pic.twitter.com/vC4Hxb7V7p

— Tamil Guardian (@TamilGuardian) February 6, 2021
TNPF leader and MP Gajendrakumar Ponnambalam commended the turnout for the protests and reiterated the demands of the protest.
"The international community is turning its attention towards Sri Lanka. We have to use this opportunity to demand justice and accountability for the Tamil genocide through an ICC or ICJ investigation. They must recognise the Tamil nation and its right to self-determination." pic.twitter.com/39Ci2PdPf8

— Tamil Guardian (@TamilGuardian) February 7, 2021
TNA Media Secretary Pakkiyaselvam Ariyanethran hailed the united efforts to protest through the North-East.
"We have seen many united protests. From peaceful protests to armed protests. But this is the first protest I've seen like this. The international community should pressure the Sri Lankan government. The people of North-East deserve freedom, justice, and equal rights." pic.twitter.com/pxF5FQ6UXs

— Tamil Guardian (@TamilGuardian) February 7, 2021
TNA MP, M.A Sumanthiran, also endorsed the rally applauding the union of Tamils and Muslims on the island.
We need your support
Sri Lanka is one of the most dangerous places in the world to be a journalist. Tamil journalists are particularly at threat, with at least 41 media workers known to have been killed by the Sri Lankan state or its paramilitaries during and after the armed conflict.
Despite the risks, our team on the ground remain committed to providing detailed and accurate reporting of developments in the Tamil homeland, across the island and around the world, as well as providing expert analysis and insight from the Tamil point of view
We need your support in keeping our journalism going. Support our work today.
For more ways to donate visit https://donate.tamilguardian.com.