19 April 2019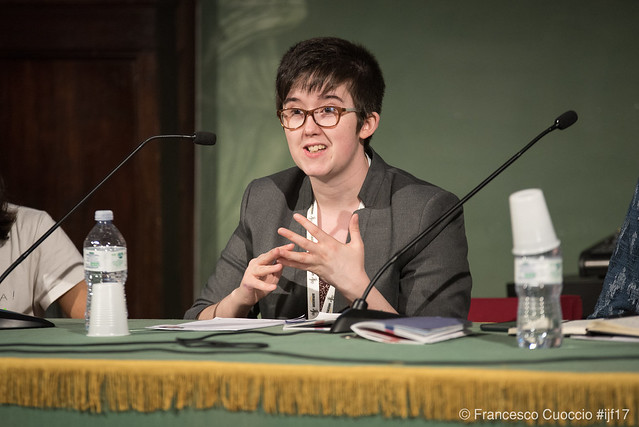 (Photo: International Journalism Festival)
Police in Northern Ireland are blaming an offshoot of the IRA, being called the "New IRA", for the murder of a journalist and rioting in Derry on Thursday night.
The 29-year-old journalist, Lyra Mckee, died after being struck by a stray bullet aimed at the police amidst the riot.
The attack occurred after the police entered the Creggan estate in Derry, a known Republican stronghold, in search of ammunition and weaponry for a planned attack over Easter weekend. The planned attack would be used to mark the anniversary of the 1916 Easter Rising.
As the situation escalated a crowd gathered with up to 50 petrol bombs being thrown and two vehicles being stolen and set on fire. There were an approximate hundred people on the streets when shots were fired including journalists.
Speaking to journalists Mark Hamilton, the assistant chief constable, stated:
"Officers quickly administered first aid before transporting her in the back of a Land Rover to hospital. Tragically she died from her injuries. At this stage, we believe her murder was carried out by a violent dissident republican."
He has said the New IRA were likely to be behind the attack.
The New IRA is an offshoot of the IRA which defected after the Good Friday Agreement, disagreeing with the peace process. They have been active in Derry and in January detonated a large car bomb outside the courthouse in January.
The violence and death of the journalist have brought cross-party condemnation.
Ireland's Prime Minister, Leo Varadkar, told journalists: 
"We cannot allow those who want to propagate violence, fear and hate to drag us back to the past."
Theresa May called the violence "shocking and truly senseless", further adding: "She was a journalist who died doing her job with great courage."
Saoradh, a fringe political party which reflects the views of the New IRA, rebuked the assertion that this was due to dissident republicans and instead blamed the British crown forces. In a statement the group claimed:
"A Republican volunteer attempted to defend people from the PSNI/RUC. Tragically a young journalist covering the events, Lyra McKee, was killed accidentally." 
They further stated:
"We are united in rejecting those responsible for this heinous crime."
McKee reported on the troubled history and violence in Northern Ireland as well as her own struggle growing up gay in Belfast. In 2014 she penned a blog post entitled "Letter to My 14-year-old Self" where she discussed these issues and this was later turned into a short film.