01 February 2020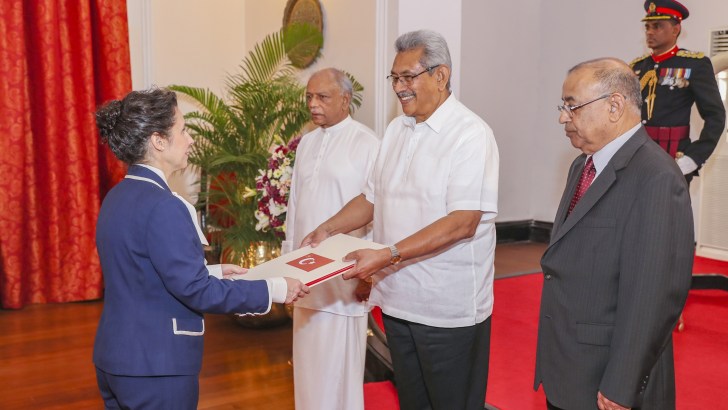 Following growing concerns over Sri Lanka's human rights record, four new ambassadors as a High Commissioner have been appointed to Sri Lanka.
Sri Lanka's President's Media Division reports that the "ambassadors of the State of Qatar and Republic of Turkey, as well as the Pakistan High Commissioner, will be based in Colombo. The ambassadors to the Grand Duchy of Luxemburg and Slovenia will be based in New Delhi".
 
After the initial ceremony, the ambassadors spoke with the accused war criminal President Gotabaya Rajapaksa about strengthening diplomatic ties despite international outcry over Sri Lanka's human rights record. Reports have maintained that conversation primarily focused on improving investment in "renewable energy, cargo and [the] financial sector".
 
Last month, Human Rights Watch published their annual report in which they detailed the 'great peril' Sri Lanka faced since the election of accused war criminal Gotabaya Rajapaksa. 
Meenakshi Ganguly, HRW's South Asia director stated on the matter;
"There is every reason to fear that any progress Sri Lanka has made in recent years in restoring basic rights and rebuilding democratic institutions will be overturned with a vengeance,"
In their report, they detail the appointment of several credibly accused war criminals to senior government positions; the expansion of militarisation; increased attacks on journalists; and, greater threats to Tamils and Muslims in Sri Lanka.
Read more here: HRW - Sri Lanka's human rights in grave peril
The International Crisis Group (ICG) similarly reported that the return of the Rajapaksa's was a 'dangerous sea change in Sri Lanka' and urged the EU to take decisive steps to ensure Sri Lanka maintains its UN commitments. The ICG further called upon the EU to review its favourable trading relationship with Sri Lanka, known as the GSP+ plan, which was predicated on a commitment to improving Sri Lanka's human rights record and repealing the Prevention of Terrorism Act (PTA).
Read more here: A Dangerous Sea Change in Sri Lanka - ICG
Read the Colombo Page's reporting here, read the President's Media Division here.