09 May 2019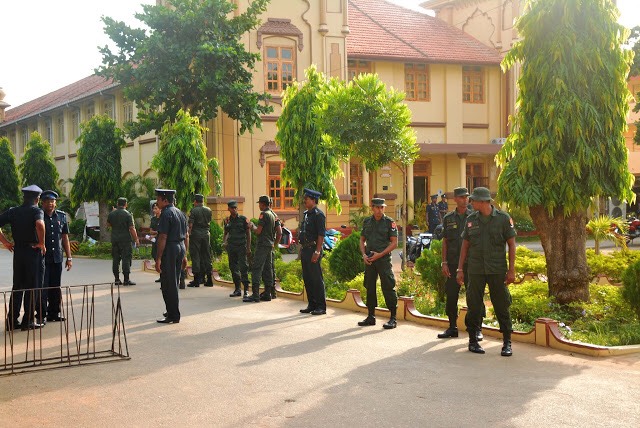 Two Jaffna university student union leaders and a campus hospitality worker remain detained following their arrest under the Prevention of Terrorism Act (PTA), despite requests to the Attorney General to secure their release and widespread condemnation of their arrests. Their lawyers have said that an appeal will be lodged at the Jaffna High Court.
The president and secretary of the university's student union were arrested last week when a photograph of LTTE leader V Prabhakaran was found in their office during a search operation of the campus. A canteen manager was also arrested and detained when a photo of Thileepan was found in the dining area.
The university had to invite the Sri Lankan military to carry out the search in order to be allowed to reopen following the terror attacks by alleged Islamists elsewhere on the island on Easter Sunday. 
The Tamil National Alliance MP M A Sumanthiran had written to the Attorney General requesting the department to sanction their bail, which the magistrates court lacked the jurisdiction to grant, and to advise the police not to prosecute, on the grounds that none had the intention to cause harm.
Former Chief Minister of the Northern Province and retired Supreme Court judge C V Wigneswaran had also written to the Sri Lankan President, urging his intervention on behalf of the students. Wigneswaran argued that if charges must be brought against the students, they should be under regular laws and not the PTA, pointing out that President Sirisena's government had promised to repeal the act as far back as 2015.
Families of the disappeared in Mullaitivu expressed shock at the arrests.
"If they used emergency regulations to arrest the students, it would not take them very long to arrest us also," said the district's campaign representative.
"This has created a climate of fear not just for us but for the wider Tamil community. These students marched for the freedom of political prisoners just a few months ago. All Tamil people will be affected by these emergency regulations," they said.
The association of families of disappeared in Amparai also called for the release of the students, expressing fear that under PTA detention the students could face the same fate as political prisoners detained for years without charge or trial.
Tamil diaspora organisations also expressed dismay at the arrests and called for the government to withdraw the cases.