18 April 2019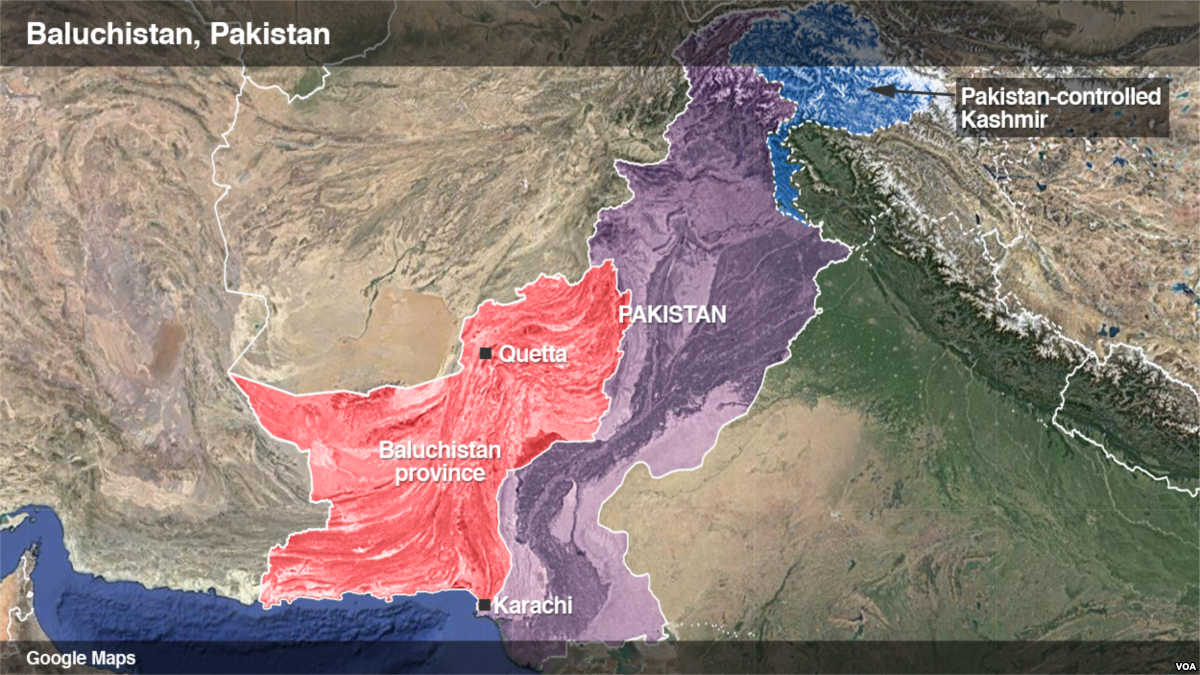 Map of Balochistan (VOA)
At least 14 people have been killed as gunmen stormed buses in Balochistan, a province in the south west of Pakistan that borders Afghanistan and Iran.
The attack took place in a remote area on the country's main coastal highway, as the buses were travelling from the port city of Gwadar to Karachi, the country's largest city. There were an approximate two dozen attackers who were dressed in the paramilitary Frontier Corps.
An alliance of armed Baloch separatists groups known as the Baloch Raaji Aajoi Sangar (BRAS) claimed responsibility for the attack in a statement released on Thursday.
A spokesman claimed:
"Those who were targeted carried [identification] cards of the Pakistan Navy and Coast Guards, and they were only killed after they were identified".
The government has not confirmed whether those killed were members of the security forces but a naval official and coast guard member are suspected to be among the dead.
Zahoor Buledi, Pakistan's minister for provincial information, told reporters that the attackers separated " identified non-Baloch by checking their identity cards and employee cards". These people were taken to a second location, a nearby mountain, and shot dead, early on Thursday morning. 
Pakistan has struggled with separatists movements in Balochistan since 2004 and has suffered numerous attacks on military and government personnel in the region.
Al Jazeera notes that Baluchistan is the country's largest but least populated province with large reserves of valuable mineral resources. Despite the vast resources, it is one of the poorest regions in Pakistan.
It has been of particular interest to as it would enable a joint venture between Pakistan and China that would allow China access to the Arabian Sea through Pakistan. The China Pakistan Economic Corridor (CPEC) includes a number of trade and road projects that have been valued at approximately $60bn in investments and loans. 
Separatists groups have accused Pakistan of human rights violations in their crackdown on political dissidents and wanting to extract resources from the area without providing basic services and rights to those living there.
Pakistan's officials have refuted the claims and accuse separatists groups of being funded by India.
Zahoor Buledi stated on twitter:
"These people have no ideological stance, they just commit injustice and are murderers for hire,"
Mir Zia Langov, Provincial Home Minister, has launched a full investigation into the attack and told reporters:
"Such incidents are intolerable and we will not spare the terrorists who carried out this dastardly attack".