07 March 2019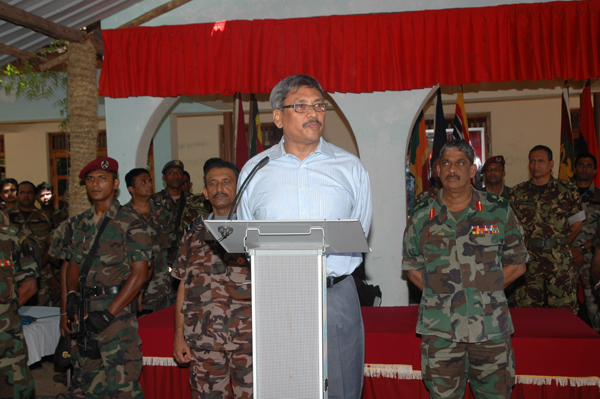 Gotabhaya addressing troops as then defence secretary. Fonseka (right)
Sri Lanka's former defence secretary, Gotabhaya Rajapaksa, who was implicated in the use of white vans to carry out enforced disappearances and killings with impunity, rejected the allegations at a conference in Kandy on Saturday. 
"I don't have a single white van," Gotabhaya was quoted by the Daily Mirror as saying. 
"Mahinda Rajapaksa Government never took revenge on individuals or implemented the law against those who are innocent," he said, despite credible and widespread evidence of the Rajapaksa regime's brutal crackdown on critics. 
Highlighting the prominent role played by Muslims, Gotabhaya added "we had a fortified intelligent service back then which helped us in defeating the terrorism. Most of our intelligence officers were Muslims. It was their contribution which led to the war victory."
"Sinhalese, Tamils, Muslims and others; they all face problems. There are continuing discussions about specific issues faced by the Muslims and Tamils but these discussions have only been limited to mere election propaganda. Our citizens need a substantial income, a school for their children and employment opportunities. These issues do not see ethnic or religious differences. However, our leaders trying to show to the Tamil community that these issues are because of the Sinhalese community when in truth we all face these issues. We need to address these basic issues first."
In an interview with Al Jazeera last year, Sri Lanka's former, war time army commander and then minister, Sarath Fonseka said white van abductions were orchestrated under the command of Gotabaya Rajapaksa. 
"I had very good tight control of the military. But there are other people like some in the police, some in intelligence agencies who prefer to please this man and join hands with him [Gotabaya Rajapaksa the previous defense secretary]," Fonseka. 
A 2014 report titled, "An Unfinished War: torture and sexual violence in Sri Lanka", detailed the use of white vans in abductions, based on sworn affidavits from 40 victims, 20 men and 20 women, who testified their experience of abduction, torture, rape and sexual violence.