14 November 2019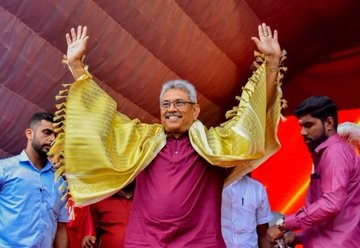 According to the Centre for Monitoring Election Violence (CMEV), an estimated Rs. 3,108 million has been spent by five candidates for their presidential election campaigning between October 14 to November 10, with Gotabaya campaign spending the most.
Gotabaya Rajapaksa's Sri Lanka Podujana Peramuna (SLPP) has spent the most, accounting for 49 per cent of the total estimated cost and spending an approximate Rs. 1,518 million. This is followed by Sajith Premadasa's New Democratic Front, which accounts for 46% and has spent approximately, Rs. 1,422 million.
These costs are claimed to have covered the candidate's campaign costs including printed and online media, social media and grass-roots campaigning.
Manjula Gajanayake, researcher and writer for CMEV,  has stated that the majority of facebook advertisement is by the SLPP. The Daily Mirror notes that the SLPP had shared 74 per cent ads in FB while 24 per cent ads shared on Facebook by the NDF.
CMEV has urged the Election Commission to request that all political parties reveal their sources of funding. CMEV has campaigned for stronger regulations and monitoring of financial expenses.
Read the Daily Mirror here.