04 April 2020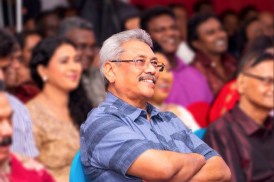 Sri Lankan President Gotabaya Rajapaksa has put out a statement condemning the spread of fake news on social media platforms with various false messages claiming to be from him.
On Twitter the Sri Lankan President stated;
"Beware of fake news & messages being circulated under my name via messenger platforms. Any announcement or message will be published only through official channels of Presidents Media Division & verified Facebook & Twitter accounts,"
Rajapaksa's statement follows growing concerns from human rights groups over Sri Lanka's use of the pandemic to curtail free speech. 
Read more here:
The news also follows the arrest of five people including a university student for the spread of false news on social media.
Read more from the Colombo Page and Daily Mirror.