30 June 2020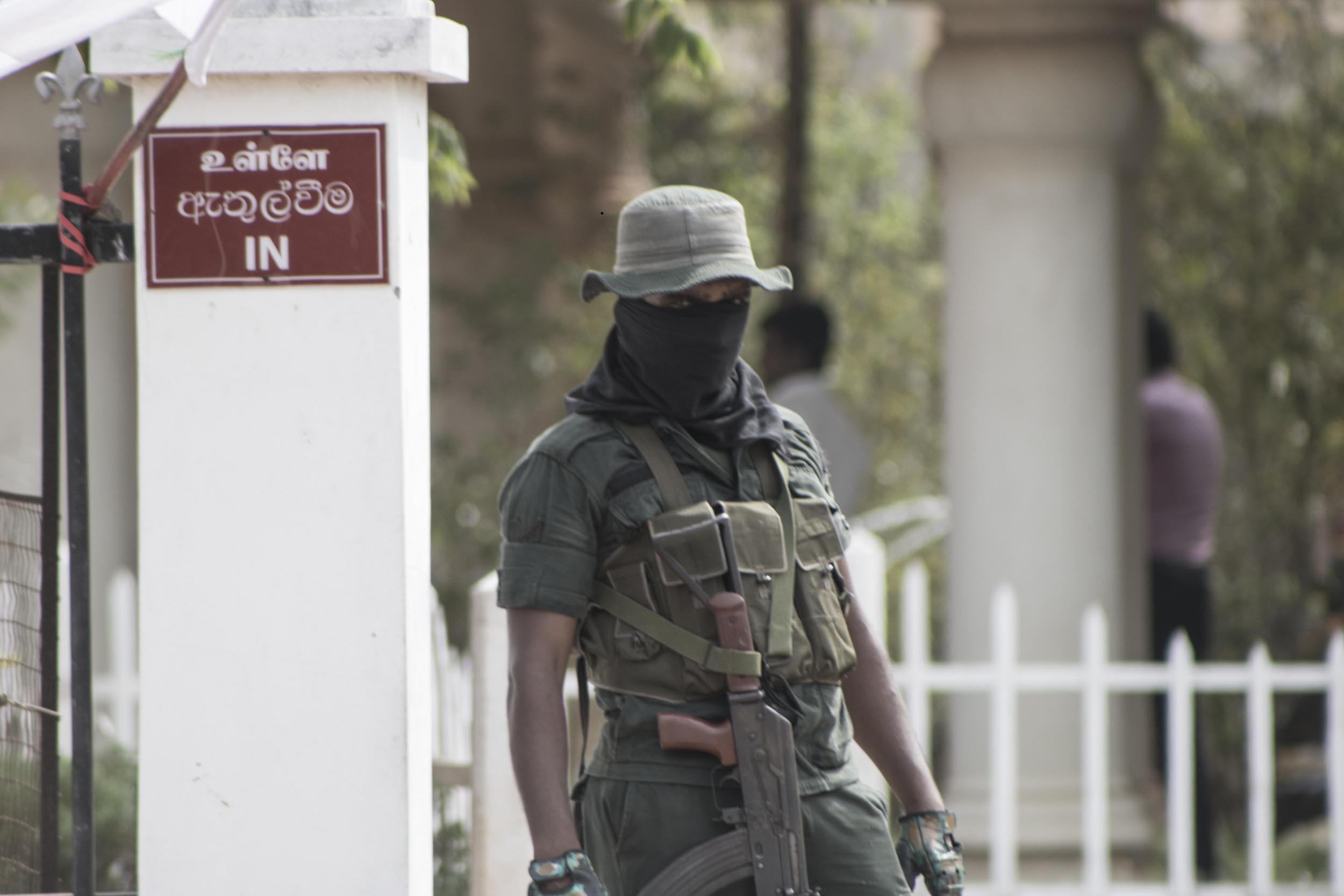 Over a decade on since the end of Sri Lanka's armed conflict in 2009, the occupying Sri Lankan state police and military forces in the North-East continue to carry out ongoing human rights violations, surveillance, intimidation, police brutality and extensive militarisation against Tamils and Muslims, under the semblance of national security concerns.
The ascendance of accused war criminals - Gotabaya and Mahinda Rajapaksa - to the helm of the country last year, has not only allowed the virulent rise of militarised authoritarianism across the island but also an unabashed agenda to promote and uphold Sinhala Buddhist nationalism, while deepening ethnic tensions. The recent incidents of police brutality against Black Lives Matter protestors in Colombo and the killing of a young Tamil man by Sri Lankan army soldiers earlier this week, illustrates how Sri Lanka's existing security apparatus such as the military, police and intelligence services are intrinsically mired with power, racism and violence. Purported attempts at reform over the last eleven years have failed. With increasing outcries across the world to defund and overhaul systemically racist security institutions, Sri Lanka's security sector too must come under scrutiny.
Addressing the problem in the North-East
Incidents of military harassment, police brutality and torture while rife across the island, occur disproportionately in the North-East. Police violence in the North East - often accompanied with torture and ruthless coercion - is an issue that has featured in the tactics of multiple governments. Yet, it continues to stay unaddressed and garners very little outrage island-wide due to Sri Lanka's unfair targeting and criminalisation of Tamils and Muslims. A recent incident of a disabled man who was falsely arrested and tortured highlights how inherently corrupt and tyrannical the state-enabled police structures operate.
The denial and reluctance to acknowledge the systemic problem embedded within the police institutions coupled with certain institutional bodies coming out to dismiss these as isolated incidents and only done by a 'few bad apples', only promotes a society where Tamils and Muslims feel vulnerable and unsafe. This proves it is essential that Sri Lanka's occupying forces in the North-East are immediately abolished and removed in their entirety from the area. While reforms have been called for decades, it is clear that there is no reform possible when the security system is fundamentally built on extreme force, coercion and surveillance and will only allow the perpetration of violence against Tamils and Muslims to continue.
The current military presence in the North-East is particularly invasive to the lives of Tamils and Muslims and exists on the back of the failed promises by previous governments that included removal and halting construction of military camps, ending military involvement in civil administration and stopping the intimidation of civil society activists and ex-detainees by intelligence services. Places of worship have seen the bombarding of military personnel; dairy farmers have reported military harassment and fishermen have reported poachers camping on Tamil land with the backing of Sri Lanka military officials. The military harassment extends to the protesting Tamil families of the disappeared, who have been scrutinised merely for demonstrating for justice and answers not provided to them by the government. A recent report by Sri Lanka Campaign, examined the role of the military in Tamil schools and revealed that the Sri Lanka government insisted they only operate in civilian schools to promote post-war reconciliation and the economy in the North-East. However, the report emphasised that this engagement has cultivated social control and surveillance of war-affected communities in a scheme that enabled the entrenchment and normalisation of militarisation. Another report showed the military's impact on gender, with Tamil and Muslim women experiencing fear of sexual violence and there being a weakening of community trust in the face of extensive surveillance programs.
Dependence on militarisation
Sri Lanka's heavy dependence and usage of military forces on the island is not something new. The UK, China and India among other countries have long operated as international accomplices to enable Sri Lanka's militarisation by actively supplying funds, equipment and training. China has continually supported Sri Lanka with military assistance; aiding with training of military personnel; mass surveillance and providing military equipment – including tanks, security equipment and ammunition. The UK government, despite the lack of transparency in Sri Lanka's military reform, has continued to spend millions on "security sector reform" in Sri Lanka. Reports highlighting incidents of unlawful surveillance, harassment and intimidation has not deterred them from providing a wealth of equipment and training.  The UK have long-standing military ties with Sri Lanka. Earlier this year, it was revealed that a British mercenary company called Keenie Meenie Services with associations to the UK government, made of ex-Special Air Services veterans with military experience, committed war crimes against Tamils with the Sri Lanka army. India who worked closely with the Sri Lankan military during the civil war, engaged in joint military exercises with Sri Lanka last year to "boost counter-terrorism cooperation" and more recently promised to seek even closer military ties. The international governments of the UK, China and India must be called upon to immediately halt these 'exchange programs' and military partnerships that are currently enabling an occupying force in Sri Lanka to perpetrate violence, surveillance and harrasment against Tamils and Muslims in the North-East.  
The overt manifestation of militarisation has been ramped up in recent months, despite the current pandemic. The response to COVID-19 has been heavily politicised and militarised with military-enforced curfews, brutal assaults and disproportionate sanctions for non-compliance. With the response led by military official and alleged war criminal Lt. Gen. Shavendra Silva, who was subjected to US travel sanctions earlier this year, the president signalled his intent to continue upholding military authoritarianism. The appointment is an illogical choice given Silva's lack of medical expertise and knowledge but also a troubling one given his military background that risks more human rights violations and more impunity.
The recently pronounced Presidential Task Forces (PTF) - which has prompted a lot of criticism from activists and the international community – further shows the state's reliance on the military. The PTF, headed by alleged war criminal Kamal Gunaratne, is deeply concerning as it is seen as a front to legitimise further Sinhalisation of the North-East. In particular, the Eastern province which has already been subject to decades intense colonisation and state-sponsored settlement schemes to re-engineer the province's demographics, is expected to be further targeted.
While the armed conflict ended in 2009, the Sri Lankan military still boasts the operating of over 240,000 personnel and exists today as one of the largest active military per capita in the world. The military - accused of a myriad of human rights abuses particularly during the latter stages of the war - is grounded on the basis of Sinhala Buddhist chauvinism and functions with a host of alleged war criminals that make it particularly unsafe for Tamil and Muslims on the island.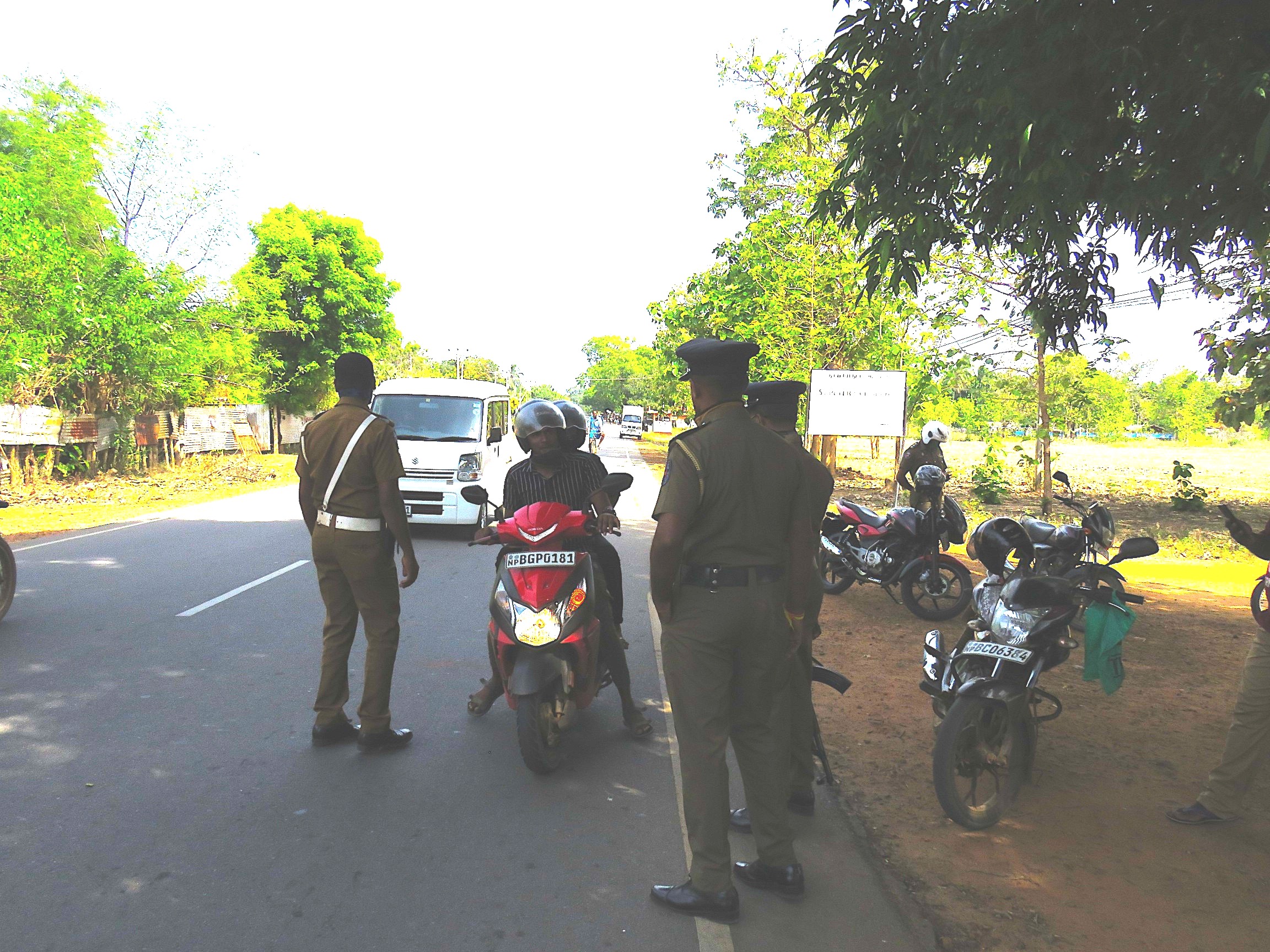 Flaws of the 'security sector reform' argument
The systemic and institutionalised racism so violently discriminant of Black people in the US has prompted several reforms in the country. The introduction of body cameras, mandatory de-escalation trainings in Seattle and banning of chokeholds in New York has been hailed by some as progress. However for many others, these reforms have failed to solve a problem that is deeply rooted in the founding of these institutions and have not curbed the systemic incidents of police brutality. 
In retrospect, efforts for 'security sector reform' in Sri Lanka too have come and evidently failed, with previous governments failing to make any substantive change. For instance, the Scotland government provided a 'police training reform project' but this has proved ineffective when reviewing the cases of police brutality and torture that happened and still occur on the island. Like in the UK, racial profiling, police in schools and incidents of 'stop and search' are normalised by the police in the North-East against Tamils and Muslims. This begs the question as to why the UK government is continuing to provide police and military training to Sri Lanka when they themselves have a deep history and problem with the issue of racial violence and police brutality.
There is huge fear resonant in the North-East due to the heavy militarisation, constant surveillance, intimidation, harassment and assault. However, it may seem puzzling that there are not wider calls advocating for the abolition of occupying forces in the North-East. This can be attributed to the counter-insurgent tactics administered by the state to uphold its monopoly of violence. The occupying military forces may sometimes perform gestures such as gifting houses to 'deserving families' in the North-East to create the illusion that they are facilitating a positive influence among the Tamil and Muslim community. Community-based organisations in the North-East are also subject to surveillance harassment and rigorously questioned on how they operate and where they receive their funding from. Tamil politicians are often scrutinised and harassed for their criticism of the occupying forces. Those who challenge the state to withdraw these occupying forces and abolish them are threatened with false arrest charges and extensive police violence against them. As the country plunges into economic turmoil and further crippling debt, the state's constant inclination to uphold and bolster the police, military and intelligence services is something that needs to be immediately addressed. Defunding Sri Lanka's security sector is imperative and essentially reduces the ability for law enforcement and surveillance groups to have the resources to harm Tamil and Muslims on the island. The defunding of these forces needs to swiftly progress into dismantling and fully abolishing these occupying forces in the North-East. 
While there have been relentless calls and action to prompt defunding of police institutions in the West, it is important that these demands extend to also question how and why they are complicit in violent regimes overseas, such as Sri Lanka. It is unacceptable that support for Sri Lanka's occupying forces is enabled under the blanket of 'reconciliation' and that Sri Lanka continues to use it to strengthen the security sector while neglecting the enriching of Tamil and Muslim community development, improving of healthcare facilities, addressing of mental health issues and wealth disparities for Tamils and Muslims.
It is paramount that prompt efforts are taken to demilitarise and abolish occupying forces in the North-East and the state is forced to acknowledge that superficial reforms of the police or military is not sufficient in providing a safe society for Tamils, Muslims and others to exist peacefully, absent from systems intrinsically founded in power, violence and discrimination.
We need your support
Sri Lanka is one of the most dangerous places in the world to be a journalist. Tamil journalists are particularly at threat, with at least 41 media workers known to have been killed by the Sri Lankan state or its paramilitaries during and after the armed conflict.
Despite the risks, our team on the ground remain committed to providing detailed and accurate reporting of developments in the Tamil homeland, across the island and around the world, as well as providing expert analysis and insight from the Tamil point of view
We need your support in keeping our journalism going. Support our work today.
For more ways to donate visit https://donate.tamilguardian.com.