20 March 2021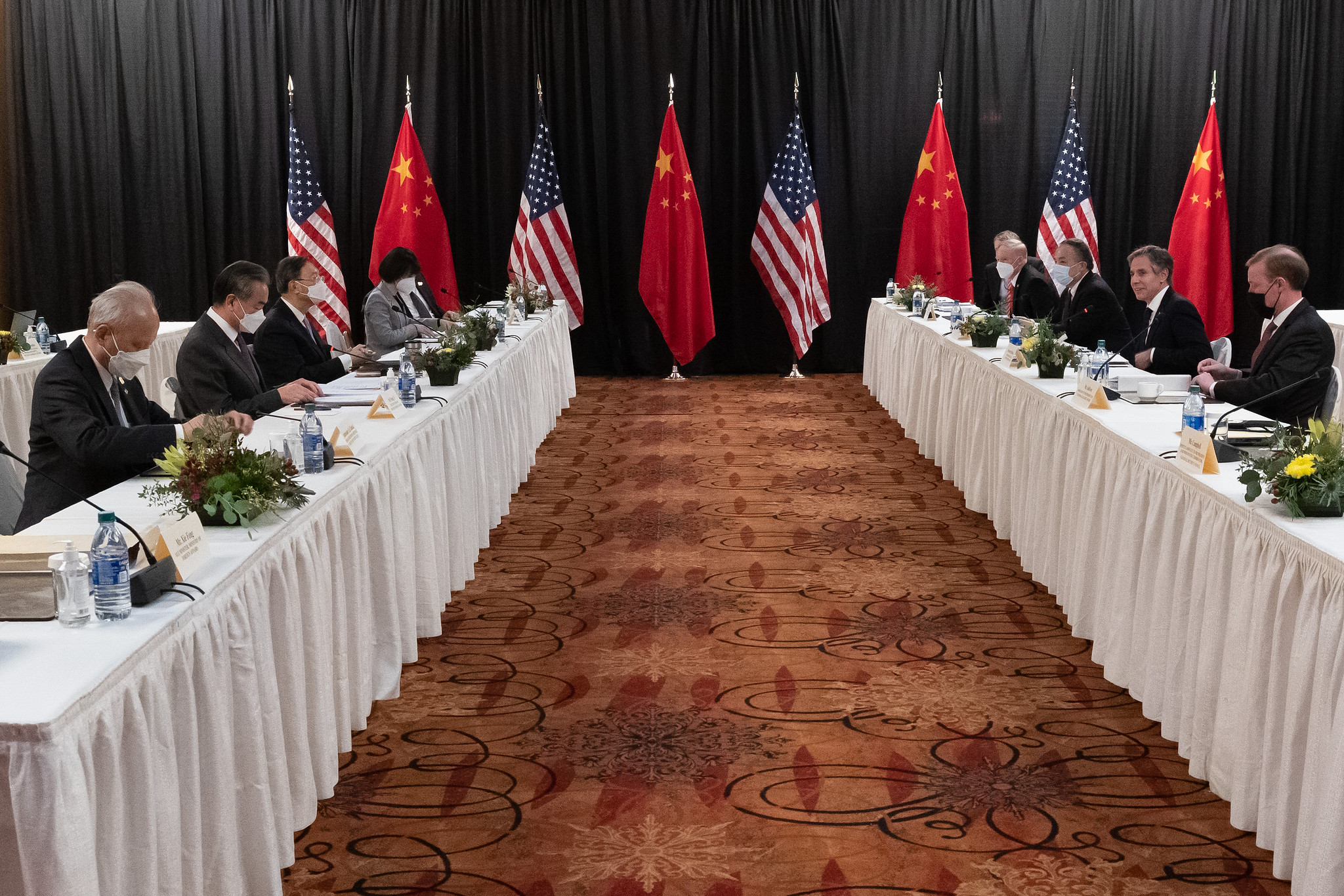 Photograph: US and Chinese delegations in Alaska this month.
Earlier this month the United States and China publicly clashed, capturing global attention as the first face-to-face talks between the two superpowers since the Biden administration came into power, descended into a chaotic opening day. 
The meeting in Alaska saw US Secretary of State Anthony Blinken exchange sharp words with Yang Jiechi, director of the Central Foreign Affairs Commission Office of the Chinese Communist Party (CCP). "As US and Chinese officials landed in Anchorage this week, the temperature was well below freezing," said the Financial Times. "But when they sat across the table at the Hotel Captain Cook, another brutal chill hit the room." 
What was supposed to begin as a short opening exchange, descended into more than an hour of traded barbs.
"Our administration is committed to leading with diplomacy to advance the interests of the United States and to strengthen the rules-based international order," began Blinken. 
National Security Advisor Jake Sullivan said the US was "particularly proud of the work that we've done to revitalize our alliances and partnerships, the foundation of our foreign policy," pointing to US President Biden's hosting of the Quad leaders' summit with India, Australia and Japan. The summit "spoke to the can-do spirit of the world's democracies and committed to realize the vision of a free and open Indo-Pacific," he added. 
Yang hit back in a lengthy opening statement, declaring "it is important for the United States to change its own image and to stop advancing its own democracy in the rest of the world". "On some regional issues, I think the problem is that the United States has exercised long-arm jurisdiction and suppression and overstretched the national security through the use of force or financial hegemony, and this has created obstacles for normal trade activities," he added. 
The exchange made global headlines. The AP reported, 
"At the Alaska meeting, Blinken affirmed U.S. solidarity with its allies in pushing back against China's increasing efforts to spread its authoritarian mode of government through political and economic pressure. Yang responded with a list of Chinese complaints, accusing Washington of hypocrisy for criticizing Beijing on human rights and other issues at a time when the United States itself has been roiled by domestic discontent." 
The Guardian reported Blinken and Sullivan "said the Biden administration and its allies were united in pushing back against China's increasing authoritarianism and assertiveness at home and abroad". 
"In response, Yang angrily demanded that the US stop pushing its own version of democracy at a time when it was dealing with discontent among its own population," it added. 
Familiar names for Sri Lanka 
Whilst the exchange and US-China relations were debated in the international press, the meeting was also closely watched in Sri Lanka. Both names are not unfamiliar to the island. 
In our profile on the US Secretary of State in December, we outlined Antony Blinken's previous extensive comments on Sri Lanka. 
Speaking at the US Holocaust Museum in 2010, Blinken spoke on Sri Lanka, stating that there were "thousands and probably tens of thousands of civilians killed in the final months of the war". "Holding accountable those responsible is necessary… and it will speed national reconciliation," he added. 
Following the defeat of Mahinda Rajapaksa at the 2015 presidential election, Blinken hailed it as the "most successful election in your country's history". "I believe it is time for your country to return to its rightful place as a respected member of the international community," he continued.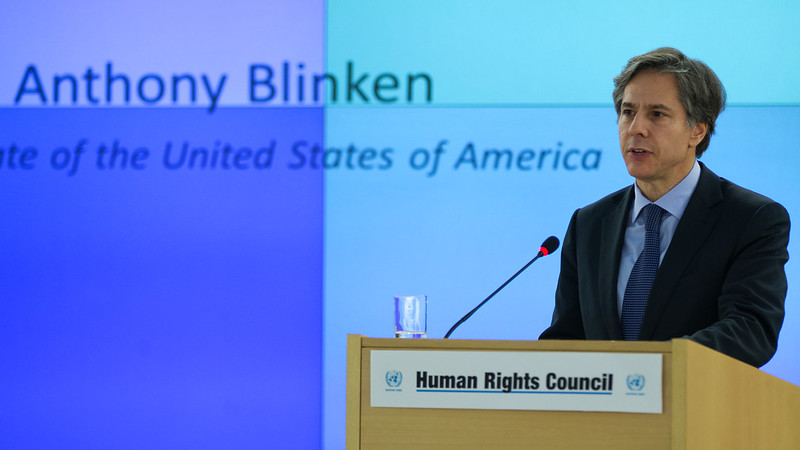 Blinken at the UN Human Rights Council in 2016
And in 2016, Blinken told the UN Human Rights Council that the global body "has an obligation and a mandate to shine a bright light on grievous violations of human rights and help hold perpetrators accountable" – a speech that rings even more poignant 5 years on, as yet another resolution on accountability was passed by the global body this week. 
Since his remarks, however, almost no progress on accountability has been made. Rajapaksa has returned to office as Sri Lanka's prime minister, with his younger brother and former defence secretary Gotabaya Rajapaksa now president. Both are accused of directing mass atrocities.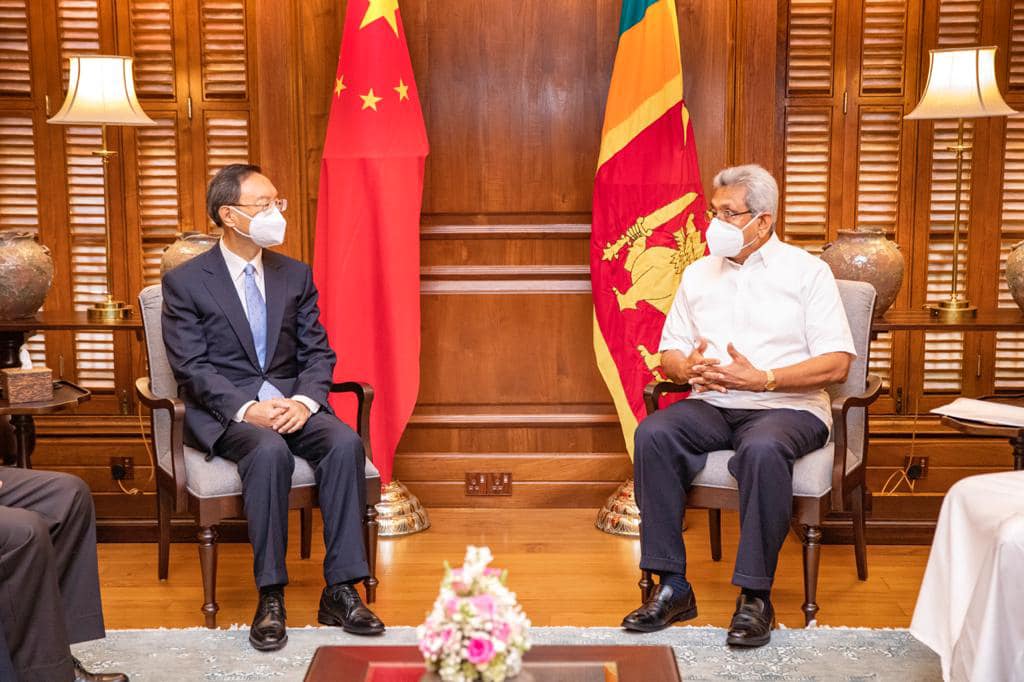 Yang with Gotabaya Rajapaksa in Colombo, October 2020.
Yang Jiechi on the other hand is a figure that will be more familiar to Sri Lanka's current ruling regime. 
Yang visited Sri Lanka just a few months ago as part of a high-level delegation to the island, meeting with both Gotabaya Rajapaksa and Mahinda Rajapaksa, which sought to foster closer relations between Beijing and Colombo. This was not his first visit to Sri Lanka he noted, recalling an earlier trip to the island some 35 years ago.
"Being the first-ever Chinese visit in the South Asian region, since the global coronavirus epidemic, the visit is expected to strengthen cooperation between Sri Lanka and China," said a statement before the visit. According to an official Chinese press release, Yang said "China and Sri Lanka are good friends and partners who always support and help each other firmly on issues concerning each other's core interests". 
As an indicator of how close relations between the two states may be, the statement highlighted the "important consensus reached by the heads of two states", Xi Jinping and Gotabaya Rajapaksa, who had spoken directly earlier in the year.
"China will continue to maintain close high-level exchanges and consolidate the political trust," the statement continued, outlining several different areas of "long-term" co-operation.
Meanwhile, Gotabaya Rajapaksa claimed, "China has been a long-standing friend who supported Sri Lanka irrespective of the government in power". "China extensively supported us to defeat terrorism," he added, alluding to the military offensive he led which killed tens of thousands of Tamil civilians and has now been the subject of several UN resolutions. Yang meanwhile pledged to defend Sri Lanka at the global body against resolutions that aimed to bring about justice for the crimes committed during that offensive. "Bilateral relations reached a higher level following the end of the armed conflict," said Rajapaksa. 
After the visit, China announced a $90 million grant for Sri Lanka, with more financial assistance for Sri Lanka's straggling economy reportedly on the way.
Closer ties with Beijing
The clash between the two diplomats in Alaska comes at a particularly pivotal juncture for Sri Lanka. Not only has Colombo captured global attention for its refusal to prosecute for previous atrocities and for the rapidly declining space for human rights on the island, but the Rajapaksa regime has also actively sought to foster closer ties with Beijing.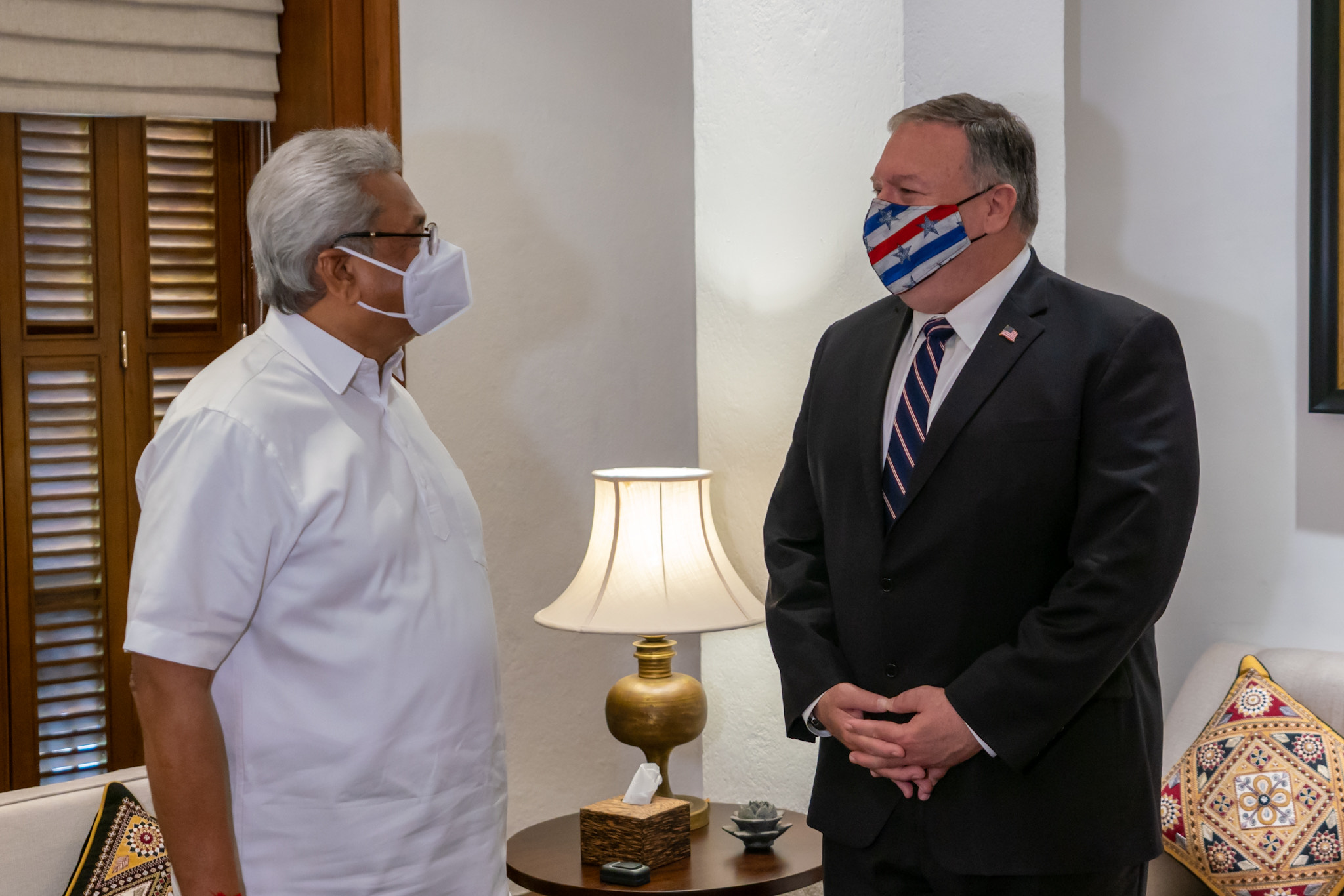 Pompeo in Sri Lanka last year.
Just weeks after Yang's visit, then US Secretary of State Mike Pompeo also travelled to Sri Lanka, where he took aim at China's relationship with Sri Lanka, stating that Beijing's interest in the region "is quite a contrast".
"We see from bad deals, violations of sovereignty and lawlessness on land and sea that the Chinese Communist Party is a predator and the United States comes in a different way," said Pompeo in Colombo. "We come as a friend and as a partner."
The message may not have been entirely well received. Not only did the Chinese embassy in Sri Lanka react to the visit by posting memes on its official Twitter account, but the day before Pompeo's arrival there was also a protest outside the US Embassy in Colombo by the Janatha Vimukthi Peramuna (JVP) and several Sinhala Buddhist monks. Meanwhile, the elder Mahinda Rajapaksa reportedly snubbed a meeting with the senior US official, whilst other Sri Lankan officials were left seething over the US focus on human rights. "It is not for outsiders to tell Sri Lankans how to run their country," a senior Sri Lankan official was quoted as stating.
Meanwhile, Sri Lanka's foreign secretary expressed his own concerns about US presence in the region – pointing specifically to the Quad military alliance that the Biden administration is attempting to revive.
"Do we really need a quad?" asked Foreign Secretary, and accused war criminal, Jayanth Colombage. "We are observing the rise of Quad as an exclusive military alliance. That is the problem."
'America is back'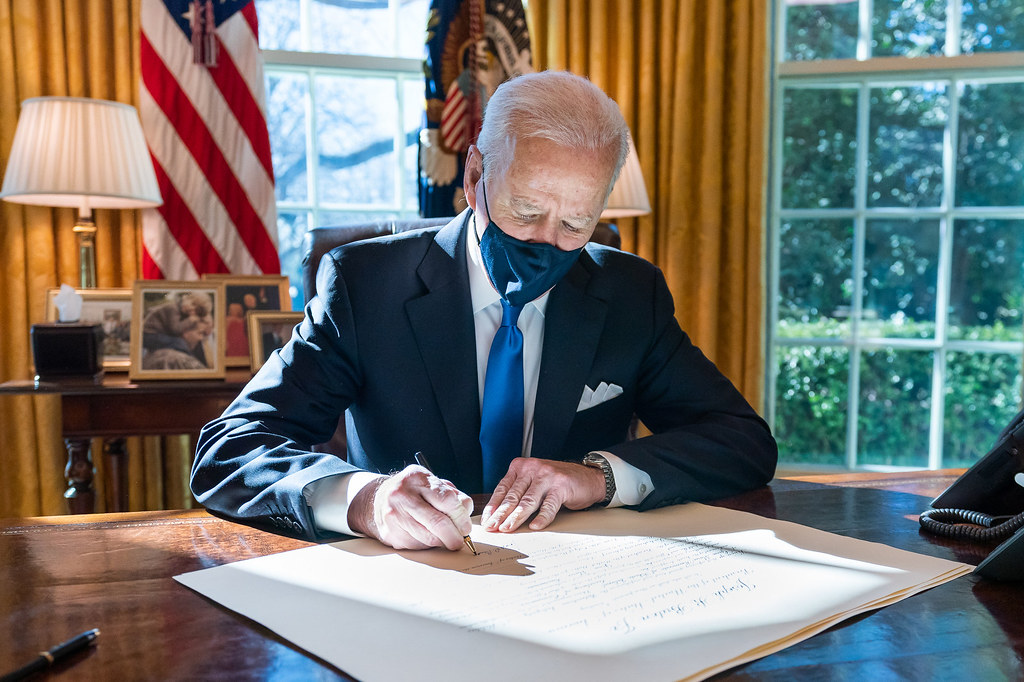 Biden at the White House in March 2021
"The United States relationship with China will be competitive where it should be, collaborative where it can be, adversarial where it must be," began Blinken's opening remarks at Alaska. "Our intent is to be direct about our concerns, direct about our priorities, with the goal of a more clear-eyed relationship between our countries moving forward."
"We do not seek conflict," added Sullivan. "But we welcome stiff competition and we will always stand up for our principles."
Though the United States stressed it is not seeking confrontation with Beijing, the new administration has repeatedly spoken on how it will look to lead global order. "I'm sending a clear message to the world," said Biden earlier this year. "America is back."
With the new US administration has reiterating its commitment to tackling the rise of authoritarianism around the world, the events of Sri Lanka over the past year will not have gone amiss. Since being elected to office in 2019, Gotabaya Rajapaksa has steadily increased the already rampant militarisation of the island, particularly in the Tamil North-East, clamped down on critics and passed constitutional amendments that rolled back checks on his power as president. Concerns have been echoed by the UN human rights chief, who said the "seeds of violence" were being sown in Sri Lanka. "Sri Lanka's experience illustrates the global trends," said Freedom House late last year.
Though the US president himself spoke of the Chinese premier's autocratic leanings, he spoke of "stiff competition", not conflict, with China. "We're going to reestablish our alliances," he told reporters last week. "And I've been very clear with [Xi Jinping], it's not anti-Chinese."
Biden went on to state,
"Look, I predict to you, your children or grandchildren are going to be doing their doctoral thesis on the issue of who succeeded: autocracy or democracy? Because that is what is at stake, not just with China." 

"It is clear, absolutely clear — and most of the scholars I dealt with at Penn agree with me around the country — that this is a battle between the utility of democracies in the 21st century and autocracies."

"That's what's at stake here. We've got to prove democracy works."
We need your support
Sri Lanka is one of the most dangerous places in the world to be a journalist. Tamil journalists are particularly at threat, with at least 41 media workers known to have been killed by the Sri Lankan state or its paramilitaries during and after the armed conflict.
Despite the risks, our team on the ground remain committed to providing detailed and accurate reporting of developments in the Tamil homeland, across the island and around the world, as well as providing expert analysis and insight from the Tamil point of view
We need your support in keeping our journalism going. Support our work today.
For more ways to donate visit https://donate.tamilguardian.com.