19 August 2018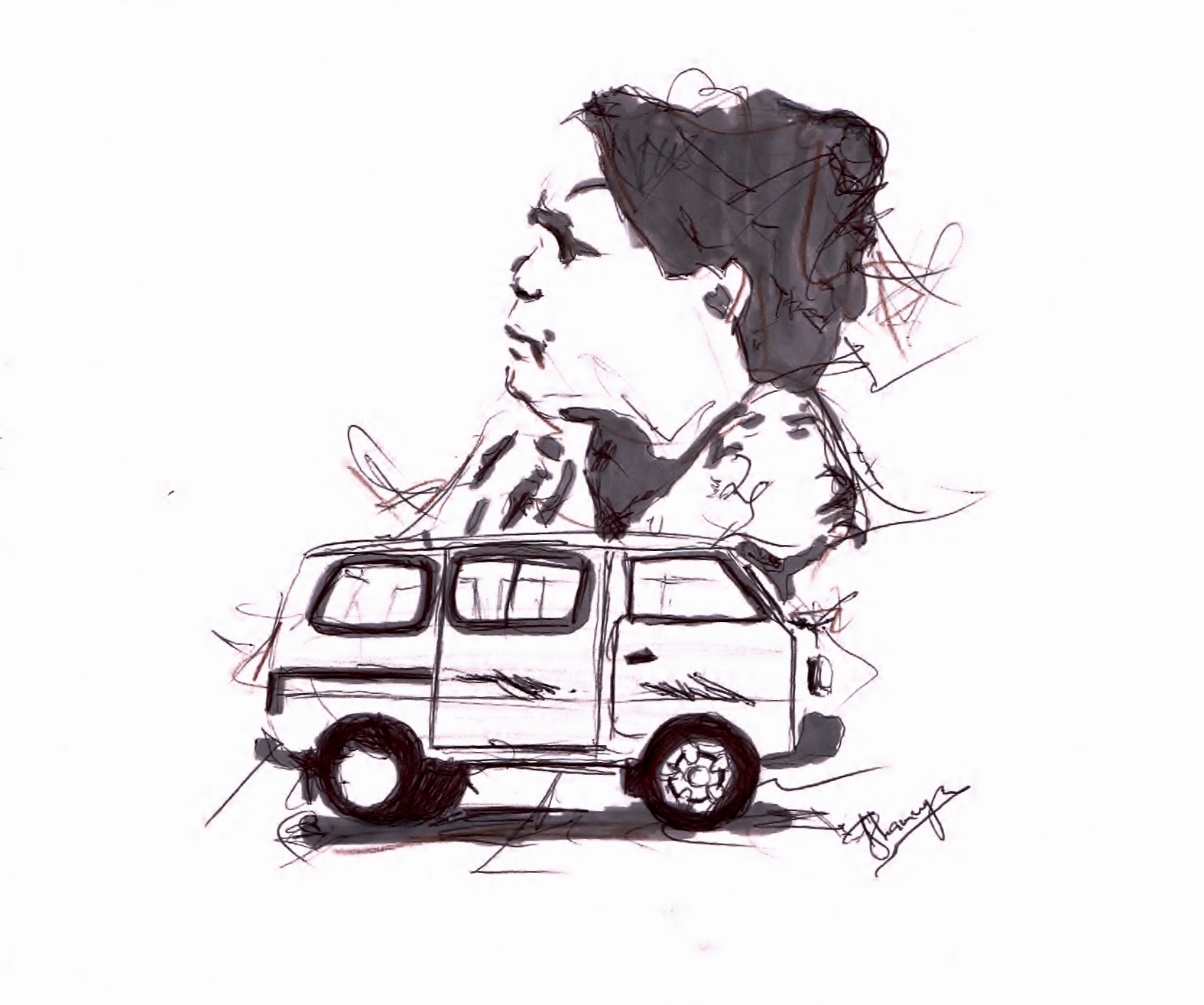 Artwork courtesy of Shawmy Thilipkumar (@shawmy_02)
For over 500 days relatives of the forcibly disappeared have been protesting on the streets across the North-East, demanding to know the whereabouts of their loved ones. Despite years, sometimes decades, of various government mechanisms and pledges, their search for answers continues.
In this series of interviews conducted since May 2017, Tamil Guardian goes behind the protest to the individual stories that make up this unyielding movement of Tamil families of the disappeared.
Sivasothy
"What we need now is that our children come home. We have daughters, many mothers have lost their children or have been made disappeared. This government kidnapped them. No one came from foreign countries to take them, did they? The Sri Lankan government must answer to these children. No one else can go outside and expect to find answers for them."
Nanthabala Sivasothy sits along the roads of Trincomalee to protest with fellow mothers, following the forced disappearance of her daughter on February 10, 2002. Her daughter was kidnapped in a white van on her way home from tuition. Sivasothy recalls chasing the van as fast as she could as it sped off. Her daughter was only 15 years old at the time. She was a studious child, always eager to learn and very loving. Sivasothy weeps, knowing that those would have been the last moments she would see her daughter again. Now she joins the mothers of Trincomalee, demanding justice and accountability from the Sri Lankan state.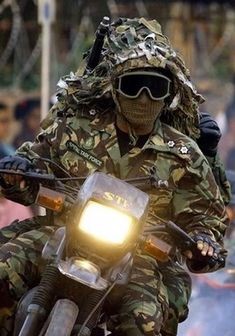 Kidnappings, forced abductions and disappearances were a common occurrence throughout the armed conflict Sivasothy recounts.
"Soldiers would come into our grounds with their faces covered, their foreheads and mouths covered so we could only see their eyes, and take groups of people away. They would also come into our homes at night and have forcibly taken some people away under the false pretence of a short investigation."
In one attempted abduction of a young boy in the Puchivellai district, Sivasothy recalls how she and other village women intercepted a van that had kidnapped him. A group of ten women surrounded the van, opened the doors and dragged the young boy out of the sack of chillies he was tied in to, before they all fled together.
To Sivasothy, alongside finding her child and bringing the abductors to justice, it is as important to recognise how the Sri Lankan government protects and encourages perpetrators.
The protest only followed her and the other mothers' multiple attempts at seeking alternative avenues to find their children, including approaching the UNHCR, the Senthoorai organization and Red Cross to file assistance reports. Sri Lankan police officers had turned her away and instead accused her of letting her child be kidnapped by the LTTE. But she knows that state forces took her and stresses the importance of acknowledging the role the Sri Lankan government plays in denying mothers the right to know the whereabouts of their children. "What has the government done thus far?" she asks, "It has prolonged the process by two years, making us run here and there."
It's not easy for Sivasothy to come out to these protests, as many mothers face threats from Sri Lanka's CID (Criminal Investigation Department) and stay away out of fear of retaliation. Just last month, a woman serving as an assistant lawyer representing one of the families of disappeared in Jaffna was brutally attacked.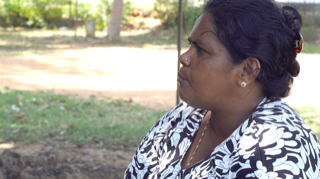 Above right: File photograph of masked members of Sri Lanka's Special Task Force, who have been accused of carrying out abductions in the North-East
Above: Nanthabala Sivasothy, speaking at the protest site in Trincomalee
It has been a long and arduous struggle. "Even now, we only eat once, rejecting food during the day and having one meal at night," she says. "What we need is that our children come home." She is also the sole-supporter of her family since her husband fled, leaving an elderly diabetic mother at home. "It is so difficult, especially without a proper house. If it rains, the water drains into my house. I work as a tea-maker, delivering tea to government officials and make around 10,000 rupees (some 60 USD) salary each month." Last month, Sivasothy injured her leg in a fall and now works for 10 days a month, making only 5,500 rupees to take home.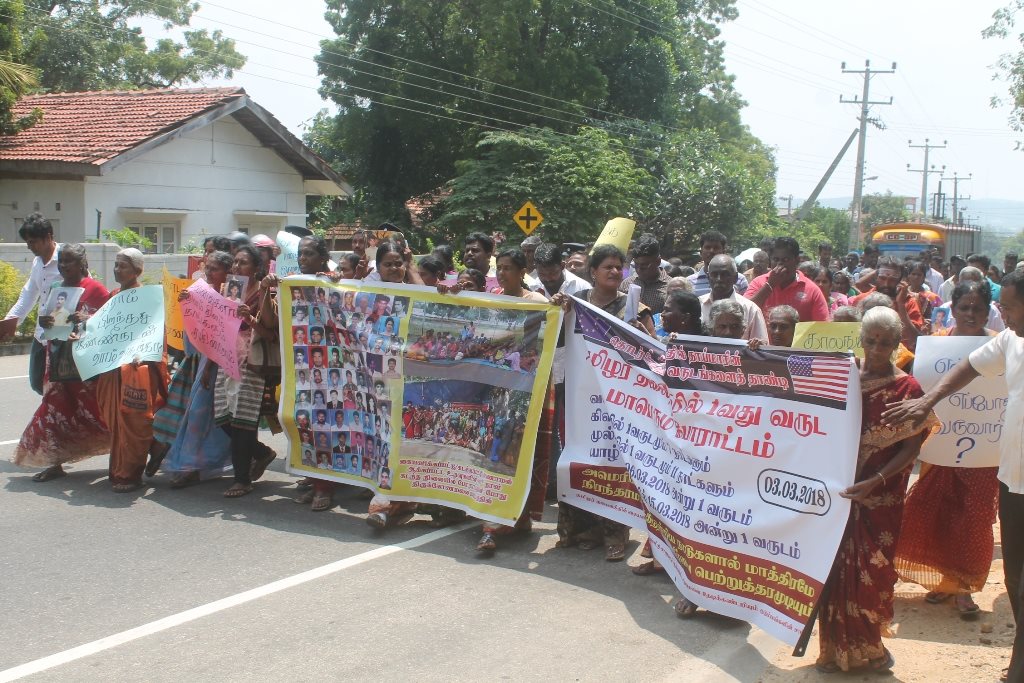 Above: Tamil disappearances activists in Trincomalee lead a rally in the town earlier this year.
Her participation in these protests comes at a deep cost for her family, especially for her son who too has suffered at the hands of the state. She proudly describes his past academic achievements and ambitions, "learning three languages – English, Tamil and Sinhala – he was a talented student, like my daughter." This was before Sri Lankan police officers stormed their home and took her son away claiming he had hidden a firearm. Even after the charges were dropped, Sivasothy recalls the police-inflicted trauma. "They destroyed his ambition to study and grow in life. He didn't want to pursue his studies and even when school officials asked him to return, he turned them away. It was because of these police officers that my son abandoned his studies." Now, Sivasothy's son works back-breaking labour to make ends meet.
Her personal recollections of the suffering her family has endured is indicative of how local Tamils in the region suffered. Throughout the interview she provides brutal accounts of Sri Lankan security forces murdering and raping, providing a glimpse of the overwhelming mental distress that the local community have endured. "You won't believe the types of cruelty that took place here," she says.
"I must've been 15 years old and forced to hide from the army in a pile of 35 dead bodies when these government forces came around poking our limbs, even cutting through my leg, to check if we were still alive. I stiffened my body and laid there, under a dead body," Sivasothy says, as she recounts a horrific massacre, before detailing more crimes she has witnessed.
"In front of my eyes, they dragged a woman out from under her feet and raped her right there… A young boy, brought him and killed him like that, slitting his neck and wrists and left him hanging on a tree."
"I saw that all through my eyes and can never forget it… Those things took place here, in Sri Lanka."
She doesn't let any of this derail her determination, as the strength of the women around her inspire her to continue to participate in these protests. Some of the mothers she sits with are also the sole supporters of their families following the forced disappearances of their husbands. Unfortunately, the government's lack of response to their pleadings makes their daily lives a constant struggle. "We are seeking an end, not only for us but for all of the mothers. Everyone needs an answer. But the government, some higher officials come along, and never do anything."
And that is why she believes the diaspora plays a vital role in voicing the mother's angst. "Even if our own government doesn't care for us, through our diaspora Tamil peoples we need to find an end to this trauma," she says. "Only we know the pain of losing our children," she says adding that telling her story to the world "gives us hope".
Her sheer will to continue to resist is indicative of what these mothers are capable of. "There are many problems like this," she says.
"But, until the very end we will be here protesting."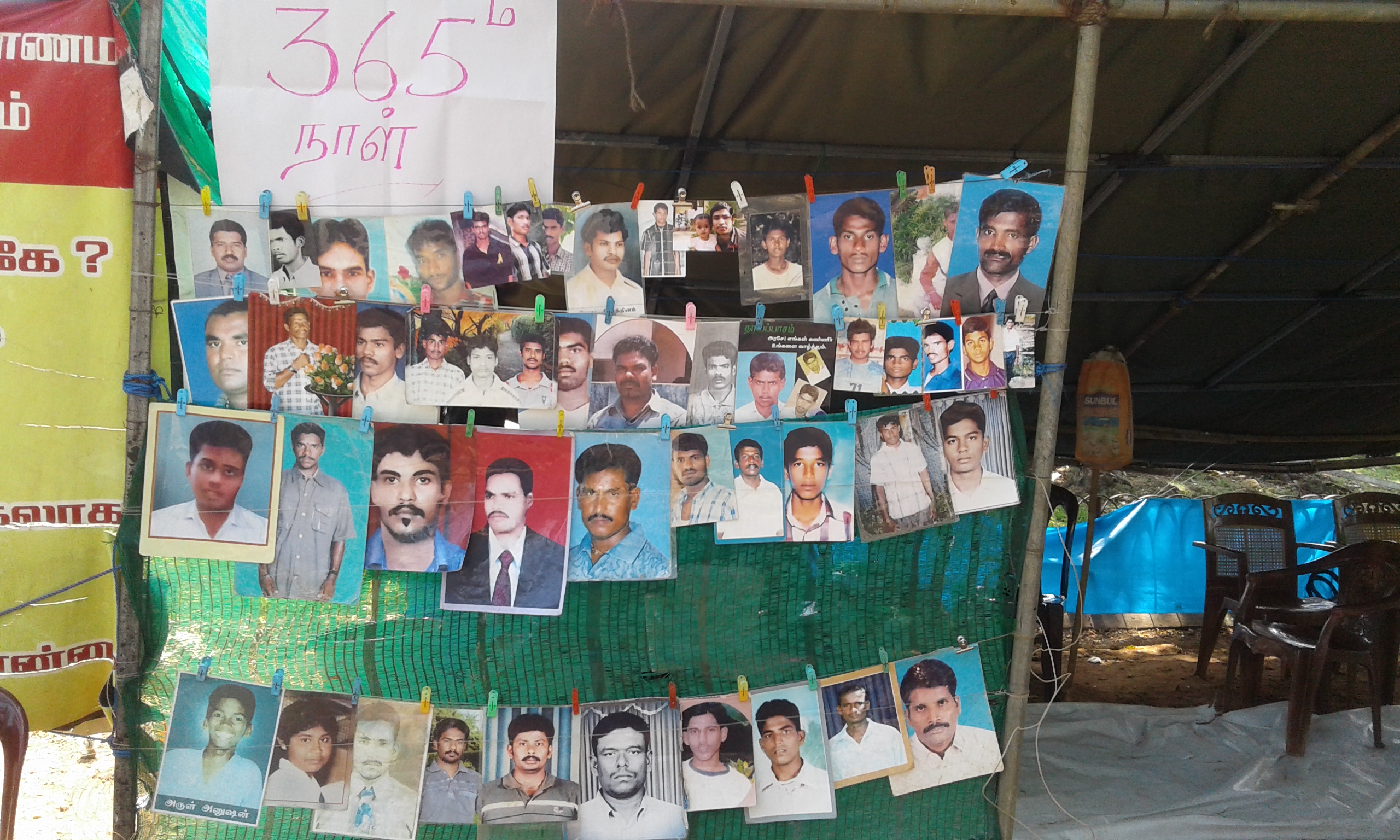 Above: Photographs of some of the forcibly disappeared loved ones these mothers are searching for.
We need your support
Sri Lanka is one of the most dangerous places in the world to be a journalist. Tamil journalists are particularly at threat, with at least 41 media workers known to have been killed by the Sri Lankan state or its paramilitaries during and after the armed conflict.
Despite the risks, our team on the ground remain committed to providing detailed and accurate reporting of developments in the Tamil homeland, across the island and around the world, as well as providing expert analysis and insight from the Tamil point of view
We need your support in keeping our journalism going. Support our work today.