30 October 2017
Artwork courtesy of Sagi Thilipkumar (@saygi)
For months relatives of the forcibly disappeared have been protesting on the streets across the North-East, demanding to know the whereabouts of their loved ones. Despite years, sometimes decades, of various government mechanisms and pledges, their search for answers continues.
In this series of interviews conducted since May 2017, Tamil Guardian goes behind the protest to the individual stories that make up this unyielding movement of Tamil families of the disappeared.
 
Selvan
During the closing weeks of the armed conflict in 2009, Sinthanaiselvan had fallen ill. Amongst the hundreds of thousands of Tamil civilians holed up in the final conflict zone, his health had sharply deteriorated as disease spread amongst the displaced. Though he normally carries a large frame and big build, he had begun to lose a lot of weight.
"There was no food or water," says his mother Sarojini. She is part of a group of mothers searching for her disappeared child.
"He would stay in the bunker and our relatives would give him food when they could, but he lost lots of weight and could not walk."
"At this point, there were also shells being dropped and we could not run," she adds. The Sri Lankan military was in the midst of a massive military offensive. Thousands had already been killed by the widespread aerial bombardment. Many more would be slaughtered in the weeks to come.
Selvan, as he was known at home, had contracted shingles says Sarojini. The disease is infectious, caused by the same virus that gives children chickenpox, spreading easily and rapidly through close contact. Usually it is self-limiting and leaves a mild itchy rash that clears up in a week or two. In adults however, shingles can have serious complications, causing painful blisters and searing fevers.
As his health worsened, he was forcibly displaced alongside hundreds of thousands of others as they dodged Sri Lankan artillery fire. "I held on to his arm and was fleeing the area but on the way he fainted because of the lack of food," Sarojini continues.
During those final few weeks UNICEF spoke out at the "extreme conditions" the Tamil civilians were trapped in, "including scarcity of safe water, sanitation, insufficient health care and medicines as well as scarcity of food". "Witness testimonies and other documentation refer to many dying of starvation, exhaustion or lack of medical care in addition to those killed by shelling and shooting," said the UN Report of the OHCHR Investigation on Sri Lanka (OISL). "It remains to be investigated how many people - particularly the most vulnerable such as the elderly and children - died as a result of lack of access to food and medical care."    
With the government embargo on food and medicine tightening, Selvan had become too weak to flee any further. It was clear that he needed immediate medical attention. "Once he fainted our relatives took him to the army at the Vattuvakal Bridge," recalls Sarojini. "This is where my son was put in army custody."
It was May 16th 2009. From that day onwards, she has been in a desperate search to find her son.
Selvan was taken by the Sri Lankan army and transferred to an undisclosed location. Though he required urgent medical treatment, the military did not tell Sarojini where he was being held. "We went to many hospitals with my son's picture," she says.
The first placed they searched was Vavuniya Hospital. The government had barred international humanitarian organisations from entering the conflict zone, but had granted limited access to a few groups to operate from Vavuniya, such as the International Committee of the Red Cross (ICRC) and Médecins Sans Frontières (MSF). Thousands of patients had been treated and operated on there, many for blast injuries.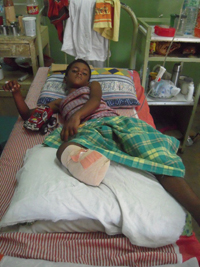 Vavuniya Hospital in 2009. Photograph: MSF.
 "At that time there were people from our villages employed by the ICRC," says Sarojini. "There was a girl who said, 'We saw Anna (older brother), he came here and received treatment. I am not sure if he is in the ward or if they have taken him.'"
"Once she told me, I immediately searched all of Vavuniya Hospital's wards," she continues. "He was not there."
Her search for Selvan became frantic. Armed with a picture of her son Sarojini travelled across the whole island, searching hospitals for news of him. From Vavuniya she travelled to Mannar. From Mannar to Colombo. From Colombo to Angoda. She enquired about him at every single stop. "When we asked at each hospital or camp they said they did not know," she says. At Angoda, hospital staff told her to try looking in Kandy.
It was there that she finally discovered more news of his whereabouts. "A nurse there saw my son's picture and said, 'We treated him here'". The nurse reported that Selvan was said to be an LTTE doctor and there were two Sri Lankan army guards constantly watching over his bed.
Sarojini also spoke to another patient at the hospital, who confirmed that Selvan had been admitted there. "Since he was ill, he had grown a beard," she states. In the laminated photograph she holds in her hands, Selvan sports a neatly shaved moustache and crisp short-sleeved shirt. "You can imagine how it must be living in a bunker," she says gripping the edges of his picture. "Even if they don't shave for one or two weeks, they look different."
"So he had grown a beard and his face was different. The chicken pox had caused his blisters on his face and his tongue had swollen." Despite his change in appearance, the other patient was sure it was him. "When the doctor was checking him, he asked for my son's name and at that time he could not speak because of the sores on his tongue," she continues. "So he wrote out his name – Selvan."
The nurse at Kandy checked their records and confirmed that Selvan had been admitted from June 1st 2009 until the 5th. He was a patient on ward number 28. Hospital documents showed that on discharge, he was taken to Padaviya.
"The doctors and nurses there were very helpful," says Sarojini tearfully. "We cried there."
She travelled on to Padaviya, hundreds of miles away to the north of Kandy. With confirmation that Selvan was transferred to the army camp in the town, Sarojini was determined to find him. The Sri Lankan security forces however, refused to co-operate. "When I went there and showed them the picture and cried calling my son's name, they said there was no one like that there," she weeps. "They did not even let us in; we just stood at the gate."
"There were lots of children inside," she says. "If they were not doing anything wrong they could have let us in to see. We could have seen our children that way if they let us. But they did not show us." She still has not been inside the Padaviya camp.
In the years since that encounter, Sarojini and her husband have been agonising over the fate of their son. In December 2012, the family received an anonymous phone call telling them that once "investigations are over" Selvan would be allowed to return home. "When we tried to call the number back it did not work," she says. Since then, no more calls have come and officials have always denied knowledge of his whereabouts. They have no further information on where their son is.
"After that, till now, we have not received any messages and so we have continued to protest like this." She sits on a tarpaulin sheet outside the Murugan temple in Kilinochchi as part of a demonstration calling for action over enforced disappearances. It had already been 150 days. "I have become ill now," she laments. "My husband is 63 years old and he is still the one earning and feeding us. We are living a state where if he does not go to work for one day, we will not have food at home."
Selvan is her oldest child and she worries about his wellbeing. "He has nothing except the clothes that he was wearing that day - a saram and shirt." She is convinced the Sri Lankan state knows where he is. "They are keeping my son somewhere here. Wherever he is… whether he is in a refugee camp or a secret camp."
"Wherever they are, in whichever way possible, you need to find our children," she pleads.
We need your support
Sri Lanka is one of the most dangerous places in the world to be a journalist. Tamil journalists are particularly at threat, with at least 41 media workers known to have been killed by the Sri Lankan state or its paramilitaries during and after the armed conflict.
Despite the risks, our team on the ground remain committed to providing detailed and accurate reporting of developments in the Tamil homeland, across the island and around the world, as well as providing expert analysis and insight from the Tamil point of view
We need your support in keeping our journalism going. Support our work today.
For more ways to donate visit https://donate.tamilguardian.com.